5 Things That Make Our Personal Hair Colorists Smile
Here at eSalon we're sent all kinds of questions, pictures, and touching stories that make us crack a smile.
---
Here's an inside look at common questions and submissions our colorists get that give us a couple of laughs—and sometimes a heartfelt tear or two. 
1. When we are sent pictures of dogs as hair color inspiration.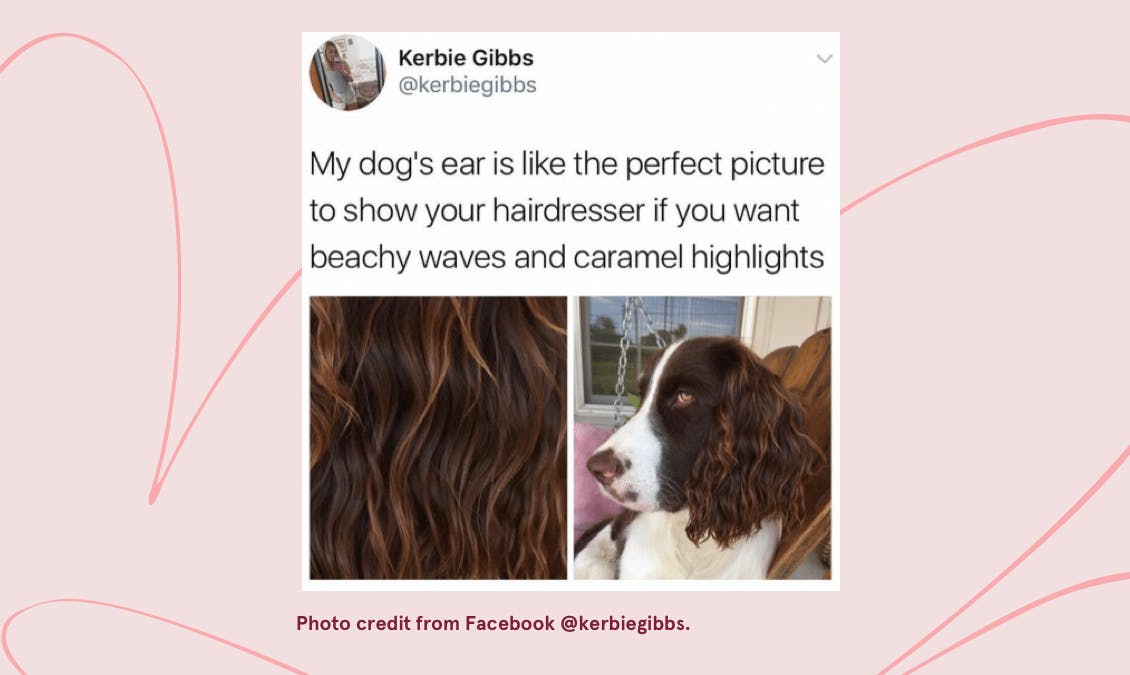 Yes, we get this all the time. Folks submit pictures of dogs asking if they can get the same color, and hey! Some dogs really do have INCREDIBLE highlights and lowlights, so we can't blame them! "I once had a client submit a hair-goal picture to me of her cocker spaniel's golden hair. At first, I didn't realize it was a dog, because the photo was so up close. I said "WOW, that color is so beautiful! Who's hair is that?" She said, "My dog!!" We cracked up, but the best part was that I was actually able to craft that exact hair color for her and it was gorgeous," says our colorist, Stephanie. It's true when we say custom hair color truly has endless pet-ential.
2. When we get love notes.
We would be lying if we said that a few of our thank you notes didn't make us shed a tear. Whether it's a lengthy Facebook review, Instagram comment, or an email sent directly to our inboxes, we can't get enough of hearing about how much you loved your experience with eSalon. "I had a girl reach out to me to tell me that her mom hadn't done anything new or different to her hair for as long as she can remember. She told me that her mom was one of the hardest-working people she knew and was always taking care of everyone else and putting others before her.
So for her mom's birthday, she wanted to treat her to a new hair color." Courtney told us, one of eSalon's first colorists. "It was so funny because we always ask for a recent picture of someone's hair color, so she was like, sneaking pictures of her mom when she wasn't looking. We ended up customizing a really vibrant brunette shade. She told me her mom said it was the first time she felt beautiful in ten years." Excuse us as we shed a tear (or ten). 
3. The question: "Is my hair color really made from scratch?"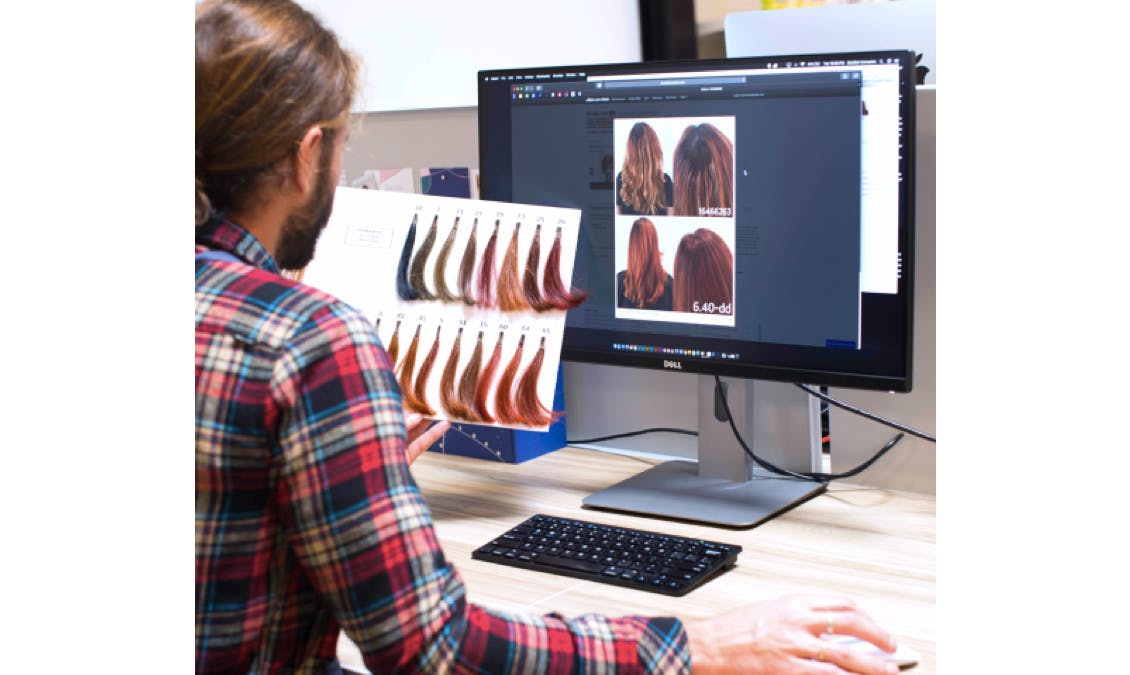 Listen, the concept of custom hair color is super new to the world. The universe of tech and beauty coming together is an incredible new beginning, and we are proud to be pioneers. But because we work with custom hair color every day, and witness our machine individually dispense each bottle, we are used to the crazy notion that each and every hair color is made from scratch. So whenever someone is in disbelief, we can't help but crack a smile when we say "yes, it's seriously custom!"
4. That one time a bride color corrected her $600 salon appointment all by herself using eSalon.
"One time, I had a client who was getting married and her sister got her a fancy salon appointment as a pre-wedding present. She just wanted to get a few highlights and go a shade lighter. When she sent the photos of how her hair turned out my jaw literally dropped it was so bad. We ended up formulating a new color for her and overnighting it to her. She literally fixed her own hair the DAY BEFORE her wedding with eSalon." Emily told us, an eSalon colorist since 2014.
"The best part about it was that it really was a group collaboration. When I was formulating her color, I had two other colorists look at the pictures she sent to make recommendations and give me feedback. The stakes were so high, we knew it had to be perfect. It was one of those moments where I felt really proud to work at a place where everyone cared, and everyone put their expertise together to make sure she felt beautiful on her big day."
5. When people ask to go from black to platinum blonde in one application.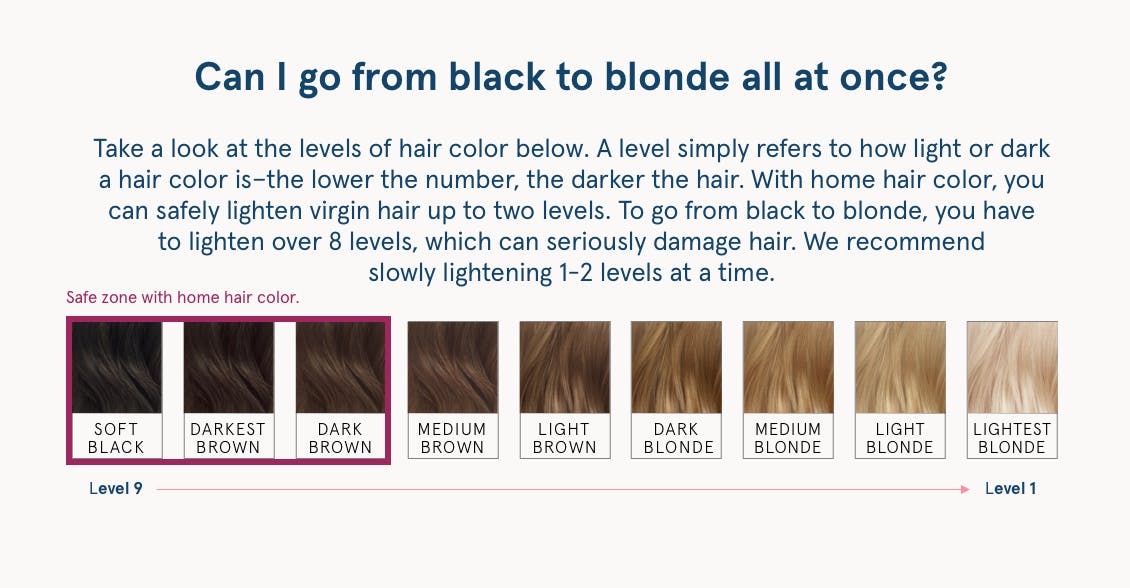 We get it—hair color can be complicated! And if you don't know much about it, anything can seem possible. So while we are SO HAPPY you've sought answers from the experts, we can't help but smile at the innocence of this request. "Extreme lightening—or lightening more than two levels at once, is incredibly damaging to your hair. If you wanted to go from a black hair color to a blonde hair color, that's about an 8-to-10 level leap and would require intense volumes of bleach, a few applications staggered over the course of a couple of weeks, and exceptionally resilient hair," says our Color Studio colorist, Joseph.
"Our first and major priority is making sure that we are keeping our client's hair safe and healthy, so when we get even a 2-level lightening request, we feel more comfortable canceling their order and redirecting them to a salon professional." Why, you ask? "Because a color lift that dramatic requires trained monitoring and isn't safe to do at home. We want to give you the best possible color results at home, and we're never going to let you damage your own hair." Isn't it nice to have colorists that care?
We think it's important to find joy in the little things, and we aren't afraid to laugh at ourselves either. We're grateful that we get the opportunity to work with and educate such awesome clients—many of which end up becoming our friends. There's a world of a difference when a company cares, and we think the proof is in the custom pudding.