2022 Holiday Hair Color and Style Trends
The holiday looks and hair colors you need for this season and beyond.
---
There is something about the holidays that makes you want to get dressed up and put your best foot forward for the celebrations ahead. And we all know that your hair is your best accessory. Whether you're putting on a new dress for a New Year's party or keeping it casual for a family gathering, refreshing your hair color and creating a timeless style for your hair can elevate your look and your entire mood. Below, our colorists have rounded up three of this season's must-try holiday hair color and style trends. 
Chocolate Truffle Brunette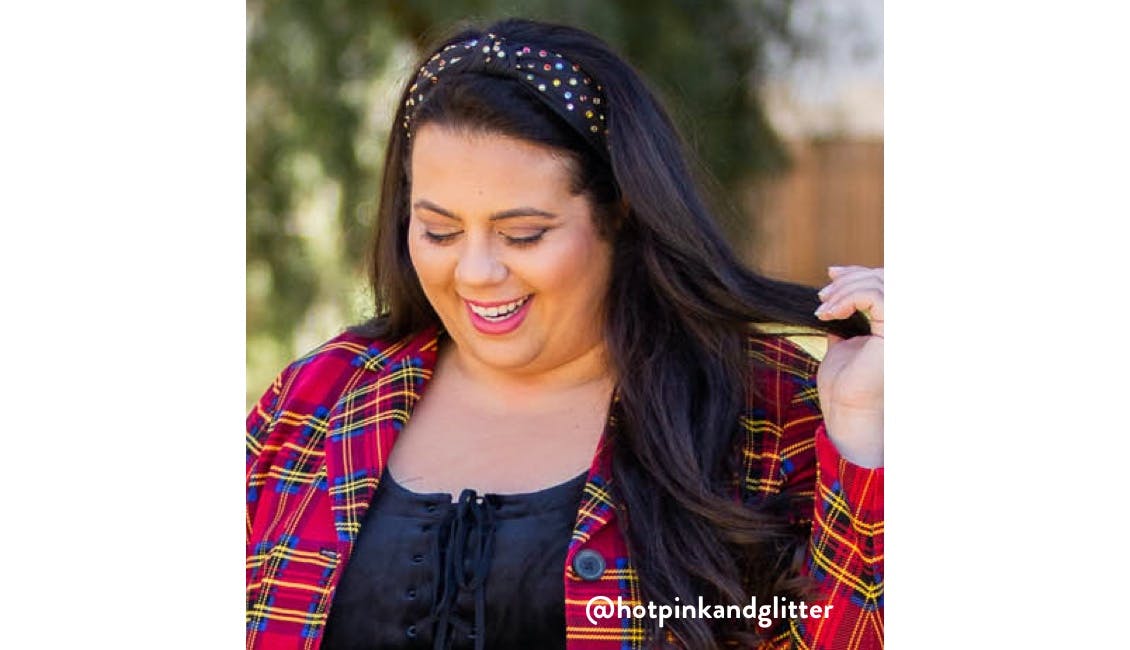 Who it's for and what it looks like
Much like the famous dessert, this Chocolate Truffle Brunette hair color is the perfect color to warm you up during the cooler months. Think multiple levels of chocolate shades, topped with a buttery ganache that begs to be eaten. This shade, modeled by our client Callie, plays well with neutral and olive skin tones. Whether you're looking to cover up your grays or simply want to refresh your winter look, dig into this ooey-gooey chocolatey richness.
How to get it and keep your color
If you are a natural brunette who isn't into big color changes, this shade is your North Star. For deeper warm tones in medium to dark brunettes, ask your colorist to mix in a splash of mahogany or copper and gold to your formula. In richer brunette shades, a touch of natural golden tones layer on a twist of subtle shimmer. For lighter brunettes, we recommend that you gradually darken your hair to achieve the perfect finish. This may require a second application, but our expert colorists are here to guide you through the process. 
To make your color last all winter long, use a color-safe shampoo and conditioner. Our Moisture Shampoo and Conditioner Duo is great for drying cool temperatures in winter. To maintain your color until your next application, try our Tint Rinse in Golden, Mahogany Copper, or Golden Mahogany. We know you'll enjoy this color all winter long, so create your custom Chocolate Truffle Brunette hair color here.  
How to get Callie's holiday blowout hairstyle
1. Start by applying a dime- to quarter-sized amount of our Velvet Primer to your wet hair. Then add a few sprays of our Triple Prep 3-in-1 heat protectant to protect your color, smooth frizz, and add moisture while you style. 
2. Separate your hair into four sections and work with one-inch pieces of hair to achieve an even blowout.
3. Use a round brush to wrap and dry each section of your hair on medium heat, with your nozzle pointed down to prevent frizz.
4. Before letting your hair fall free from the brush, wait for each section to cool so you see more volume and bounce. 
5. Then slowly roll the brush away from your face to create a beautiful, soft curl. Repeat these steps until your hair is dry. 
6. Finish by adding a few drops of our Shine Silk to your ends for a sleek and shiny hairstyle. 
Bonus tip: Top off your look with a luxe velvet or satin headband like Callie's, and you're ready to celebrate the holidays.
Crème Brûlée Blonde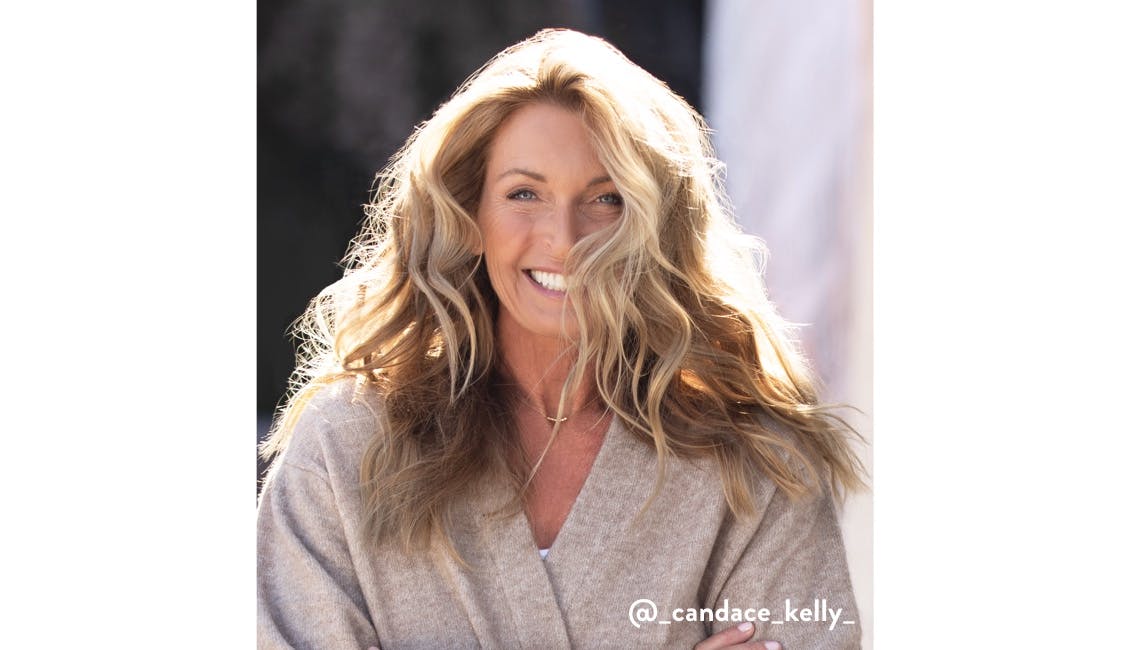 Who it's for and what it looks like
Get ready to mix up a cozy drink, blast your favorite holiday tunes, and revel in this toasty-blonde custom hair color. Our lovely client Candace brings so much joy to this shade that it's tinseled in color happiness. This Crème Brûlée Blonde is best suited for folks with warmer skin tones for contrast when paired with balayage highlights. In addition to your skin care efforts, this dimensional hue gives the illusion of softened fine lines and wrinkles in the skin. Way to upgrade your do.
How to get it and keep your color
When starting with a lighter blonde base, ask your colorist to slightly darken your shade to help minimize brassy tones. Candace's colorist Joseph, darkened her base color with a custom light blonde blending cool beige, gold, and ash tones for balance. To finish the look, Joseph painted on balayage highlights using our Light Set to add some brighter pieces around her face. 
To keep the warmth and brightness of Candace's trending Crème Brûlée Blonde, periodically use our Tint Rinse in Warm Beige or Blonde Neutralizer. This shampoo-in treatment is an easy way to help combat color fade and update your color without heading to a salon. If you love spending time poolside, as things warm up, using a gloss like this can keep green tones at bay and replenish moisture with a weekly hair mask. 
How to get Candace's holiday beach wave hairstyle
1. Apply a smoothing balm to damp hair before you blow dry. We recommend cocktailing our Universal Leave-in with our Triple Prep heat protectant. 
2. Separate your hair into sections from top to bottom and begin using a round brush or paddle brush to smooth, tame, and shape your hair. 
3. Once your hair is dry, create those sections again using a hair clip to avoid creases in your final look. Apply a couple of drops of Shine Silk to add luster. 
4. To create these festive beach waves, use a curling wand to wrap and curl 1-inch sections of hair. 
5. Release each curl into your hand and hold it there to allow it to cool and hold shape. Once all your curls are finished, rake your fingers through your hair and finish with a soft-hold hairspray. 
Bonus tip: For stressed strands, try letting your hair air dry and use hot rollers instead of a curling wand to smooth and add volume for bouncy, soft curls. 
Crushed Cranberry Red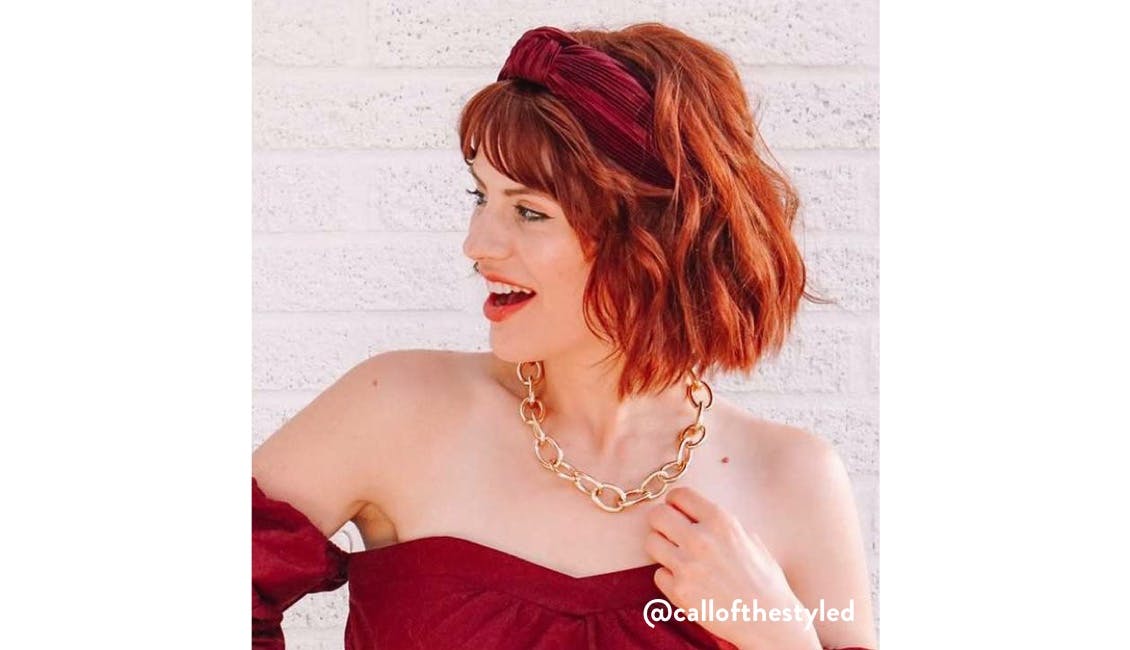 Who it's for and what it looks like
This gorgeous Crushed Crannberry Red shade is the perfect red to kick off the holidays with sweetness. Think jammy tones with notes of fiery cinnamon and a fireside snuggle—it's more than just a hair color, it's a memory. Whether you're a dark brunette or blonde, this universal shade works for any hair color and skin tone. Take direction from the natural undertones in your hair color and play up your favorites to spice things up your way. 
How to get it and keep your color
To achieve the vibrancy of Molly's shade, start by adding lush copper and red tones until you reach the perfect finish—the lighter your base color, the more vibrant your results. Remember, the best hair colors are those that enhance your natural beauty and this one takes the cake. We guarantee that you'll love it!
Red hair colors are the first to fade, so to keep yours long-lasting, we recommend you use sulfate-free cleansers and rinse your hair with cool or lukewarm water. Why? Hot water opens the hair's cuticle and causes the pigment molecules to wash out quickly. This might be a tall order in winter, but adopting this cool-wash routine keeps your hair hydrated, shiny, and color bright. For a quick refresh between applications, use our Tint Rinse in Copper or Red and protect your hair with a cozy winter hat.
How to get Molly's sleeky bob hairstyle
1. Start with our Velvet Primer or Shine Silk on freshly-washed, wet hair to ensure a polished and frizz-free base. 
2. For a smooth finish, use a paddle brush to comb through and dry your hair in thin sections. Spend a little extra time on your ends for a slightly beveled finish.
3. If you have fringe like Molly, use a smoothing boar-bristle brush to blow dry them straight down and then from side to side to create a swooping effect. 
4. Go over sections lightly with a flat iron on low heat to lock in your style and keep the look going for a couple of extra days between shampoos. 
5. You can then finish off this look with a round brush to give your bangs a bit of volume. 
6. Add an oversized or ornate hair clip to elevate your festive style.
Bonus tip: If your hair clips tend to slide out of place, try giving them a quick spritz with dry shampoo or hairspray for extra grip.
For more hair color trends, custom color application tips, and giveaways, follow us @eSalon on Instagram, Facebook, and Pinterest.