2023 Hair Color Trend Forecast
Introducing: our colorists' prediction for this year's must-have hair colors.
---
The new year is all about celebrating new beginnings—so why should your hair color be any different? Curated by our expert colorists, we've selected some of this year's top head-turning hair colors that you can recreate at home with a custom shade from eSalon. Read on to discover our 2023 Hair Color Trends Forecast and learn how to achieve these trending hair colors with tips straight from our team of colorists.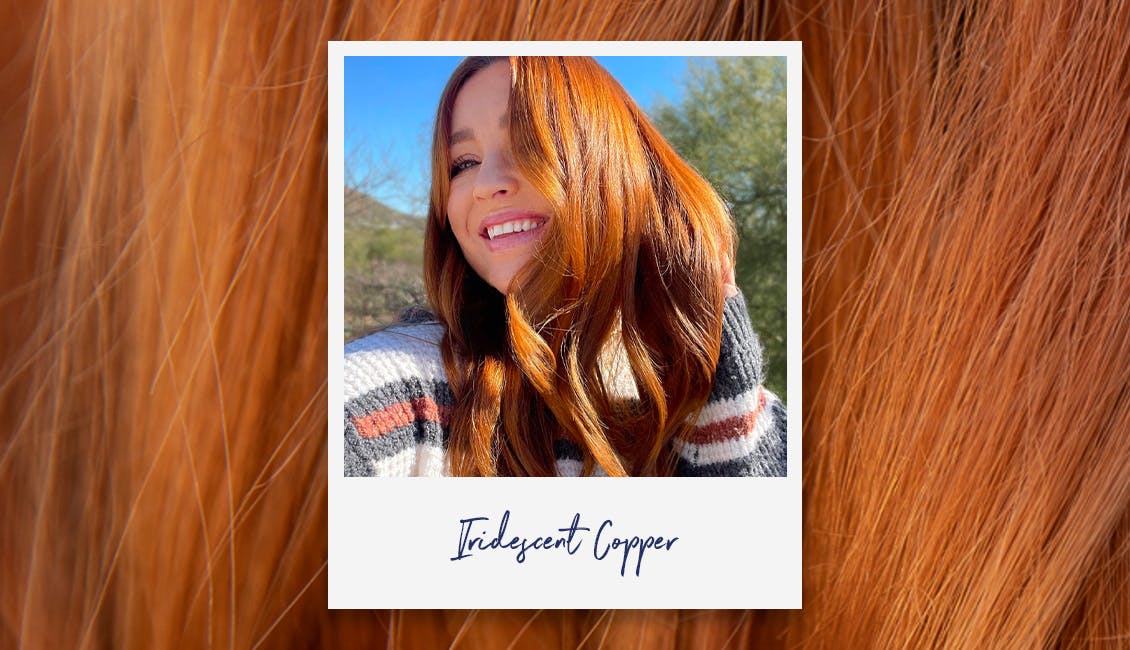 Iridescent Copper
Why We Love It
We love this fiery, red copper hair color because of its overall versatility. Iridescent Copper is an eye-catching shade that can be custom-made to address a range of hair color goals, whether you want to amp up the copper with more subtle gold undertones or stay on the more vibrant, true red side. This trending shade embodies a vivid and bold attitude with striking tones while still remaining natural enough for your everyday "it-girl" look. 
Who It's Best For
Iridescent Copper can be customized to compliment anyone's look by playing up different hues based on your skin's undertones and complexion. If you have a lighter skin tone, try out a brighter copper-red shade. This more vibrant shade will contrast beautifully against the skin, enhancing your entire look. 
However, if you have a darker complexion, opt for a darker copper hue to highlight your features best. The best part about this must-have shade is that it can be custom formulated to fit anyone.
How to Get It & Keep It
With a range of options for the final results of this shade, there is a custom Iridescent Copper for everyone. For a brighter red shade, you'll want to start by applying Light Set highlights. Whether you want to be on the darker or lighter end of the spectrum, ask your colorist to add copper and red tones to your custom color formula. 
As we know, red shades are often one the hardest shades to maintain its original vibrancy. To extend your vibrant color's longevity, invest in a shampoo and conditioner that's formulated with color-safe ingredients. We recommend our Classic Shampoo + Conditioner Duo which works to deeply cleanse and hydrate strands all while protecting your custom color. For added radiance in between color applications, we recommend adding our Tint Rinse in the shade copper to your hair care routine.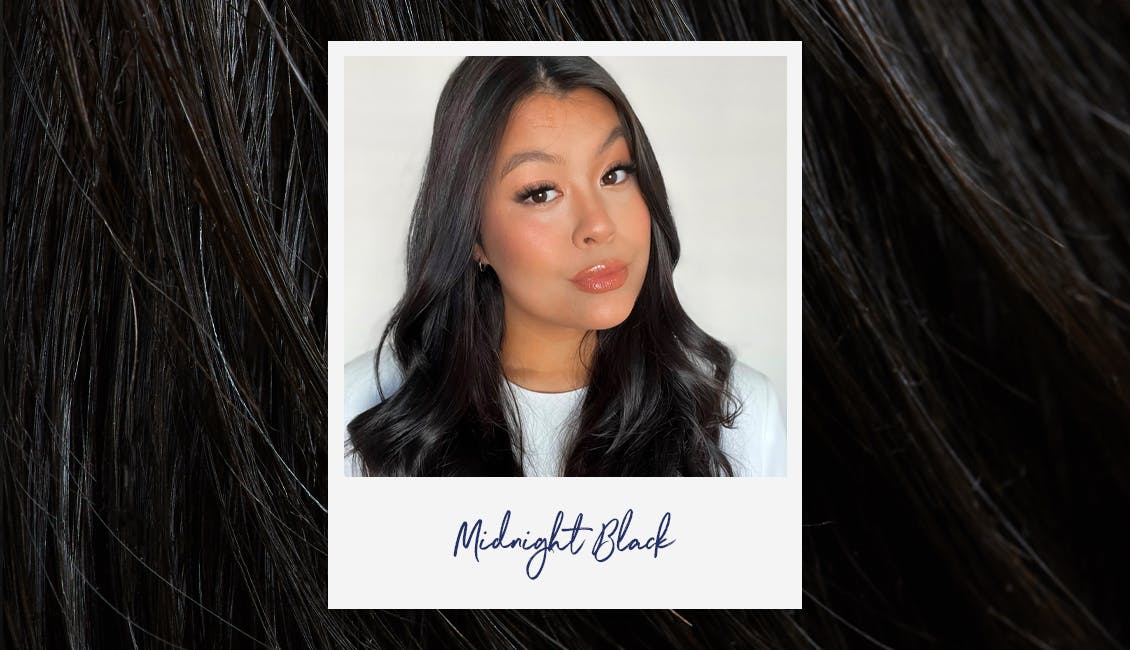 Midnight Black
Why We Love It
Our next must-try hair color of 2023 is a striking Midnight Black. This rich shade of black is sure to be a showstopper throughout the new year—the perfect color option if you're looking for a deep yet dimensional hair refresh. 
If you've never gone to the dark side before but have always been curious, this is your year to go for it. With a naturally soft finish, this classically chic hair color fits nearly every aesthetic. This trending shade is also an enchanting option for those looking to embrace healthy-looking hair this upcoming year. Darker shades, such as Midnight Black, can give the illusion that the hair is shinier and fuller to give your lovely locks a radiant finish.
Who It's Best For
This soft black shade works best on those with warm undertones and dark complexions. Due to the striking hue of this dark shade, Midnight Black can be quite stark against more fair skin tones. 
If your skin is on the fairer side and you're wishing to take a trip to the dark side with your custom hair color, we recommend starting with a dark or darkest brunette to best compliment your look.
How to Get It & Keep It
To achieve this glossy black hue, ask your colorist to formulate a soft black color for you. If your hair is naturally on the darker side and you're feeling bold, feel free to go right in with a permanent soft black hue. However, it's easier to go darker than it is lighter, so if you're not ready to fully commit to this dark tone, we recommend trying out a demi permanent formula first, which typically fades in about 12-24 washes. 
True black tones can oftentimes be tricky to maintain, but with a little extra love for your locks, you'll be able to preserve your custom color longer. We recommend using our Color Pro Toner in Darkest Brunette to Black to ensure your shade's vibrancy in between applications. 
To further protect your bold color from fading, make sure to apply heat protectant prior to reaching for those hot styling tools, like our Triple Prep. This heat-activated protectant spray not only shields your hair from heat damage but also helps to prolong your shade with nourishing ingredients like Quinoa.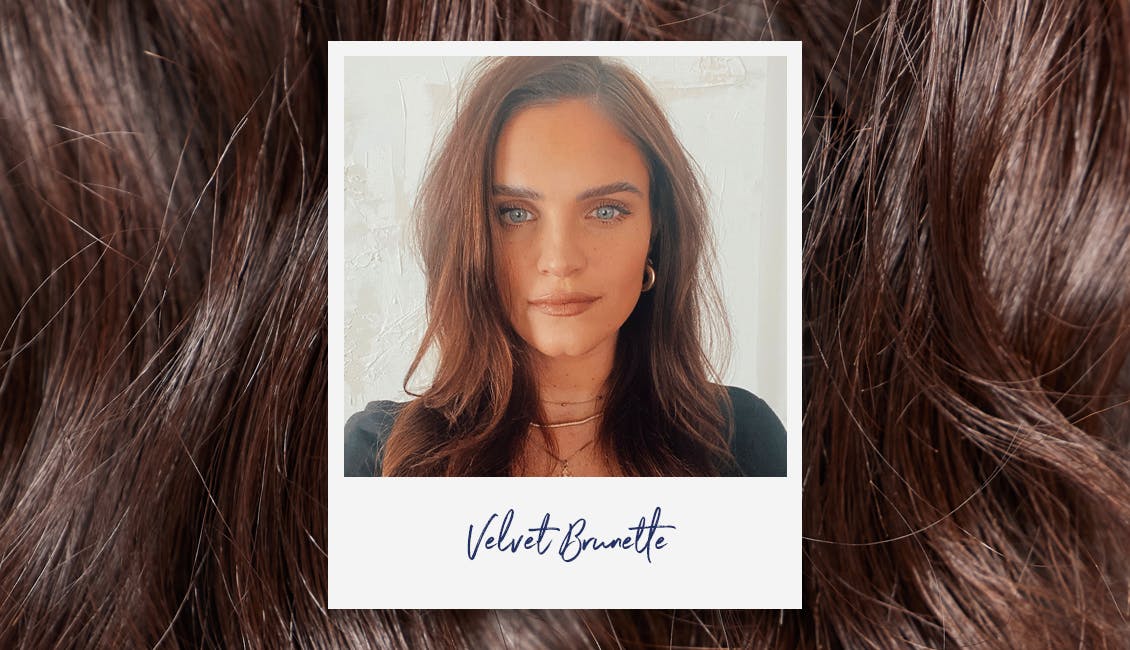 Velvet Brunette
Why We Love It
This brunette hair color is an approachable look of the new year with a chic twist. Velvet Brunette evokes that "main character" energy that's subtle, yet mystifying enough to make heads turn with every hair flip. Not only does it look glamorous on nearly everyone with its soft, warm undertones, but it's also a very low-maintenance shade requiring very little upkeep.
Brunette pigments are incredibly resilient and penetrate deeply into the hair's cuticle for long-lasting color. Because this color is one of the slowest to fade in between applications, you may be able to spread out your color applications a bit further than you typically would. This low-maintenance shade is a great match for that girl who's always on the go or has a very busy schedule.
Who It's Best For
What makes Velvet Brunette such a beautiful shade is the fact that it is universally flattering on everyone, regardless of age, eye color, or skin tone. This brunette shade is a fabulous refresh for nearly anyone, whether you're looking for a subtle or drastic hair color change. 
This shade is truly a jill-of-all-trades working as a bold change for those looking to go darker, a subtle refresh for those looking to revive their natural strands, and even working as a seamless gray coverage for those more mature natural brunettes.
How To Get It & Keep It
Achieving this flattering, warm shade is possible for almost everyone. If your starting color is darker, you'll want to ask your colorist to gradually take your strands lighter over time. Our colorists will help you make gradual adjustments for color continuity and to preserve the integrity of the hair. 
If you want to go lighter more quickly, we recommend using Light Set to achieve light brunette dimensional highlights. If you have lighter blonde locks and are looking to achieve this silky shade, you'll need to ask your colorist for a colorfill application. This is a two-step process using demi-permanent color that will simply redeposit the pigment where it's lacking in your blonde. If you're looking for a permanent formula, you can always switch back after completing the colorfill process. 
If your color starts to feel a bit dull, you can always try a Light Brunette Tint Rinse between applications for that extra pop of richness. This color pick me up will revive your hue in between applications, extending the life of your stunning color. Added bonus? Tint Rinse will also add a luminous shine to your hair.
For more hair color trends, custom color application tips, and giveaways, follow us @eSalon on Instagram, Facebook, and Pinterest.