Ask a Colorist: How Do I Protect My Hair from the Sun?
Learn how to enjoy some fun in the sun while preserving your custom color.
---
Summer is the season of sunshine. And while we all love to soak up the sun during these warmer months, our hair can take a beating from excessive sun exposure. 
Too much fun in the sun can cause your custom color to fade, dry out your strands, and more if you're not taking the proper precautions—but many of us don't know where to begin. That's why our team of professional colorists is here to share their Top 5 Hacks to Protect Hair and Hair Color from the Sun. 
How do UV rays affect the hair?
With temperatures heating up and more sunshine in our days, it's more important than ever to review hair care for the summer. Let's look at some of the ways that UV rays can effect your hair from the inside out.
Changes the color of the hair.
We all remember the days of spraying a hair-lightening solution on our locks before laying out for a prime tanning sesh. However, we're not sure we knew that these "highlights" were actually UV damage that caused sun bleaching. 
This bleaching is caused by breaking down the natural pigments in your strands which can create unwanted tones or all-around damage to the integrity of your hair. It's important to note that color-treated hair is more susceptible to the sun's UV rays and should take extra precautions to prevent color fade and overall damage.
Weakens and dries out strands.
Don't get us wrong, we love to soak up the sun. However, direct UV exposure to the hair can cause damage by breaking down the vital proteins that make up the hair shaft. These proteins work to maintain the strength and optimal hydration of your strands, so when they are damaged it allows for your locks to become brittle, dry, and frizzy.
Cause the hair to lose its luster.
Another not-so-great side effect of excessive sun exposure is that your custom color may start to look flat and lose its healthy-looking sheen. With the combination of bleaching your color and drying out your strands, your strands begin to lack the glowing shine we know you love. Think of the sun as an additional heat styling tool which when used in excess can cause more harm than good.
Ways to Protect Hair from the Sun
Don't worry, we're not going to leave you hanging. Now that we've gone over the negatives of sun damage, let's get into our colorists' top five hacks to protect your precious locks while still enjoying the summertime.
1. Cover the hair with a hat or scarf.
Perhaps the easiest and one of the most effective (and stylish) ways to protect your scalp and hair from UV rays is to simply keep it out of the sun by accessorizing it with a hat or scarf. A wide-brimmed hat is a chic way to help shield your face, neck, and head from the sun, making it a fabulous option for the beach or laying by the pool. A silk scarf is another great choice for covering your scalp and strands if you're planning on lounging in the sun. We would suggest opting for a hat or scarf with an ultraviolet protection factor (UPF) material for even more added protection.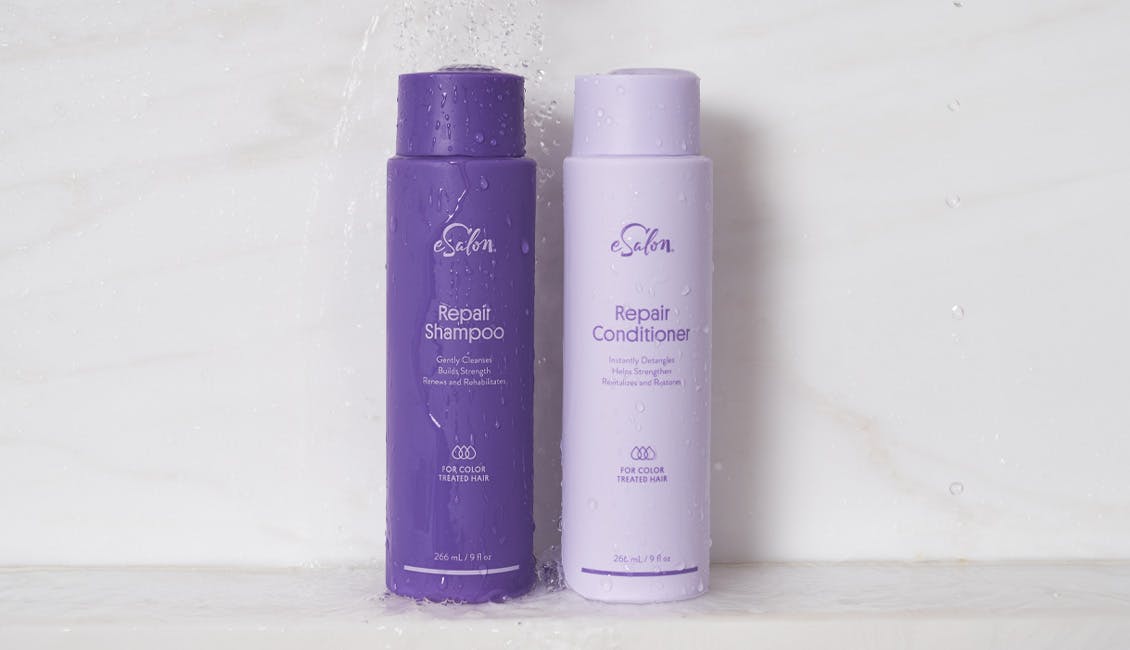 2. Use hair care products designed for color-treated hair.
Shielding your strands from sun damage is easiest with products formulated specifically for color-treated hair. These products are often made with invigorating, yet gentle ingredients to help extend the life of your custom color and protect your strands from environmental factors like the sunshine. 
For example, take a look at our Repair Shampoo and Conditioner Duo. This shampoo and conditioner bundle is free from two harsh sulfates, SLS & SLES, so they offer a gentle cleanse while moisturizing your strands. With nourishing ingredients like Quinoa, this duo helps to extend the life of your color and shield it from stress.
3. Use a heat protectant on your hair.
As we stated before, the sun can leave the same type of damage as common heat styling tools. Just as you would in your styling routine, prep your hair with a heat protectant before basking outdoors. This helps to create a weightless, yet protective barrier between your locks and the sunshine—almost acting as a sunscreen for your hair.
We recommend our heat-activated protectant spray, Triple Prep. This protective spritz is packed with nourishing ingredients like Chamomile Extract to help strengthen and Allantoin to add softness while adding shine and smoothness.
4. Up the hydration during the summer months.
With dryness being one of the main side effects of sun exposure, it's never a bad idea to amp up your level of hydration when it comes to your hair care routine. A little more TLC in the moisture department can go a long way for the look and integrity of your strands.
Our personal favorites for extra hydration are our Weekly Retreat mask as a weekly treatment and our Velvet Primer as a pre-styling essential. Both of these beauties offer UV protection while deeply saturating and nourishing your locks. As an added bonus, our Velvet Primer works to fight summer humidity so your style will look snatched all summer long. 
5. Shampoo less often.
<strong> We predict fewer wash days may be in your future this summer season. The naturally occurring oils on your scalp and hair actually help to create a barrier that protects your roots and skin from the sun so our colorists suggest cutting back on your wash routine as one simple way to keep those oils intact. 
Instead of daily cleansing, try out a dry shampoo like our Invisible Dry Cleanser. This lightweight spray effortlessly refreshes hair while preserving your color and still allowing your natural oils to do their work.
Now that you've got our top five hacks to protect your hair from the sun, it's time for you to get out and enjoy your summer. For more ways to unlock gorgeous, healthy-looking hair this season, follow us @eSalon on Instagram, Facebook, and Pinterest.