Hair Care Hacks & Hairstyles for Busy Mornings
Tips, tricks, and chic hairstyles for the girl on the go.
---
We understand that you've got a lot on your plate. Whether you're dropping the kids off at school, running to work, squeezing in errands, or all of the above, mornings can be hectic, leaving little time for elaborate hair routines. That's why we've curated a collection of hair care hacks and easy hairstyles to help you conquer those busy mornings with confidence. Let's dive in and discover some simple yet effective tips to keep your hair looking fabulous, even when time is of the essence.
Hair Care Hacks for Busy Mornings
1. Prevent bedhead with a silk pillowcase.
Ever wake up with unruly hair that seems impossible to tame? One of the best ways to prevent bedhead is by investing in a silk pillowcase. Unlike cotton or polyester, silk helps to create less friction against your hair, reducing the chances of it becoming frizzy or tangled overnight. Wake up with smoother, more manageable hair by making the switch to a silk pillowcase.
2. Keep your hair hydrated for a sleek finish.
Hydration is key to maintaining healthy and glossy hair. Start your morning routine by using a hydrating shampoo and conditioner that replenishes moisture, leaving your locks soft and nourished. Additionally, incorporating a leave-in conditioner can provide an extra boost of hydration, especially for dry or damaged hair. These products help seal in moisture, prevent frizz, and give your chic hairstyles a sleek, polished look.
3. Try heatless hairstyles.
When you're in a rush or having a hectic morning, heatless hairstyles are the way to go. They help you look put together without ever breaking out a blow dryer, flat iron, or curling iron—all of which can be incredibly time-consuming. Plus, these time-saving hairstyles also protect your strands from excessive heat damage which can cause breakage, frizz, and more. Whether you have short hair, long hair, or somewhere in the middle, here are a few versatile hairstyles to get you started.
Best Hairstyles for Busy Mornings
Wrapped Low Ponytail
Instead of throwing your hair back into a messy high ponytail, try this more streamlined approach that is just as easy. All you have to do is twist a few strands around your usual ponytail to give your look a unique finish. With just a few more seconds of your time, you'll have a playful style that is sure to garner compliments from every onlooker.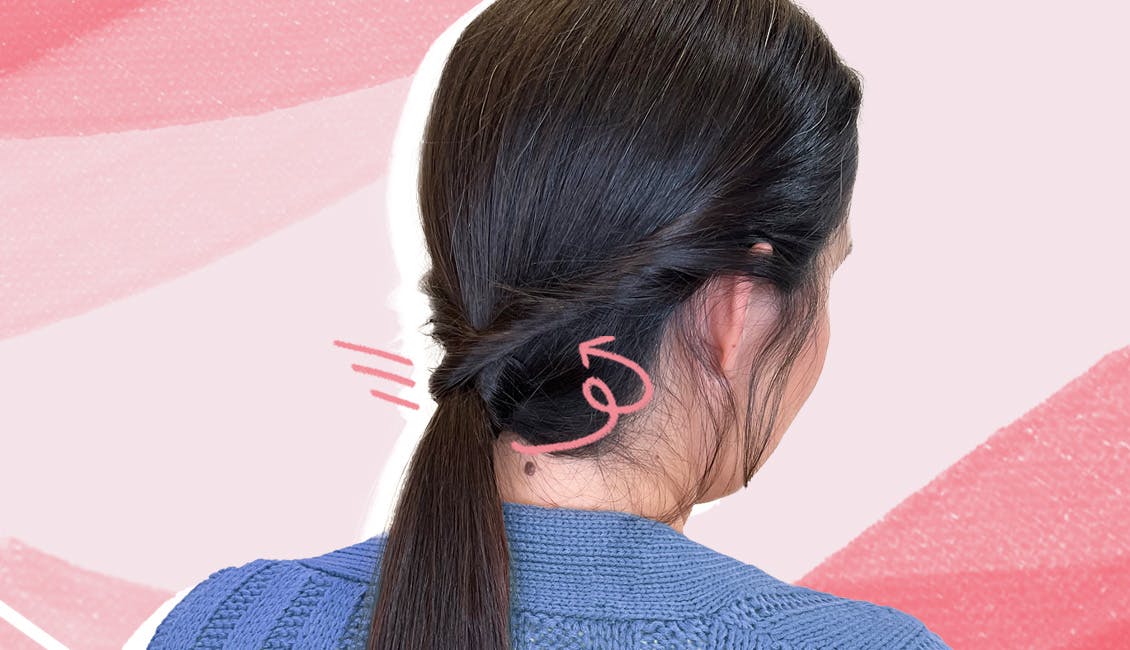 Step-By-Step Tutorial 
1. Start by brushing your hair and sectioning out the sections in front of your ear and clip away.
2. Take the remaining hair and brush it back into a low ponytail and secure it with an elastic.
3. Take one of your front sections and begin twisting it backward toward the low pony.
4. Wrap the ends of the twisted section around the elastic. When you reach the end, secure it underneath with a bobby pin.
5. Repeat with the other front section and finish with a soft-hold hairspray for added polish. 
6. Feel free to pull out wispy pieces for a more relaxed, undone look.
Laidback Braid
Upgrade your daily look with an easy braid that you can put together in less than 5 minutes. One thing we love about this style is that if a few strands escape from the braid, it doesn't completely ruin your style—it only adds to its charm. You can also make this hairdo your own by adding a ribbon or a chic clip to help secure the ends.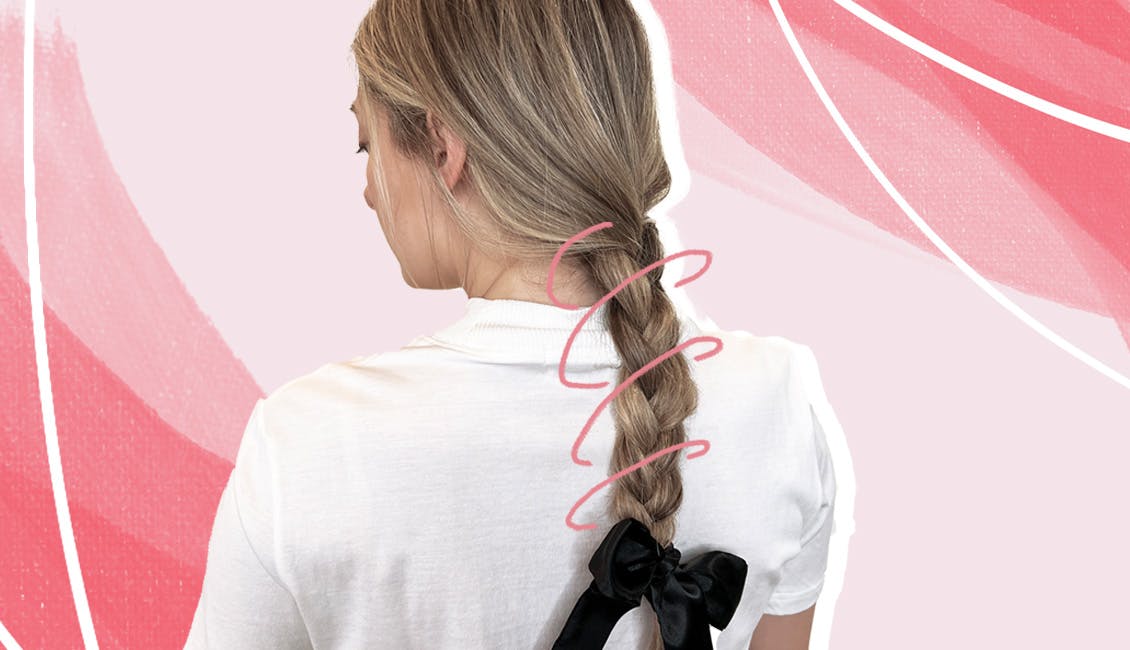 Step-By-Step Tutorial 
1. Work a little shine serum through your mid-lengths and ends to help reduce frizz and boost radiance.
2. Start by brushing your hair back toward the nape of your neck. You can brush it all back or leave some pieces out around your hairline. The trick is to leave your part intact, don't brush straight back, but let the hair lay more naturally.
3. Divide hair evenly into three pieces at the nape.
4. Take one of the outside pieces over the middle piece, keeping all three pieces separate. This piece should now be in the middle. 
5. Take the piece on the other side and cross it over the middle piece again. Repeat until you have braided almost to the bottom.
6. Secure your braid with an elastic.
7. You can now pull the pieces of the braid, starting near the elastic and working up to make the braid bigger and a little more effortless looking. Do this until your desired effect is achieved or leave the braid as is. Completely up to you!
Effortless Claw Clip
The claw clip is having a major comeback moment right now, making this relaxed style both en-vogue and simple to do. Inspired by 90's fashion, the claw clip makes it easy to toss your hair up in a way that looks effortlessly polished. With its current popularity, you can explore a wide range of different sizes, shapes, colors, and designs to find one (or a few!) that perfectly complements your style.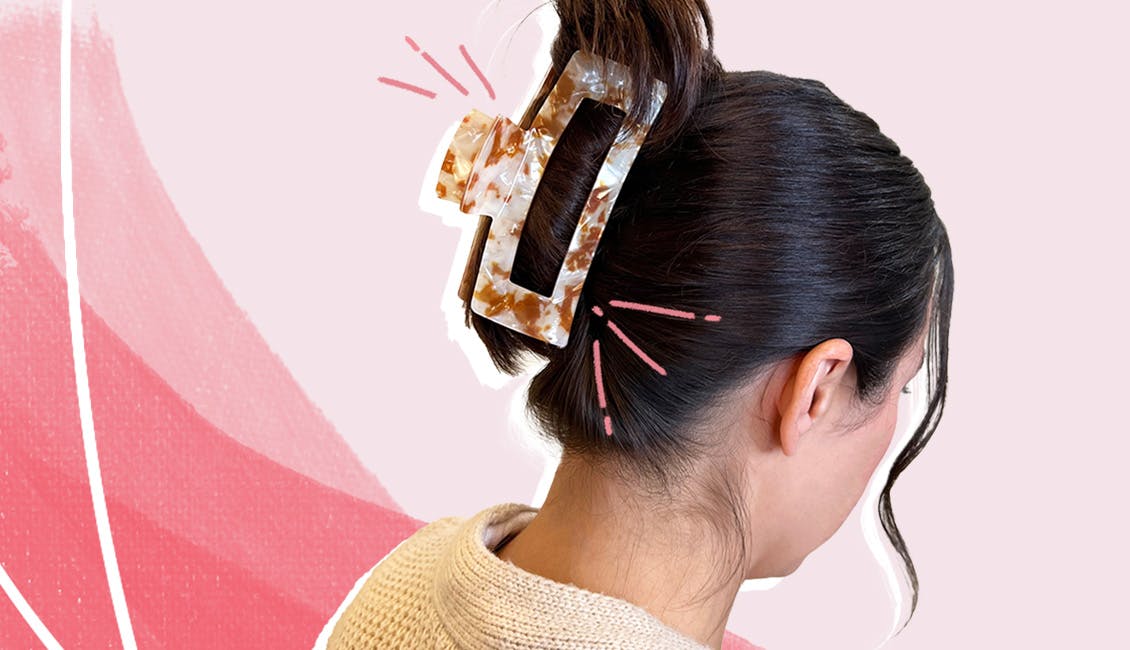 Step-By-Step Tutorial 
1. Start by brushing your hair and gathering it at the nape of your neck.
2. Start twisting your hair at the nape while also raising it up toward the ceiling.
3. Once you have all your hair twisted, you should be holding it up above your head.
4. Take an open claw clip and push one side against the back of your hand tucking the side under the twist.
5. Then fold your hair in half, using a finger at the bend at the top of the clip.
6. Close the clip over the folded half of your hair.
7. You can pull out some of the strands at your hairline to give it more of a laidback look.
3. Finish with a little hairspray for hold if desired.
With these hair care hacks and easy hairstyles, your morning routine will be an absolute breeze—so go ahead and hit the snooze button. For more hair inspiration, tips and tricks from our colorists, simple hairdos, and more, make sure to follow us on social media @eSalon.