2021 Fall & Winter Custom Hair Color Trends
Cozy up to fall and winter with custom shades for all.
---
It's everyone's favorite part of the year, when the time comes for us to snuggle into comfy sweaters and a much-needed energy reboot filled with family and friends. With our custom hair color here to refresh your look, you're always ready for the next event—digital or otherwise. This season our Colorists pulled all the stops to get you looking and feeling your best with their most-wanted hair color inspiration for the 2021 fall and winter seasons. Who's ready? We sure are.
GOLDEN BLACK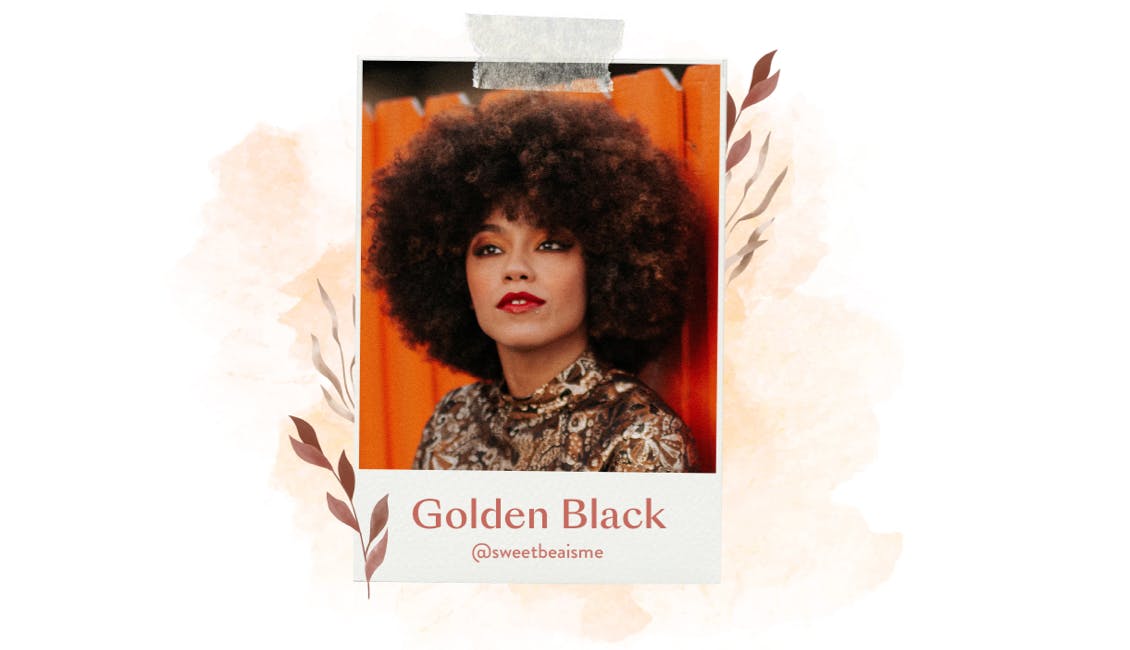 WHY WE LOVE IT
Going for a darker hair color not only gives your strands a much-needed break after being in the scorching summer sun, but also fits the calmer mood of the changing seasons perfectly. So, bring on the long nights and cozy clothes because our custom Golden Black hair color is here to richen up your cool nights. To complete the look, try pairing this deep brunette shade with gold accessories, nail colors, and shoes. This winning combo will keep you warm no matter the weather.
WHO IT'S BEST FOR
Practically anyone can adapt this custom shade to their skin tone, eye color, and preference. To start, darker colors have a glossy finish and immediately improve the appearance of your hair if it's gone through a little extra stress during the summer. Darker complexions experience an added glow from the golden undertones in this color which are perfect for fall and winter. If you have fair skin, the contrast of this dark shade makes a statement in the best way.
HOW TO GET IT & KEEP IT
Ask your Colorist to start with a soft black base hair color, adding golden tones to bring a little sparkle to your formula. Long hair? We recommend enhancing this shade with a custom-formulated Ends Refresher, packed with a burst of golden tones for extra umph! As always, color-loving shampoos and conditioners are key to maintaining your color. Should your color need a little pick me up between root touch-ups, use our Tint Rinse in Golden.
MARMALADE BLONDE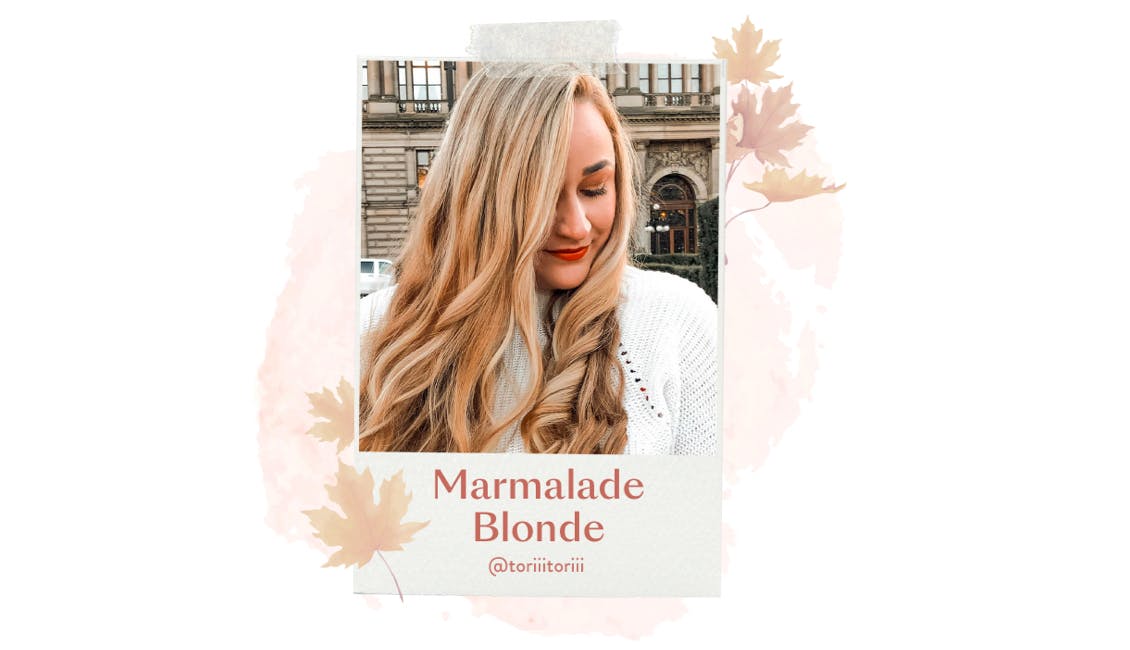 WHY WE LOVE IT
With a touch of gold, this color will make you feel warm and fuzzy. Forget the overly-frosty blondes because this season, we are snuggling up to this jammy blonde instead. This shade is a gorgeous reminder that summer will come around again soon. 
WHO IT'S BEST FOR
Our custom Marmalade Blonde is ideal for those with naturally dark to light blonde hair, or for anyone with mostly gray locks. Blonde shades are gray hair's saving grace because they conceal much more than you think, especially if you've chosen to go with our Permanent hair color. If you're wondering which personalized hair color base is right for you, tell your Colorist about your color goals and let them help you decide. This custom warm blonde requires some lifting which can get a little brassy from time to time, but we've got you covered for color success.
HOW TO GET IT & KEEP IT
While you can wear this jammy base color on its own, its character shines best with layers of dimension. Once you've applied your base blonde shade at your preferred level, apply a few highlights using our Light Set. A few flicks of the wrist with those highlights and you're golden. If you lighten your hair often or have lifted your color in the past, we recommend using our Color Pro Pre-Color Balancer before and after your color application to keep your strands healthy and lock in your shade. 
Once achieved, keeping this color vibrant and free of brass is super simple. After you've applied your highlights, you'll only need to touch up your roots moving forward. Make sure you only apply your base color to your new growth and keep the color off of your highlights to keep them looking light and bright. Maintain that marmalade tone with our Tint Rinse in Golden or Copper, depending on how warm you like your tone.
MAHOGANY BRUNETTE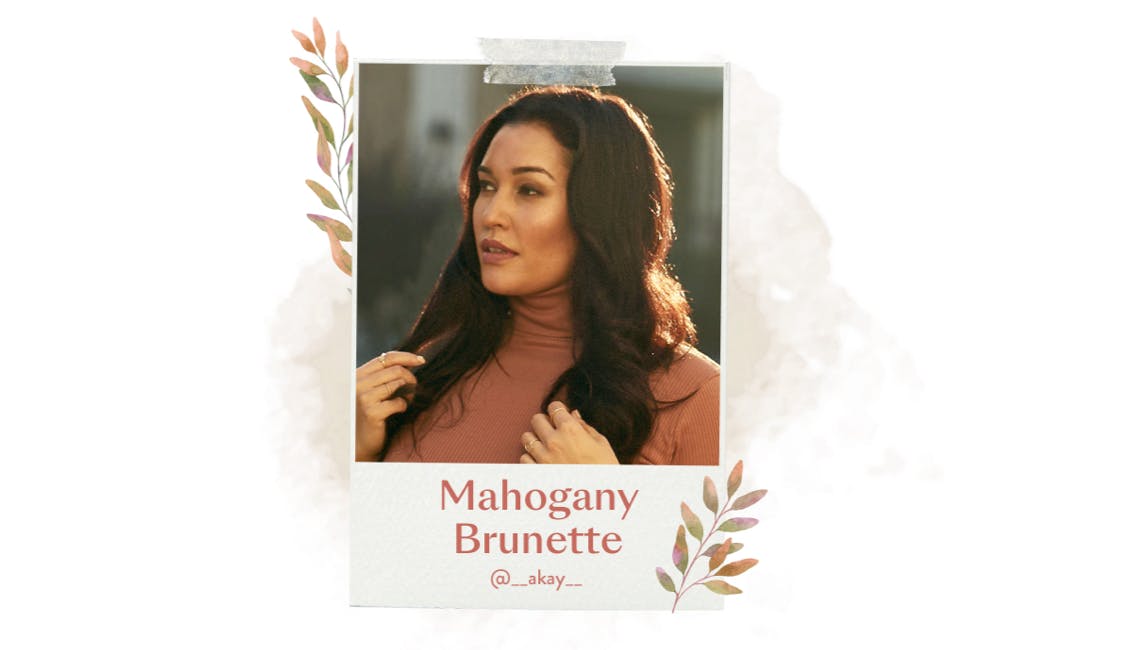 WHY WE LOVE IT 
This Mahogany Brunette hair color is made with a rich, mahogany and copper blend that naturally play off one another, similar to leaves transitioning in the fall. Flaunting vivid, cool reds to bright orange hues is the perfect way to get in the mood for the holiday season. When you're looking for a change, these classic autumn tones paired with a deep brunette base will definitely satisfy any need for all the pumpkin and gingerbread lattes you can imagine.
WHO IT'S BEST FOR
This custom Mahogany Brunette hair color can work for absolutely anyone who wants to bring a little vibrancy and tone into a darker shade. This color is best suited for anyone with medium to dark brunette hair colors or those who are set on going dark. If you're starting with a lighter hair color, we recommend gradually going darker over time. Ask your Colorist to take you in this direction over your next few applications, and they will formulate a variation that fits your current hair color and goals.
HOW TO GET IT & KEEP IT
Have your Colorist whip up a deeper brunette base hair color with mahogany and copper tones, amping up the warmth to your preferred finish. The beauty of this shade and our service is that we can tailor your color to your desired look. So, let your Colorist know if you're feeling extra daring and want to intensify or turn down those auburn tones. When you're looking to revive faded ends, ask your Colorist to pop an Ends Refresher into your next order. 
This shade falls into our red hair color family, so we stress rinsing with warm to cool water when washing your hair and using color-protecting shampoos and conditioners. Since red pigments have a tendency to fade quickly, a combination of your Ends Refresher and using our Tint Rinse in Golden Mahogany or Copper will keep your color looking fresh.
HOLLYWOOD RED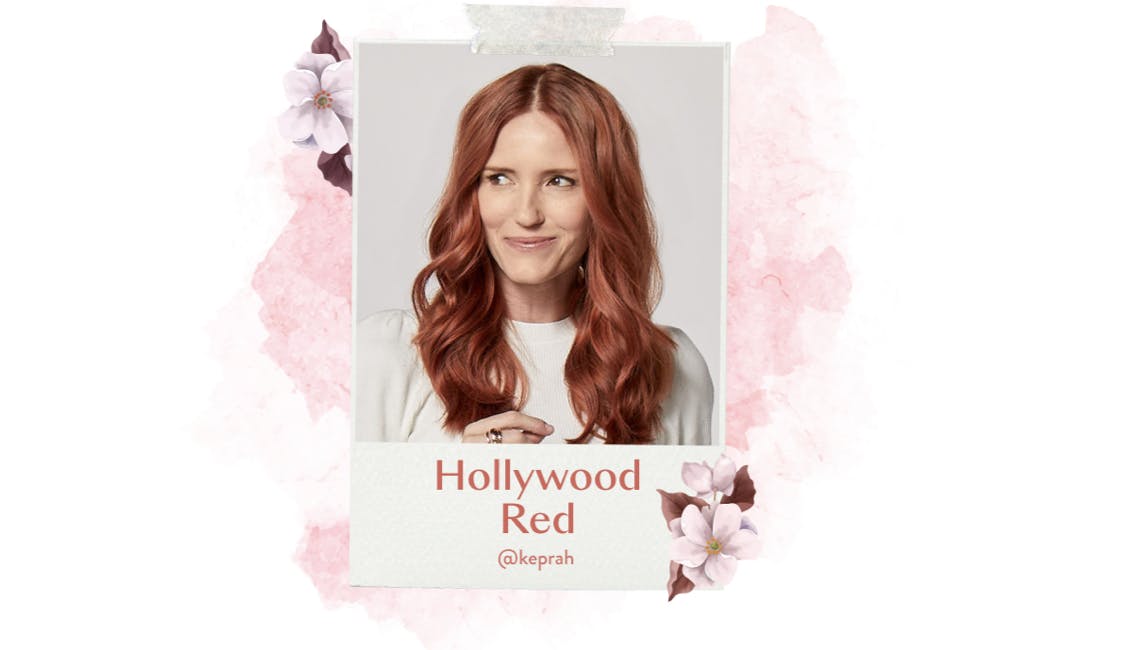 WHY WE LOVE IT 
As summer becomes a fond memory, we're ready to leave behind the bright coppers that make the sunset so dreamy and embrace deeper, cooler reds that bring all the mystery and suspense fall has to offer. These polished reds have undertones of plum and mahogany reminiscent of Old Hollywood sophistication, where this shade gets its name. Only a red shade this striking can measure up to all festivities coming your way this year. 
WHO IT'S BEST FOR
When you're ready to strike a pose, this Hollywood Red is perfect for anyone with natural blonde to light brown hair. Why? Because these vivacious reds are most happy and true to tone at these lightened levels. Red tones are some of our favorites to recommend because they have a multi-tonal finish that can be adapted for any hair color, no matter how light or dark. Keep in mind that the darker or lighter you go will impact how bright or subtle the end result will be, with darker shades seeing most results in the sun. 
HOW TO GET IT & KEEP IT
Ask your Colorist to mix you a dark blonde or light brown base color with intense red and mahogany tones. As always, we know that reds fade quicker than most other hair colors. Washing with cool water and using shampoos and conditioners specifically made to shield your color from fade are the best way to protect your red. 
Got over-processed hair that tends to lose color quickly? Try spraying on our Color Pro Pre-Color Balancer before you apply your color to help lock in your shade. To keep this color picture-perfect, don't just touch up your roots but also refresh your ends as needed with our Ends Refresher or our Tint Rinse in Red.
Ready to slip into these custom shades? Give your Colorist a call or send them a quick note with the link to this blog as inspiration and they'll help you craft your custom version, just for you. For more tips and tricks while you decide, give us a follow on social @eSalon on Instagram and Facebook.