What's a Custom Ends Refresher?
Our colorists explain everything you need to know about eSalon's Custom Ends Refresher, so you have a vivid hair color from roots to ends around the clock.
---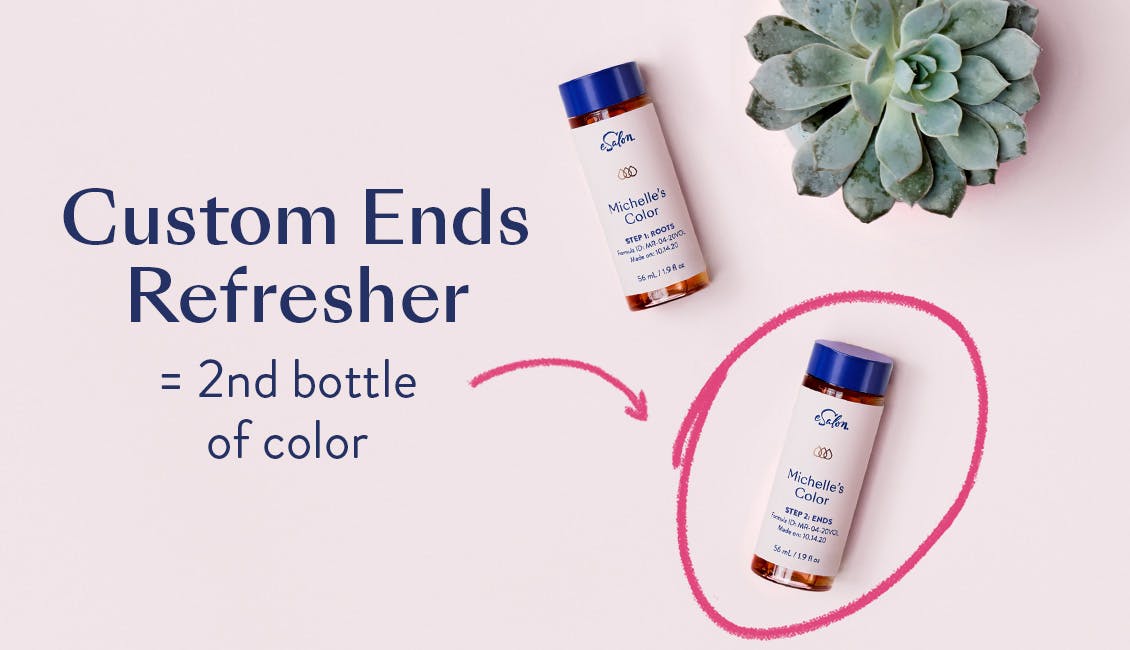 Q: What is it?
Our Custom Ends Refresher is a second bottle of hair color formulated specifically for your mid-length to ends. This magical second bottle of color revives your tone and restores the vibrancy to hair that's faded over time. Why is it considered a "second bottle of color?" Because it always comes with your original custom color bottle, which is applied first.
Q: Why do I need one?
When you order your very first color with us, you may get a free Ends Refresher if you have long hair, a bold hair color, or are making a major color change. Folks with super-vibrant shades such as fiery reds and bright coppers may also receive a free Ends Refresher with their first order. After you've applied your color for the first time, you may not need an Ends Refresher. That's because, after your first color application, you'll only need to do a root touch-up, where your application is focused on your regrowth. Since you're not adding any color to your mid-length and ends, over time you may notice the rest of your hair needs a bit of color love. That's when the Ends Refresher comes in handy to help restore the color and vibrancy specifically on your ends. So to give your color a boost, think about adding the Ends Refresher to your order.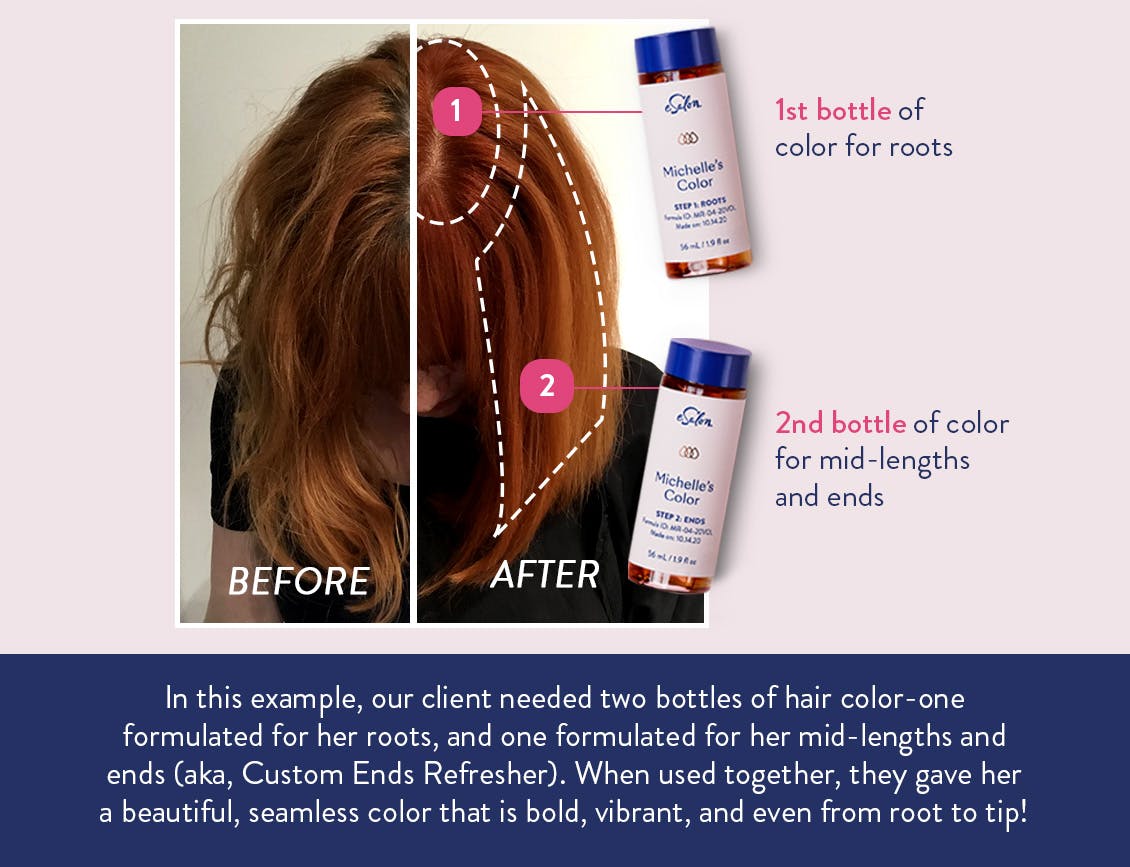 Q: Is it a different formula than my custom color?
Yes, it is a different formula. Your Ends Refresher is crafted specifically for your mid-lengths and ends. When you order your Ends Refresher, your colorist will update your Personalized Instructions to show you exactly how to apply both bottles.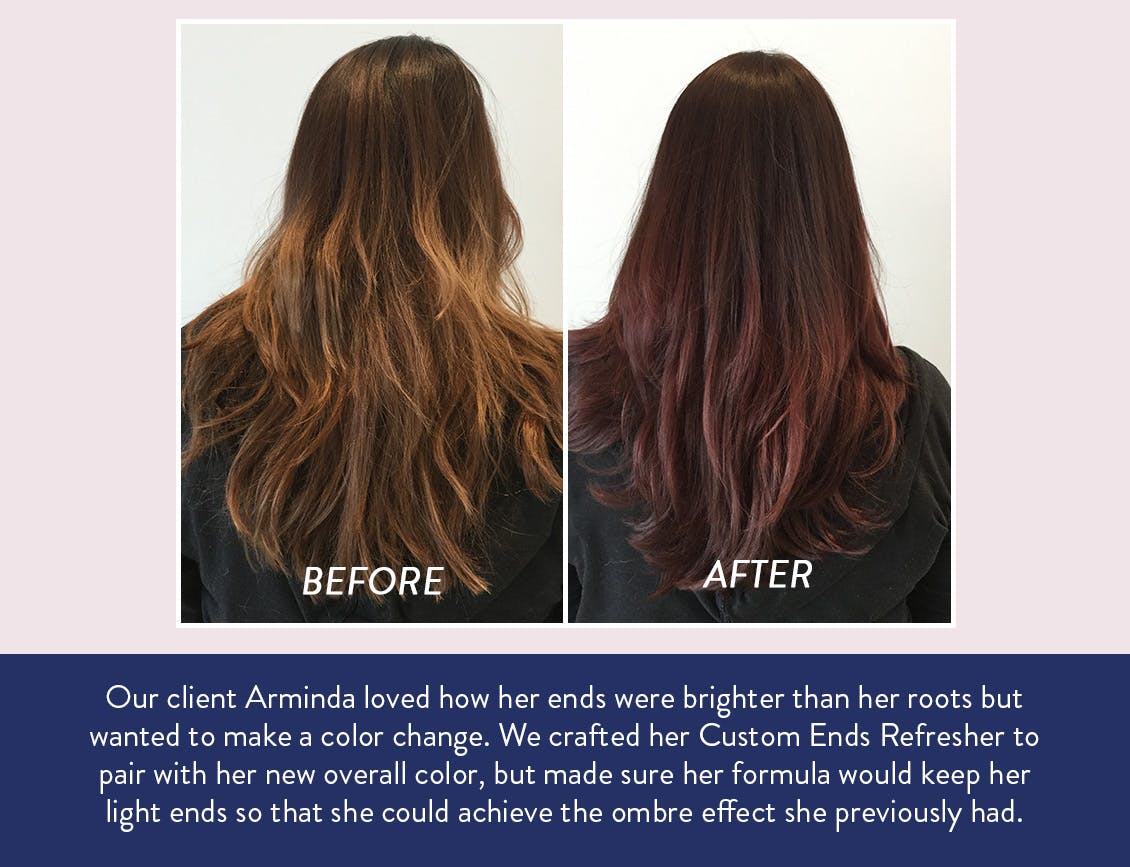 Q: When should I use it?
Every client is different, but we recommend adding the Ends Refresher to your order when you notice your ends are starting to fade or lose their shine. You'll probably notice any fading every 2-4 color applications. You can also ask your colorist what they think (and even send them a picture if you'd like). Just snap a quick selfie and/or send them a note in your account and they'll get right back to you.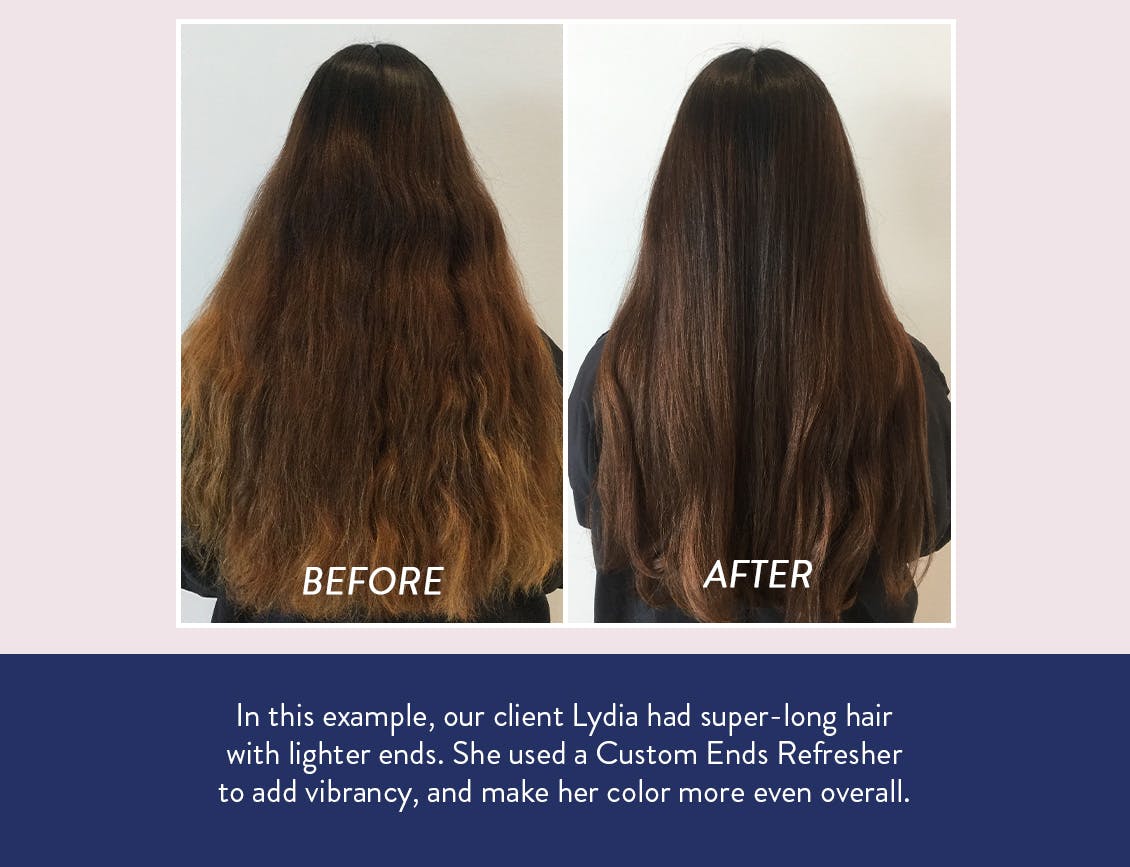 Q: Why can't I put this on my roots, or all over my hair?
The Ends Refresher is specifically customized for your mid-length and ends, hence the name. If you were to use it on your roots instead of your custom color, you'd likely see what our colorists call the "hot roots" effect. What are hot roots? Hot roots are the result of dying your hair several shades lighter without the proper base. This is because your ends have been previously colored and require a slightly different formula than your newly grown-in roots. Boxed dyes and all-over premade shades can often give folks hot roots. To avoid hot roots altogether, make sure you're regularly touching up with a custom roots formula and a custom ends formula—just like in a salon.
Q: Do I have to use the Ends Refresher with my custom color?
Yes. Both your Custom Color and Custom Ends Refresher must be applied together as directed in your instructions. To help, your personal colorist will clearly label these two bottles for you: your custom color as 'Step 1: Roots,' and your Ends Refresher as, 'Step 2: Ends,' to make it super easy. Your instructions are literally like gold so that you can refresh like a total professional.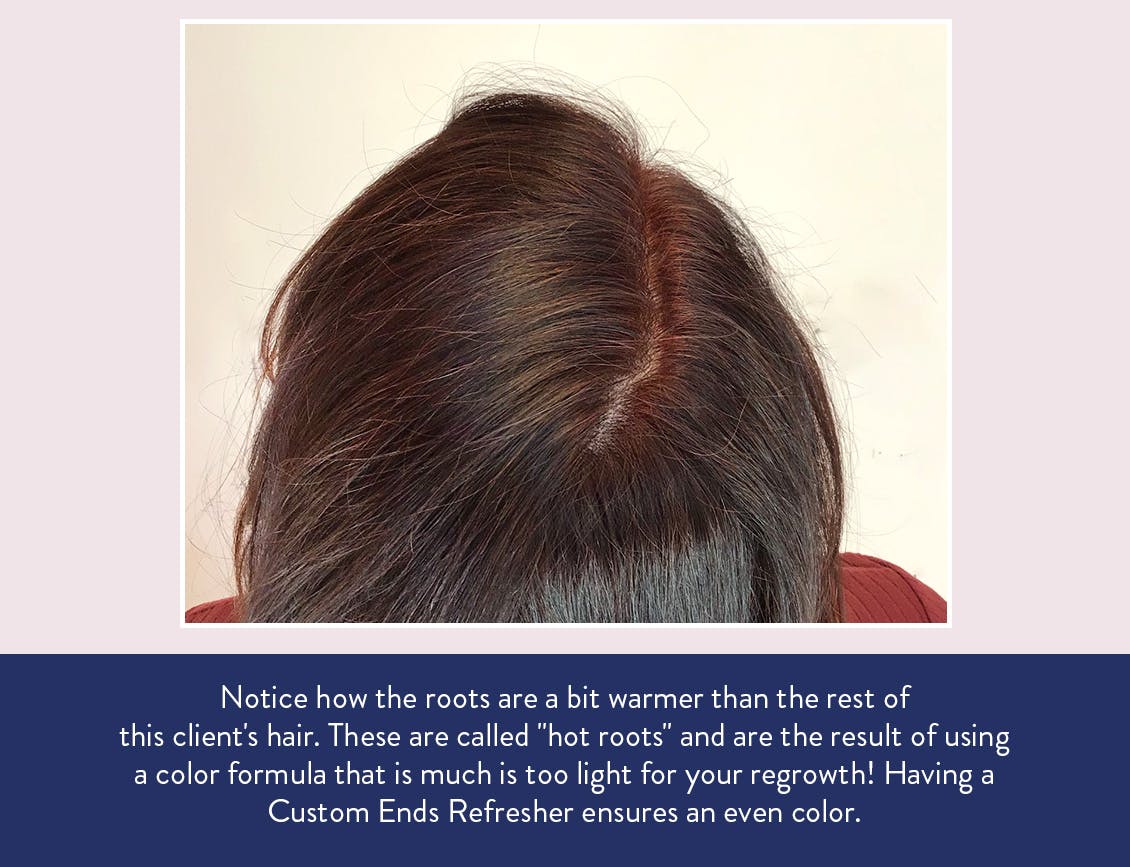 We've got your back at every step, including this little extra one that can make all the difference. Next time you order your Color Set ask your colorist about getting your Custom Ends Refresher.