Get the Perfect Wedding Hair: Hair Hacks for the Big Day
Get ready for wedding season with tips from our expert colorists.
---
Ring the bells—wedding season is here. Whether you're walking down the aisle or attending the ceremony, it's an occasion when we all want to look and feel our best. In addition to the pressure of finding a chic outfit, our hair color and style can make a major impact on the final look. So we sat down with our team of expert colorists and asked them for their insider secrets on how to get the perfect wedding hair. Read on to discover their top seven hair hacks for the big day. 
1. Book a stylist six months ahead of time if you plan on using one.
If you want to hire a professional, it's best to book them at least six months in advance. Bring some inspiration photos to your initial consultation to give your stylist an idea of how you want to look. It's also important to schedule a trial run of your wedding style—you want to make sure you love your look! 
On both your trail run and the day of the wedding, go ahead and shampoo and condition your hair. Any stylist will be able to use texturizers to get any grit they need.
2. Drink lots of water.
This may seem like an everyday tip but staying hydrated is especially important if there's a union in your future. Proper hydration can help revitalize the hair, prevent dryness, and give your strands a healthy finish. So do your hair (and skin!) a favor and start drinking at least 8 glasses of water a day.
3. Reduce shampooing or use a co-wash.
Although washing your hair is an important part of any hair care routine, washing your hair too frequently can strip your hair of its natural oils and cause your hair color to fade. Try adding another day to your typical wash schedule or incorporating a co-wash into your regimen. 
Our Cream CoWash is designed to shampoo and condition in one step for a gentler, more streamlined cleanse. Formulated with ingredients like color-shielding Quinoa, this versatile product enhances shine and improves manageability while balancing your hair's natural oils.
4. Avoid heat styling before the big day.
When the special day gets close, try to avoid styling your hair with heat tools like hair dryers and flat irons. Heat-exposed tresses can break or dry out leaving your hair with a frizzy finish. Instead, go for heatless hairstyles that embrace your natural hair type and texture.
5. Apply hair masks weekly.
Give your locks some extra love this wedding season by incorporating a hair mask into your Self Care Sunday routine. Look for ultra-hydrating hair treatments—like our Weekly Retreat—to help give your hair a lustrous glow. 
Formulated with nourishing ingredients like Avocado and Argan Oil, this replenishing treatment shields strands from things like daily stresses and leaves your hair wedding-ready.
6. Time your last trim and color application about one week before the wedding.
To make sure you look your best on your wedding day, schedule your last trim and color about one week before the wedding. For your haircut, let your stylist know you just want a trim to freshen things up—now is not the time to play around with drastic changes! 
For radiant hair color, get a Custom Color Set and have it delivered before the big day. Our salon-quality hair color will give your hair a rich and multi-dimensional look with the convenience of coloring it at home, saving you both time and money.
Simple DIY Wedding Hairstyles
If getting a stylist is not in your wedding day plans, there are plenty of DIY hairstyles that will easily elevate your everyday look. For that added sparkle, our colorists have selected three of their favorite simple styles to put the finishing touch on nearly any outfit.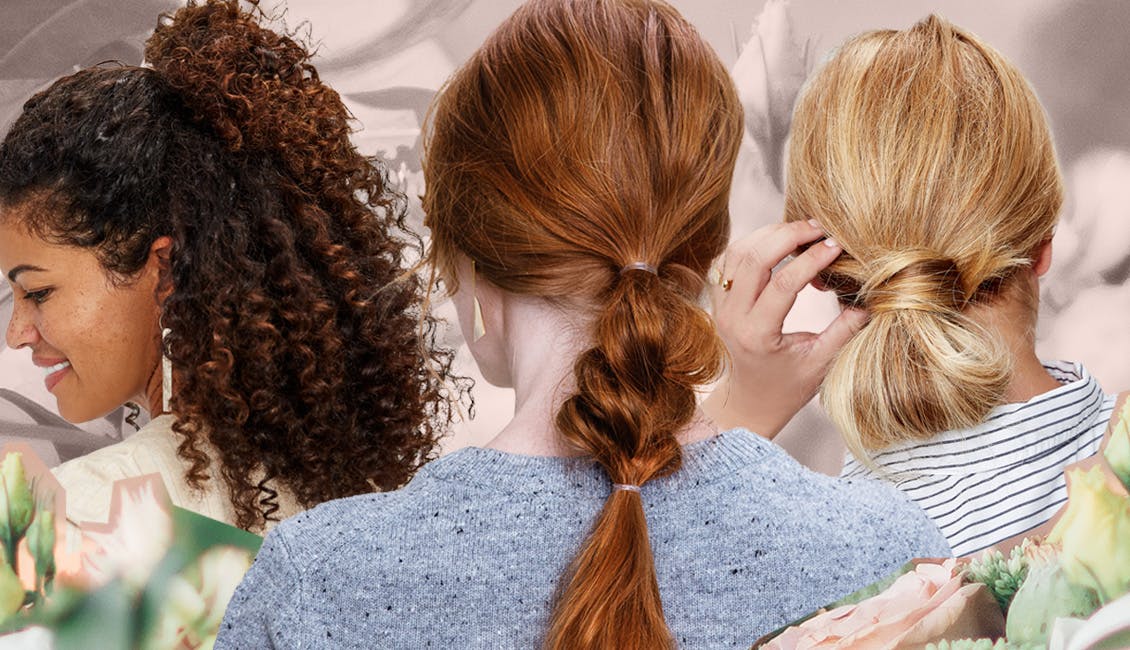 Low Wrap-Around Bun
Step 1
On dry or day-old hair, spray Dry Cleanser, concentrating on the roots.
Step 2
Gather hair together in a low ponytail at the nape of the neck, and secure with a clear elastic.
Step 3
Loop hair under the elastic and wrap ends around it, securing with bobby pins.
Step 4
Pinch and pull hair at the crown for a carefree yet chic finish. 
Step 5
Spray Forcefield Hairspray all over the hair, locking the style into place.
Low Bohemian Braid
Step 1
Prep hair by spraying Dry Cleanser from root to tip, and let it sit for 3 to 5 minutes.
Step 2
Loosely bundle into a low ponytail and secure at the nape of the neck with a clear hair elastic.
Step 3
Braid the hair halfway down the ponytail, securing braid with a second clear elastic.
Step 4
Pinch and pull, loosening loops of the braid to create fullness for an undone look. Face-framing pieces can also be taken from the braid.
Step 5
Tame any flyaways with a pea-sized amount of Shine Silk. The result is an effortless, bohemian look. 
Half-Up Party Style
Step 1
On day-old hair, use your fingers to make a horseshoe-shaped parting behind the ears, ending at the crown.
Step 2
Gather the top section of hair into a loose ponytail at the crown of the head.
Step 3
Secure the ponytail with a clear elastic. Add 2 pumps of Shine Silk from mid-length to ends, working through hair for high shine and humidity control.
Step 4
Lightly spray Stretch Hairspray all over for a flexible hold.
We hope this guide to simple hair hacks for the special day helps you get the wedding hair of your dreams and take out some of the guesswork of wedding planning. We want you to look and feel your best on any wedding date! For more hairstyle tutorials and colorist advice, be sure to follow us on social media @esalon.