2021 Hair Color Trend & Wellness Forecast
From our colorists to you.
---
2021 is finally here and we are beyond thrilled. While we settle into the last dash of winter and head into spring, now is the time to reflect and refresh. What better way to do it than with a rejuvenating face mask, a glass of wine, and your custom hair color. Need ideas? Our colorists have you covered with our 2021 hair color trend forecast offering a shade for all, no matter your current color. 
When finding the perfect custom hair color, it's not just about matching your skin tone but how you feel in it. So we're giving you our total inside and out refresh and wellness tips to bring joy to your every day and a little glow to your hair and skin too. Upgrade your signature hair color or try something totally new, the year is young yet.
Trailblazer Brunette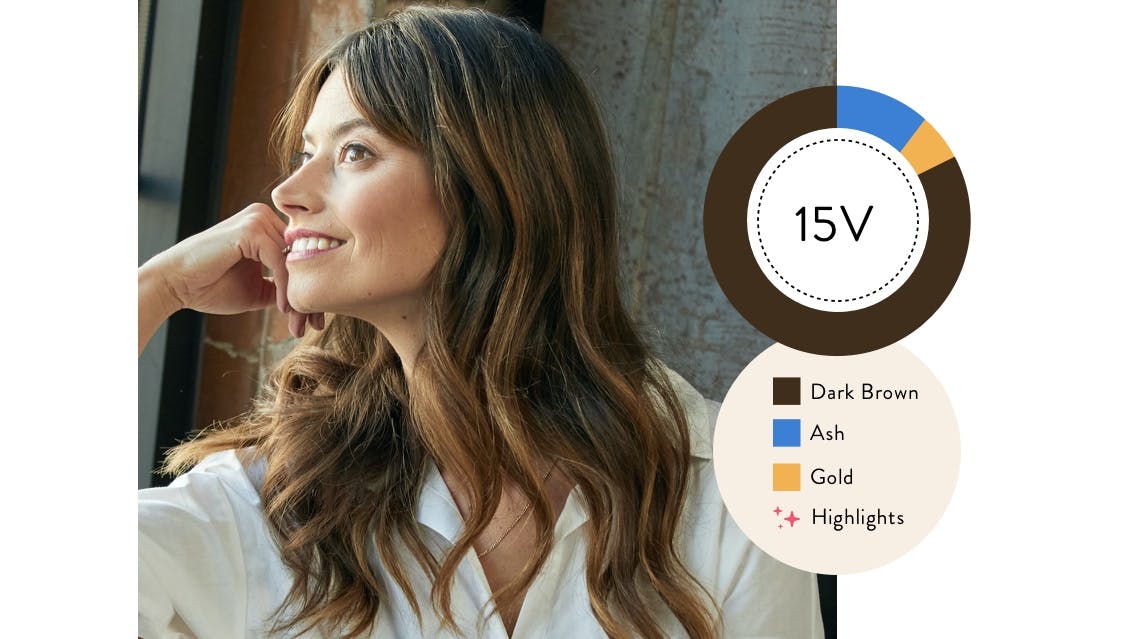 What it looks like and who it's for.
Imagine waking up to a turmeric oat milk latte and reading your favorite book in a softly lit garden with the birds singing all around you. This warm brunette hair color feels just like that with a side of energy to give your ensemble flair and works well with all skin tones. If you like to live in this dreamy limbo where brunette and blonde become one, this shade is for you. Enhance your natural shade with this color's mix of soft gold, toasted almond, and icy tones throughout your hair. Plus, it sets the tone for the year and helps you realize your ambitious trailblazing goals.
How to get it and keep it.
You'll want to work with your current base, whether that be a darker or lighter brunette. Start by asking your colorist to add cool or warm beige tones to your base color based on your complexion. If you're starting with blonde, you'll need to go a little darker all over which can require a few extra steps, but your colorist can help out. Our favorite trick for lightening this shade as you slip into spring is to apply a few subtle highlights with our Light Set.
To get the best sunswept finish at home, start by applying your highlights an inch from your roots with an upward stroke. This will create a warm highlight that is a few shades lighter than your new base color, just like our client Anastasia above. Roots showing? In between applications, keep them covered with our temporary root coverage spray Camo Mist that takes less than a minute to apply. Finally, to keep the tone of your highlights in the perfect land of beige until you're ready for your next color, we recommend applying our shampoo-in Tint Rinse in warm beige once a week. 
Wellness tips to keep you balanced.
As a trailblazer, you're ready to get creative and sift through ideas first thing in the morning or just before you wind down for bed. Life gets busy, so taking 10 minutes to unwind and journal can help. Journaling is known to help reduce anxiety and exercise your emotional intelligence, which is a lot like muscles that need stretching. Create a welcoming space somewhere in your home where you feel relaxed, and if scheduling helps, put it in your calendar. Our favorite spot these days is on a balcony or near a window where you pick up some mood-boosting Vitamin D or (for our night owls) do a little stargazing.
Courageous Copper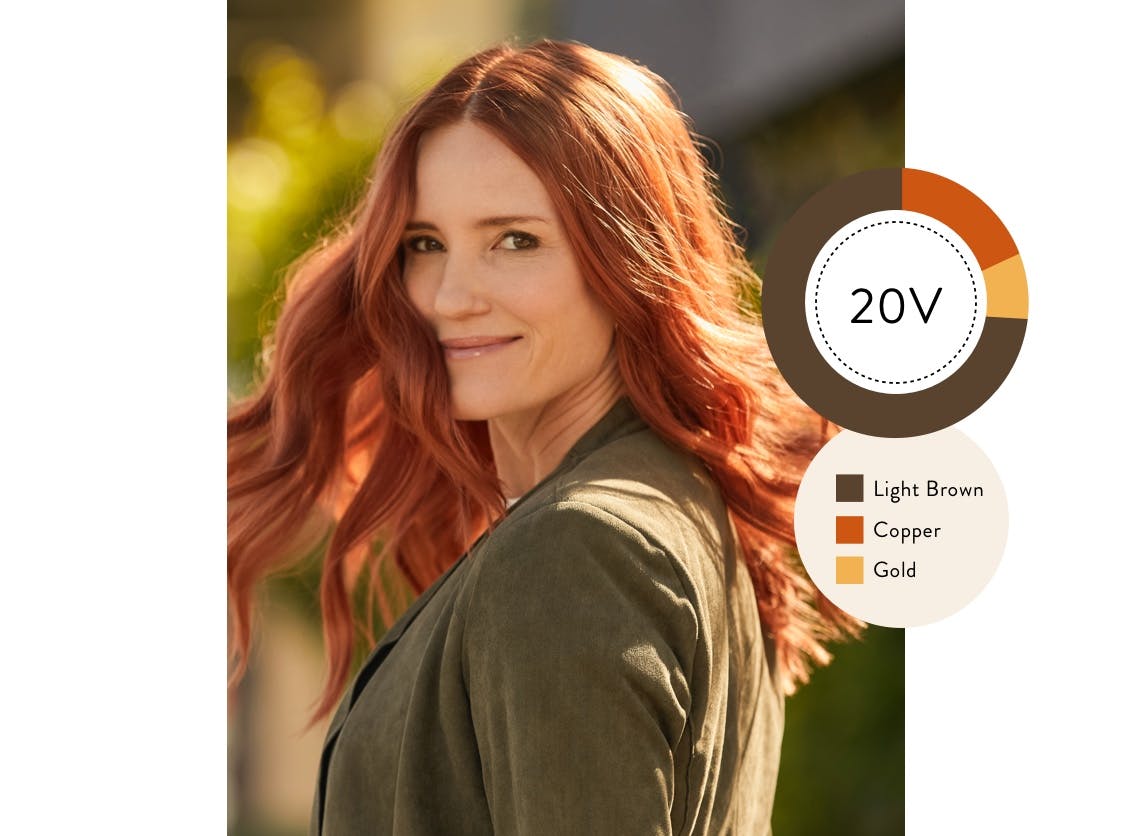 What it looks like and who it's for.
Imagine a warm fire burning with the sounds of crackling wood and the intensity of the flames as they climb higher—this color looks and feels just like that. Our favorite Courageous Copper shade brings together all the best qualities of copper and red hues. With brightly pigmented undertones to help fuel your quest for adventure this winning combo does wonders for fair to medium and neutral to olive skin tones. Light or dark, this copper red stuns at any level between dark brunette to light blonde. 
How to get it and keep it.
Start by adding copper and red tones to your base. To create a natural ombre look with this custom red hair color, add depth at your roots with a slightly darker tone. To add vibrancy from your mid-length to ends, ask your colorist about adding a Custom Ends Refresher. Our Ends Refresher adds dimension and seamlessly transitions your slightly darker root to your brighter ends. If your hair is too short to apply a Custom Ends Refresher, you can create a similar effect with Tint Rinse in Copper, or even apply a few highlights.
For an extra bold sunkissed look, use Light Set (Copper or Mahogany is our favorite) to add a touch more light to your ends. Your colorist can help you decide which Light Set within that tonal family works best for you. Remember that your color is custom, so if you love this look but you're not ready for a vibrant shade like this, your colorist can easily formulate a toned-down version that's perfect for you. Whatever you choose, maintain these fiery tones with our Tint Rinse in copper or red to maintain in between applications.
Wellness tips to keep you balanced.
Fresh air and Vitamin D are an unbeatable combination for our redheads and necessary as we spend so much time indoors. Take a stroll alone or with someone you love each day to help clear your mind or talk about the top moments of the day. Walking is historically one of the top activities for creatives and sunshine can help those struggling with seasonal depression. Exercising keeps your blood flowing and your mind active, so if you're feeling like you need energy to get through your Zoom calls—go on 15-30-minute walks to reset. This color will make you feel like you can do anything, so get out there and make your goals a reality.
Wishing Well Brunette/Black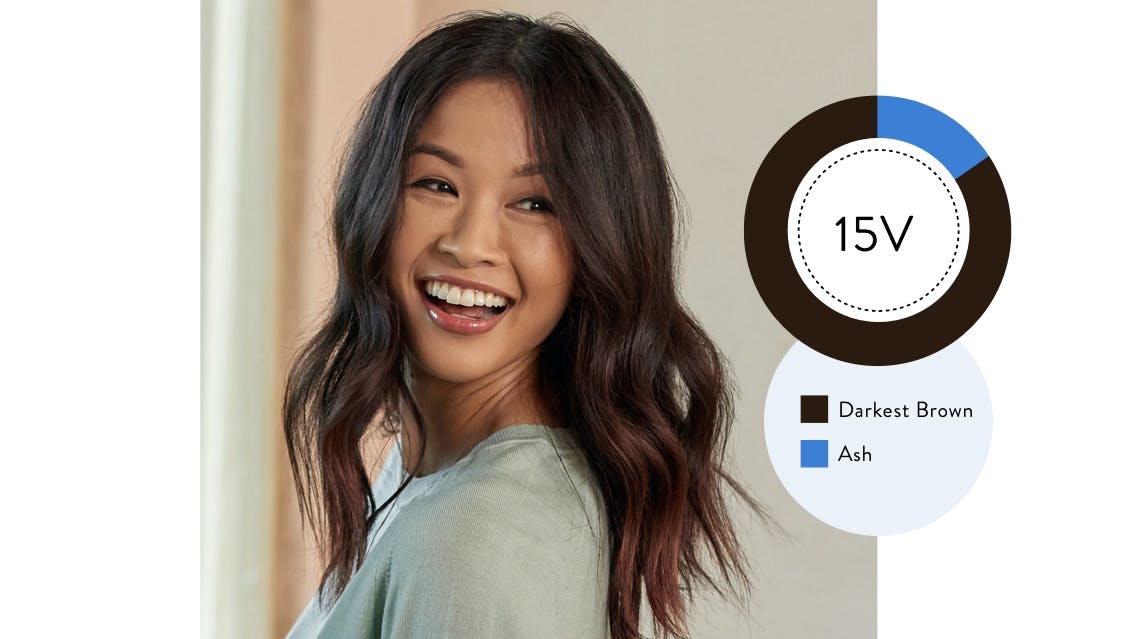 What it looks like and who it's for.
This shade takes its lead from the Milky Way with its chocolate-ganache ends dipped in sugary stars. This shade is great if you're looking for a low maintenance hair color with a little bit of sparkle. We love its ombre, creamy-light finish with dark roots and bright ends. This dark brunette or black shade has a beautiful blend of deep mahogany and cool plum tone. If you're a natural brunette or have a warm skin hue, this shade is versatile and easily modified to suit you. To our dreamers out there who want to find their forever hair color, take this Wishing Well Brunette out for a spin.
How to get it and keep it.
To get this shade on dark hair, ask your colorist to formulate an all-over color with cool espresso or warm chocolate tones. Starting from a lighter base? We recommend gradually darkening your hair by one or two levels before you fully commit or try a demi-permanent formula to start. Because this shade is an ombre, pre-lightened ends are what makes it sparkle. If you already have pre-lightened ends then half the work is already done for you. To lighten your ends to about two shades lighter than your base, add balayage highlights at about your nose level, getting heavier towards the tips of your hair. Once you've created the amount of dimension you want with balayage, apply your espresso color over it. 
Following highlights your hair may need some extra TLC, so make sure you replenish your hair's moisture with a weekly deep conditioning treatment like Weekly Retreat. The day before lightening, we recommend applying a hair mask to pre-treat your strands. Once you've achieved your Wishing Well Brunette hair color, maintaining it is easy with root touch-ups on an as-needed basis. If your chocolaty ends start to become brassy, you can refresh them with our Custom Ends Refresher or Tint Rinse in dark brunette.
Wellness tips to keep you balanced. 
As a dreamer, your passion projects are what bring you satisfaction and enhance your personal growth. Working on something you love outside of your 9-5 job can help break up your routine and make things brighter. Now is the time to focus and dust off your talents, remember what goals you've set for yourself and give yourself incentives. With this hair color to get you back into the creative mood, keep the momentum going and build a vision board, create a business plan, or finally write that book. Practice, persistence, and repetition make progress and that's what you're about to do. 
Golden Hour Blonde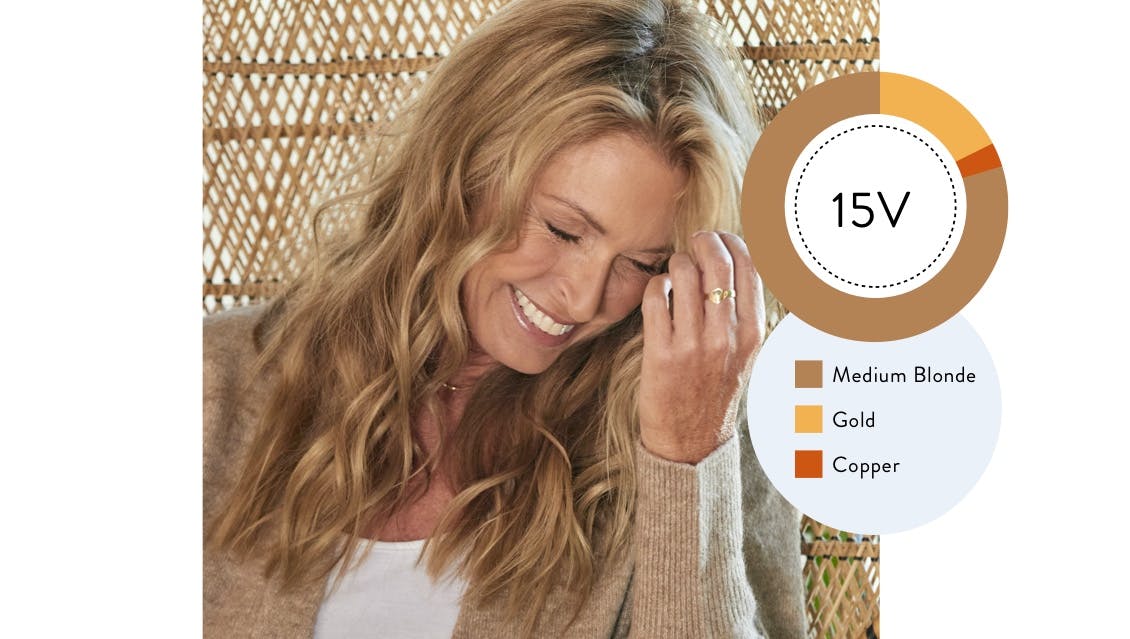 What it looks like and who it's for.
This custom Golden Hour Blonde hair color looks like the sun rising in what's left of winter's cold frost. Ring in your best year yet with a color that truly shines in refreshing strawberry tones and puts all eyes on you. This shade is best for warmer skin tone and gets its satisfying balance from balayage highlights for your shade. The multi-tonal nature of this blonde brings a natural highlight to your skin that's easily transitioned between seasons. 
How to get it and keep it.
Building up to this shade, ask your colorist to add just a combination of gold and copper tones to lean into a ripe springtime strawberry. But, you'll have to fight the urge to shine as bright as the sun, because even the brightest shades look best with a little contrast. Ask your colorist to deepen your base, while glossing and warming the lengths of your hair with vibrant strawberry copper tones. Then add balayage highlights, around your face to get the sparkle you want. 
Upkeep is super easy with this blonde when you periodically use our golden or copper golden Tint Rinse to slightly bring out the warmth. Looking to balance brass once it starts to fade over time? Try a blonde neutralizer to cool it in between your color applications without a salon visit. To add shine, use a shine serum and moisturize your strands with a leave-in conditioner that's made to protect your color. 
Wellness tips to keep you balanced.
Kicking off 2021 with your Golden Hour Blonde already changes the mood of everything you do with hope and positivity. With so much on your plate last year, your mind needs a rest and rejuvenation. Try taking a few minutes each day to sit quietly and clear your mind with meditation or try honing in on a new skill. Instead of worrying, channel your energy and reduce your stress levels. You are more resilient than you know, so bring in positive change and all of your hard work will pay off. It's your year, goldie. 
Our colorists share their love of custom hair color with these fresh trend forecasts each year. Stay in the know with new Color Mastery articles to come each season when you follow us on Instagram, Facebook, and Pinterest @esalon.