The Best Hair Care Products for Dry, Damaged, or Thinning Hair
If you've got stressed strands, we're here to help. Read on to discover our favorite hair care and styling products for three of the most common hair concerns.
---
Let's face it—we've all got hair issues. Whether it's seasonal dryness, heat-damaged hair, or naturally fine strands, we're always looking for ways to help our hair look and feel its best. That's why we asked our colorists to create hair care and styling routines for three of the most common hair concerns: dryness, damage, and thinning hair. In this article, we'll share their thoughts on which products to use depending on your hair goals and how to know which ones are right for you.
Dry Hair
Dealing with dry, brittle hair is one of the most common hair issues we see because there are many factors that can dehydrate the hair. Daily heat styling, washing your hair too often (or washing with the wrong products), spending too much time in the sun, improperly coloring your hair, or having a naturally dry hair type (like curly hair), are just a handful of the causes behind thirsty strands. 
Dry hair can often appear frizzy or brittle because the cuticle has opened up and is searching for moisture in the air, making it vulnerable to environmental factors like humidity. Your hair color may also look dull or flat because it lacks the moisture needed for that healthy-looking shine. If that sounds like you, it's time to pump up the hydration in your daily routine with ultra-hydrating products that seal in long-lasting moisture.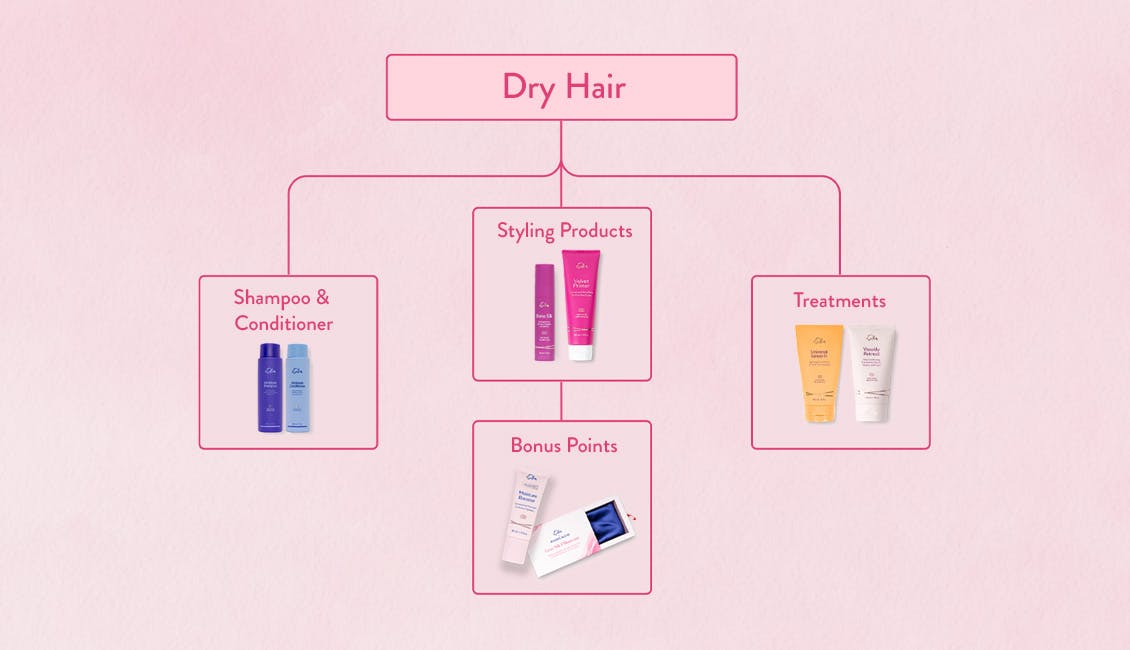 Our Favorite Hair Care Routine for Dry Hair
Shampoo & Conditioner: Moisture Shampoo & Conditioner Duo
For everyday cleansing and conditioning, our colorists recommend the Moisture Shampoo and Conditioner Duo for anyone with dry, coarse, or curly hair. Formulated with premium ingredients like hydrating Avocado Oil and smoothing Panthenol, this bundle helps prevent dryness while enhancing shine for a silky smooth finish. 
Styling Products: Shine Silk & Velvet Primer
When it comes to styling dry hair, our colorists suggest adding Shine Silk and Velvet Primer to your routine. Velvet Primer can be used as a leave-in treatment for extra hydration or used as a primer before heat styling. The result is a smooth, hydrated finish. 
If you have dry ends or want to smooth frizzy flyaways, a little Shine Silk goes a long way. Simply smooth over strands to help hydrate the hair while boosting shine. 
Treatments: Universal Leave-In & Weekly Retreat
If dry hair is your biggest hair concern, we highly recommend adding a leave-in conditioner and a hair mask to your hair care regimen. Our Universal Leave-In Conditioner is our go-to as it helps to hydrate all hair types with a blend of nourishing ingredients like Rice Seed Protein and Rice Bran Extract. 
For an added boost of hydration, you can't go wrong with our Weekly Retreat hair mask. If used once a week, this ultra-hydrating hair care product helps soften strands, reduce breakage, and add shine. 
Bonus Points: Moisture Booster & Silk Pillowcase
Take your hydration to the next level with our Color Pro Moisture Booster. Designed to seamlessly fit into your wash day routine, this concentrated treatment leaves hair soft and supple. You can also grab a Silk Pillowcase to help prevent frizz and retain moisture—and it's great for your skin! 
Damaged Hair
We all aspire to have luscious, vibrant locks, but sometimes our hair can fall victim to damage. One of the primary culprits behind this hair havoc is excessive heat styling. Applying heat to the hair can weaken the hair shaft, leading to brittle and frizzy strands. Additionally, chemical treatments like bleaching, overzealous brushing (especially while wet), and environmental factors like UV rays and pollution, can all cause the hair to become weak, fragile, and dull. But don't worry, we're here to help. 
To keep your hair vibrant and healthy, there are many products that can help fortify strands and prevent damage from happening in the first place.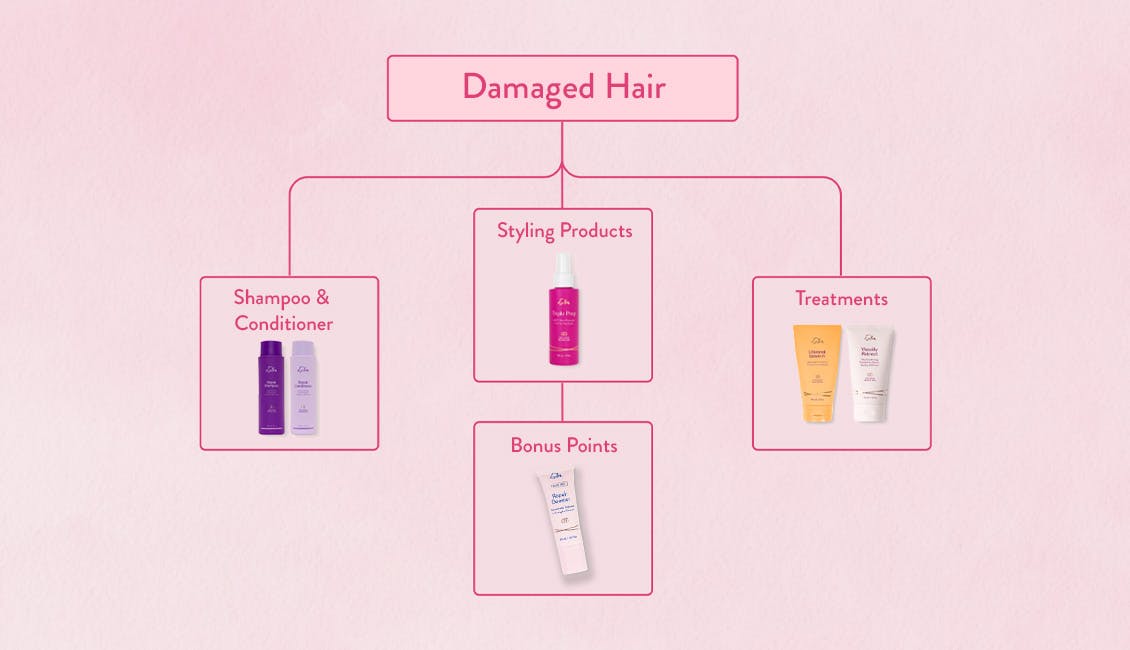 Our Favorite Hair Care Routine for Damaged Hair
Shampoo & Conditioner: Repair Shampoo & Conditioner Duo
Happy, healthy-looking hair starts in the shower. To help revitalize your strands each time you step in the shower, our colorists recommend our Repair Shampoo and Conditioner Duo. Together, they help reinforce damaged strands, prevent breakage, and provide thermal protection for a radiant look. 
Styling Products: Triple Prep
As we mentioned above, heat styling with tools like curling irons, straighteners, and blow dryers is one of the most common ways to stress out your locks. If you love to use any of these tools, it's essential to make a heat protectant like Triple Prep a part of your styling routine. This lightweight spray is packed with nourishing ingredients to shield strands from heat while adding shine and smoothness.
Treatments: Weekly Retreat
Adding a hair mask to your self-care routine can also make a big impact on stressed strands. Our Weekly Retreat hair mask not only adds hydration and shine but also helps to prevent breakage and offers thermal protection. 
Bonus Points: Repair Booster 
To help your hair go the extra mile, we also suggest our Color Pro Repair Booster. Using a concentrated mix of restorative ingredients like Shea Butter and Keratin, all you have to do is apply this product in the shower for an added boost of protection. 
Fine or Thinning Hair
Whether you have naturally fine hair or you simply want a more voluminous look, understanding the causes and recognizing the symptoms behind thinning hair is the first step to addressing this very common issue. Stress, hormonal changes, and genetics are among the leading causes of thinning hair, making it a very common concern among women of all ages. 
If you have thinning or fine hair, you may notice increased shedding, ponytail shrinkage, or your part may look more spread out. To give your hair more body and bounce, there are plenty of tools you can add to your hair care arsenal.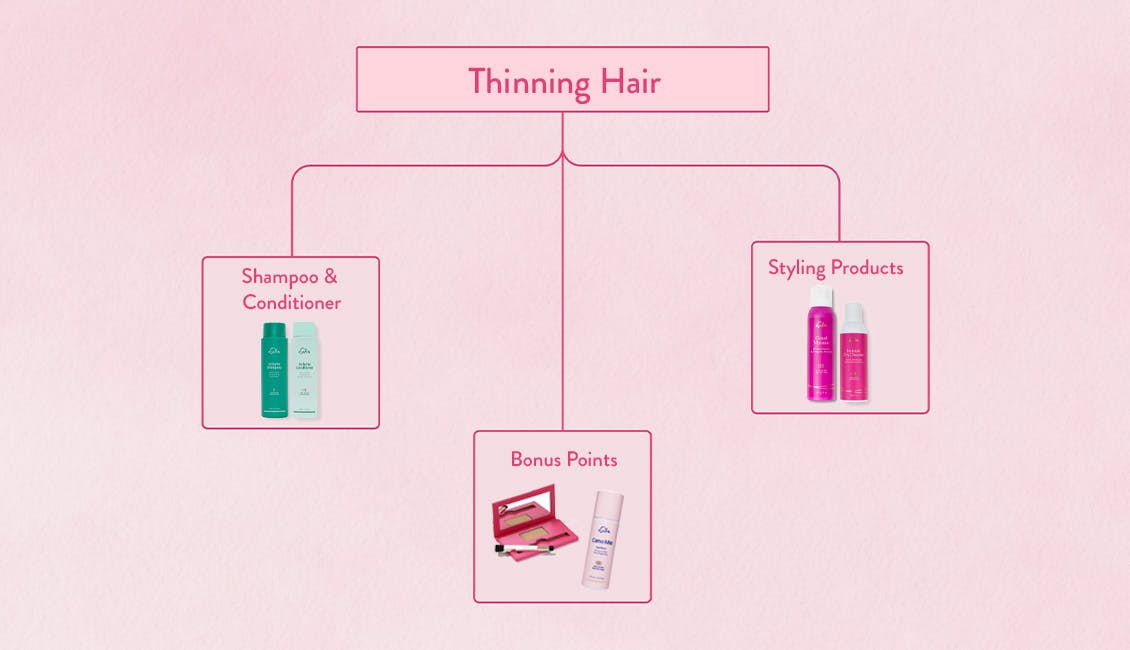 Our Favorite Hair Care Routine for Thinning or Fine Hair
Shampoo & Conditioner: Volume Shampoo & Conditioner Duo
Proven to increase the appearance of fullness, our Volume Shampoo and Conditioner Duo is a must-have for anyone with thinning or fine hair. These professional-grade products cleanse and condition the hair without weighing it down, giving your mane the volume it needs. 
Styling Products: Cloud Mousse & Invisible Dry Cleanser
When styling your hair, go for lightweight products like our Cloud Mousse. This dreamy product helps hold styles in place while adding body and movement. You can also add a few sprays of our Invisible Dry Cleanser to your roots for added texture and lift—plus, it gives your strands a quick refresh! 
Bonus Points: Camo Mist & Root Powder
You can also make your hair appear thicker by filling in your hairline or part with pigmented products like our Camo Mist and Conceal & Cover Root Powder. For precise coverage in hard-to-reach areas, our Conceal & Cover Root Powder can help seamlessly blend your hair color and scalp for a fuller-looking finish. For larger coverage areas, a few sprays of Camo Mist will do the trick.
Addressing your specific hair concerns and achieving your hair goals is not only possible but also easier than ever with eSalon. By following our colorists' advice and selecting the right products tailored to your needs, you can get the exact look you want. For more tips, inspiration, and hair tutorials be sure to follow us on social media @eSalon.