Heat Damaged Hair 101: Causes, Signs, and How to Prevent It
It's getting hot in here.
---
Achieving your desired look often requires a little help from our favorite heat styling tools. Blow dryers, flat irons, and curling wands are our best friends when it comes to perfecting our look, but daily use can cause damage and stress to your strands. Read on for our tell-all guide on heat damaged hair; what causes it, what the signs are, and how to prevent it.
What causes heat damage to hair?
This may seem like an obvious answer, but we really want to break down what's happening to your strands. Anyone who uses heat tools such as curling irons, flat irons, or blow dryers is susceptible to heat damage, however, those who have previously colored, textured, or more fine hair are even more likely to experience this type of stress. 
So what's actually happening when heat damage occurs? Excessive heat use essentially blocks out the hydration from within the strands causing dry, brittle hair. On a more granular level, heat damages the essential keratin proteins as well as the cuticle of each strand leaving your locks without much love.
What are the signs of heat damaged hair?
How can you identify heat damage in your own strands? If you notice your locks are lacking their normal gloss or shine, this can be an indication of cuticle damage which takes the brunt of it all when it comes to heat use. Since heat damage infringes on the hair's ability to retain moisture and proper hydration, breakage, frizziness, and split ends are also signs of excessive heat use. These indications all come from a lack of structural integrity of your strands along with less elasticity and all-around dehydration, which is a sign that heat damage may be the culprit.
How do I prevent heat from damaging my hair?
Shielding your strands from heat stress may sound difficult but there are actually a number of simple ways to prevent damage from heat styling. Here are five easy steps you can take to help keep your strands healthy and happy.
Go for heatless hairstyles when possible.
Heatless hairstyles are a great option when looking to cut down on heat use. These kinds of hairstyles help prevent stress by working with your natural hair texture, instead of turning to hot tools. These hairstyles are an amazing go-to for those looking to switch it up and get creative with their look while maintaining their hair's health. There are so many choices for all hair types and styles, so if you need some inspiration check out our lookbook for your next go-to style.
Always use a heat protectant when using hot tools.
The golden rule of protecting your hair from heat, use heat protectant—every time! Commonly sold as a spray, this type of hair care product works to create a barrier of protection by slowing heat transfer from the styling tool to your strands.  
We recommend our Triple Prep spray. This styling essential is formulated with nourishing ingredients that work to shield strands while adding shine and smoothness. Infused with Chamomile Extract to help strengthen and Allantoin to add softness, this versatile styler fights frizz and cuts drying time with just a few spritzes to your mid-lengths and ends.
Set your hot tools on a moderate setting.
The most common mistake people make when heat styling their hair, is to crank up the heat settings far beyond what is needed to get the job done. Our expert colorists say the sweet spot for most hair types is 150–200°F. Keep in mind that coarse, thicker textures may need closer to 300°F to be effective. We also recommend never exceeding 400°F as that is where damage starts to occur for nearly all hair types.
Use a restorative shampoo and conditioner.
The right shampoo and conditioner can help fortify the hair barrier so that it's strong enough to withstand heat styling without breaking. Cleansers that are sulfate-free are best for those looking to retain moisture and rehydrate strands. 
One of our favorite products for heat damaged hair is our Repair Shampoo & Conditioner Duo. This dream team is equipped with a sodium lauryl sulfate (SLS) and sodium laureth sulfate (SLES)-free shampoo that curbs damage and builds strength, while the luxe conditioner rehabs weakened, fragile, or over-processed hair back into silky-soft action.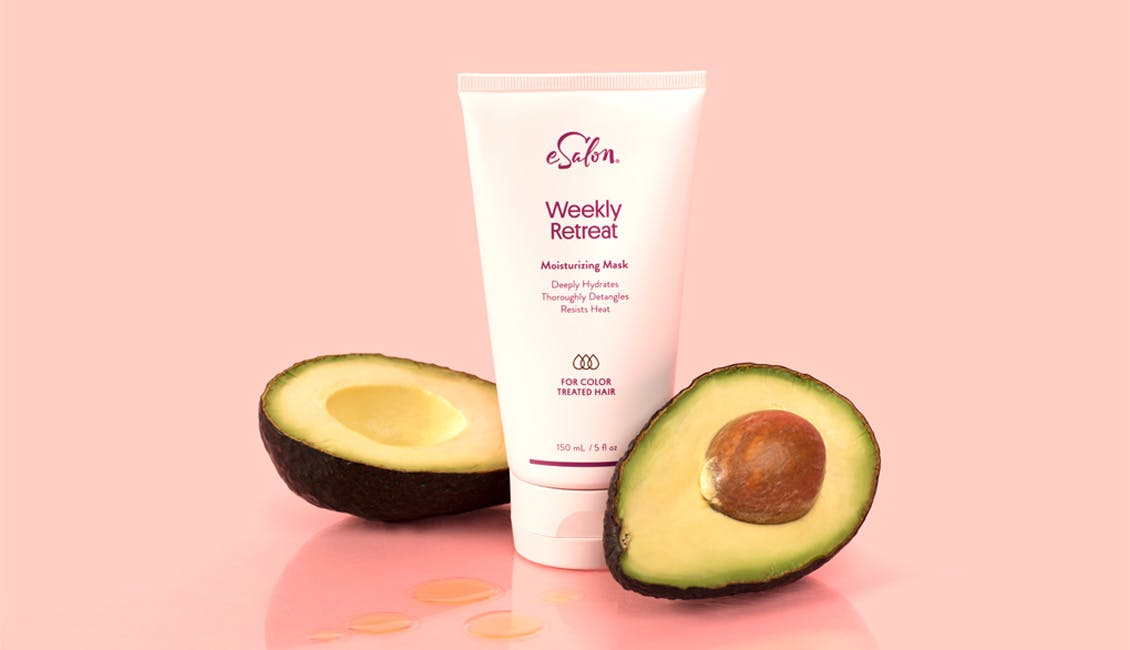 Use hair masks weekly.
If you frequently use hot tools on your strands, one of the best ways you can help your hair recover quickly is to apply a hair mask at least once a week. Adding this element to your weekly hair care routine helps to provide added hydration to stressed and lifeless strands. 
We recommend our Weekly Retreat mask—a weekly 10-minute treatment that your hair will thank you for. Formulated to lock in moisture to intensely hydrate stressed-out hair with premium ingredients like Avocado oil that work to penetrate deep into the cuticle to moisturize from the inside out, while Argan and Jojoba oil play defense to fortify and protect strands throughout the week.
Now that you've taken our crash course on heat damage, go forth with protected and nourished locks. For more ways to unlock gorgeous, healthy-looking hair, follow us @eSalon on Instagram, Facebook, and Pinterest.