Spring Style Refresh Based on Your Hair Color
Find out what spring style staples work best with your hair color.
---
Let's face it. After two years of uncertainty, it's time to treat yourself to a complete wardrobe makeover. For incredibly flattering results, we suggest giving yourself a spring style refresh based on your hair color, instead of solely relying on the latest fashion trends. Continue reading for specific spring fashion inspiration and style tips curated for brunette, blonde, black, and red hair colors. 
How To Dress For Your Hair Color
When picking out an outfit that is complementary to your hair color, it is a lot like figuring out what colors look best with your eye color or skin tone. Each hair color, regardless of hair type or hair texture, has its own unique tone that shines brightest when paired with the right color combinations. And besides, your custom shade is your best accessory so why not highlight it with a chic outfit to match? Discover which hues suit your base color best below. 
BRUNETTE
Brunettes can definitely have some colorful fashion fun, too. Unlike blondes, jet black and boldly colored prints look incredible on brunettes. Get ready to rock some bold motifs and bright hues — like turquoise blue and berry pink — this spring season for the ultimate wardrobe update. 
Although bright colors look great on you, soft and lighter hues tend to wash brunettes out. Pastels may be common to wear during the spring season, but they are a big no-no for darker hair colors.
Instead take advantage of bright, rich hues as well as saturated, multicolored prints you're able to pull off that other hair colors can't.
Colors to Wear
- Turquoise Blue
- Lipstick Red
- Ivory
- Sunshine Yellow
- Royal Blue
- Tangerine Orange
- Berry Pink
- Jet Black
Colors to Avoid
- Beige
- Pastels
- Olive Green
Try These Looks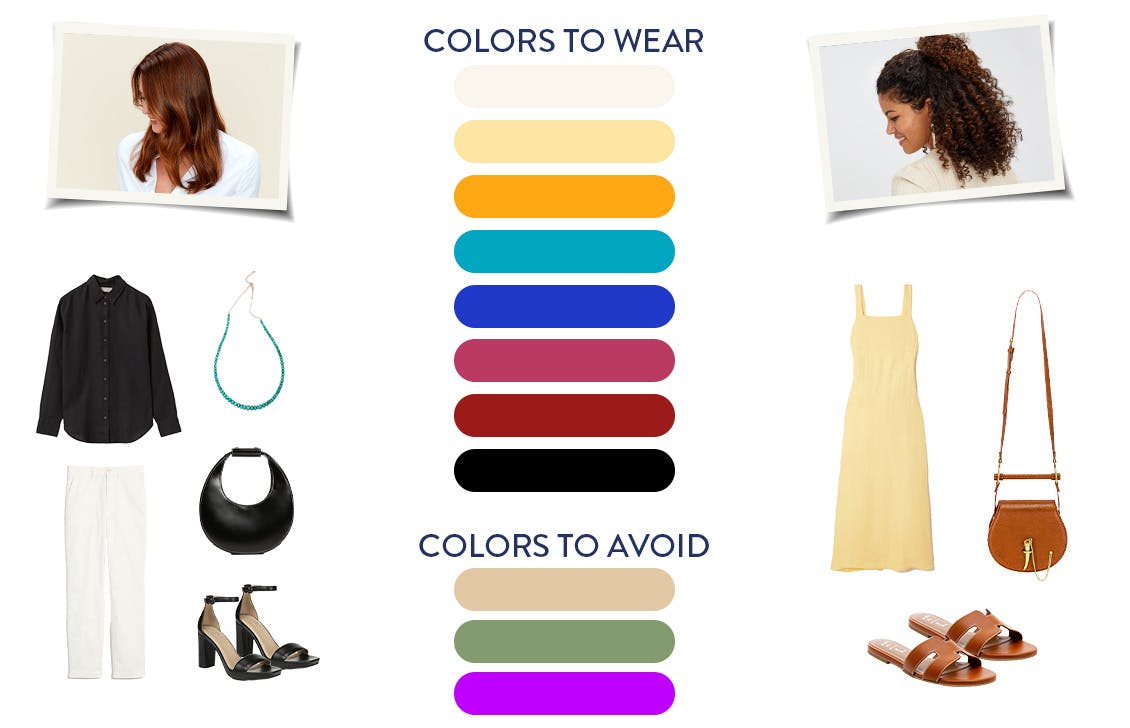 BLONDE
Blondes certainly do have a lot of fun when it comes to the wide variety of color options available to them. Bright and warm colors in pink and orange hues are any blonde's best friend. 
All hues of blue along with bright, rich colors — think cherry red — look the best on those with lighter shades of blonde hair. For those with medium to dark blonde shades, saturated jewel tones of blue, green, purple, and yellow are exceptionally flattering.
There are some limits to a blonde's fashion fun. The first is the color black. No matter how classic it may be, this color washes out a blonde's complexion. A chic alternative that is a go-to hue for blondes, but still dark and subdued, is navy blue.
The second limitation? Boldly colored allover prints. These are simply a no for blondes. Loud graphic patterns can overwhelm and diminish their features. Instead, embrace light brown hues, prairie-inspired silhouettes, and subtle spring floral patterns that still wow in their own ways.
Colors to Wear
- Navy Blue
- Cotton Candy Pink
- Kelly Green
- Light Brown
- Cherry Red
- Ivory
- Periwinkle 
- Miniature prints
Patterns & Colors to Avoid
- Boldly colored, allover prints 
- Black
Try These Looks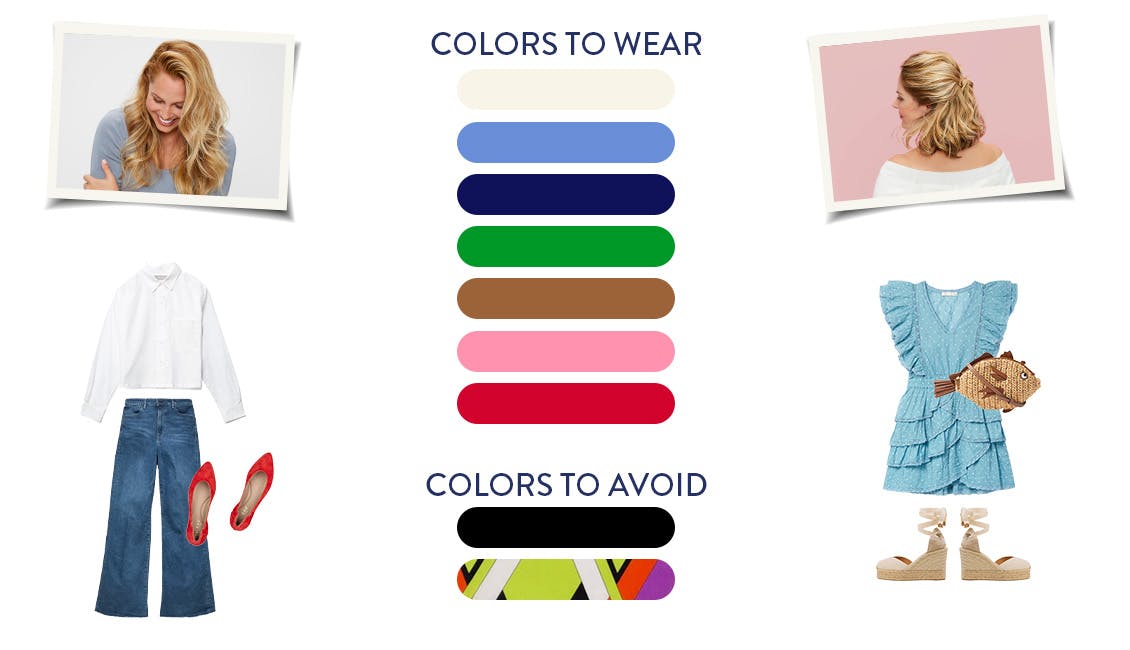 BLACK
Black hair shades have an intensity that can be felt with just one glance. When deciding what colors to wear, your hair color can only be matched by hues that are just as intense. Springtime saturated hues are your go-to's when revamping your closet.
Similar to brunettes, lavender purple and light brown hues may leave those with black hair colors looking flushed out. So avoid the following colors and continue standing out with bold features and bright pieces.
Colors to Wear
- Regal Purple
- Cherry Red
- Ivory
- Jet Black
- Fuchsia
- Chocolate Brown
- Turquoise Blue
- Tangerine Orange
Colors to Avoid
- Lavender
- Tan Brown
- Khaki Green
Try These Looks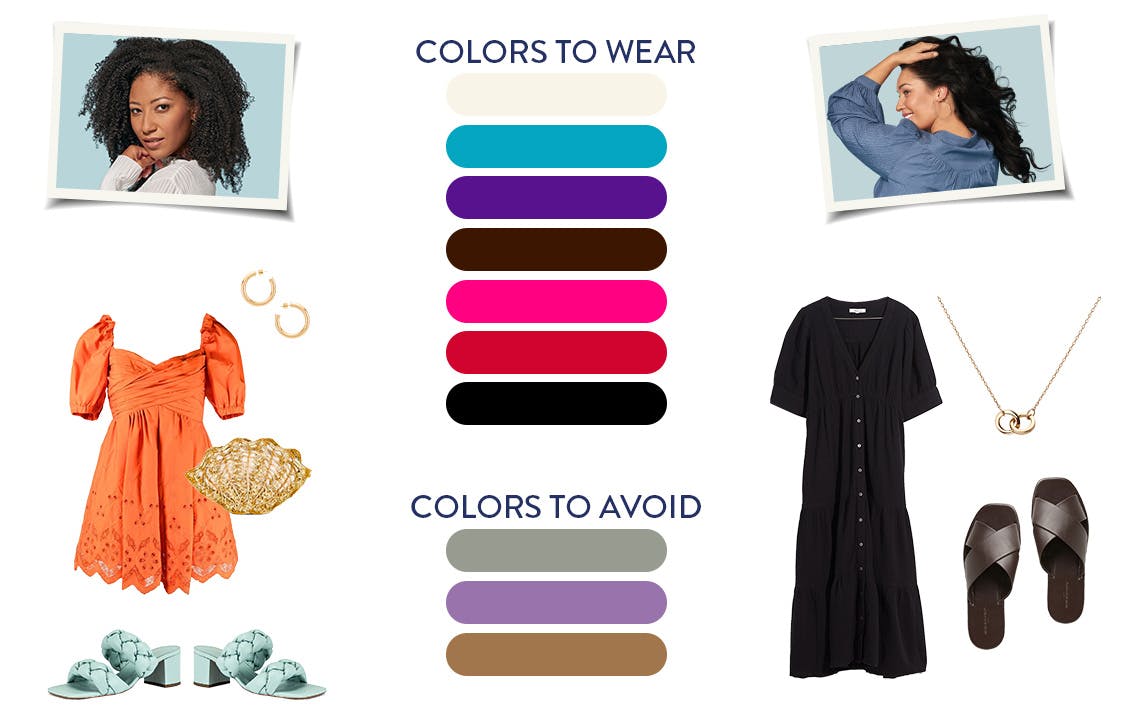 REDHEAD
Believe it or not, if you have red hair there are colors besides green to wear that are just as complementary. Since being a redhead is a statement on its own, you don't want to overwhelm with bright and saturated colors. Go for earthy and fiery shades, as they're both timelessly flattering and are sure to make those red locks pop this spring.
Like blondes, the color black is difficult to pull off if you're a redhead as it can wash you out. Again, navy blue makes a great alternative that flatters red-hued strands to no end. Pastels are also tricky to wear as redheads usually have lighter complexions and these creamy colors can make the wearer and entire outfit look drab.
Colors to Wear
- Kelly Green
- Navy Blue
- Cherry Red
- Peach Orange
- Tan
- Ivory
- Emerald Green
Colors to Avoid
- Powder Blue
- Pale Yellow
- Jet Black
Try These Looks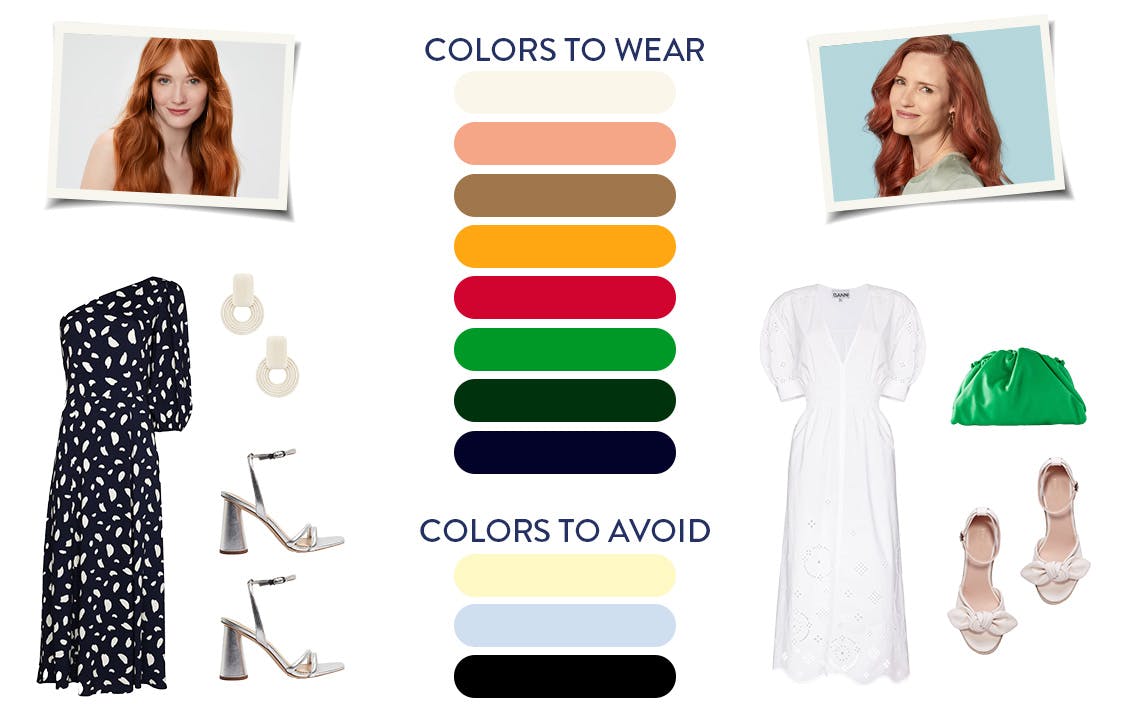 We hope this guide has inspired your upcoming spring outfits as well as helped you plan for your next shopping trip. For more hair color tips and tricks while you get settled into this blossoming season, give us a follow on social @eSalon on Instagram and Facebook.