Dinnertime Hacks: Meals In the Time It Takes to Color Your Hair
Dinner is served—and so is fabulous hair color.
---
There's only so much time in the day to get everything done and we know that sometimes, sitting in a salon chair often feels like a waste of time. Thankfully, with eSalon's professional-grade, custom hair color, you can get that "just walked out of the salon feeling" without ever leaving your home. 
In fact, you can even make dinner for your family or prep for the week ahead in the time it takes to color your hair with these simple meal ideas. Check out a few of our favorite quick and easy meal ideas that you can pop in the oven while your hair processes. By the time your dinner is ready, you'll have a delicious plate and fabulous hair color. What could be better than that?
Veggie Burrito Bowls
Perfect for Meatless Monday, this quick and easy burrito bowl is both filling and delicious. Using authentic spices and herbs like cumin, chili powder, and cilantro, this hearty meal offers a tantalizing flavor with just enough heat to leave you coming back for more. Plus, the combination of brown rice and black beans gives these Veggie Burrito Bowls plenty of fiber and protein to keep you full long after your hair color application.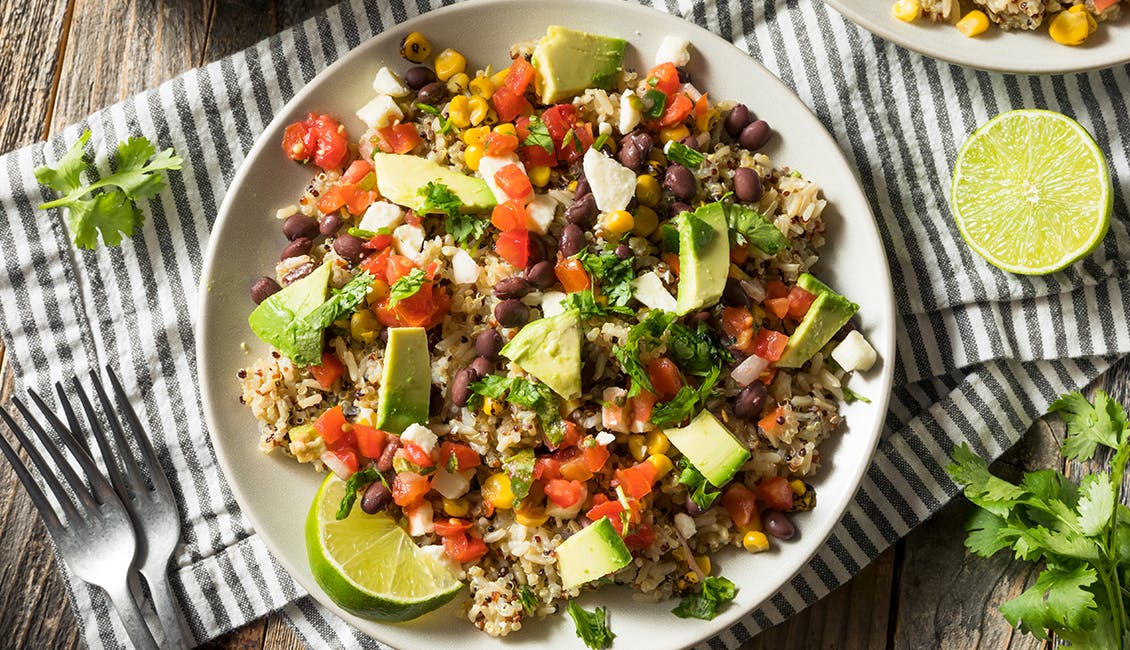 Ingredients
Makes about 4 servings
- 1 (15-oz.) can unsalted black beans, drained and rinsed
- ¼ cup water
- ½ teaspoon chili powder
- ¼ teaspoon ground cumin
- ½ teaspoon salt, divided
- 1 tablespoon olive oil (or neutral oil of choice)
- 1 cup fresh corn kernels, from about 2 ears (canned corn works as well)
- 1 tablespoon fresh lime juice (about 1 lime), divided
- 1 (8.8-oz.) pouch microwavable brown rice
- ¼ cup chopped fresh cilantro, divided
- 1-2 hearts of romaine, finely chopped
- 4 ounces cotija cheese (or cheese of choice)
- 2 ripe avocados, sliced
- ½ cup salsa or fresh pico de gallo
- 4 tablespoons light sour cream (optional)
Instructions
1. Mix beans, water, chili powder, cumin, and ¼ teaspoon of the salt in a small saucepan. Stir until seasoning is evenly distributed. Cook over medium until beans are hot, about 3 to 4 minutes. Taste and add additional seasoning if needed. Turn heat down to low, cover to keep warm, and stir as needed to prevent burning.
2. Heat oil in a medium-sized non-stick skillet over medium-high. Add corn kernels, and cook until slightly charred (about 5 minutes). Stir occasionally.  Sprinkle with 1 ½ teaspoons of the lime juice and the remaining ¼ teaspoon of salt. Taste and add more salt if needed. Set aside.
3. Microwave brown rice according to package instructions and place in a medium bowl once fully cooked. Stir in about 2 tablespoons of the cilantro and remaining lime juice.
4. Make your bowls by dividing warm beans, corn, rice, lettuce, cheese, and avocado. Top with salsa, sour cream (optional), and remaining cilantro. Dinner is served!
Chili-loaded Sweet Potatoes
The Chili-loaded Sweet Potato is one of our favorite dinnertime hacks. It's fast, sticks to your stomach, and can be customized in a million different ways to fit your cravings (kinda like our custom hair color). In this rendition, we top a baked sweet potato with our favorite chili, but you can easily swap out any of the toppings or slice your potatoes into wedges for loaded sweet potato fries. It's a delicious choose-your-own-adventure meal that comes together in minutes.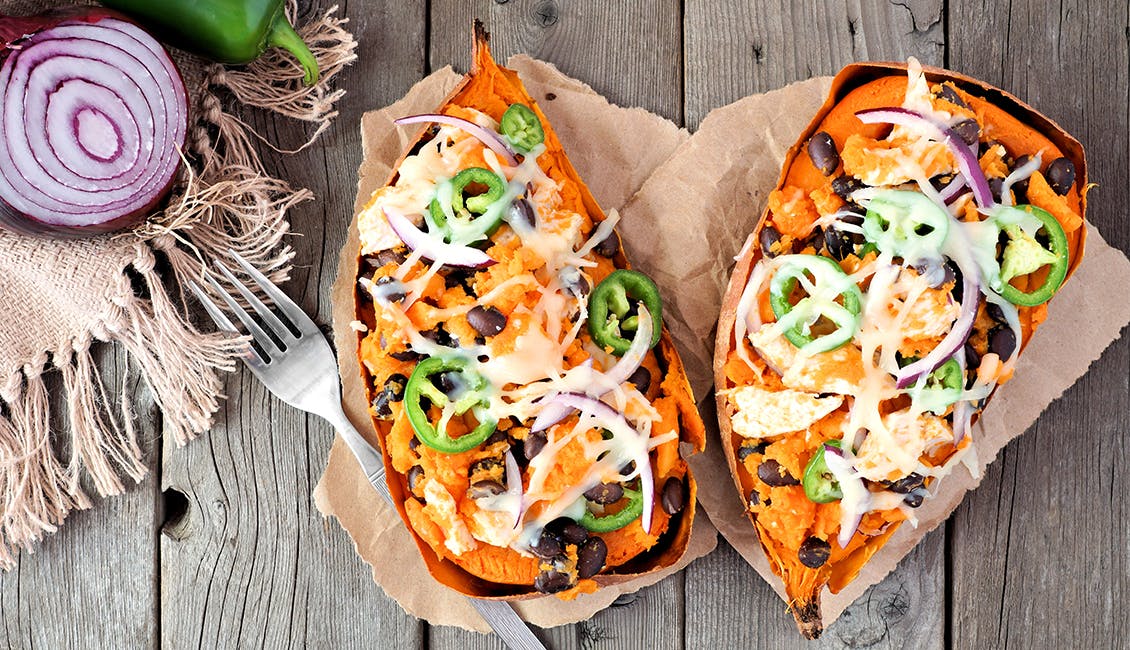 Ingredients
Makes 2 servings
- 2 medium-sized sweet potatoes
- 1 cup of water (if using an Instant Pot, not needed for microwave method)
- 1 (14-15 ounce) can of chili of your choice
- 1 ripe avocado, sliced
- ½ cup of shredded cheddar cheese
- 2 green onions, finely chopped
- Optional toppings: Sour cream, jalapeño, red onion, cilantro
Instructions
1. Instant Pot Method: Add two medium sweet potatoes to your Instant Pot with a cup of water and pressure cook it for 15 minutes. Poke with a fork to test doneness. They should be soft to the touch. 
Microwave Method: Poke a few holes into two medium sweet potatoes with a fork to prevent steam from getting trapped under the skin. Microwave for a few minutes, flipping over a few times to ensure an even cook. Potatoes should be soft when finished. Use a fork to test doneness. 
2. While your sweet potatoes are cooking, heat a can of your favorite chili on the stovetop. Stir occasionally and add additional seasonings of your choice if needed. 
3. Once the sweet potato is done, place it in a deep bow for serving. Cut it in half and top it with the warmed chili. 
4. Garnish with avocado, shredded cheddar cheese, and green onions. Add any of the optional toppings at this time as well. Dig in and enjoy!
Simple Grilled Salmon & Dressed Greens
This simple yet succulent dish combines the richness of grilled salmon with the lightness of dressed greens, creating a perfect harmony of flavors and textures. In addition, salmon is packed with omega-3 fatty acids and vitamin D which may help give your hair a healthy-looking finish. It's a win-win kind of meal.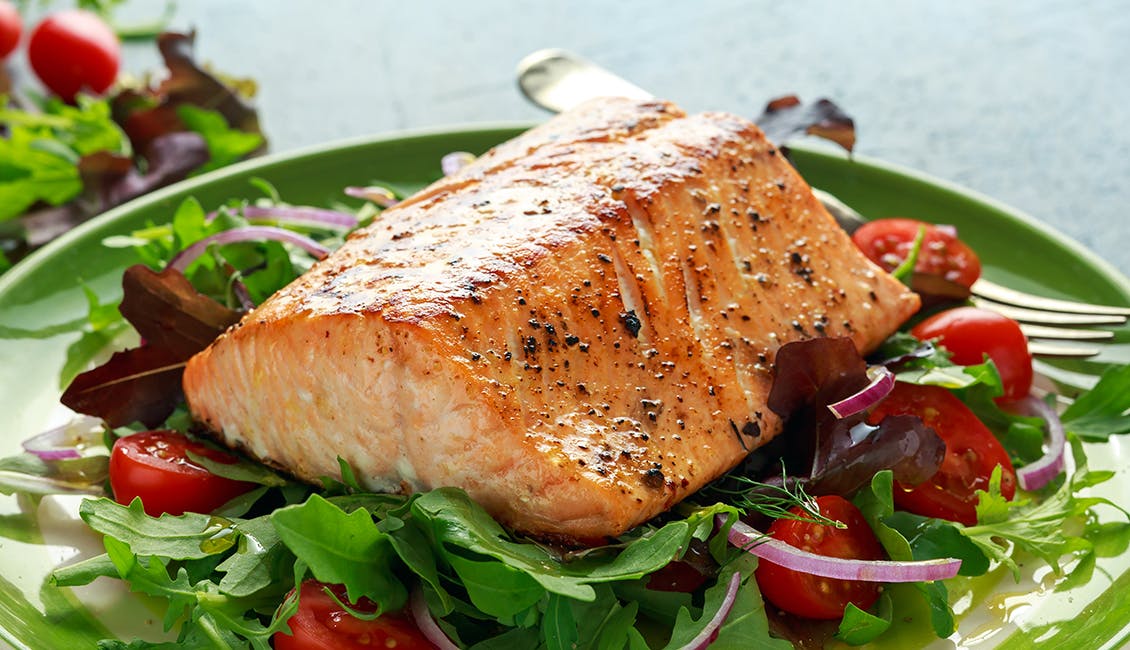 Instructions
Makes 4 servings
For the Salmon: 
- 4 salmon filets, skin on
- Salt & pepper to taste
- 1 tablespoon olive oil
- 3 garlic cloves, minced
- 3 tablespoons honey
- Juice from 1 lemon
- chopped parsley for garnish, if desired
For the Dressed Greens: 
- 2 cups salad greens of your choice
- 2 tablespoons white wine vinegar (or lemon juice)
- ¼ cup olive oil
- 1 tablespoon Dijon mustard
- 2 teaspoons honey
- Salt & pepper to taste
- Optional additions: chopped tomato, cucumber, or red onion
Instructions
1. Season salmon filets on both sides with salt and pepper. 
2. Add olive oil to a nonstick skillet over medium-high heat. Once the oil is hot, add filets to the skillet and cook skin down for about 5-7 minutes. 
3. While the salmon is cooking, whisk together the lemon juice and honey in a small bowl. 
4. Carefully flip the salmon, add the minced garlic, and allow it to cook for about one minute. Add the lemon juice and honey mixture. Let cook for another 1-3 minutes until the salmon is cooked through (it should look opaque) and the sauce has slightly thickened. 
5. While the salmon finishes cooking, whisk together all salad dressing ingredients: white wine vinegar, olive oil, and mustard. Finish with salt and pepper to taste. 
6. Once the salmon is cooked, remove it from the heat and discard the skin if desired. 
7. Dress your greens. Plate alongside the salmon. Garnish with parsley to finish. Bon appetit!
No matter what you're craving, eSalon offers made-to-order custom hair color to ensure that you have the time to chow down while still accomplishing your hair color goals. 
Take our quiz to get started with your own custom hair color, crafted by our expert hair colorists.