Halloween Hairstyles: 90s Pop Culture Icons
Obsessed with 90s pop culture and Halloween? We have 5 iconic party hairstyle tutorials to help you complete your look.
---
With Halloween just around the corner, finding a simple costume for that last-minute party can feel like a ton of work. But what if all you had to do was find an iconic hairstyle to set your look? We have five hairstyles from some of our favorite 90s pop culture icons including Madonna and Janet Jackson to help you get started. And don't worry if you can't decide between a ghoulish or feminine look, we've got something for everyone. All you have to do now is stock up on hair care and find the perfect top or dress to match.
Janet Jackson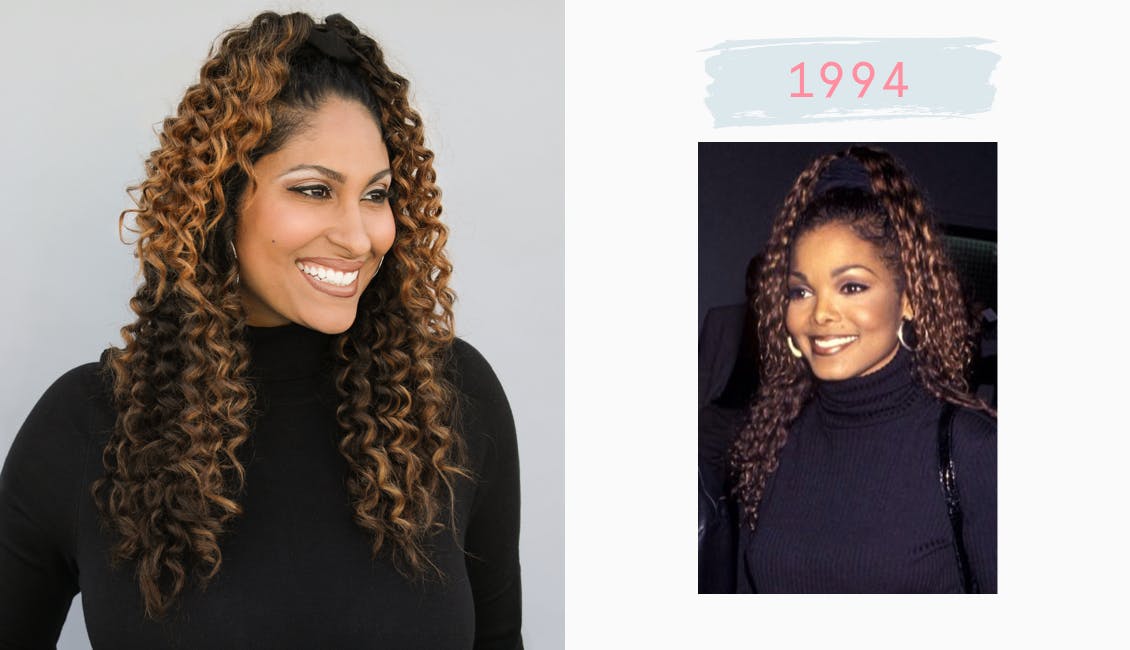 For any fans of the film Poetic Justice, this look will give you something to rhyme about. Our girl Janet's hair is definitely something that stands out, paired with her signature black turtleneck and big silver hoop earrings. What's great about this look is that you can use a few things you already have at home to recreate it. You may even feel the spirit of Janet in your dance movies with these micro curls.
Step 1.
Prep your hair with a little heat protectant spray or serum, and mist your strands with a bit of dry shampoo to get that bouncy grip going.
Step 2.
Using a teeny-tiny curling iron, about a ¼-inch, section your hair and curl it in alternating directions (so you won't get that unicurl).
Step 3.
Gather all that gorgeous hair into an extremely high pony. Then, secure it with a black scrunchie just like Janet.
Step 4.
Using a gel or favorite hairspray, spritz any flyaways in place for a frizz-free hairline.
Madonna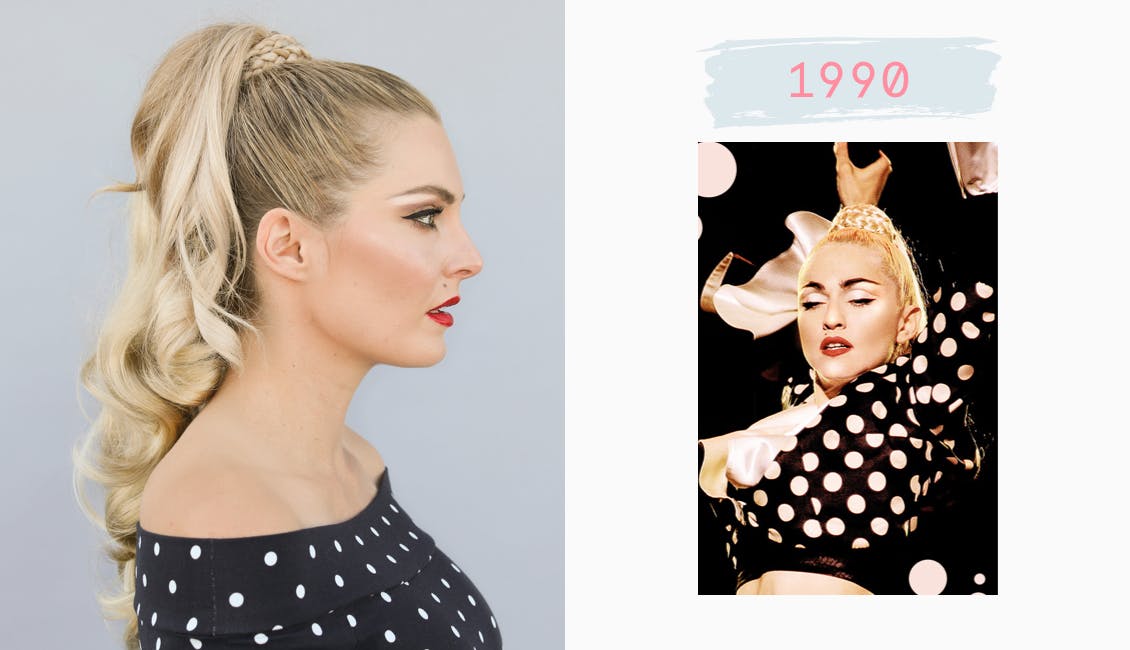 We're hung up on this look that will have you singing something from Evita by the time you walk out the door. Madonna is known for her sexy and confident feminine style, so if you're ready to show off your female powerhouse, then this look is for you. Her long ponytail and braided sections hold this look together, showcasing one of her most famous performance styles. And if you have a pink satin bustier laying around, we say get it, girl.
Step 1.
Pull your hair back into a super tight high ponytail, secure it with an elastic, and spritz your hair with dry shampoo for grip.
Step 2.
With a one-inch curling iron, curl the ends of the pony to give it some bounce.
Step 3.
Using a braided hairpiece, wrap around the base of your ponytail securing with blonde bobby pins.
Step 4.
Rub a drop or two of our Shine Silk in between your palms and apply it to the ends of the pony for shine.
Step 4.
Finish your look with hairspray and using a toothbrush brush, tame any baby hairs.
Selena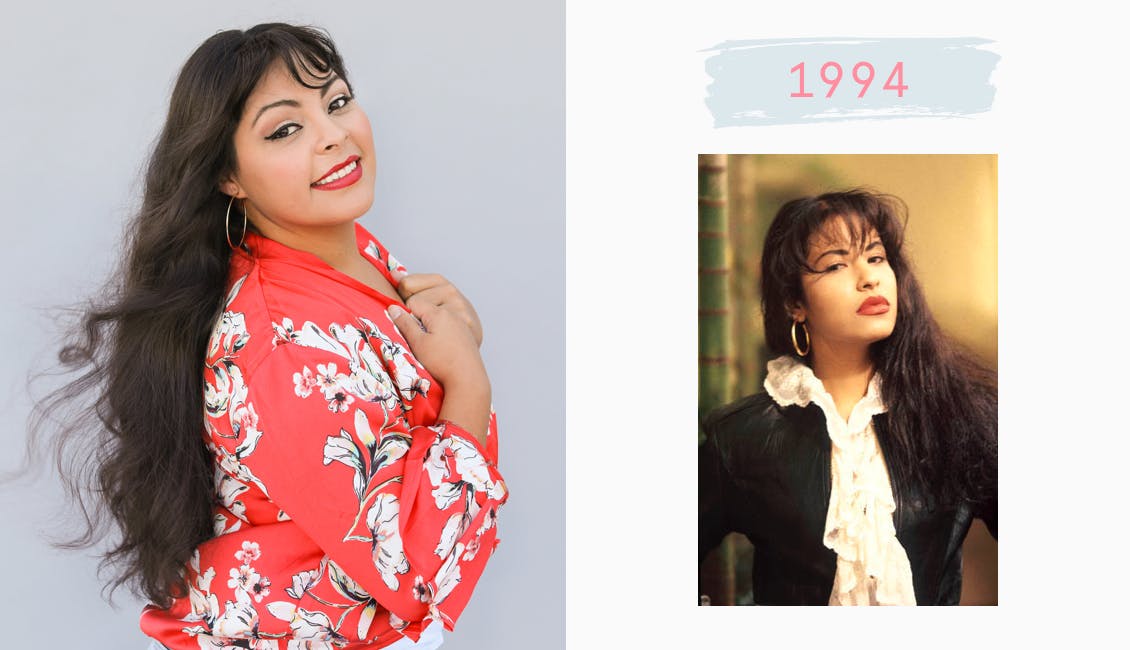 Remembering the young and beautiful Selena comes full circle with this simple hairstyle which shows her free-spirited and infectious personality. Selena's music is known all over the world, and her rich Latin-American culture inspires women and girls everywhere that anything is possible. Long-haired ladies of Mexican heritage, this hairstyle is everything when paired with a flowing blouse or leather jacket and ruffled undershirt.
Step 1.
Start by spraying hair all over with dry shampoo for extra hold.
Step 2.
With a one and ¼-inch curling iron, curl your hair in alternating directions for added volume.
Step 3.
If you don't have bangs, don't sweat it. Clip in some false bangs in the shade closest to your natural hair color.
Step 4.
Brush out all of those lovely curls to look slightly undone and mist on a shine spray.
Step 5.
Backcomb your hair at the crown of the head for height and finish with hairspray. Pay extra attention to the clip-in bangs to blend the hair there.
Wednesday Addams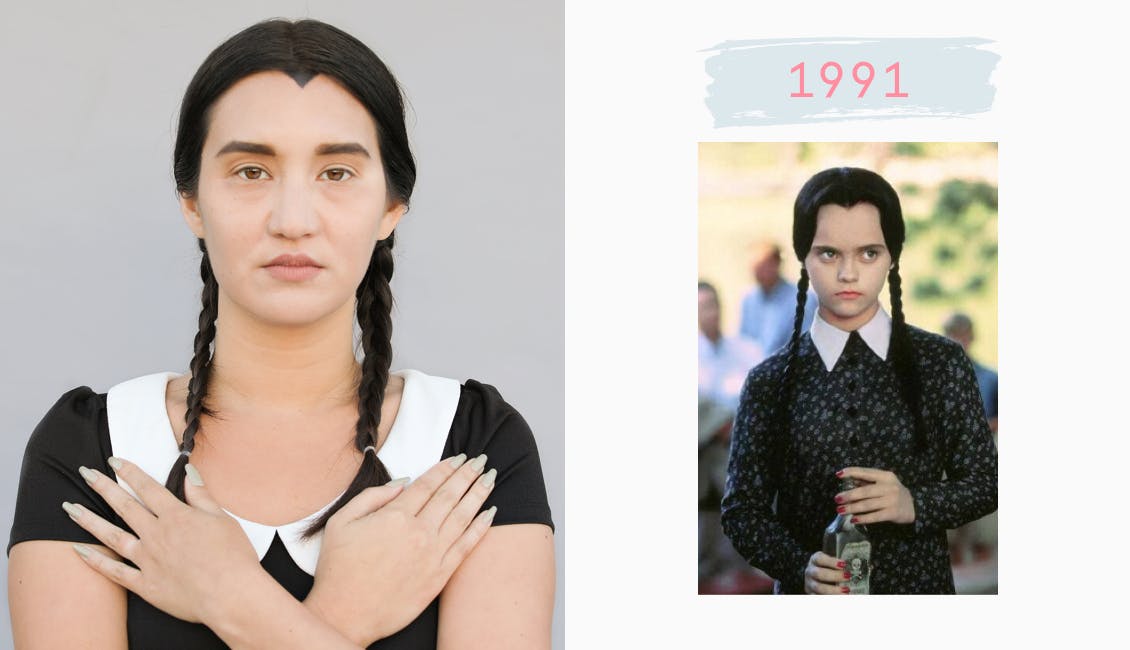 Feeling ghoulish? This Christina Ricci-inspired Wednesday Addams look wins the day. If you're a fan of the Addams Family (snap, snap), then you know all about the creepy and hilarious attitude of this character as she drinks poison and sleeps like a vampire in a coffin. Wednesday is your go-to young feminist, taking a stand against anyone who tells her how to look and feel. Don your braids and widow's peak with pride like a true daughter of Morticia.
Step 1.
Start with a center part and divide the hair into two, then spray your hair with a dry shampoo for texture and hold.
Step 2.
Braid the hair into a simple braid beginning at the back of your ear.
Step 3.
Slightly bend any fringe up and around into an arch making sure the hair covers your ears.
Step 4.
For slightly lighter shades, finish this look with an allover spray of Camo Mist in Medium/Dark Brown instead of opting for a messy wash-out dye. Then spritz on a light-hold hairspray to tame any flyaways.
Step 5.
For the final touch, draw in a widow's peak on your forehead at your part with a black cream pencil and spray Camo Mist to blend it out.
Drew Barrymore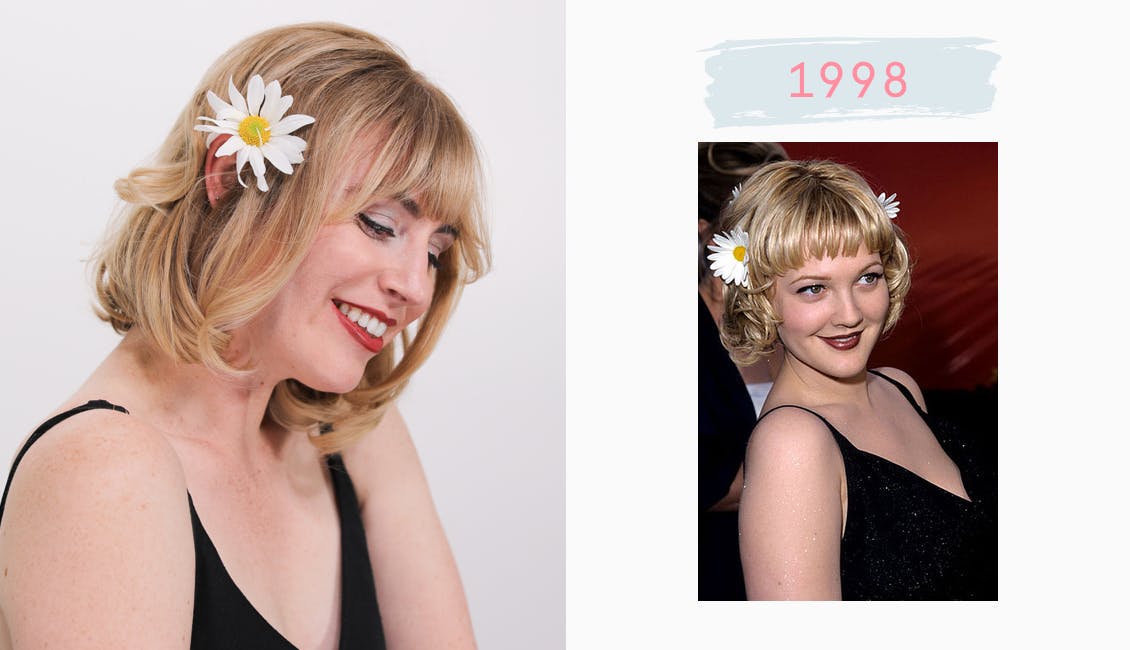 Who better than Courtney, our Client Education Lead, to embody the fun-loving and carefree force that is Drew Barrymore. With flowers in your hair and dreams in your eyes, this pre-Charlie's Angels look in sunny blonde curls and topped with lazy daisies is perfection. And now that she has an affordable makeup line called Flower Beauty, you're all set to go with a few deep shades of shadow and berry lipstick.
Step 1.
If you have bangs, you're in luck with this look, since this fringe is a Drewesque staple. If not, no worries you can use clip-in bangs to get this style.
Step 2.
Spray hair with quite a bit of dry shampoo to get that hold and to keep those daisies in place for a later step.
Step 3.
Part hair down the middle and begin curling sections with a one-inch curler.
Step 4.
Pin back the hair near temples so it's behind your ear. Spray hair with a favorite hairspray to set.
Step 5.
Add in a couple of your favorite daisy blooms to complete the look and secure them with bobby pins that are a similar shade to your hair color.
With these five famous hairstyles, you'll be recognizable anywhere you go. Once you have the hair, it's all downhill from there (that's how the saying goes, right?). Costumes don't have to be complicated, they just have to speak to you and only you—just like your hair color. With a few extra accessories and the attitude to go with it, you'll be ready to go in no time. And while you're at it, tag us @eSalon in your party photos so we can see how you rocked your hairstyle with the hashtag #esalonhalloweenhair.