Craft in Color: Siena's Driftwood Wall Art
At eSalon, we make something totally unique from scratch. In our all-new "Craft in Color" series we're featuring other crafters who do the same. To kickoff the show, we're introducing the totally-talented Malibu native, Siena Sausser. She makes wall art using driftwood collected from the beach, and we can't get enough of it—so we're showing you how to DIY.
---
Meet Siena: super-sweet home goods crafter and visual designer extraordinaire. She crafts gorgeous driftwood wall art, has her own online shop called Little Bull where she sells her unique pieces, and even hosts workshops all around Southern California at acclaimed design brands like West Elm and Rolling Greens. With her make-it-from scratch attitude and belief that custom is always better than mass-manufactured, it's safe to say she's our kinda gal and the perfect person to jumpstart our very first Craft in Color feature. Get to know all about Siena and her craft in this exclusive interview, and meet us at the bottom to get a step-by-step lesson on how to make your own driftwood wall art right at home.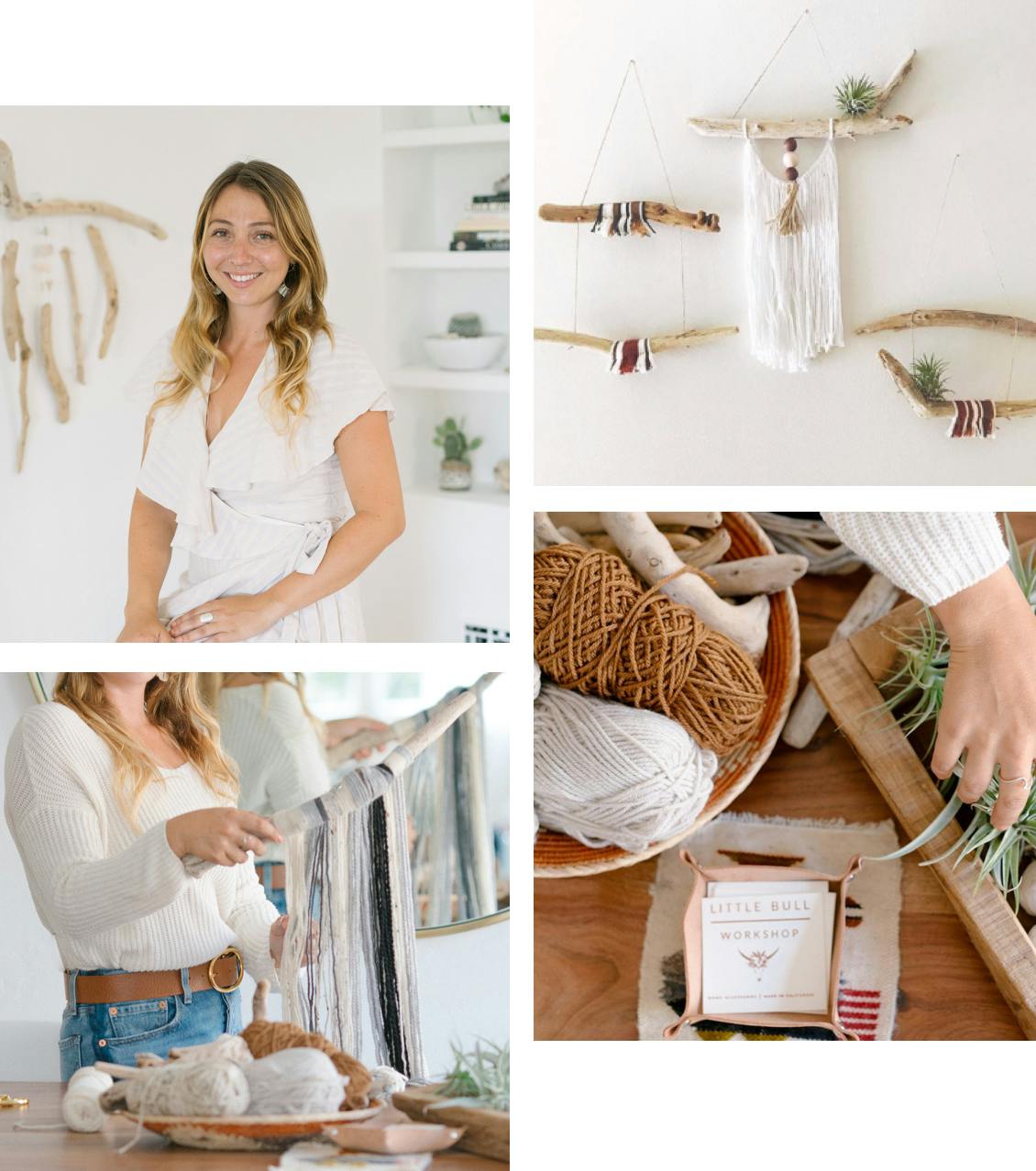 Tell us about Little Bull? How did it start? What inspired you?
Little Bull was born as a passion project of mine. I've always loved working with my hands, collecting things from the beach, and was always super crafty in general. I started making my own crafts back when I was working in the event industry. I did a yarn-hanging installation once, and it inspired me to take that style and make it my own. It's always nice to have an outlet where I can let my creativity run wild.
How has the beach influenced your work?
I grew up around the beach. My dad and my mom have been beach babies their whole life. The beach has always been an outlet for me to release stress or anxiety. It doesn't always have to be the beach, but just nature in general is always an inspiration. It just takes me to a different mindspace where I can go and not be so judgemental about myself.
Your driftwood pieces are so unique. For DIY-ers at home, what is your best advice for making them?
For me, I like to show off the driftwood. You don't want to miss the point of having your driftwood as your art piece, so I like to keep it simple and do about twenty strands or so of yarn to let the driftwood stand out. It all depends on the driftwood you pick! When it comes to yarn colors, right now I am really drawn to neutrals, white, beiges, creams, coffee-color, mocha, rust colors, dark browns, and even mustard colors. Occasionally I'll add some black in there too, and a dark navy blue to give a different tone.
You offer DIY workshops throughout Southern California. What do you like most about teaching people how to make your crafts?
What I like about workshops is that you don't have to be a master crafter. You don't need a degree to be creative. What I do, anyone can do. I like how I can show people how easy it is and how they can put their own spin on it. It's always cool seeing how everyone's individual pieces come out, and how it reflects their personality.
We have to ask: What is this beautiful hair color of yours?
My boyfriend's sister does my balayage highlights and lowlights. I've never done it myself, but after hearing about eSalon's highlights I feel like I totally could! Growing up I used to always put lemon juice in my hair and lay out in the sun at the beach. It worked like crazy. My hair would turn out super blonde within a day whenever I did that.
Last question, sweet or savory?
Tacos!
Projects While You Process: Driftwood Wall Art
Pssst. Coloring your hair at home? Our five-step "Craft in Color" projects can all be done in 30 minutes or less. Perfect for passing the time while you await your gorgeous color.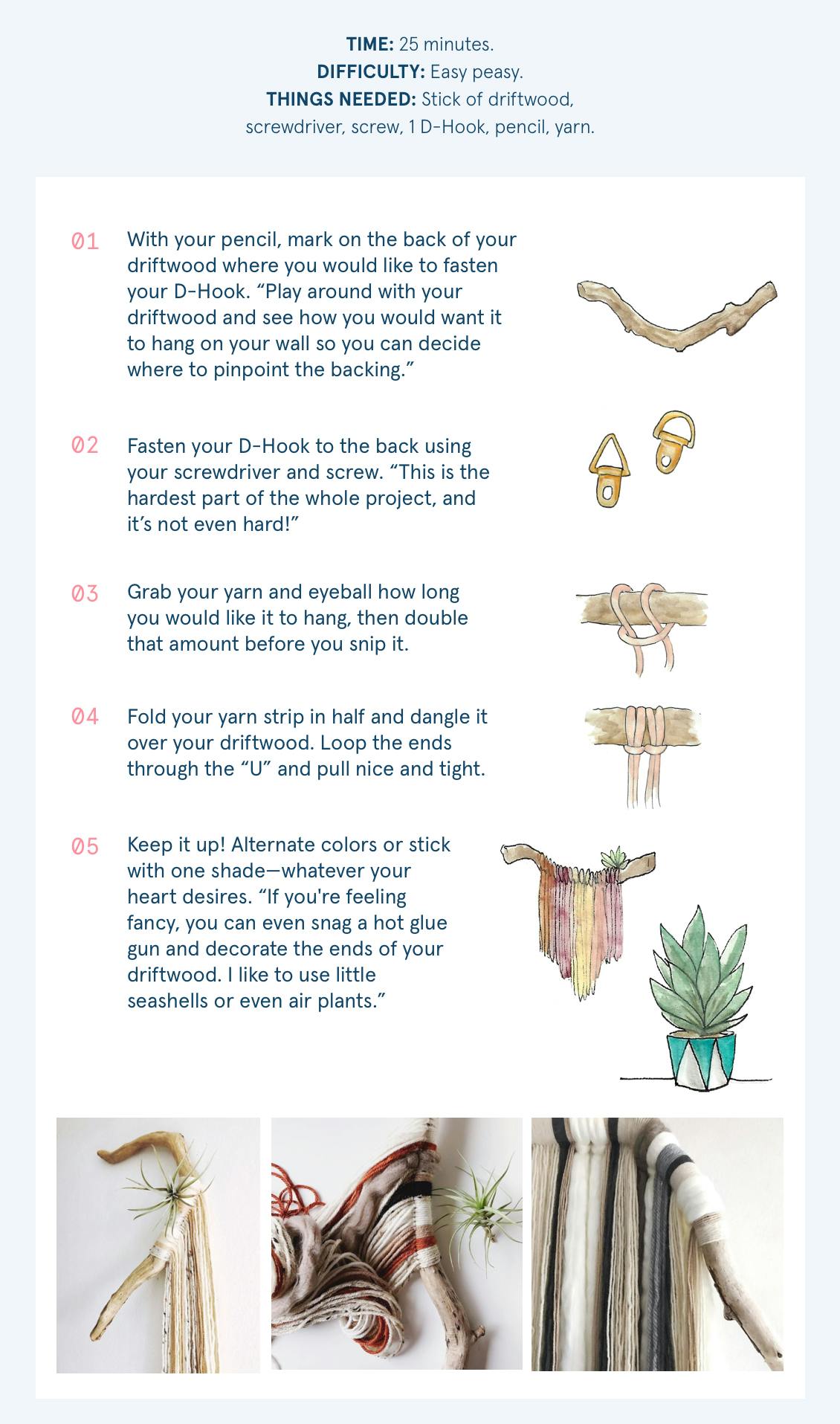 We hope you love Siena's style, art, and personality as much as we do. We think it's super important to support small-time crafters (hey—we were them once ourselves) and give them the spotlight every once in a while. Because sometimes you just can't beat custom-made items, especially ones that you can do yourself at home. Whether it's hair color or wall art, the fun is in the process (if you catch our "drift").
Follow Siena's shop on Instagram at: @littlebullworkshop Illustrations done by Sami Davis. Follow her on Instagram at: @theunexpectedtype