Halloween Hairstyles: Nostalgia Edition
Dreaming of the perfect costume? eSalon has four Halloween hairstyle tutorials to inspire you and help you complete your look, hair color and all.
---
With Halloween looming just around the corner, everyone's scrambling for the most-recognizable costumes. Our colorists have four nostalgic looks with step-by-step tutorials to get you in the partying mood. Whether you're feeling a little ghoulish or like a walk down the yellow brick road, there's something for everyone.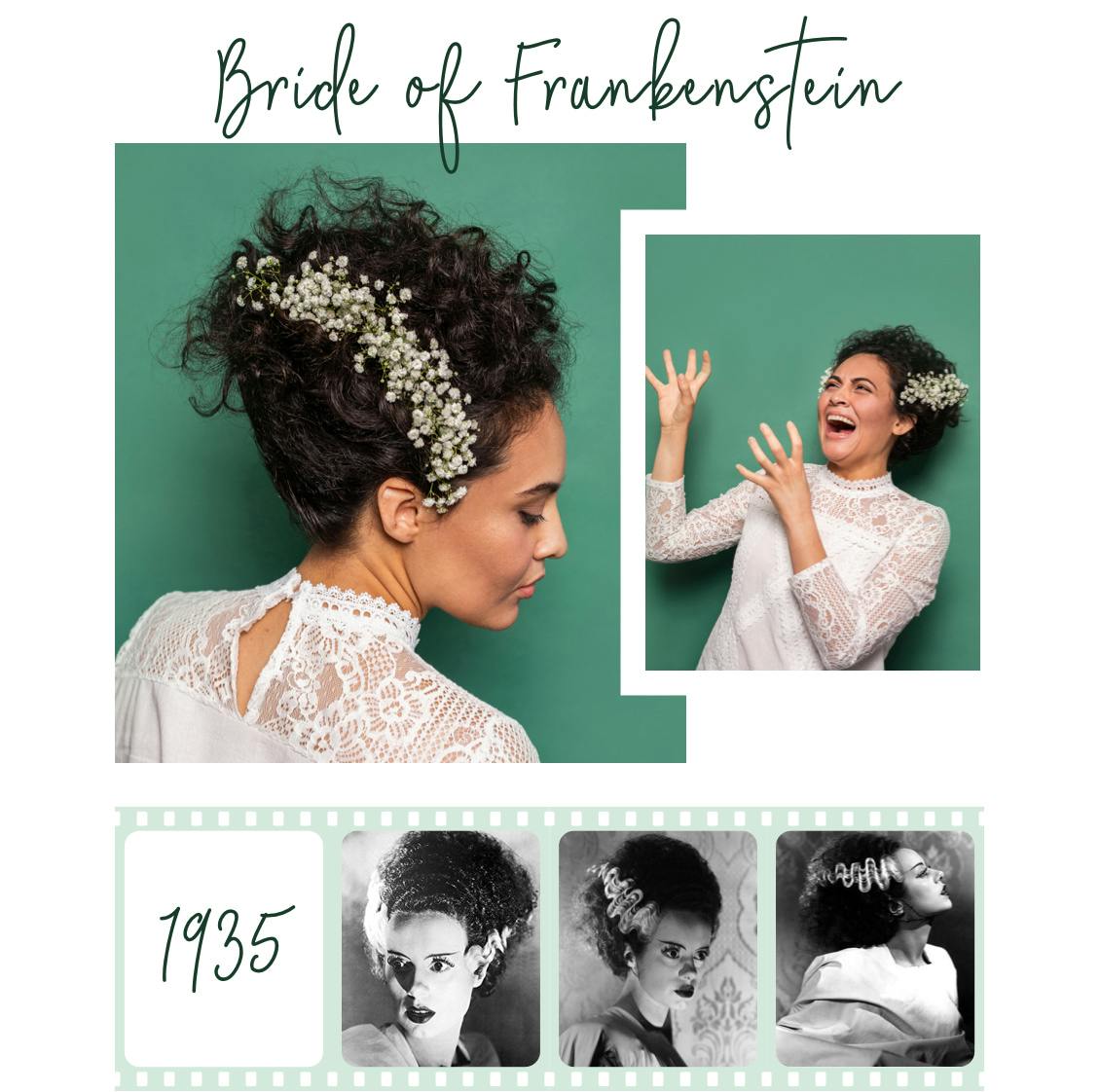 She may be one of the undead, but this Bride of Frankenstein look is electrifying and feminine, great for our brunette or black-haired gals with long hair. This look speaks to an iconic period in Hollywood cinema, making the Bride of Frankenstein as famous as the monster himself. Instead of going with the traditional white streaks of hair at the temples, we've given this bride a delicate spray of baby's breath for a modern twist without the white spray. Here's how we pulled it all together (pun intended): 
Step 1:
Take a circular section of hair on the crown of the head, leaving out the hair in the surrounding area. Braid this section at your crown and secure it to your head with pins. This creates a cushioned base for a bun maker in the next step.
Step 2: 
Secure your large bun maker onto the braid base. Then spray your hair with dry shampoo to give it some grit. 
Step 3: 
Curl all remaining hair in small sections with a ½-inch curling iron. Spray the curls with hairspray and allow them to set.
Step 4: 
Tease hair lightly with a comb and pin hair to the bun maker in small sections, carefully building volume at the top of the hair. Shape the hair into a cone at an angle away from your face, spraying throughout with Forcefield Hairspray.  
Step 5:
Starting at your temples, take sprigs of baby's breath and place them in your hair, securing each piece with pins.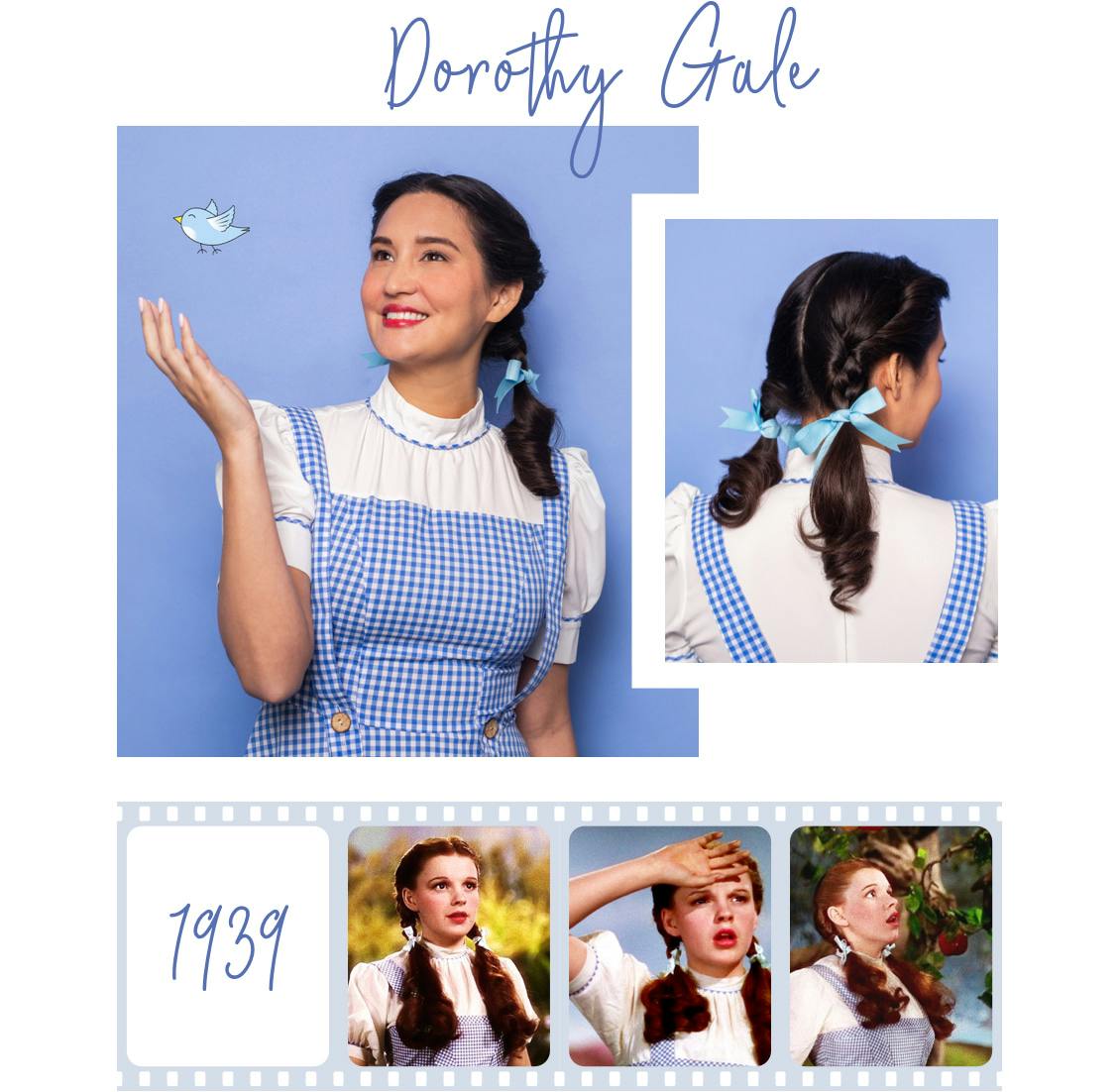 She may be from Kansas, but this look is oh-so-chic and perfect for anyone with long, dark brown or auburn hair. This look is so easy to do, especially if you're not big on styling. You might even feel the urge to click your heels together and say, "there's no place like eSalon." Here's how to recreate it at home:
Step 1: 
Curl hair away from your face using a 1-inch curling iron. Pin each curl into place and spritz with a light-hold hairspray. Let the curls cool for a longer-lasting set.
Step 2: 
Unpin cooled curls and lightly brush through with your fingers. Part your hair down the middle, securing one half with an elastic, leaving the other half loose. 
Step 3:
Take a diagonal ½-inch section, starting at the top front of the hair down to the bottom of your ear. Lightly tease hair at the base. 
Step 4: 
Create a soft roll by twisting this small section away from your face and secure with bobby pins. 
Step 5: 
Add the ribbon to hide the elastics, then spray your hair with Stretch Hairspray to smooth frizz and lock your style in place. Repeat these steps on the other side.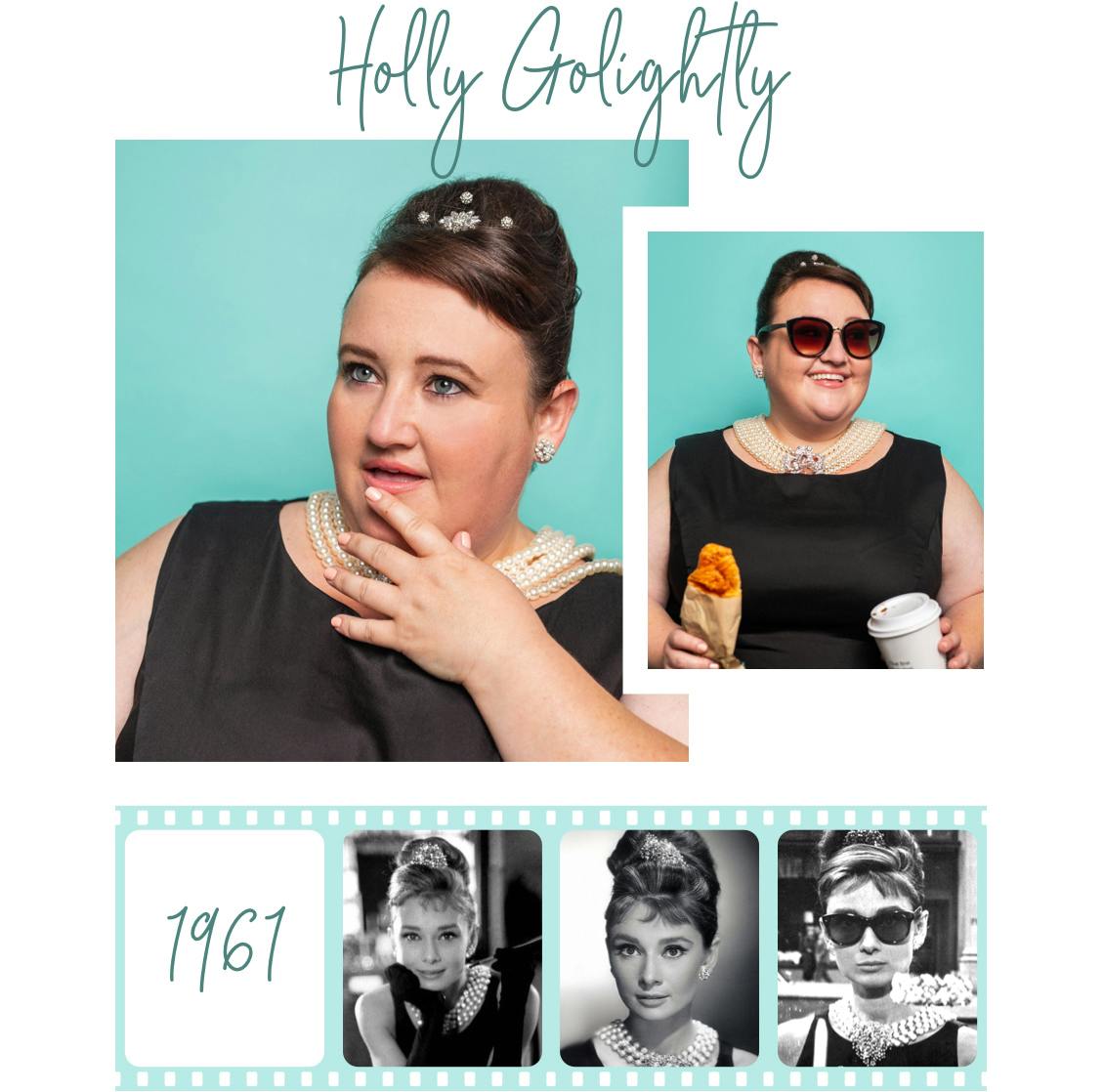 Money isn't everything, but this style will surely make you look like a million bucks. Nodding to the classic beauty of Audrey Hepburn, we've recreated a hairstyle that works for gals with medium brown to black hair. Whether you've got a bob or long locks, anyone can pull this off with the right accessories. Here's what to do: 
Step 1:
Curl your hair using a ½ to a 1-inch curling iron and pin each curl in place, spraying with a light-hold hairspray to set.
Step 2: 
Once curls have cooled, remove the pins and lightly brush out with a boar-bristle comb. 
Step 3:
Tease the hair at the top of your head and smooth it back to create a mini bouffant. 
Step 4: 
Gather your hair into a low pony, if hair length permits. Take your pony and create a French twist, securing the hair in place with bobby pins.
Step 5:
Add a few jeweled hairpins at the base your mini-bouffant and spritz with a hard-hold hairspray to set the look.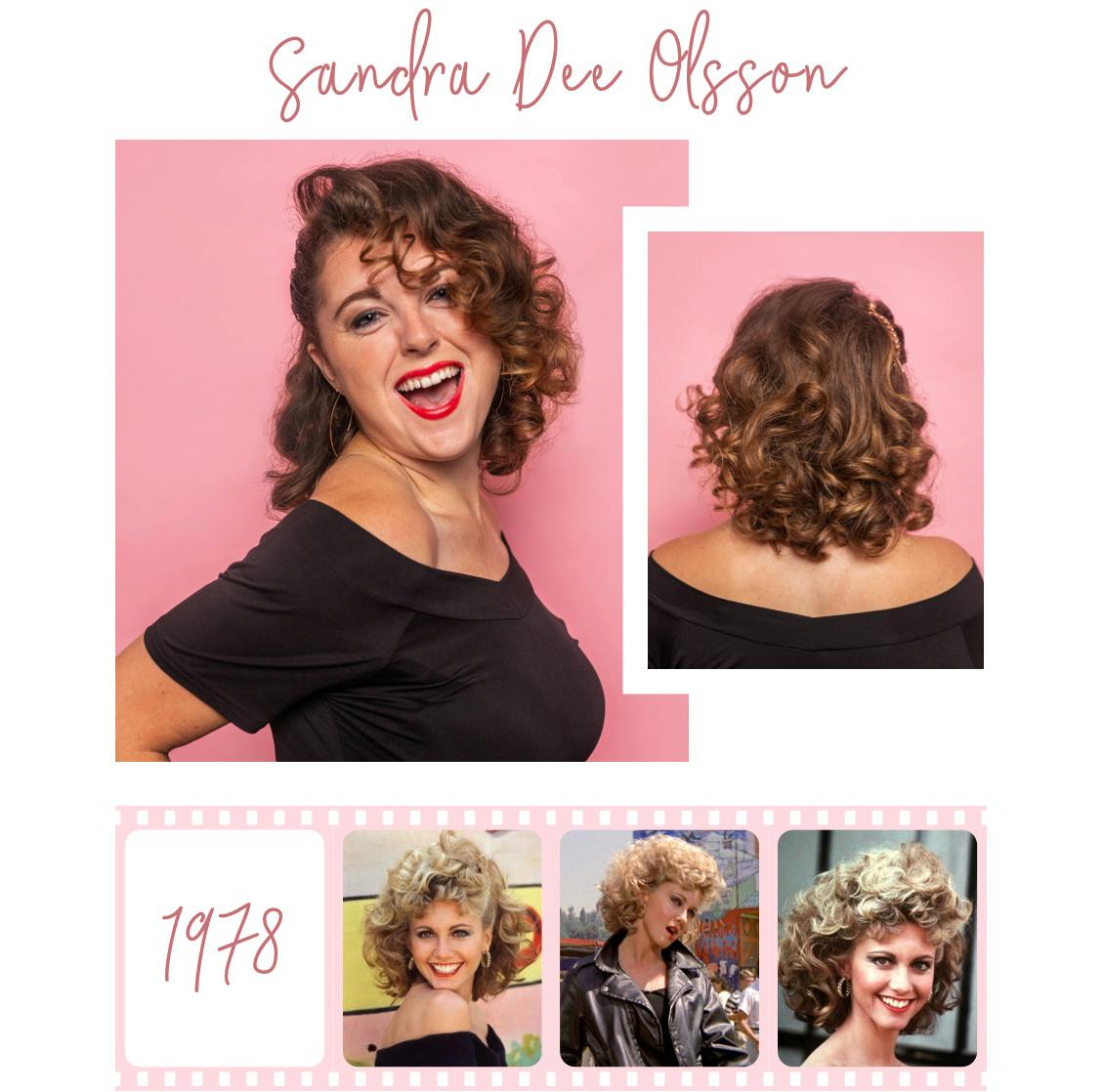 We see you, Sandy. This iconic character had us all rooting for her transformation from a 50s good girl with buttercream blonde hair to a leather-laden, teased mama. This style and color go together like rama lama lama ka dinga da dinga dong. Here's how to get the look:
Step 1:
Create a deep side part, choosing the side your hair falls on naturally.
Step 2: 
Curl your hair using a ½-inch curling iron. Secure the curls with pins and let them cool to set. 
Step 3: 
Once your curls have cooled, lightly brush them out with your fingers and tease hair for extra volume. 
Step 4: 
Starting on the side with the deep side part, push back the hair and secure this section with a side comb or clip. If the comb is heavy, first secure with pins and add the comb.
Step 5: 
Smooth any frizz by adding one pump of Shine Silk to your palms and run your fingers through your hair. Set your hairstyle with a finishing spray.
Now you're ready to show off your style and color! Snap a few photos of your finished looks and share them with us on our Instagram and Facebook pages. Happy Halloween!