2021 Spring Florals: Custom Hair Color Trends
Spring has sprung with four custom color trends for any shade.
---
Our pro colorists have roamed every valley, prairie, and dale to bring you their top-secret floral-inspired hair color trends for spring. So get ready to shake off your winter coat and color in exchange for something completely new that speaks to you. 
Plum Dahlia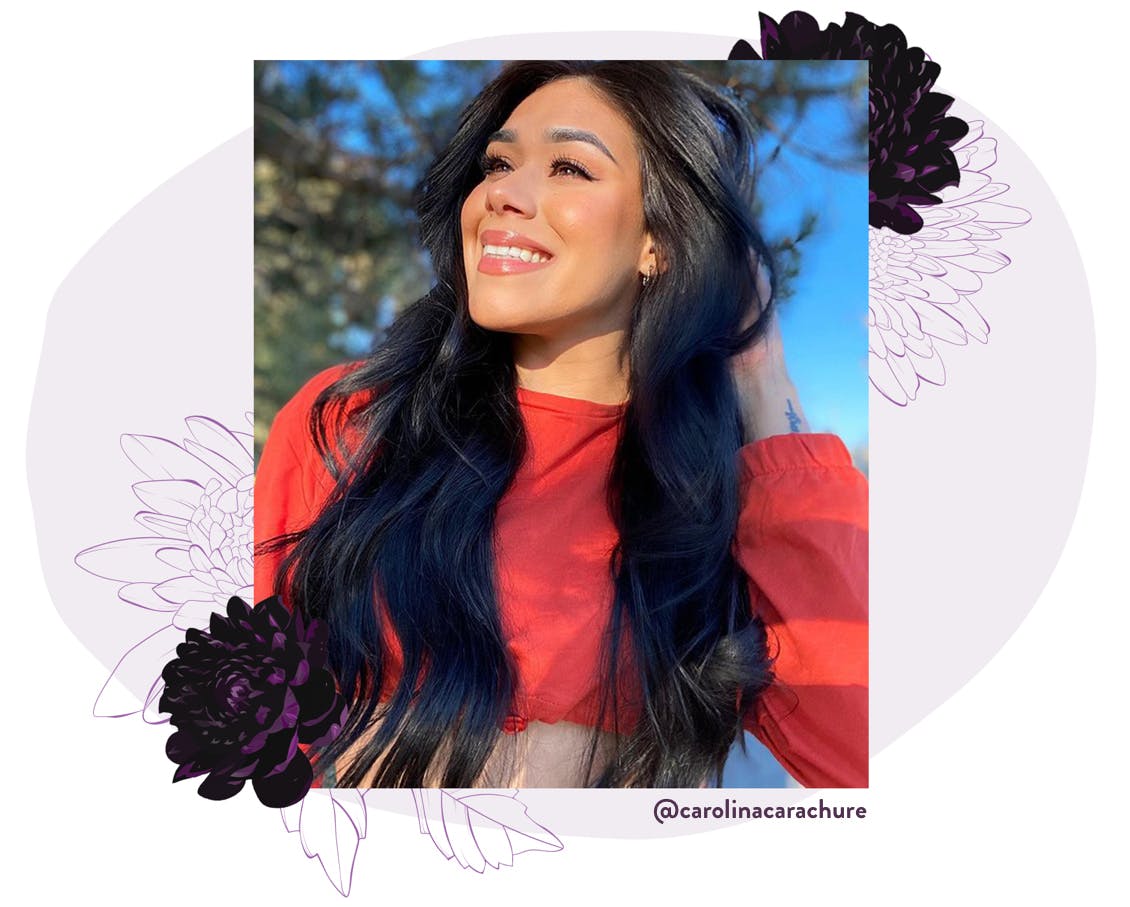 WHAT IT LOOKS LIKE AND WHO IT'S FOR
Carolina's custom Plum Dahlia hair color is glazed in dark violet undertones that blossom in the sunlight—think velvety chocolate and spring flowers. This shade is adaptable for all brunette hair colors and pairs well with medium to olive complexions. This Plum Dahlia color trend is for the mysterious gal who loves multi-tonal dimension with a surprising twist. Be prepared to spend extra time outside with this look because the selfies and sunshine will be calling your name.
HOW TO GET IT AND KEEP IT
We recommend deepening your hair color by a shade or two to achieve Carolina's base shade for our lighter brunettes. If you have dark brunette hair, then you're already halfway there. Once you've reached your desired brunette base, ask your colorist to add a splash of violet tones for a festive floral finish from roots to ends. 
To keep these violet undertones as rich as possible, be sure to refresh your hair color every 4-6 weeks. Adding our purple Tint Rinse to your wash routine will help revive your plummy tones as they fade over time. Strands feeling a little thirsty? Try our colorist combo of Universal Leave-In and Shine Silk each week to add shine and moisture. Fun fact: darker hair colors tend to absorb light more so than lighter shades, so adding additional heat protectants can keep your color going strong. 
Tiger Daylily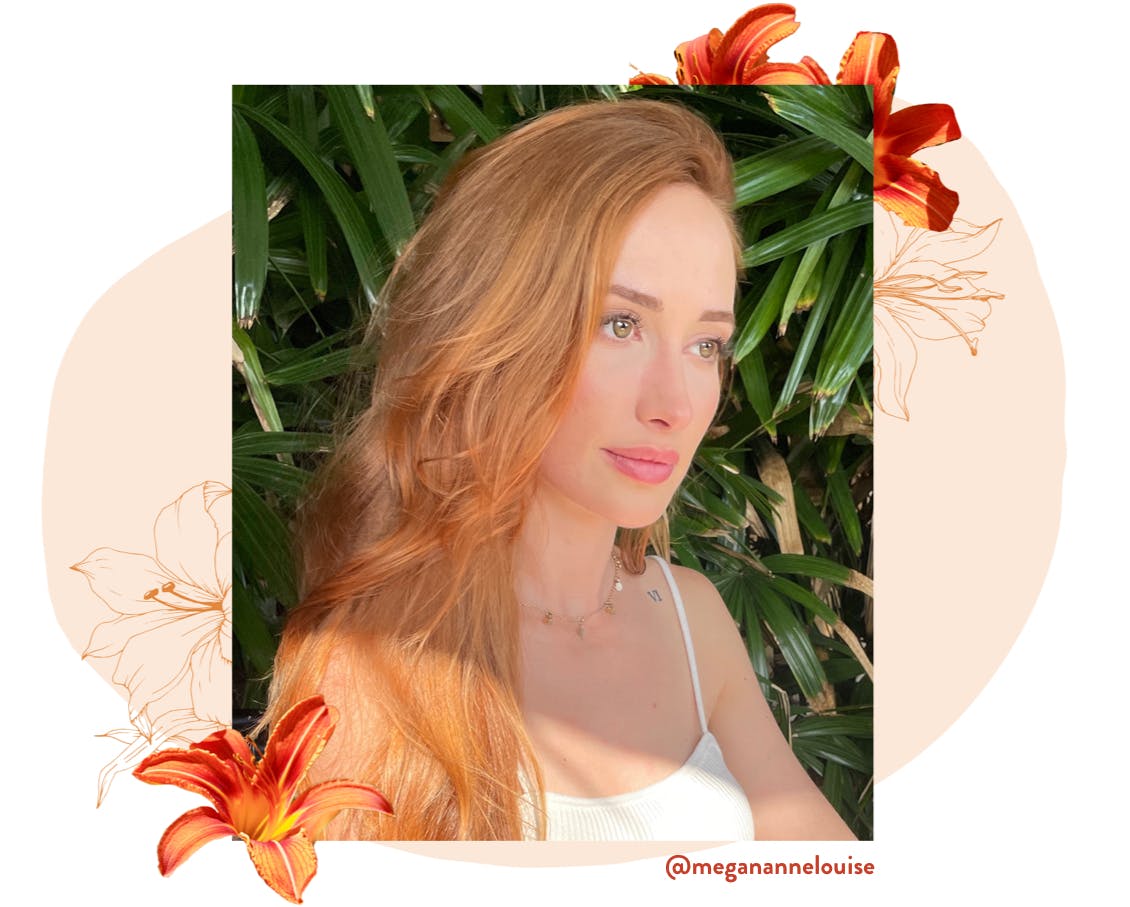 WHAT IT LOOKS LIKE AND WHO IT'S FOR
Imagine waking up in a field of fresh lilies all dusted with morning dew—that's what this shade looks like. Megan's Tiger Daylily custom hair color is for anyone looking to liven up their hair color and put a spring in their step. Whether you're looking to cover up your grays or just want to try a new copper, mark our words—this color is it. This bold copper shade pairs well with fair skin and warm to cool undertones.  
HOW TO GET IT AND KEEP IT
To get the look, you'll want to start with a dark blonde to light brunette base and add in copper tones throughout your hair. If your natural hair color is a bit darker, you can ask your colorist to slightly lighten your base by one to two levels, then layer on true tones of buttery copper. Depending on your base color, the finished result may be on the subtle side, but will for sure add a pop of lush pigment to your 'do. 
To boost the warmth and refresh your midlength to ends, ask your colorist about possibly adding a Custom Ends Refresher to your order. What's a Custom Ends Refresher? Think of it as a custom-made gloss to extend the life of your copper tones. For those of you who want a quick shampoo-in fix between applications, our Tint Rinse in Copper is your recommended go-to.
Chocolate Lily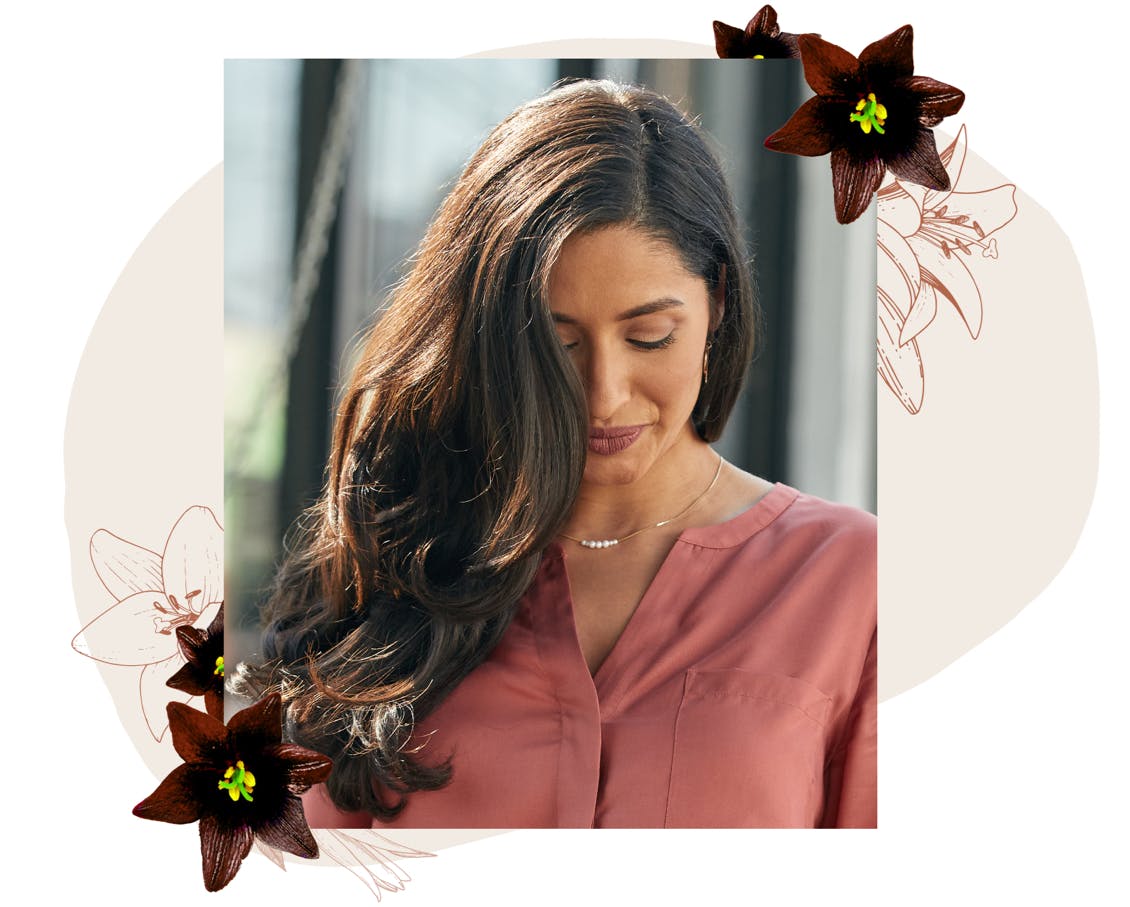 WHAT IT LOOKS LIKE AND WHO IT'S FOR
Picture this—you're walking through the cobblestone streets of Paris and stumble upon a chocolate shop. That craving you're feeling right now is this custom hair color in real life. We love this brunette trend because it works for all brunettes, any age, and any skin tone. Anita's versatile Chocolate Lily color is full of light and warmth, sprinkled with natural golden and mahogany tones. 
HOW TO GET IT AND KEEP IT
This shade calls for an all-over color application to boost your brunette base with the versatility to deepen or lighten. To get the shimmer that our Chocolate Lily is known for, top it off with lush gold and mahogany tones. This shade is quite rich, so to keep fade at bay, try our Tint Rinse in Golden Mahogany. When you're ready for a touch-up, ask your colorist about our Custom Ends Refresher. 
Buttermint Camellia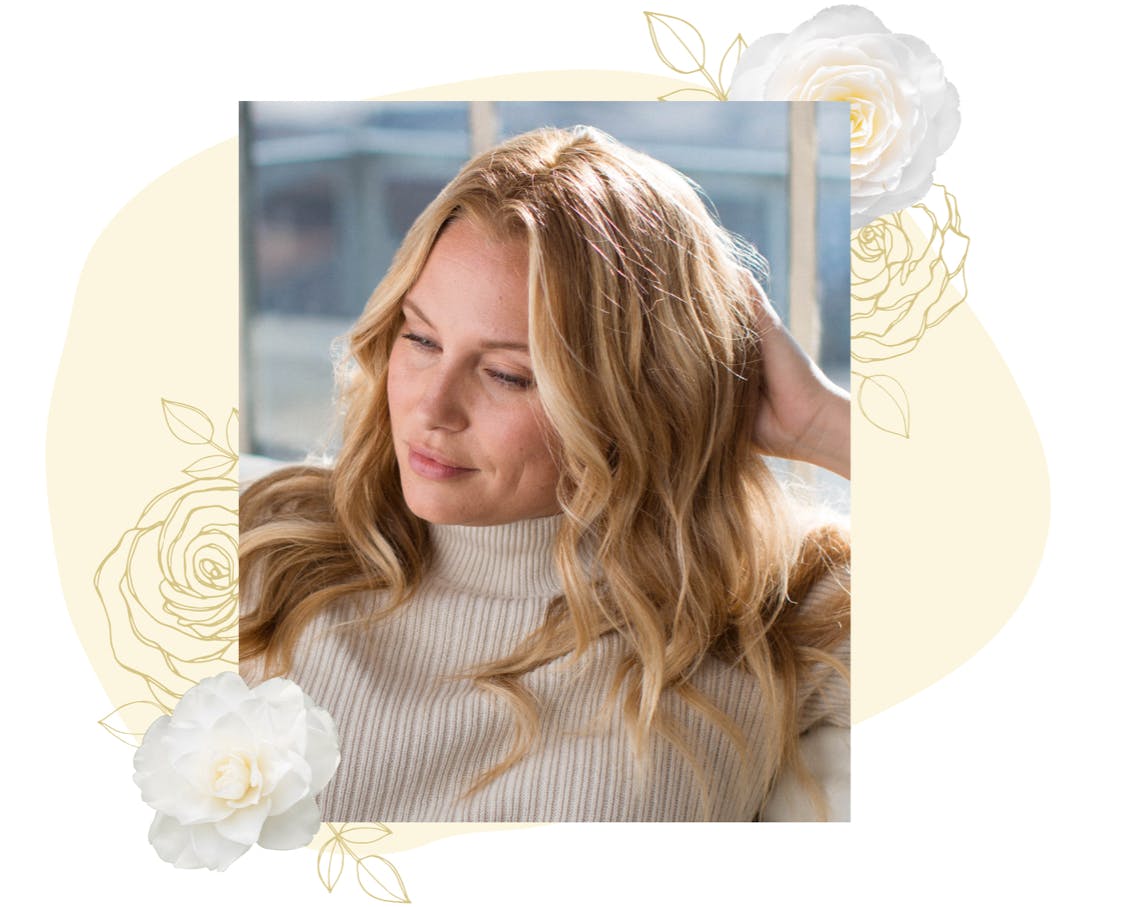 WHAT IT LOOKS LIKE AND WHO IT'S FOR
Walk into any flower shop this season, and you'll find the natural golden warmth that blooms at the center of our favorite Buttermint Camelia. This floral-inspired custom medium blonde contains notes of brightening gold for a lustrous finish that catches the light with every hair flip. This color is ideal for blondes with peeking grays, making them less noticeable as they blend into the kaleidoscope of light and bright tones. Though this color works best if your hair is naturally on the lighter side, you can always add a few face-framing highlights for subtle dimension. 
HOW TO GET IT AND KEEP IT
Ask your colorist to add a blend of natural golden tones to your medium or dark blonde base color. If you're applying your shade at home, you'll want to complete our blend-for-shine step. When you're ready to rinse, simply mix your leftover color with water and massage through your midlength and ends. This pre-rinse blending technique helps create an even, shiny result without over-darkening your previously-colored ends. 
To accent your Buttermint Camelia blonde with a sunkissed finish, we recommend you try our Light Set home balayage highlighting kit. As blondes tend to fade quickly over time, use our Shine Silk to replenish moisture, add shine, and shield your color. If you notice your strands are becoming slightly brassy in tone, our Tint Rinse in Blonde Neutralizer is perfect for lightening and brightening in between applications. Get ready to live your best life with this custom buttery blonde that's guaranteed to shine. 
We can't wait to see your custom versions of our 2021 spring hair color trends. So don't be shy and follow us on Instagram @eSalon to share your finished looks. Until next season folks, here's to color happiness your way.