Why Does Custom Color Matter?
Like a well-tailored outfit, a customized hair color just fits. Learn about what goes into the first and only one on the home hair color market.
---
Everything you wear—shoes, clothing, jewelry—it fits you. So why should it be any different for your hair color, the one thing you wear every single day? In sharp contrast to the limited selection on the premixed market, customized hair color is made to order to fit you. Check out our article to learn more about what goes into our customized color, the first and only home hair color to be designed with you (yes, you!) in mind.
IT'S COLOR MADE FOR YOU AND ONLY YOU
You deserve the absolute best hair color, and we're committed to creating it for you—literally. Your personal colorist will factor in your color goals, most-recent photos (selfies welcome), profile, and hair history to formulate a color that's just for you down to the last drop. Our colorists have designed more than 196,000 shades to date, each with its own unique combination of pigments.
MORE THAN JUST DYE—IT'S THE COMPLETE EXPERIENCE
Getting your dream color is just the first step! Every facet of your experience is totally personalized, designed with you in mind. We'll use your amount of gray and color resistance to assign your developer level, while the bottle itself will have your name on it, your formula's ID, and the date we made it. Factors like your hair length and color history play into which instructions you'll receive—there are over 150 possibilities!—and they may change depending on whether you're touching up your roots or going for a whole new look. From start to finish, your online colorist is there to help you get the shade you love and maintain it. So if you ever need a change, we've got you covered—can't get that with boxed dye.
EVOLVING WITH YOU AND THE LATEST TRENDS
Your personal colorist can formulate a shade down to the exact combination of depth and tone that lets you be you. No premixed stuff here! And we're right here with you as your style evolves—whether you're going for a complete color change or a shift from slight copper to a dash of mahogany. Yep, we can alter your formula by 1/4th of a single shade for any given order, just say the word. It's a little bit like color magic.
A FULLY CUSTOMIZED EXPERIENCE
We know that each client is different, and so are their needs. That's why, once you've completed your profile, we pair you with a personal colorist. From there, you'll work together 1:1 on your formula, changing it up as you see fit. Our colorists know that hair color is part of what defines your look, so we work hard to make sure the shade we craft brings out your personality.
Meet Natalie, a long-term client who's been with us for more than 35 orders. She went from box to salon and back and was never able to nail down quite the right tone.
When Natalie joined eSalon, we worked closely with her to achieve her perfect tone, maintaining it for her until it was time for a change. So far, we've been through four shade adjustments together, and while each tweak was minor, it supported her evolving personal style.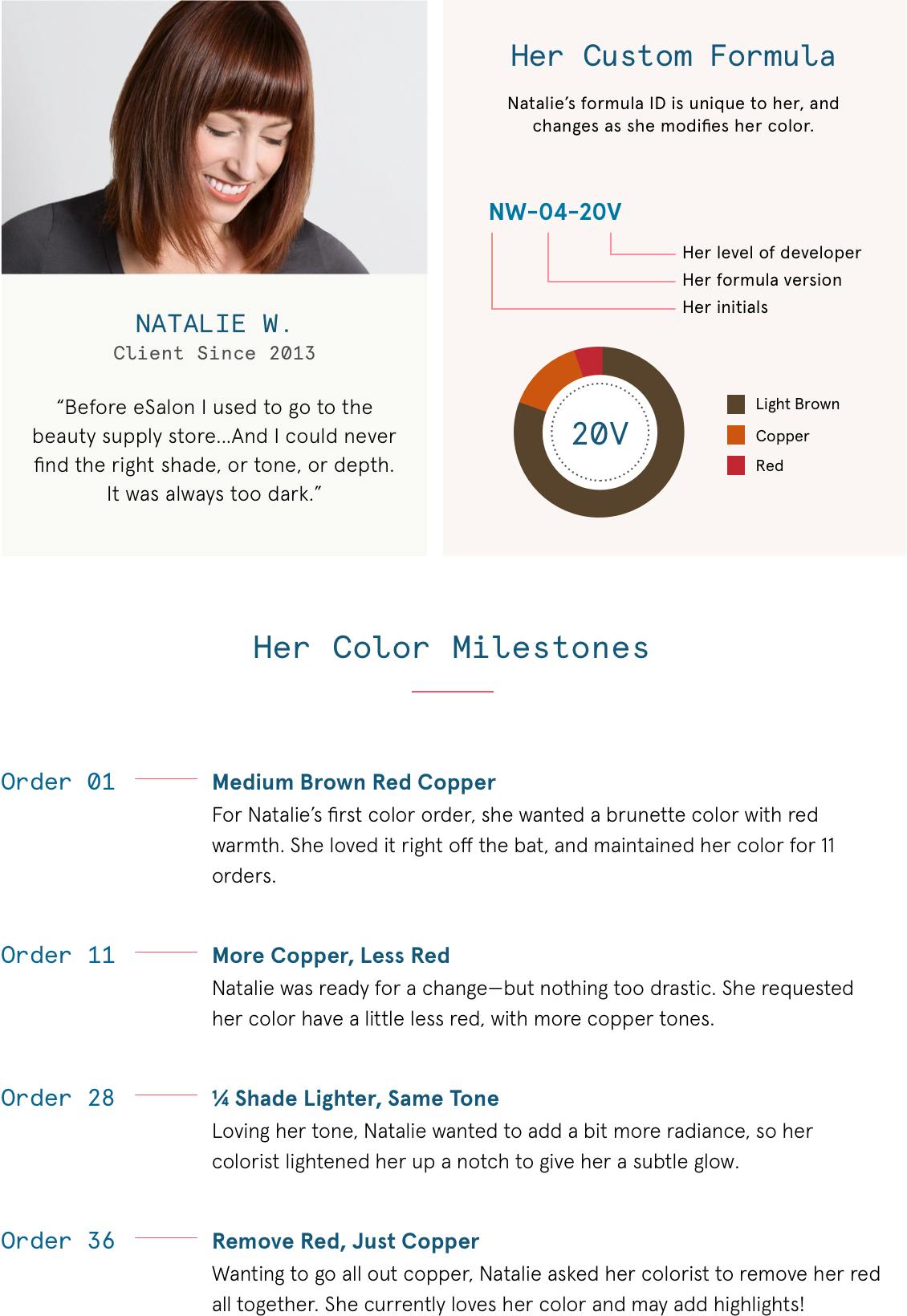 HOW WE CRAFT YOUR COLOR
At eSalon, technology and human expertise go hand in hand—it's more than just numbers. Our engineers developed a pigmented language that allows your personal colorist to formulate your color virtually. From there, your formula gets sent to our mixing machine, Pollychrome meaning many colors, which works like a color printer. It uses the pigment "recipe" to mix the correct amount of each pigment right in the bottle, allowing us to blend your unique color with complete precision. And any time you have feedback? Your colorist will use that to make adjustments both big and small as you go with notes from your account.
Small-batch, made to order, and unique to you, custom hair color just fits. Want in? Fill out our online questionnaire and a colorist will help you find your forever color.