Just Launched: Colorsmith Men's Custom Hair Color
It's time for men to experience hair color their way.
---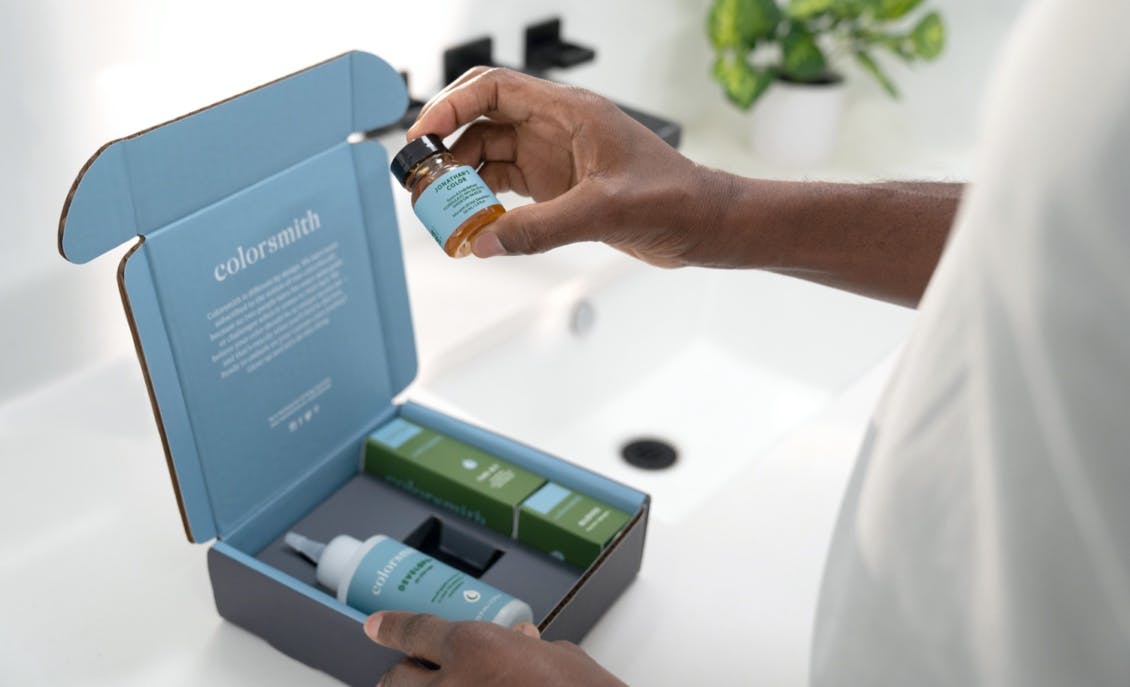 Our founders decided it was time to shake up men's dye options for color that's different by design. We're so excited to share the launch of Colorsmith, our first-ever custom men's hair color brand! Colorsmith's goal is clear: to offer men natural-looking color solutions with consistency in coverage, and the ability to make adjustments as they go. Without further ado, let's explore all the bells and whistles that Colorsmith has to offer from head to beard.
Gray Their Way
We asked our men what they were looking for to finally lock in their forever color. The feedback was unanimous: more natural-looking color options to avoid questions like, "Did you do something different to your hair?" Graying for men should be seamless with custom-made, blendable solutions. The goal is to give men a look that makes them feel more like themselves—confident to go gray on their terms.
"

"Every facet of Colorsmith was thoughtfully designed to give men a completely customized experience from start to finish while demystifying the process." - Graham Jones, CEO
The Gray Reduction Program Gives Men Color Confidence
Colorsmith supports men to feel confident in their color, all guided by a personal colorist to dial in their ideal look. It's not about hiding grays, but having the control to go gray their way. Whether they're looking to gradually blend grays over time or cover them up all at once, the choice is theirs. Colorsmith's Gray Reduction Program is the first of its kind to offer men the option to upkeep their salt and pepper, from hair to beard, while matching their natural shade. 
How does it work? All they have to do is take our online Color Quiz. This tells us how much gray they currently have and how much blending of that gray they want to see. Their colorist then creates a plan to blend grays in 2-3 applications, followed by maintenance. Check out the options below: 

Quick and Easy Application
Not only can men get a better-than-ever color result with a custom blend, but they can also apply color quickly, then process and rinse. We've taken the guesswork out of the process, for a no-fuss experience for hair, beards, and mustaches, they can easily do again and again. Plus, like our Color Set, our men get a full kit called the Custom Color Case which includes everything they need to get those good-lookin' results.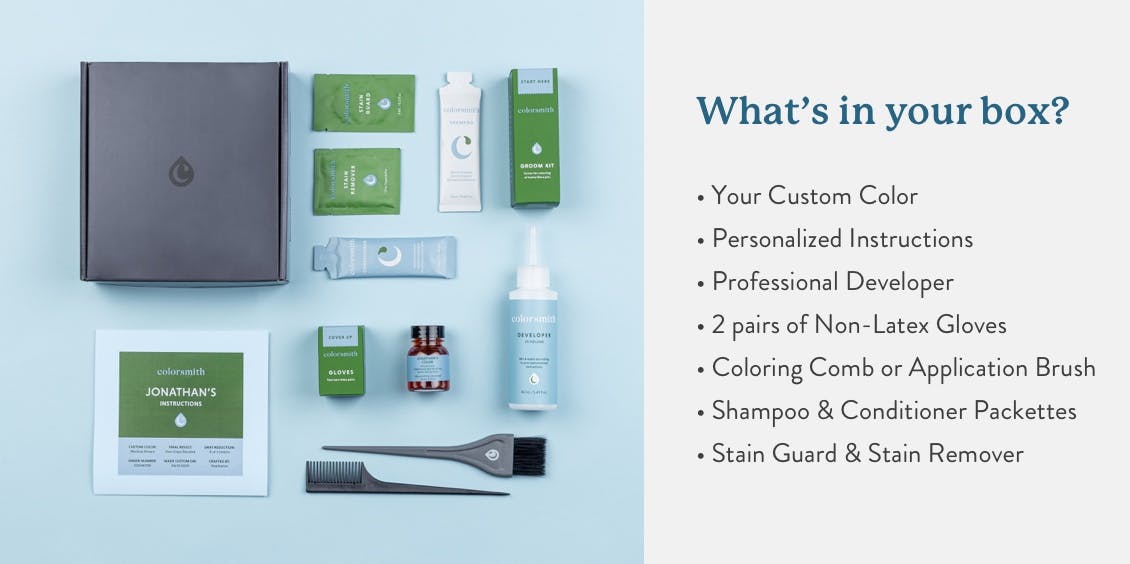 Just like eSalon, men can sign up for a Color Plan or have their color shipped one at a time. Easy and delivered to their door? We knew we just had to share this awesome benefit with Colorsmith.
Feel-good Ingredients
What makes Colorsmith's custom color even better? The ingredients. We're constantly evolving the way we approach hair color and how it affects your hair's look and feel, so these ingredients are top-notch. Colorsmith's base formulas have a combination of Vitamin E, Keratin, and Soybean Protein, made without Ammonia, PPD, Resorcinol, Paraben, or Phthalates. It's color made simple, with formulas men can feel good about. 
Now that you've heard the scoop, share it with the men in your life. Or get a sneak peek of Colorsmith's client results by checking them out on Instagram or Facebook.