How to Make a Hair Color Adjustment
Changing your custom hair color is super simple. You have the freedom to adjust your shade whenever you like, with a quick note to your colorist.
---
Looking for a cooler tone or lighter base shade this spring? Switching up your hair color is super simple when you go with our custom color. Our licensed colorists can adjust your color down to ¼ of a single shade. That way, you have the freedom to switch up your shade as your preferences change, with a quick note to your dedicated colorist. And it's easy as pie. Here are some tips on how to request an adjustment to get your dream shade:
YOUR COLORIST LOOKS AT YOUR PERSONAL PROFILE
To make a color adjustment, your colorist revisits your profile, looking at your current formula and considering how it can be tweaked to fit your preferences. Taking into account your comments and current photos, along with their expertise, they can modify your shade and tone—just like in a salon.
REQUEST A CHANGE
To make a change to your color formula, just log into your account and make your selection. In the message box, detail everything you like (or don't) about your current color. We're here to listen to your needs and take your color history into account along with all your notes, before crafting your next order. Feel free to tell us what color and styling products you currently use, so we can get an idea of how to best accommodate your routine. Have an urgent question or request? We recommend hopping on the phone and giving us a call or sending us an email. We're here for you from start to finish, and all your hair moments in between.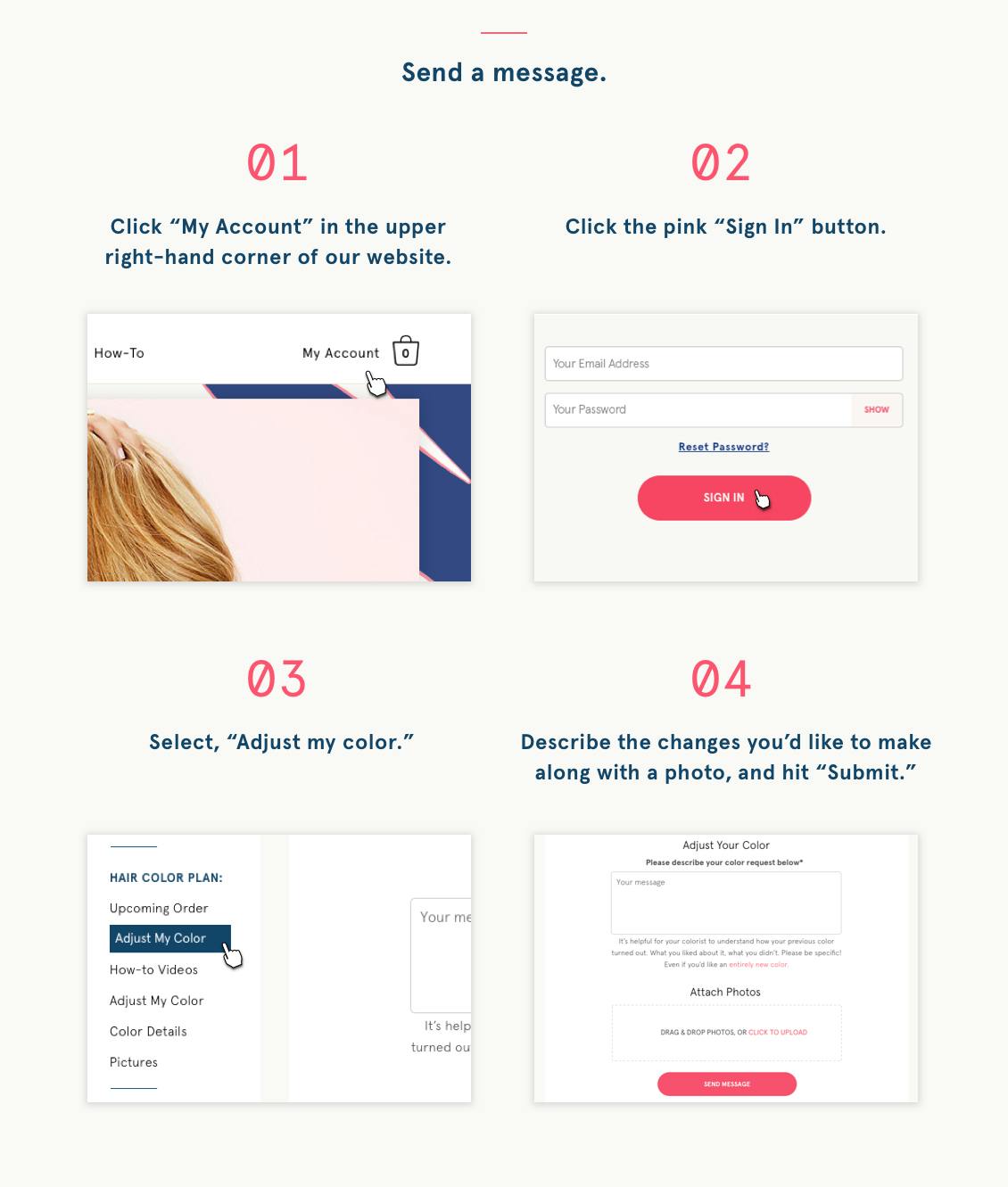 Heads up: We recommend giving your hair a day or two after coloring to see its true shade. Why? Color deposits into the hair's cuticle, but needs about two days to fully settle in. After that, you'll have a much better idea of what your color really looks like. If after a couple of days you're not seeing your dream shade, drop a note in your account, and your colorist will make adjustments to your next formula to get it just right.
TAKE A SELFIE
By referencing your most recent photo, your colorist creates your custom shade to match your skin tone, eye color, and personal style. That way, they can see your current hair color to craft your base hue and complementing tones for a seamless finish. We recommend taking your selfies outdoors so you get the clearest photos. Unfiltered, outdoor, natural light brings out the most dimension in your shade.
SUBMIT INSPIRATION PHOTOS
In addition to a selfie, feel free to submit a photo of what color you're going for, so your colorist can best craft your shade. Knowing what you like helps them to dive into a formulation by seeing the tones and depth of what you're most attracted to. That trending celebrity shade you're loving? Go ahead and send it over—we've got you.
ASK FOR RECOMMENDATIONS
Don't be shy. We love the idea of changing hair colors for the season and can definitely give you a few color tips. Your colorist can recommend a routine for your hair and showcase your inner chameleon. Looking to add a little dimension? Our super-subtle highlights can make a huge difference in updating your shade with a little iridescent glow. We're not only here for hair color recommendations, we can also help you find color care and styling products for your hair type and texture. The right hair care will help you to maintain and keep your color vibrant.
Now you know how to make a color adjustment, so feel free to reach out to your colorist with any questions. To take a deeper dive into hair color and care, check us on Instagram, Facebook, Pinterest and Twitter. In the Greater Los Angeles Area? Book an appointment at our Color Studio here.