Best Red Hair Colors to Hide Gray Hair
Looking for a red shade that provides maximum gray coverage and brings out the best in your complexion? Well, look no more.
---
Copper, strawberry, auburn—oh, how we love red hair colors! They are bold, eye-catching, incredibly flattering, and guess what? They are real superheroes when it comes to covering grays. 
Our personal colorists have spent years working with clients one-on-one to hone in on the absolute best custom red hair colors to keep your grays in check. No matter your age, there's always a shade that can highlight your best features and mask your pesky grays at the same time.
Finding your hair color formula
Before you decide on your new dream shade you need to know which color type is right for you:
Permanent Hair Color: If you want full gray coverage, our permanent hair color is the best option with intense, vibrant results. Our permanent color contains Ammonia which opens up the hair's cuticle so that the color can deposit effectively and allows total coverage. 
Ammonia-free Hair Color: If you prefer a 0% ammonia formula, our new Ammonia-free Permanent hair color offers natural-looking gray coverage with rich, long-lasting results and luminous, healthy-looking shine.
Demi-permanent Hair Color: naturally blends grays up to 25% and lasts up to 24 washes. That said, if gray coverage is your number one priority, this might not be the best option for you—but it is a fun way to try out different shades before you settle on your go-to look.
If you have more questions about which type of hair color might be right for you, you can always give your colorist a call to guide you in the right direction. And now let's get to the fun part: Finding the right red hair color to complement your skin tone and banish your grays.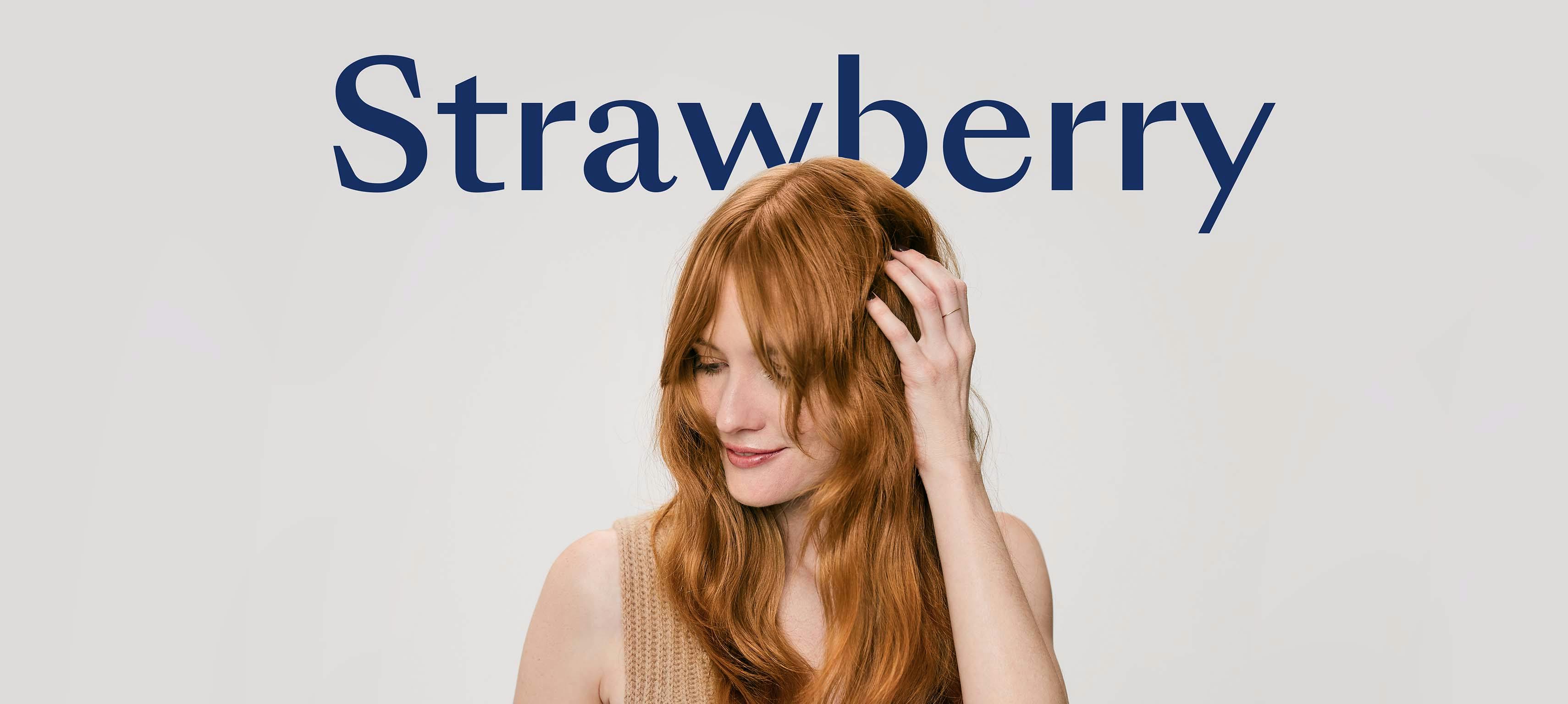 Light Skin Tones: Strawberry
This shade looks as sweet as it sounds and is sure to bring a little sunshine to your day. Strawberry is the perfect combination of blonde and red and while this dream shade flatters just about everyone, it's particularly great for those with lighter skin tones. 
To complement your complexion, our colorists lean into natural warm tones to highlight and brighten your appearance.  Your color starts with a medium to dark blonde base, then your colorist will add gold and copper tones. 
Gold and copper intermingle to create this gorgeous play of light that looks as natural as if you were born with it. In between touch-ups, we recommend using our Tint Rinse in Golden to refresh your hair color's radiance.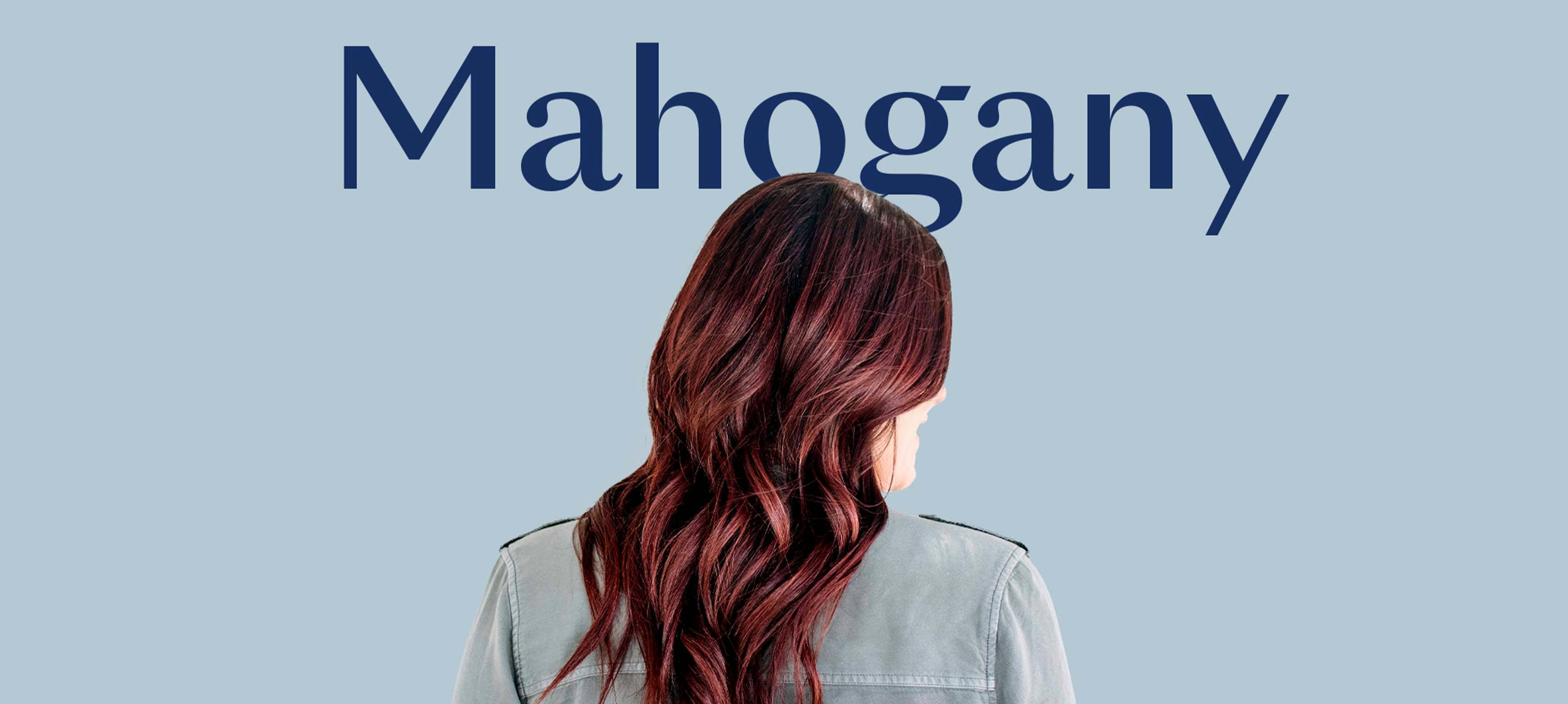 Medium Skin Tones: Mahogany
Forget your Pumpkin Spice Lattes—there is nothing that says fall better than a gorgeous Mahogany hair color. This shade is absolutely perfect for anyone who can't decide between red and brown hair but loves a rich look without going full-blown red. 
Medium skin tones will benefit most from a cool red tone like mahogany. Your complexion tends to have more naturally warm undertones in the skin already, so cooler reds harmonize and neutralize any overly warm undertones. 
To get this color, your colorist will start with a light to medium brunette base and add mahogany and violet for a stunning wine-inspired hair color that's perfect for the upcoming holiday season. To maintain the richness of this color, we recommend you use our Tint Rinse in Purple or Mahogany Copper.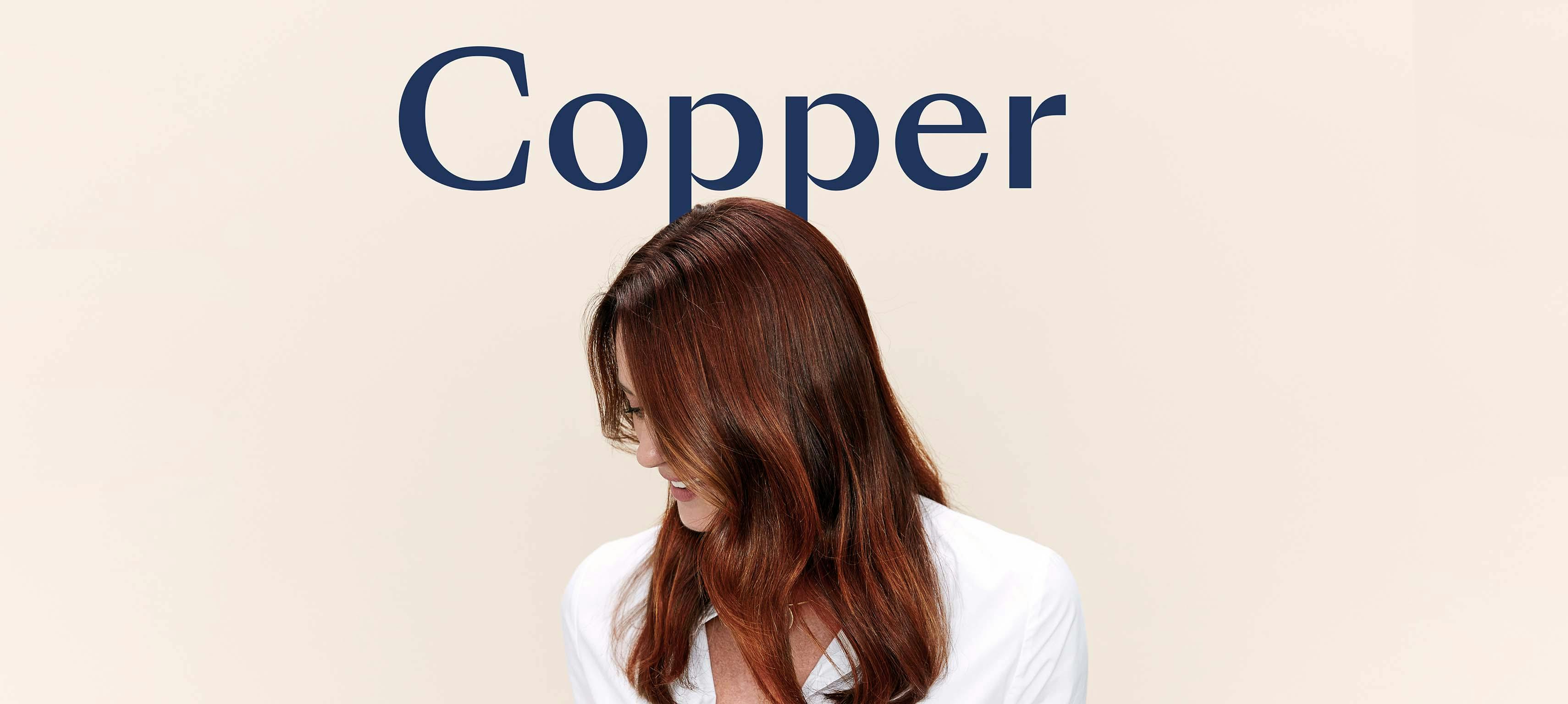 Darker Skin Tones: Copper
Copper is one of those colors that just never gets out of style. Our clients love copper because it tends to have a subtle golden undertone, but gets a little pop of brightness from orange undertones. 
Copper is on the "warmer" side of red since all the components of its base include warm shades like yellow, orange, and gold. And just like with every other red shade: It's always possible to dial it up or down.
With darker skin, warm tones are really complimentary across the board. Since reds have such a range, those with darker complexions can mix and match different reds to their heart's delight, as long as they keep the base dark.
A medium to dark brown is a great foundation for this bright tone. Adding pearl with copper to a darker base will create multi-dimensional depth and enhance the color's vibrancy.  To extend the brilliance of this shade, we recommend our Tint Rinse in Copper.
When you're ready to take the go to the red side, our colorists are here to tailor-make a shade that is just right for you. If you're looking for a hair color to best complement your skin and conceal the amount of gray you have, custom hair color is the best option. Create your custom hair color here and for more tips and tricks, follow us on social @eSalon.