7 Tips to Take Your Best Hair Selfie
Looking to achieve the perfect hair selfie but aren't sure of how to do it at home? We're giving you our top seven tips to taking the best hair selfies without professional equipment.
---
Social media is a carnival of new things to try each week while we're in quarantine, but the one trend that remains tried and true is the "selfie." Don't worry if this is a totally new concept, we're here to help you navigate this one. What is a selfie? Most people recognize the selfie as a photo of yourself, taken by yourself. Sounds simple, right? There are a few different versions of the selfie to choose from—some focus on shoes, your skincare shelf, or your hair: Shoefie, shelfie, and hairfie.
Now, you might get lucky and take a great selfie on your first try, and kudos if you do, but there are some styling points that can help you capture beautiful selfies every time. So take note of our best-kept hair selfie secrets, and have your cell phone ready to snap a few. And when you're ready, upload your photos to Instagram and Facebook using the hashtag #eSalonHairSelfie for a chance to be featured on our feed.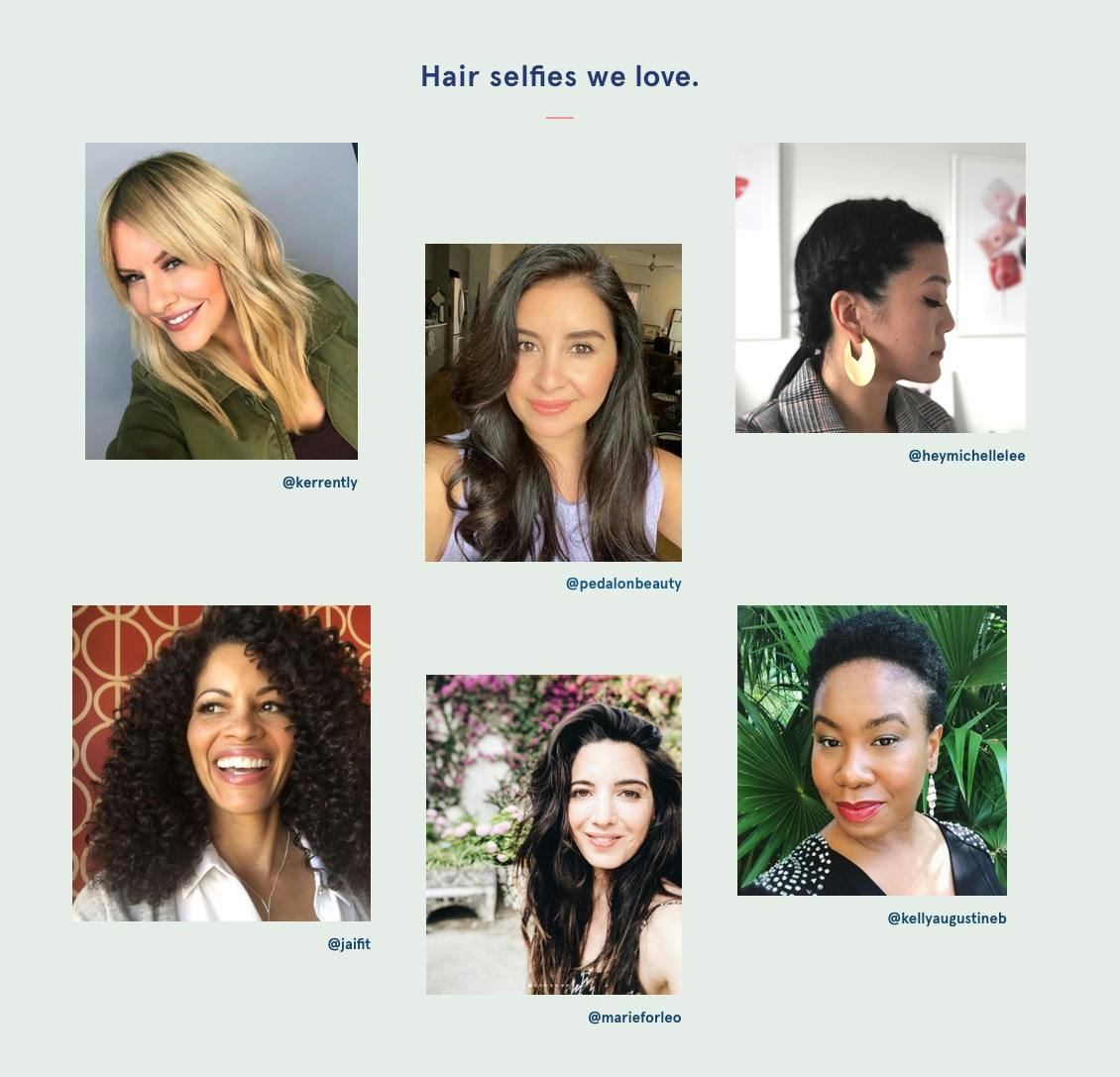 1. Show off your hairstyle and color.
You're taking a hair selfie, which means we want to see your beautiful hairstyle and color. Make sure you style your hair so that it hangs loosely around your face. Wearing your hair loosely gives you the opportunity to show off your current color or a fresh color, if you've just applied, on your Zoom calls. If you have long hair, pull your hair forward instead of letting it hang down your back. Your hairstyle doesn't need to be fancy, just style it as simply as possible and make sure it's visible. Let down your hair, Rapunzel, we want to see your mane in all its glory—grays too.
2. Natural light vs. artificial light.
We prefer natural light because it makes each photo look candid and, well, natural. You can get the purest glow just standing out in the sun or by a window at home. Artificial lighting—like what comes from your bathroom wall sconces—can work if you're taking photos at night, but just be sure that you have enough illumination all around. Also, make sure you're facing the source, so the light is directly on you and doesn't wash you out or blind the camera. Plus, having the camera directly facing the light will most likely reveal unpleasant shadowing under your eyes.
3. Choose your lighting.
The amount of light you need to take a gorgeous hair selfie depends on the time of day you decide to take your photo. Morning is our preferred time since the sun isn't too high but still bright enough to capture a soft, natural glow. If you're taking photos in the evening or out on the terrace and you know your hair looks good, go ahead and find the brightest corner in the room. Take a minute or two to sit in a few of your favorite spots at home and try them out. Then, snap a photo of yourself and see if you've found your go-to photo area.
4. Try for a clean background.
The space you choose should be clutter-free. You might think the focus is on your face, but people can see your messy bedrooms. We prefer a lighter background like a white wall with just a pop of color to accent your hair. Also, try to avoid taking photos in your car since the background can be distracting with all the seatbelts, headrests, car seats, etc.
5. Dial in your facial expression.
We know, taking a selfie isn't always easy for everyone. But try your best to look natural and enjoy your moment. We see a lot of selfies in this business, and there's nothing like a natural, easygoing smile to top it off. Try not to over exaggerate in your photos. The caption that goes with it can tell us more, but try to make simple expressions. Remember, this should be fun.
6. Know your angles.
Everyone has a "good side," so what's yours? When taking selfies, try to change the angle of the camera and make sure you're not looking straight-on into the lens. Selfies look amazing when you're slightly off center, or the camera is slightly off to one side of the face. Also, you want to angle the phone a little above your brow line, or just above eye level. This way, you reduce the chances of catching under-eye shadows from direct sunlight, and you capture your best features.
7. Practice, practice, practice.
Type in the hashtag #Selfie on Instagram and see what comes up. We bet a lot of these photos are celebrity images, and they always look good. While it may look easy, every photo you'll see probably took twenty or thirty shots to get the right one before posting. It takes practice and a little technique, but you've got this. You definitely do not need to be a professional photographer to create a gorgeous photo of yourself.
Now take a few hair selfies once you've found the best background and lighting. Try different angles and see what you create. Chances are, you'll find a hair selfie you love. If you decide to create your Color Profile with us, you'll get a chance to send your favorite to your eSalon colorist so they can create your custom hair color from scratch. Lights, camera, action!