How to Care for Your Highlighted Hair
Check out our top colorists' tips to care for your fresh balayage highlights to maintain their sparkle until your next application.
---
After spending time adding balayage highlights to your hair or having it done in a salon, you'll want to care for your strands with the right products. Since lightened hair sometimes needs a little hydration boost, shampoos and conditioners with nutrient-rich and reparative ingredients are your go-to products for maintaining shiny, gorgeous highlights. We'll give you the inside scoop on caring for your highlights year-round without ever stepping into a hair salon.
Daily care.
Like we said, caring for your highlights every day requires lots of moisture and is always at the top of our list—we can't hydrate enough. Highlighting your hair can potentially damage all hair types by making them porous and unable to hold moisture. To replenish and shield porous strands from overprocessing, apply our Pre-Color Balancer to fill in stressed strands before you shower.
Our Moisture Shampoo is lightweight even on the finest of hair and won't weigh down your 'do; pair it with our Repair Conditioner that helps to fortify and strengthen processed ends. Both of these products contain Quinoa that coats the hair and not only helps protect from environmental aggressors and damage but can also soothe the scalp and keep dandruff at bay. Follow your cleansing ritual with our Universal Leave-In Conditioner on wet hair for extra hydration and protection that extends well beyond your blowout. Living tangle-free is the way to be and a leave-in tames strands post-cleanse without leaving hair greasy.
Mask and tone—weekly.
Along with daily care, add in a deep conditioning treatment using our oh-so-lush Weekly Retreat to help prevent dry hair. Hair masks are great for restoring weakened hair strands caused by brushing too hard (let's be honest, everyone does it), processing, hot tools, and sun exposure. These weekly treatments improve your hair's resistance to breakage, and thinning, and protects your fabulous highlights from becoming dull—since hydrated hair is vibrant hair. Apply your mask to clean, damp hair, and let it soak into your strands for 10 to 15 minutes before rinsing thoroughly with lukewarm water. For intense hydration, cover your hair with a shower cap to allow the heat and steam to really open up the hair cuticles. Think of this treatment routine like a spa day for your hair.
Another way you can improve the finish of your highlights is to use a neutralizing or toning hair mask like AURA's Personalized Neutralizing Masque to reduce any unwanted brassiness. Apply this mask at least once or twice a week, and your highlights will look super fresh until your next application. There are a few options to choose from including our Tint Rinse in Blonde Neutralizer that tones down any unwanted warmth for blondes, our Tint Rinse in Red Neutralizer for dark brunette to black shades, or our Tint Rinse in Soft Red Neutralizer for light to medium brunette shades. 
If you're looking to warm up golden blondes, copper, and mahogany shades, we recommend our Tint Rinse in Warm Beige. If you're not sure which Tint Rinse is best for you, simply add a note for your colorist in your account, and we'll recommend one for your specific hair color.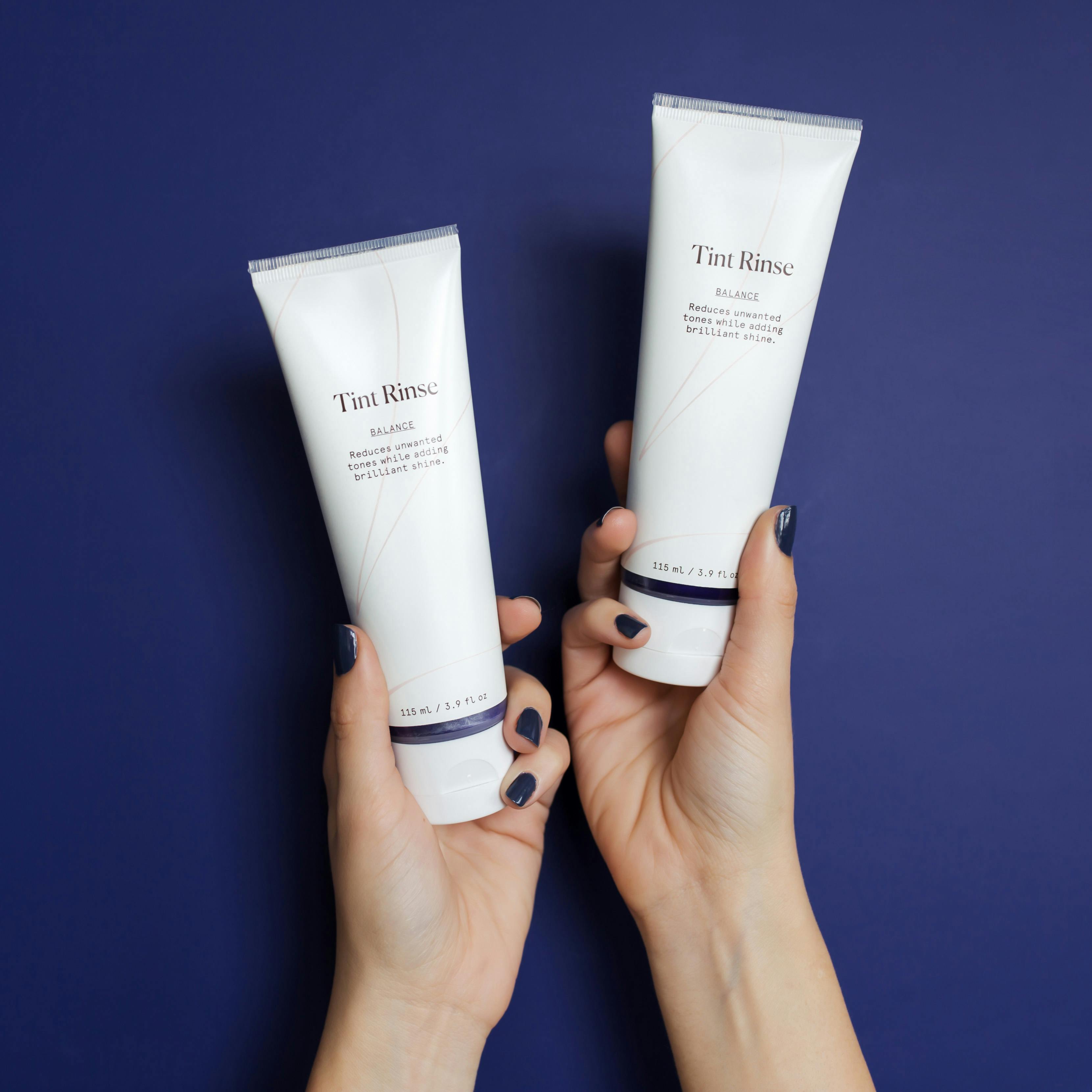 Extra tips and tricks.
Whenever you lift hair color the hair's cuticle opens up to absorb more nutrient-rich products, and sometimes particles like smog and chlorine. When you go swimming, we recommend you use a leave-in conditioner or a porosity spray to fill in the space and prevent the hair cuticles from absorbing chlorine. If possible, wear a swim cap to protect your highlights (we know, not attractive but beauty requires sacrifice). 
Don't forget about the UV rays. Since you'd never leave your house without applying SPF for your skin, wear a hat if you know you'll be in the sun for a spell. Sunshine can cause your all-over color and highlights to oxidize, giving your highlighted hair a yellowy or orangey look; to avoid that, wear a heat protectant or cover your strands from direct sunlight. Always be ready to protect your color wherever you go—imagine the compliments you'll get for having such gorgeous colored hair!
This maintenance routine for colored hair may sound like a lot for just highlights, but in fact, it's super easy. Don't have highlighted hair but are interested in getting them? Try our Light Set and get sunkissed balayage highlights all by yourself, without ever dropping a dime at a hair salon.
Need more balayage tips and tricks? Check out our Light Set how-to videos:
✓ How to Get Shiny, Healthy Hair... And Keep It
✓ Should I Cut Or Color First?