Ask a Colorist: How Can I Get My Man to Dye His Hair?
Color so good, he'll think it's his idea.
---
While we talk about the latest beauty and self-care news with our girlfriends, finding a segue into grooming care advice with your significant other is tough to say the least. We'll leave fashion and nutrition to the designers and doctors, but when it comes to grays, our colorists can help you break the ice nicely. Groom care and self-care are about empowerment and feeling like our best selves every day. Custom color can be a catalyst for positive change, especially when it comes to boosting our men's confidence.  
Shifting the Conversation Around Hair Color
To start, let's shift the way we think about self-care, groom care, and gray hair. Frequent touch-ups and trying out new hair colors can change our mood and drive in more ways than one. Hair color is about taking control of your appearance and feeling good about your look. Whether you want to transition to gray gradually or keep your hair that same shade of natural golden blonde you've always had, hair color is powerful. Women everywhere have changed the course of the hair color industry, making custom color possible to fit their needs. So, as trailblazers in beauty, who better to show our men the way, than you? 
No. 1: Grooming is Self Care
When your husband, boyfriend, father, or brother feels self-conscious about their graying hair you know all about it because you've felt it too. Meet them where they are and let them know it's okay to try something new just like you did. They've likely seen a pep in your step after you've finished coloring your hair and love the results. Grooming and spending time on themselves is one way to enhance their naturally good looks. 
Plus, it helps that custom hair color isn't their father's dye. Men are worried about getting results that are just too dark or they're nervous about the ingredients. Ease their minds by sharing the option of custom dye for their hair, beard, and mustache. Boxed color only offers a few options and has strong additives, but custom color can help them blend their grays for the perfect salt and pepper look free of Parabens and Ammonia. It's not always about full coverage, but coverage that looks natural and seamless.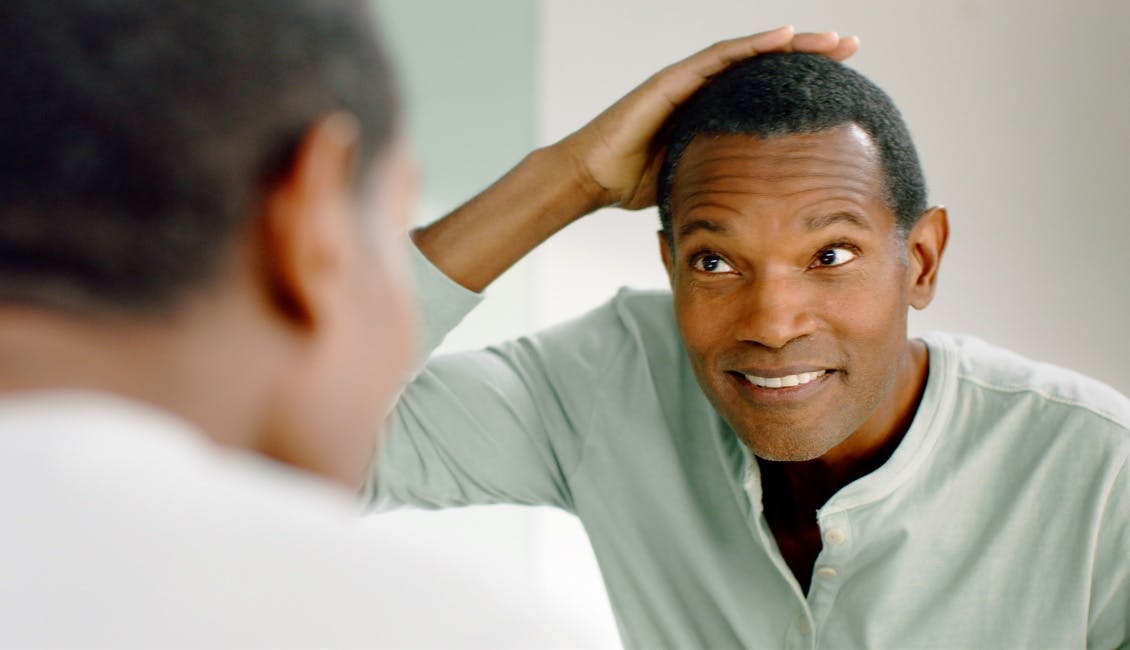 No. 2: The Subtle Comment Strategy
If you feel like he's exercising his right to selectively hear, try our favorite strategy of peppering him with subtle positive reinforcement. This tactic has been practiced by women throughout history playing the long game and dropping hints that absorb into their partner's subconscious mind. Think of name-dropping celebrities he admires and tell him how distinguished and handsome they look with their new hair color. 
For example: "Doesn't (Denzel Washington or Celebrity X) look amazing? That new hair color is giving him a throwback look and I'm all for it." Another of our favorites: "Ryan Reynolds dyed his hair in that new movie and he really does look so much better with darker hair." Once he sees men of a similar age and hair color doing it, he'll start to feel like he's missing out. Keep it coming and he might start to agree with you, taking a few extra moments to check his hair in the mirror.
No. 3: Grooming Has Professional Benefits
When your hair has fresh color and you're wearing your favorite outfit, that presentation you were so worried about is that much easier. Looking good at work can make you feel more positive about your projects and give you a natural sense of well-being at work. Especially when the comments start flooding in about how great you look, the day just seems to float on by. Now we know hair color is just a part of what drives you, but it's a start and a part of your everyday style that shines most. If he's looking for a quick pick-me-up at work, a new shirt can help, but hair color makes a big difference. The next time he's up for a promotion or has a big Zoom meeting coming up, point out a couple grays and offer to help him color his hair. 
No. 4: Show & Tell
You wouldn't color your hair with just any color, but custom color gives you the control to match your natural shade or change it up your way. Instead of just telling him how awesome custom color is, show him. When you get your next Color Set, have him help you apply your color and show him everything you get in your kit. Once he sees how easy the process is and how awesome it looks, you can show him where to get his next color. It's color that's made by the pros, so you get that salon look every time you touch-up.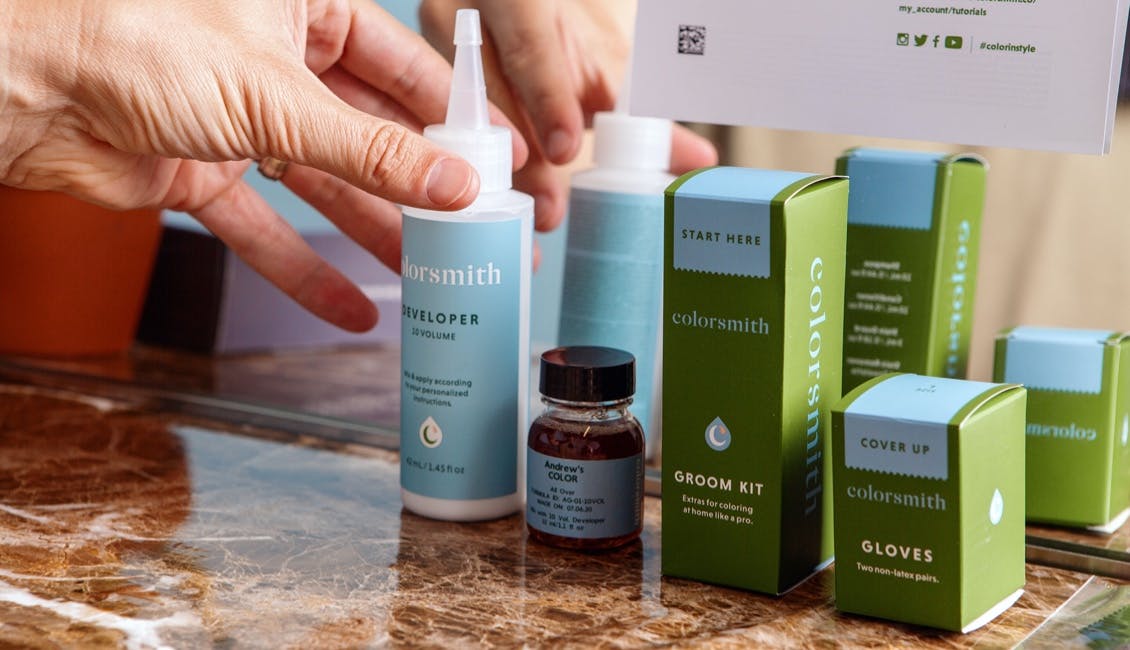 No. 5: When All Else Fails, Talk Tech
Custom technology is at the top of its game right now, which is why you have recently read this interesting Forbes article all about this new men's brand, Colorsmith. Engage him by telling him it's a brand founded by a group of techies that made custom technology to craft and individually dispense custom hair color. Men love to talk about the latest gadgets and Colorsmith's color-mixing machine is the thing. How do they do it? You'll say, let me show you and guide him to the website.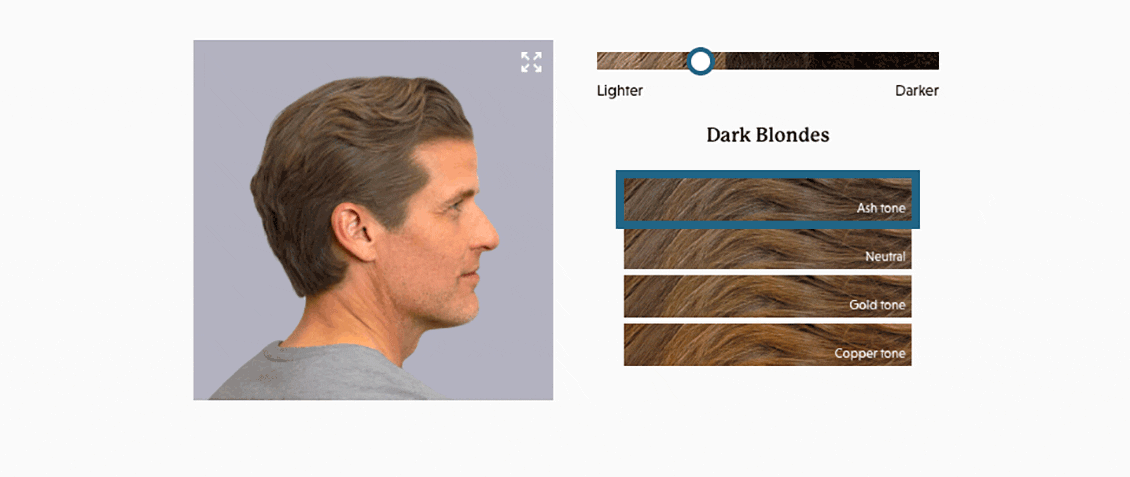 Now that we've given you a few avenues to broach the topic of getting your guy to color his grays, go out there and try a few. If you're feeling bold, try gifting him his first Custom Color Case that includes all the tools he needs to get natural-looking color right at home. If he resists, make a fun bet with him. We bet he'll take you up on the suggestion, especially when he hears that there's a special 40% off deal on his first order here.