Hair Color 101: The Complete Guide to Brunette Hair
Let's explore all there is to know about this classic hair color to see if it's right for you.
---
So you want to try out a new look and you're thinking about going brunette. You may think, "Oh, it's just a brown hair color," but brown is anything but boring. Whether your're going darker or just looking to elevate your natural shade, there's a plethora of brunettes to choose from.
Crafting the "uniquely-you" brunette is a process with many factors to consider like, what compliments your skin tone best? What undertones do you want to flaunt? How rich or subtle do you want your shade? These are all questions that go into creating the shade of your brunette dreams. 
Continue reading to learn our colorists' insights on how to select what hue is right for you.
Neutral Brunette
The Basics
This shade provides a very natural-looking color while still elevating the look of a natural brunette. It blends both cool and warm tones to create a happy medium between both notes—hence the name, "neutral brunette". This mix of gold and icy tones offers a balanced, yet glowing overall look. This is perfect for those unsure of what tone will suit them best, or those just dipping into the world of brunette.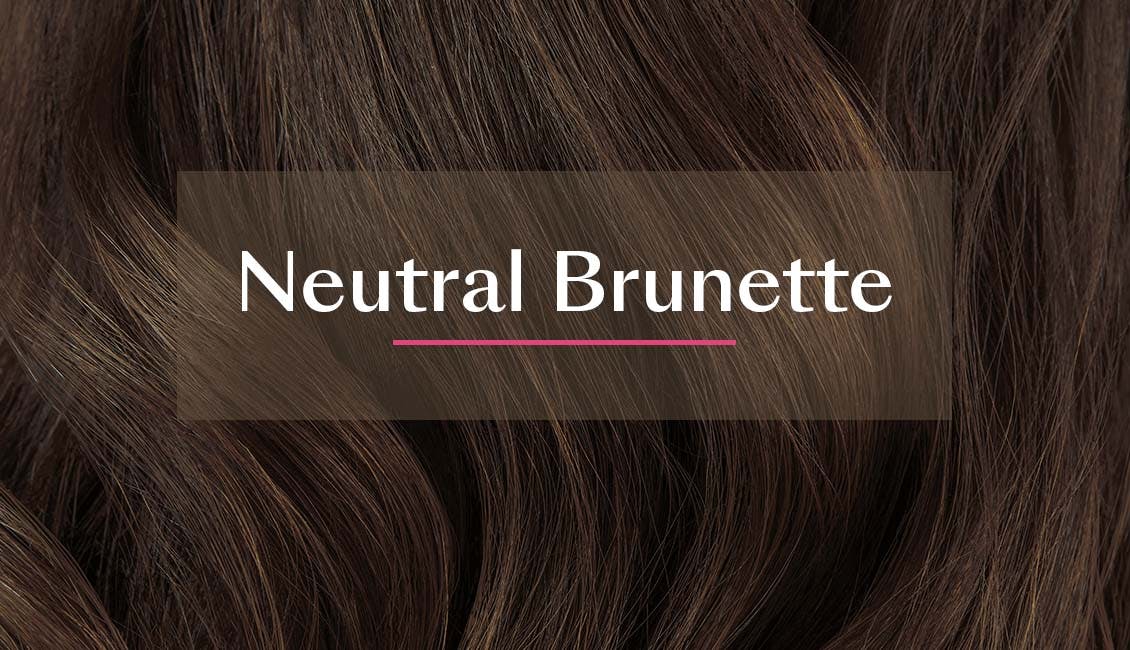 Who It's Best For
Since a neutral tone is a mix of both warm and cool tones, it tends to look great on all skin tones. This universally flattering shade is a great option for anyone unsure of what specific tone they want to achieve or just looking to try to best of brunette both worlds.
How To Get It & Keep It
Ask your colorist to blend neutral tones into your custom color formula. If your tone starts to fade between applications, opt for our Tint Rinse in Dark Brunette or Medium to Light Brunette (depending on your shade) to enhance your color for overall richness.
Warm Brunette
The Basics
A warm-toned brunette typically has a lot of golden and honey tones, giving the hair a lot of depth and dimension throughout. These tones add a pop of vibrancy to a typical brunette shade. It is loved by many brown-haired girls for its inviting and comforting feel that perfectly ties any look together.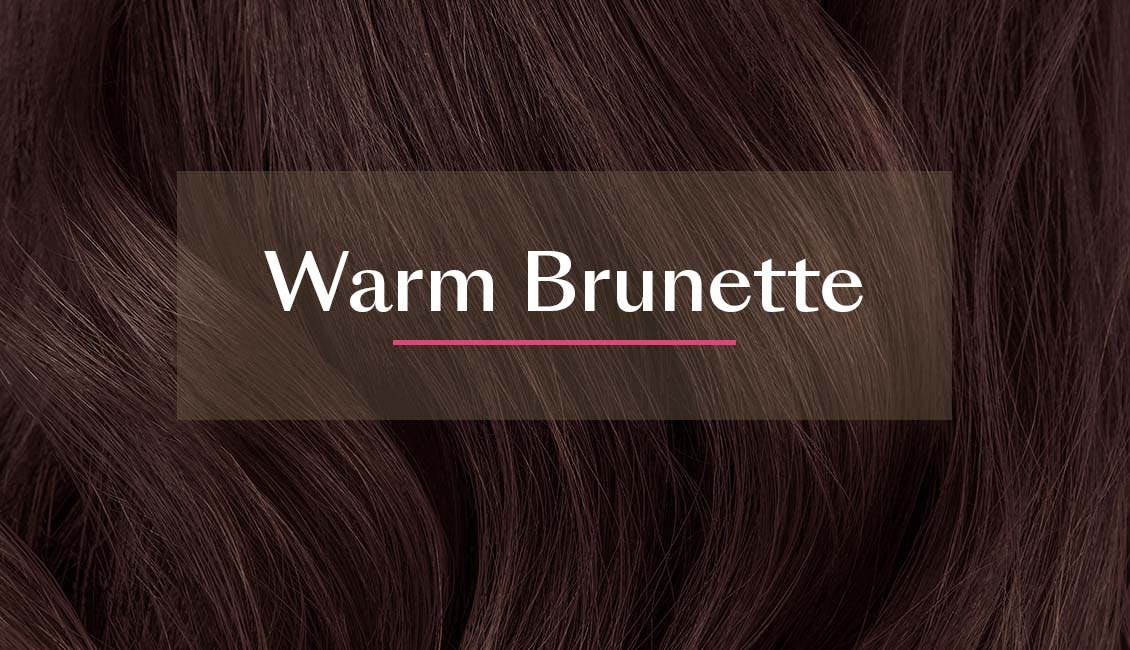 Who It's Best For
Warm brunette hair looks ultra-flattering on those with golden and olive complexions and green or hazel eyes. This shade is a fantastic option for anyone that wants a natural, sun-kissed glow with their brunette shade.
How To Get It & Keep It
There are many different warm brunette tones—like gold, auburn, and copper—so talk to your colorist about what warm shade will work best for you. Depending on which shade you go with, use a complimentary Tint Rinse between each application to revive your tone's longevity.
Cool Brunette
The Basics
What makes a brunette hue cool? This shade exudes pearl and icy undertones, giving it a naturally cool finish. This brunette look can often have smokey or gray undertones to compliment the overall cool tones, very similar to the popular mushroom brunette look. This subtle shade adds a bit of mystery to your hair color for an enchanting finish.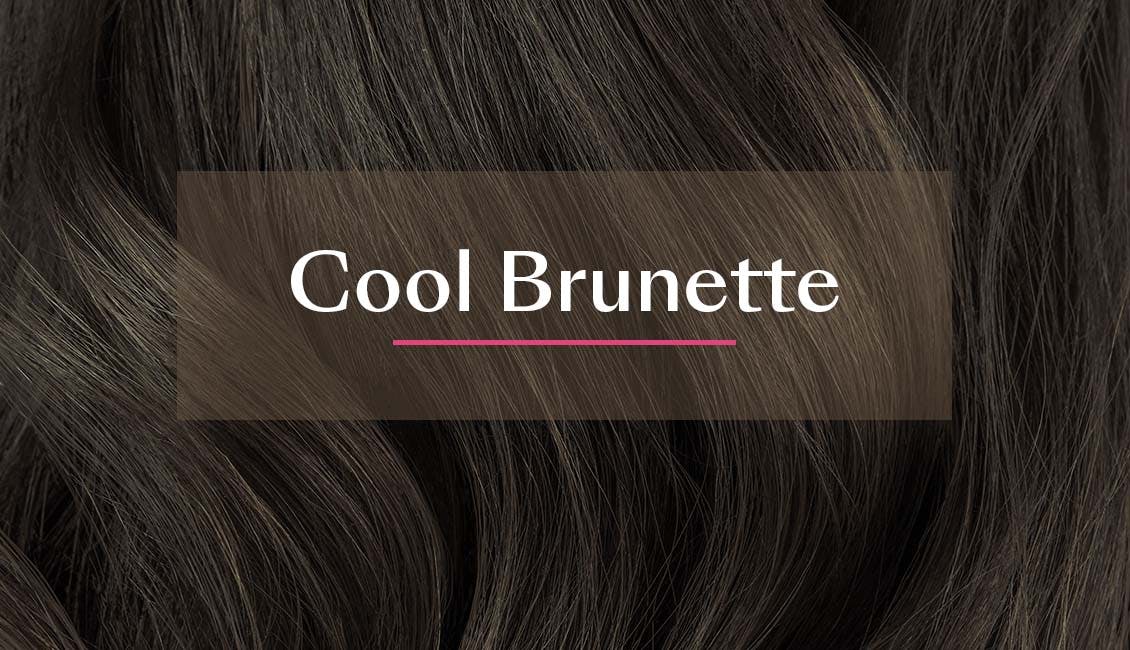 Who It's Best For
Cool brunette shades typically look best on those with cool undertones, as it naturally suits them—no surprise there! This shade is a great option for anyone who wants a more subtle hue when making the switch to brunette.
How To Get It & Keep It
Ask your colorist to add cool blue or green tones to your brunette shade. Since the underlying natural pigment of all brunette hair is warm, ash tones tend to fade relatively quickly from the hair. We suggest opting for either a Red or Soft Red Neutralizer Tint Rinse between applications to neutralize any sort of unwanted warmth. If you need further neutralizing between color applications, go in with the Cool Brunette Color Pro Toner.
Now that you know the ins and outs of brunette hair colors, you're ready to try out this shade for yourself. Take our quiz to find the right brunette hue for you.