The Incredible Evolution of Hair Color
A quick peek at the history of hair dye.
---
The journey to creating beautiful hair color accessible to all has been a long, long road. From color-enhancing hues to vibrant red pigments, it's impressive to see how far hair dye has come. So how is it that custom color, crafted by a colorist and delivered right to your door, became the most significant innovation in hair color yet? Read on for a crash course on the evolution of hair dye to find out.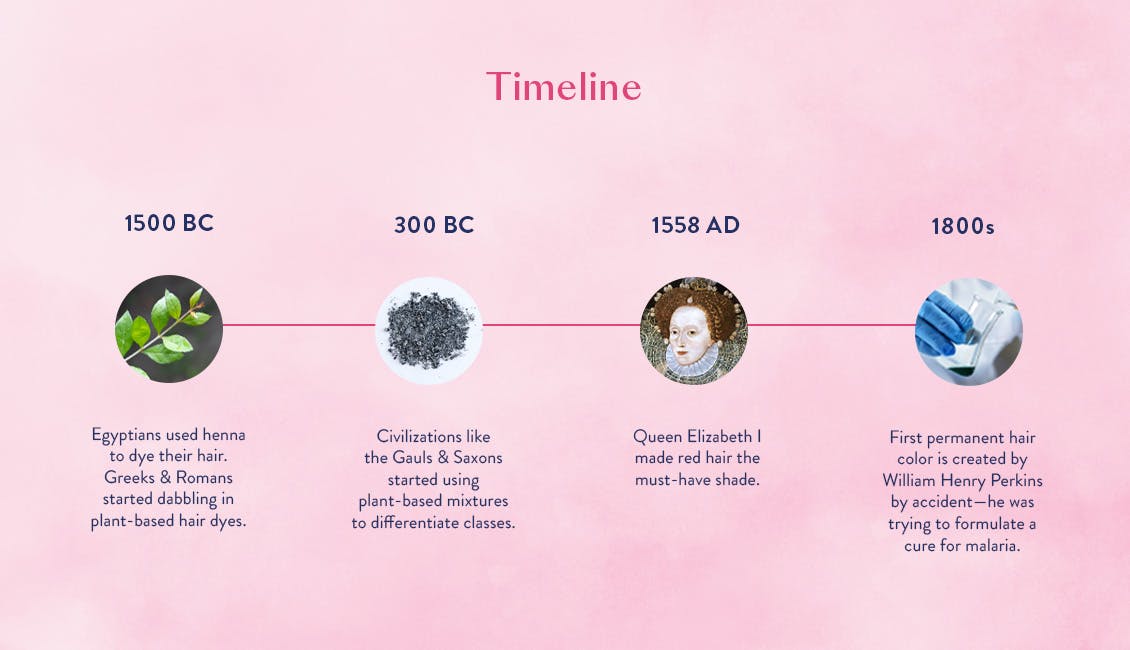 1500s BC
Ancient Egyptians made innovative marks on history in many ways besides their civilization and architecture efforts. They made their mark on hair dye, too. They would use henna as a black-hued pigment to cover gray hairs. 
During this time, the Greeks and Romans started dabbling in plant extracts to color their strands. They also created a permanent black hair dye. Unfortunately, it was too toxic to use, so they switched to a formula made with leeches that had been fermented in a lead vessel for two months. It took a few hundred years to expand the color choices beyond black.
300 BC
Ancient civilizations like the Gaul and the Saxons started coloring their hair in a variety of vibrant shades, like bright yellow, to show their societal rank and as a means of intimidating opponents on the battlefield. They would use the ashes of burned plants or nuts to achieve these radiant hues.
1500s AD
It wasn't until Queen Elizabeth I took her reign in 1558 that red hair became an in-demand hair color. Her choice to embrace this rare hair color made it fashionable and sought after by the most prestigious members of the monarchy. Thanks to her bright, fiery shade, a revolutionary moment in hair color history was made.
1800s
The first permanent hair dye was accidentally made by a professor named William Henry Perkins. He was attempting to formulate a cure for Malaria, but instead, he created a purply-pink hair dye. 
This happy accident was eventually improved upon by a chemistry professor named August Wilhelm von Hofmann. He turned the mauve dye into a color-changing molecule called para-phenylenediamine, or PPD. More than 150 years later, PPD is still the basis for most hair color formulas used today.
Our Split Line custom formulas are PPD-free. When your custom color is crafted without this PPD it is gentler since this chemical is known to cause allergic reactions. No matter what formula you use, we recommend always performing a skin allergy test before coloring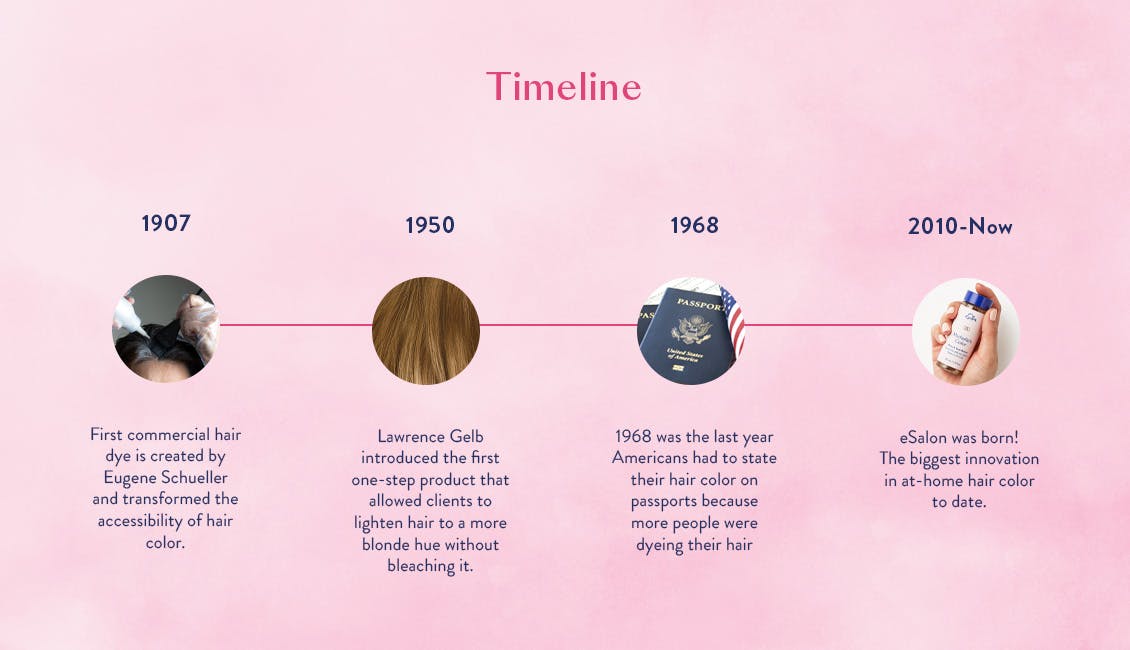 1907
The first chemical hair dye was created for commercial purposes by Eugene Schueller. His creation went on to inspire a slew of well-known drug store hair dye brands. It ushered in an era of women wanting to dye their own hair at home to maintain their youthful appearance.
1950
Until the 1950s, it wasn't easy to go blonde—and that's where Lawrence Gelb comes in. 
In 1950, Gleb introduced the first one-step hair dye product that lightened hair without having to bleach it. The product allowed women to color their hair at home discreetly. This is an important distinction, as women preferred not to publicize the fact that they colored their hair. It became an instant success and carved out a new lane in the beauty industry.
1960s-1980s
By the late 1960s, coloring your hair was commonplace, and 1968 was the last year Americans had to state their hair color on passports. The prevalence of commercial hair dye made this information pointless. 
And by the 1970s, public sentiments toward dyeing your hair began to change. With public opinion shifting, celebrities began to cash in on hair color's success. Starlets Heather Locklear and Cybil Shepard were some of the first Hollywood stars to jump on the hair dye endorsement bandwagon during this decade, but they would not be the last. 
2010-Present Day
2010 was the year eSalon was born! Before eSalon, you could only choose between box color and the salon—there was no middle ground. With our innovative, dare we say revolutionary product, beauty consumers like you can finally shop for customized hair color made to fit their needs. The best part? You never have to leave your home to color your hair again since your Color Set is sent directly to your home. 
By having you take our online Quiz, we utilize your specific information with our patented customization technology to help make your custom hue.
Not only is eSalon hair color custom crafted for you and made from scratch, but our ammonia-free formulas are gentle on your strands which can help prevent damage.
Since 2010, we've formulated over 300,000 custom colors for our clients, and we can only imagine how many we will have crafted ten years from now.
It's fair to say hair dye has come a long way since Ancient Egyptian times. As of 2015, more than 50% of women in the US dye their hair. eSalon is always here to make your at-home color journey easier with your professionally crafted custom formula. Follow us @eSalon on Instagram and Facebook for more hair color inspo and exciting facts.