Women's Hairstyles Throughout History: From the 1900s to Now
Discover how a century of hairstyles and hair colors have shaped our looks today.
---
Throughout history, women have experimented with their hair to find a style that fits the current trends along with their personal tastes. From sleek bobs to bouncy platinum curls, our hairdos are more than a symbol of a particular place in time—they're a statement of our individuality and an expression of each person's unique style. 
To learn more about how we've evolved into the modern styles and hair colors we have today, our colorists have taken a look back into our hairstyle archives. Read on to discover our guide to Women's Hairstyles Through History: From the 1900s to Now.
1910s
In the first decade of the 20th century, women started embracing looser hairstyles, with long hair. They began shaking off the constraints of sleek updos and tightly confined looks opting for a much more flowing style. Following the trends of society around them in these early years, the hairstyles began to have a much more organic look to them. Looser updos of cascading locks were pinned up with barrettes and bobby pins, often adorned with flowers or headbands to achieve an effortless, yet clean look.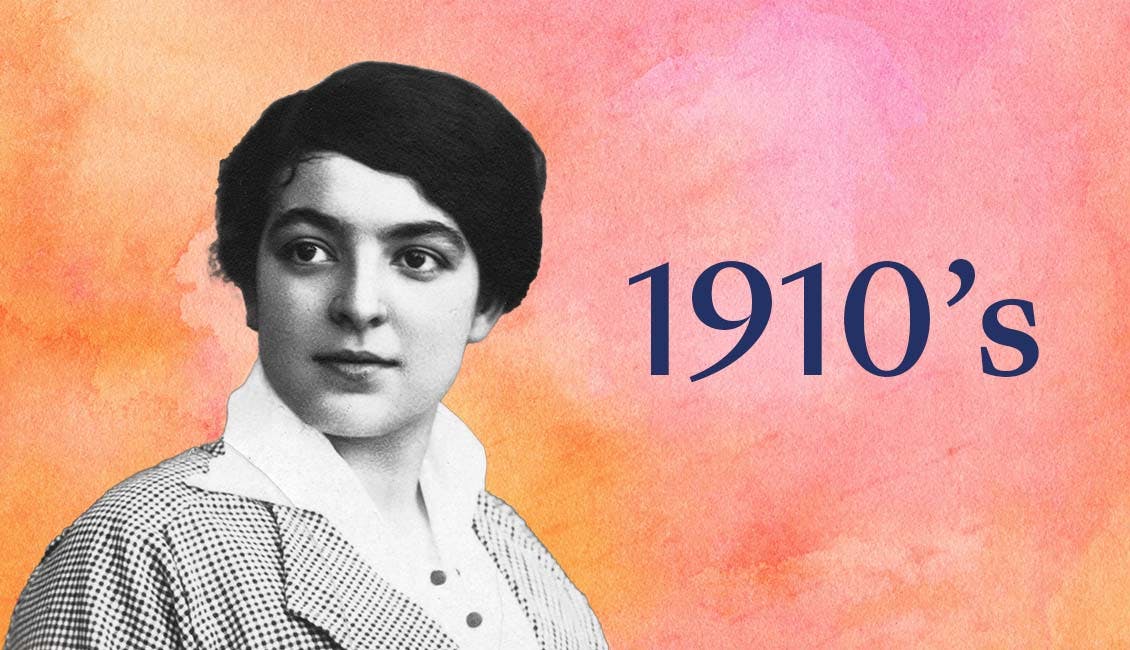 1920s
Roaring into the 20s, the Jazz decade ushered in a bevy of women sporting a short bob. The notion of women sporting short hair was unheard of before this period. This edgy and fresh style was an exciting twist to years previous, showcasing the range of feminine beauty with a sleek and simplified look. It was common to accessorize this short hair look with headbands and pins for a little personal flair.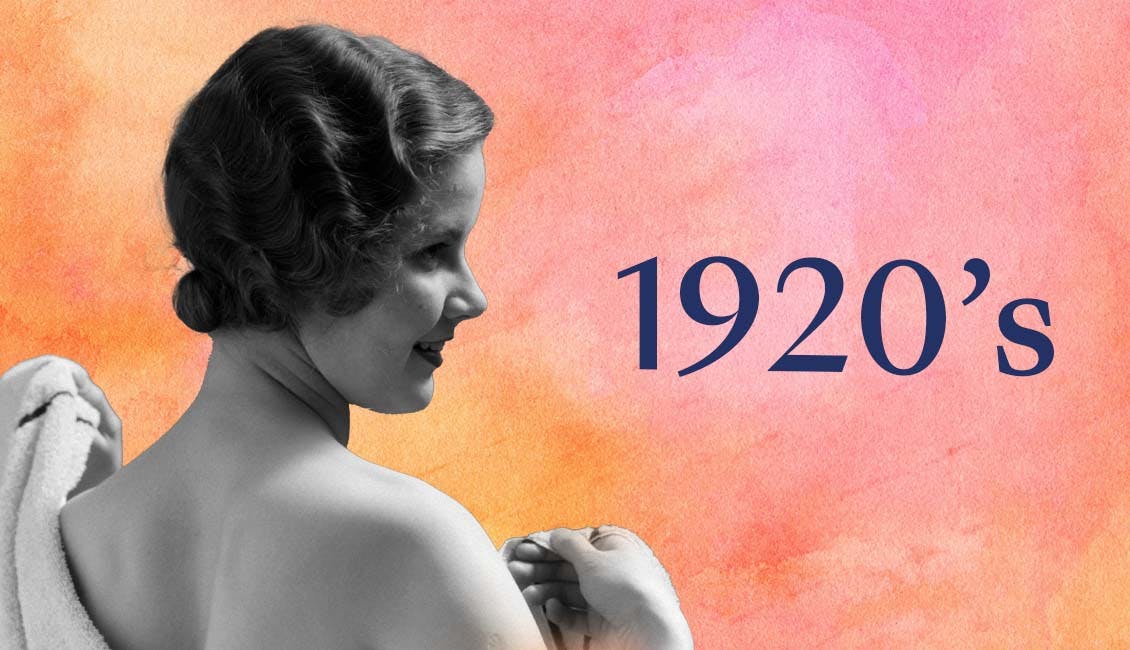 1930s
Throughout the '30s, shorter hairstyles with Marcel waves were all the rage. Popularized by French hairstylist François Marcel, this was the must-have look worn by socialites like Myrna Loy and Jean Harlow. 
Similar to finger waves, this look was created by using an old-fashioned curling iron that would create a wavelike pattern into the hair and then pinch it into an S-shaped curl. In those days, they would use a special pomade and bobby pins to keep the curls in place. And of course, this style was not complete without the pairing of thinly drawn eyebrows to complete the en-vogue look.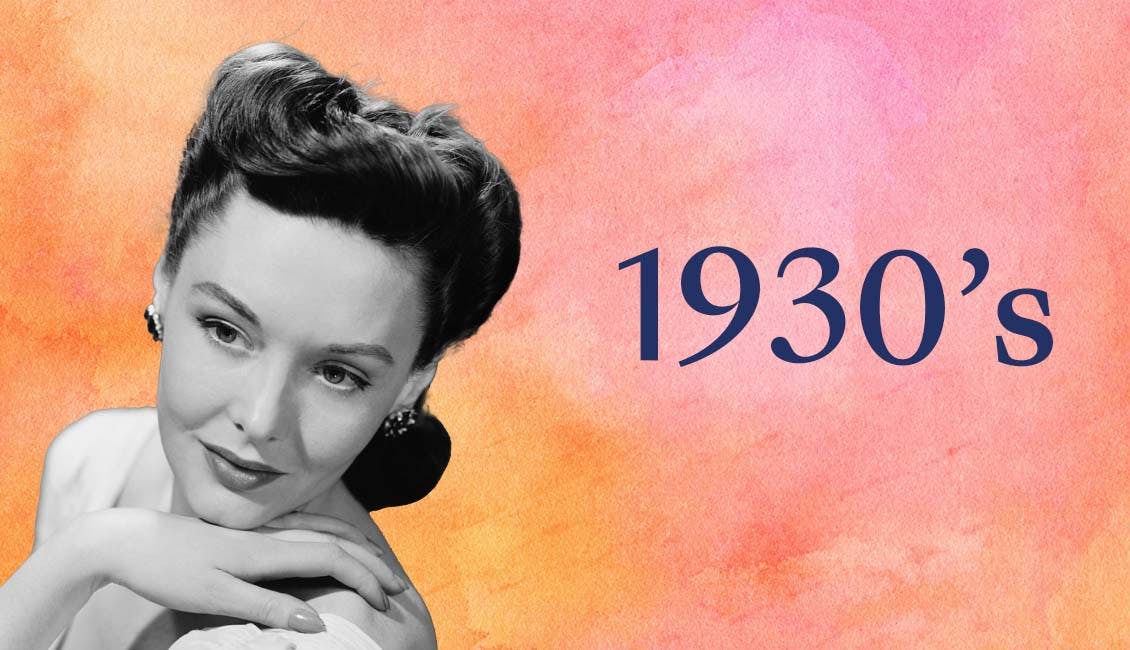 1940s
In the 1940s, there were two very stark areas of thought that heavily influenced popular hairstyle trends. On one hand, there was the boom of the Golden Age of Hollywood. Women wanted to look like the gorgeous movie stars they saw on screen with long locks in a "peek-a-boo" style or with "femme fatale" waves. This unlocked a new style that made women feel more sensual and mysterious. 
On the other hand, hairstyles also became a practical task due to the first influx of women going to work due to World War II. Headscarves were used to protect their strands along with structure styles to last throughout the work days.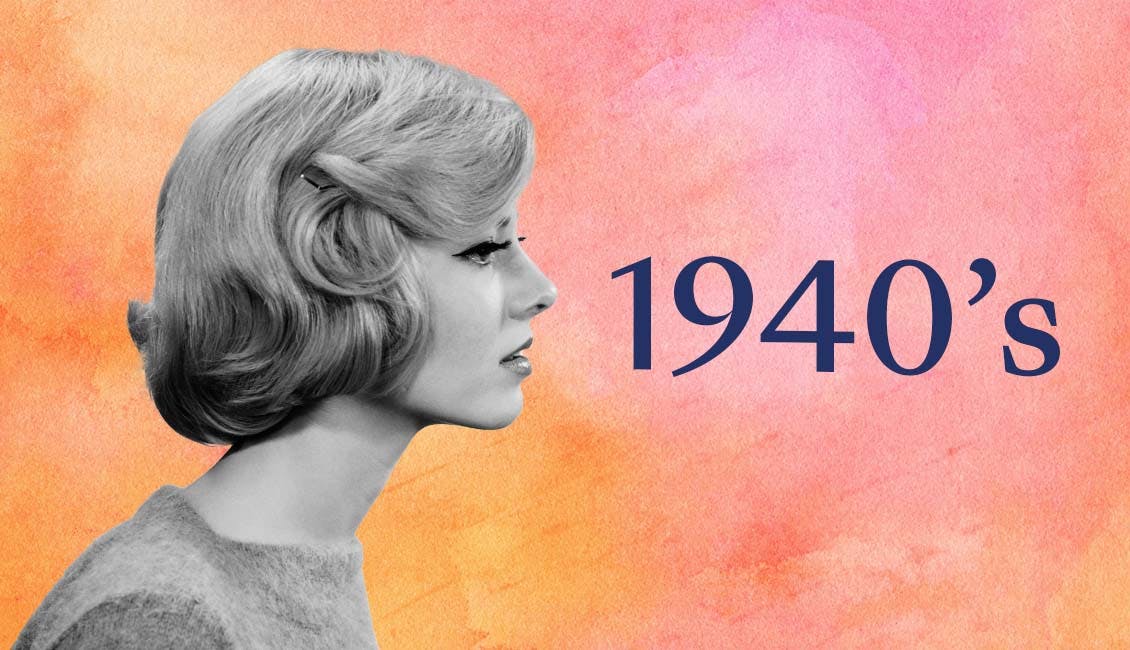 1950s
When you think of style icons of this decade, your mind goes to classic beauties like Audrey Hepburn and Marilyn Monroe. Both known for sporting shorter styles after longer lengths had made a quick comeback in years prior. The look traditionally worn by Audrey was referred to as the "Italian cut"— think the vintage sister of the pixie cut. 
However, if women weren't ready to chop off their beloved locks, they would try other styles like short fringe, chic chignons, and flowing blonde waves like those made popular by Ms. Monroe. Hair accessories were often found in these styles as well, such as head scarves that were previously used for practicality. This is one of the first times in the 20th century we see women have more of a variety to choose from when it comes to hair, rather than a small handful of trending styles.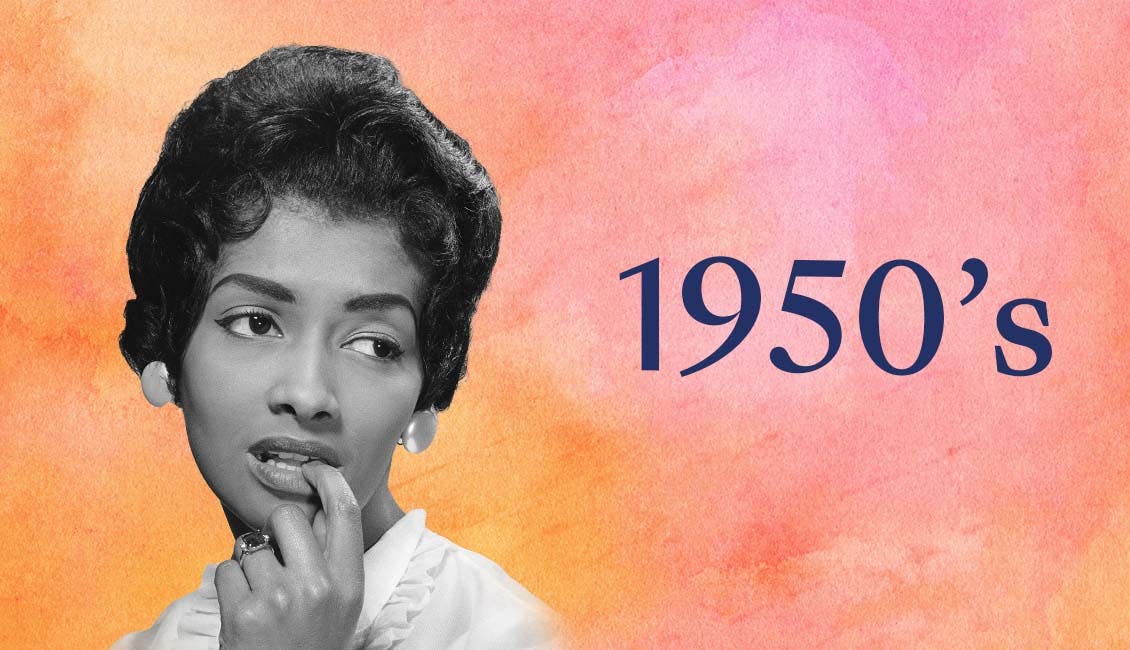 1960s
Welcome to the era of liberation. The 60's were home to peace, love, freedom— and of course, good hair. This was the first time in decades hair really began to be the expression of each woman's individuality. 
The trends of this decade included airy, loose waves traditionally with a longer length and hair accessories included things like natural flowers. However, some women opted for short boyish looks with a mod, English-inspired twist. Styles such as sky-high bouffants also became popular at this time for the younger crowd, which would definitely need some Forcefield Hairspray to hold in place today. This also marked the mainstream introduction to hair dye as an added element of expression.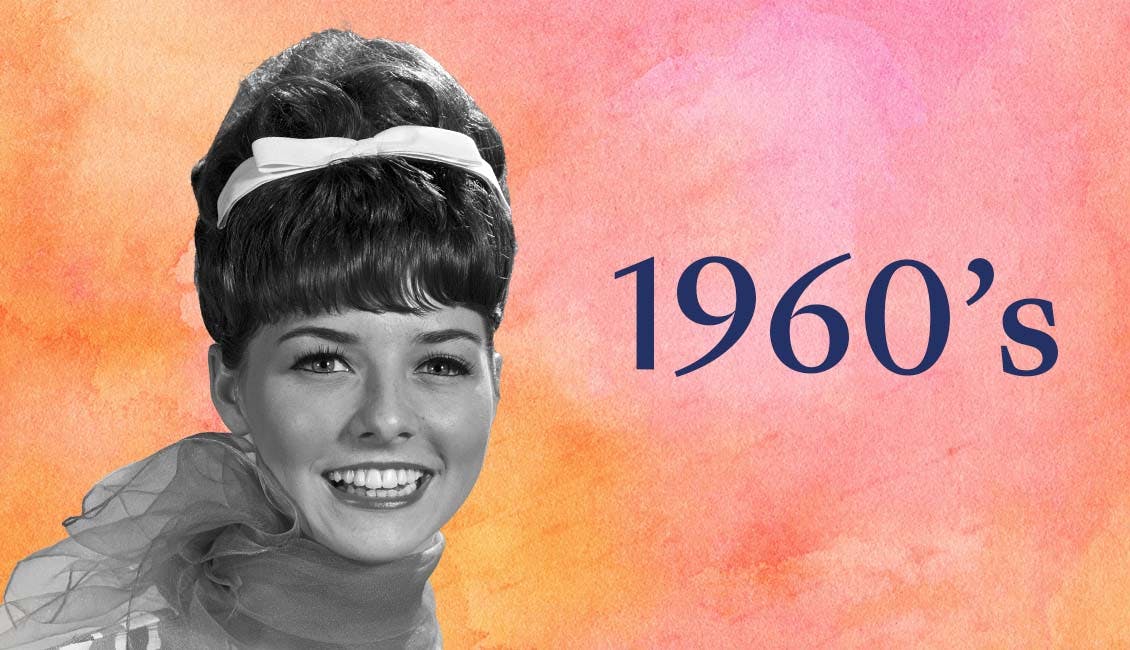 1970s
Extending from the previous decade, the 70s were another era of creative expression, especially throughout the African American community. This was a time of embracing natural hair patterns and textures with styles such as the afro. American women started to reject traditional, euro-centric norms and began to redefine what the word "beauty" truly meant. 
The hippie trend also continued on in this decade with an emphasis on freedom and love that was reflected in the popular hairstyles. Most commonly, looks with feathered texture emerged along with the continued trend of long hair, layered with bouncy waves.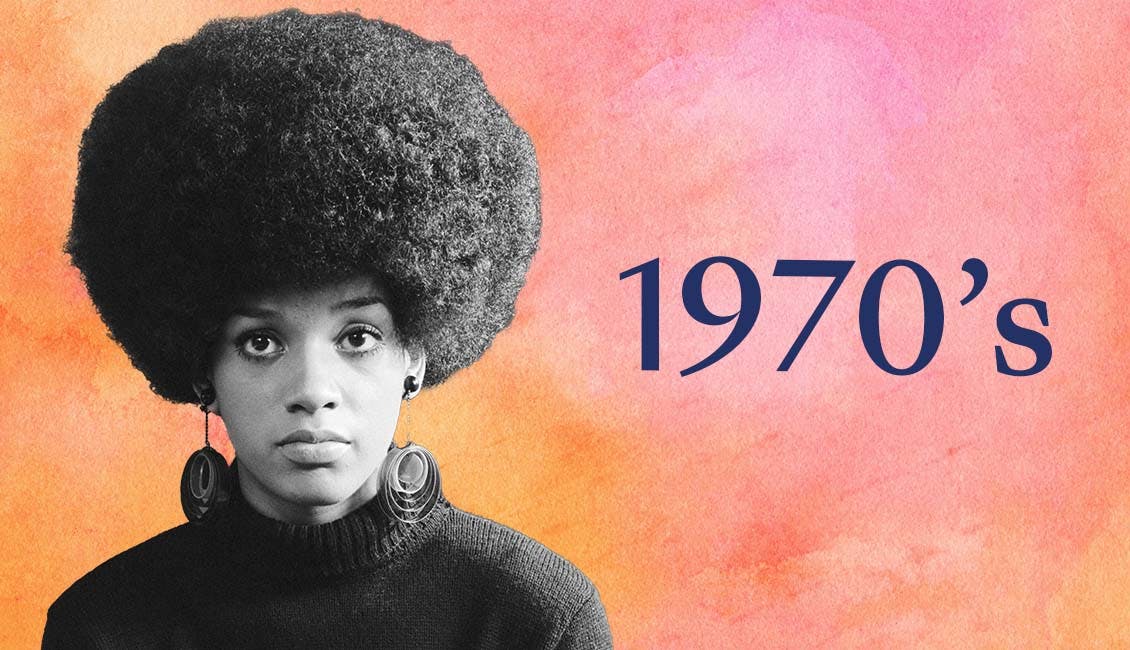 1980s
Oh, the 80s baby—it was all about the bigger the better during this decade. Everyone wanted big curly hair, no matter their natural hair texture or hair type. Women with straight hair would frequently get chemical perms to get in on this voluminous style. 
To reach these new heights, women would often tease their roots and pack on the hair spray— which looking back, was not so great for the health of the hair. Like Cher said, If they could turn back time, our Repair Shampoo + Conditioner Duo would have changed the game.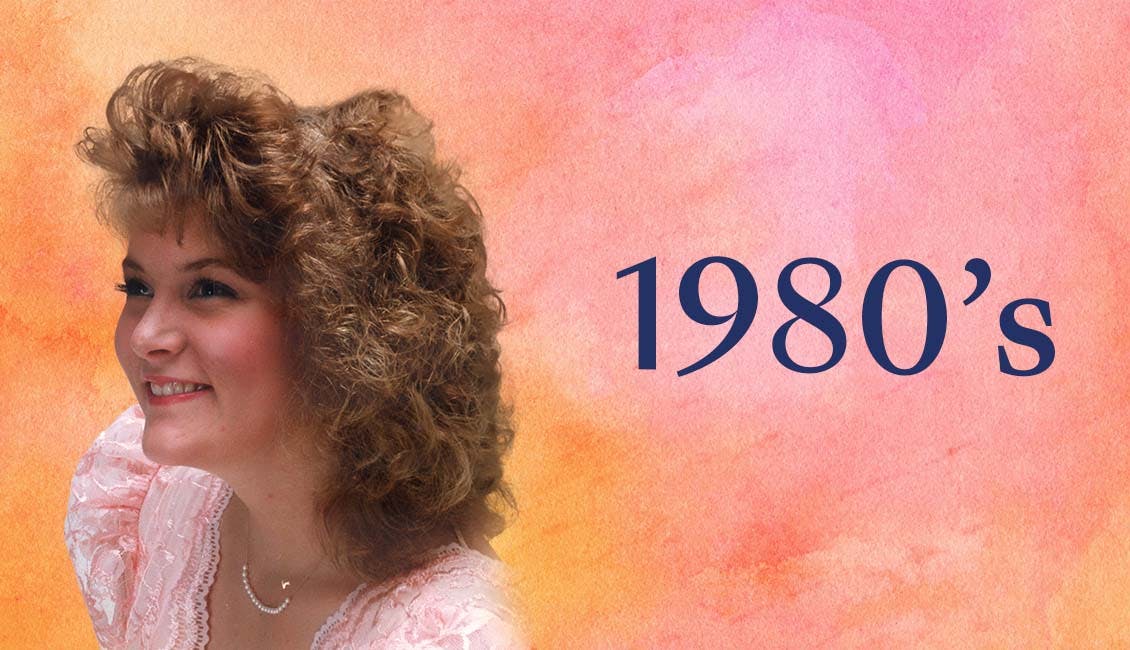 1990s
During this era, there were more options available for every woman. Some opted for a more sleek and straight look, a stark contrast to the voluminous 1980s. While women in the African American community embraced protective hairstyles like braids. A certain show all about friends gave birth to the iconic "Rachel cut" which featured a choppy chin-length bob with mid-length bangs. 
Hair color and highlights also began to become a household norm. Chunky highlights were all the rage—a completely different look from the now-popular, blended balayage highlighting style.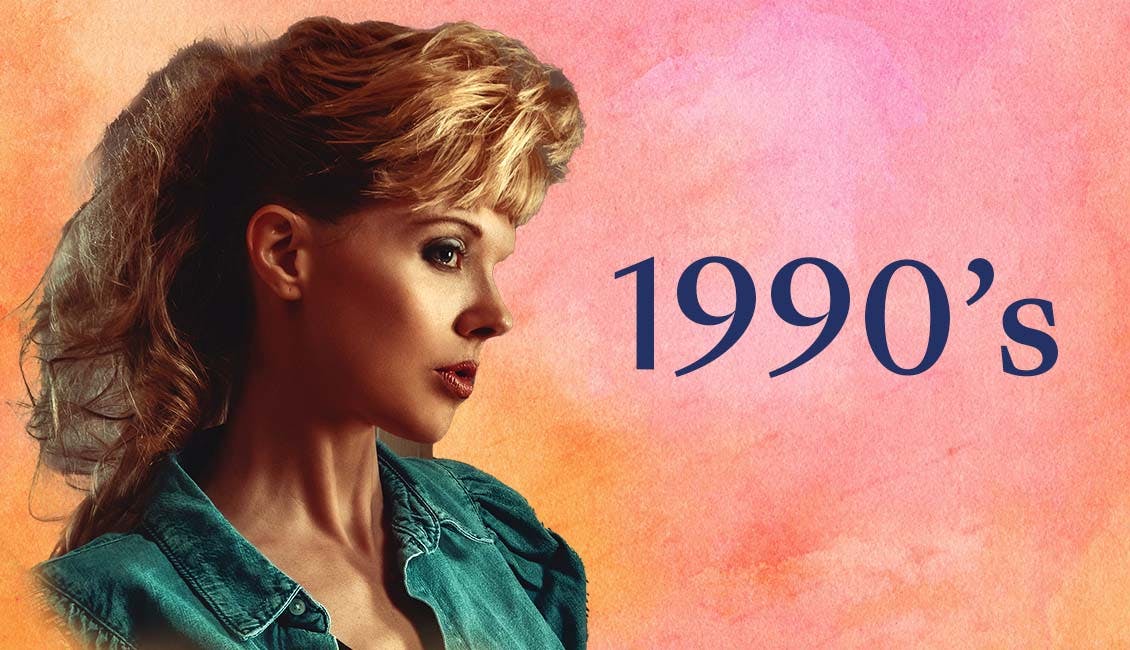 2000s
At the start of the 21st century, hairstyles became even more varied as women increasingly used their hair as an outlet of self-expression in this era of the individual. You could wear your hair short, long, curly, styled to the nines, thrown up in a ponytail, really anything goes. 
The re-introduction of shorter styles like the bob and pixie was increasingly popular at this time. There were also multiple sub-genres of eccentric styles that influenced hair trends like the  Emo aesthetic. This specific style was popular among the younger crowd featuring heavy bangs over the eyes, some even with streaks of vibrant colors.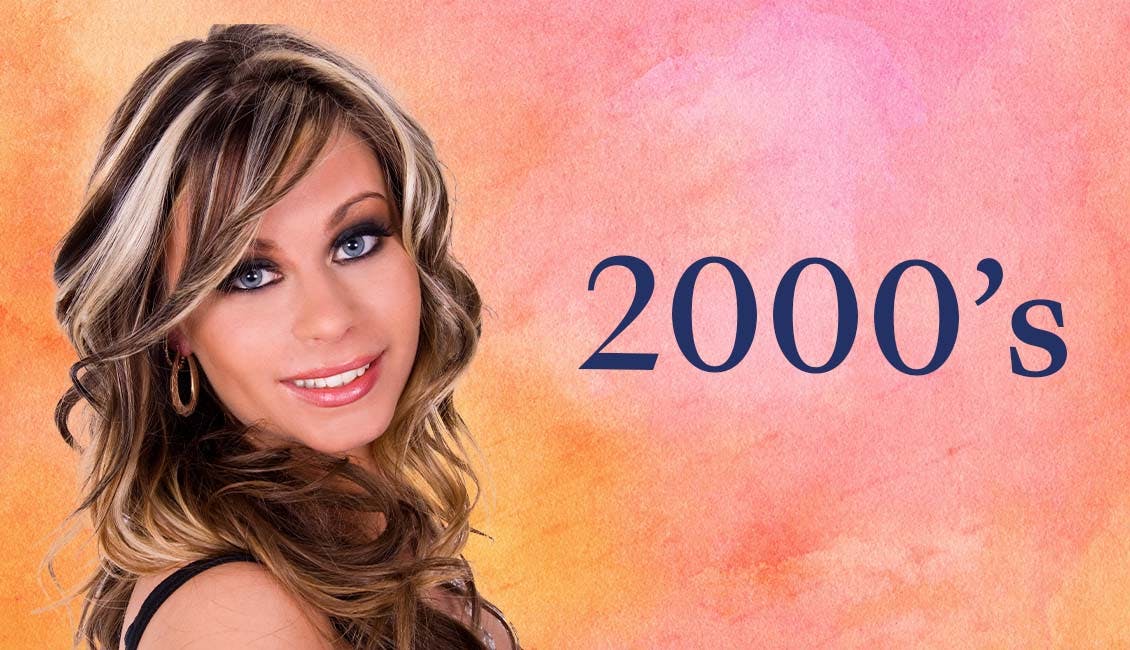 2010s
This decade popularized the long and luscious supermodel waves. You could find this beachy, versatile look everywhere, from the red carpet to the supermarket. Another popular trend of this decade was the long bob, referred to as "the lob". This hairstyle typically hovered around your shoulders and gave an architectural, sophisticated feel. 
Ombre highlights were also extremely chic during this time frame. With this style, the root starts darker and slowly brightens towards the end of your strands to create a smooth blend of one hair color to another. The most popular ombre style was typically a brunette to blonde hair color but some chose to experiment with bold fashion colors. 
With the age of the internet gaining a staggering amount of popularity, the rise of DIY beauty came to the surface as the likes of YouTube and other digital blogs started to share their tips and tricks. This is where eSalon was born to step in and shine. This is when we started our journey to helping women achieve their custom color at home for that "fresh out of the salon" look.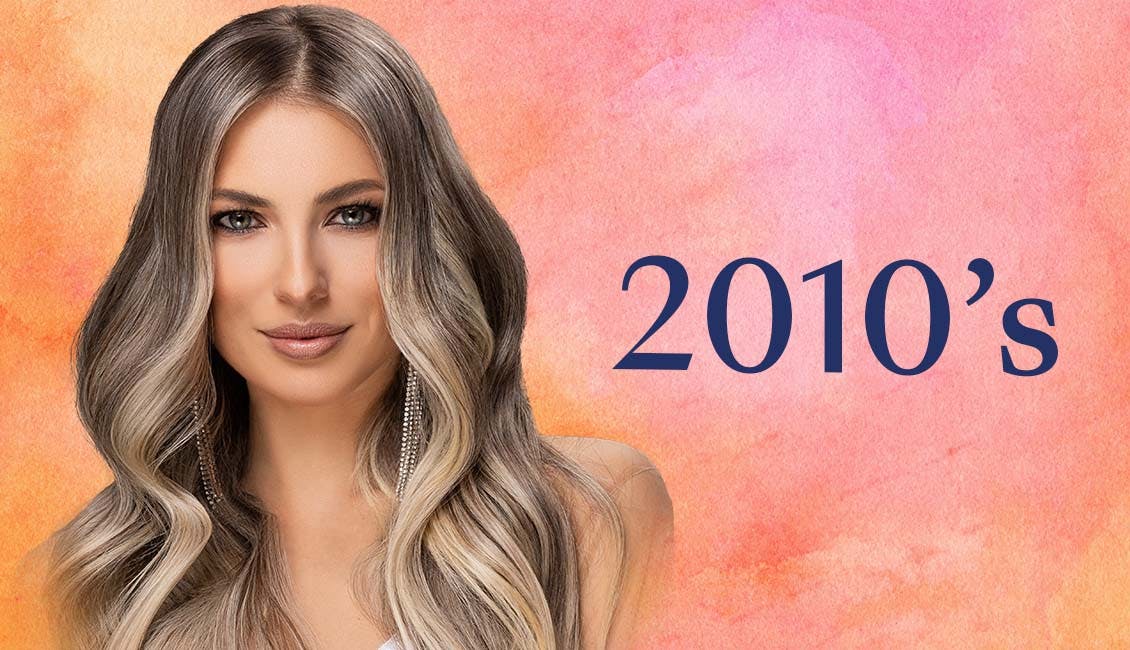 Now
Seriously, anything goes! Taking inspiration from the women before us, we can feel free to express ourselves with whatever length, style, or color our hearts desire. Some prefer to embrace their natural color and texture, while others prefer to experiment with outside-of-the-box looks, vibrant colors, hair extensions, and even wigs for a variety of styles. If you feel beautiful in your own unique way, that's all that matters.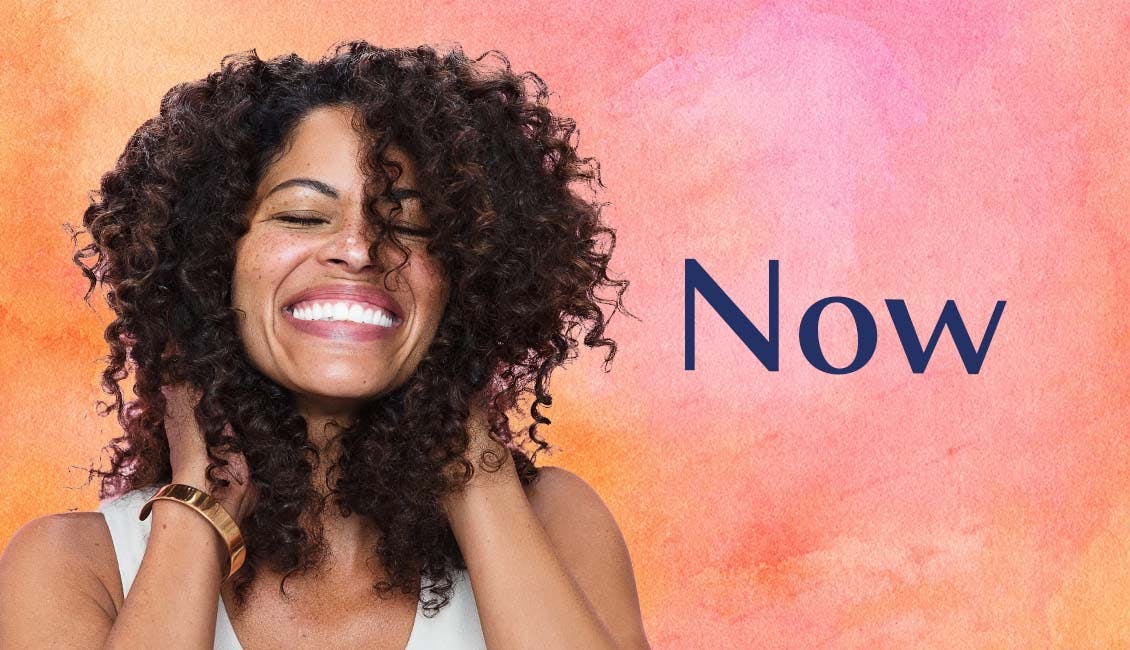 We hope this shed some light on hairstyles past, showing just how far we've come over the last century. eSalon is proud to be a working part of this endless opportunity for self-expression. With our team of expert colorists, we're always ready to help you change up your look (Jazz-Era midnight or Hollywood blonde, anyone?), refresh your color, or even maintain your iconic style. Cheers to many more years of women's hairstyles!