Your 2021 Summer Hair Color Trends
Summer shades for any hair color.
---
It's getting hot out there, which means it's time to change up your custom hair color and get ready for a total self-care summer. These four coveted colorist favorites are sure to trend all season long with just the right amount of dazzle. We've broken them down by base color and light-attracting tones with pro tips on how to get it and keep it going. 
SPARKLING GINGER WHISKEY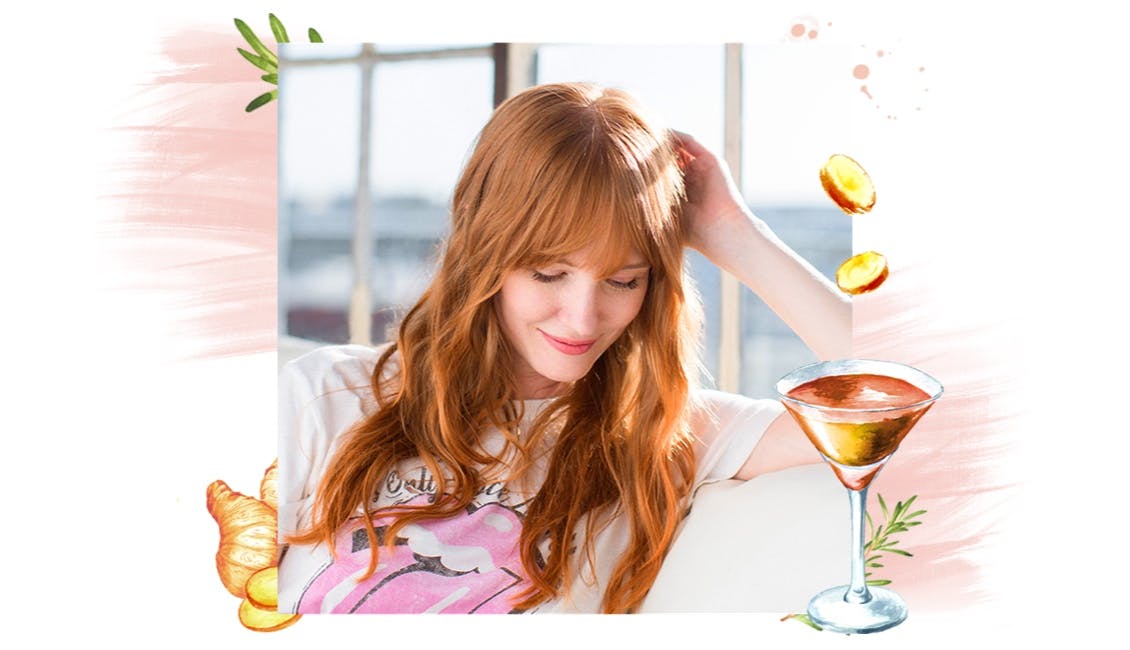 WHAT IT LOOKS LIKE AND WHO IT'S FOR
Think fresh-pressed juice with just a dash of cayenne to give you all the energy in the world. This vibrant medium blonde hair color with intense copper tones will put a pep in your step so that you can take on the sun with a smile. Mix up your favorite cocktail, because this custom color knows it was made for summer. 
The intensity and depth of this Sparkling Ginger Whiskey hair color can be formulated for any shade but is showcased best on medium to dark blonde bases. We love this ultra-reflective color because it works for almost any starting lighter hair color. Not to worry—if you're starting with a darker base shade, you can still achieve a subtle copper undertone that's visible in the sun. This shade complements lighter complexions and those with pink or neutral skin tones.
HOW TO GET IT AND KEEP IT
If you are starting with a light to dark blonde base, ask your colorist to add intense copper tones to your formula, and darken or lighten your base to your liking. It's no secret that reds and coppers are the most vibrant hair colors out there, but they're also the toughest to maintain. Red shades tend to fade quicker than most because of the large molecule size of the pigment, so it sits closer to the surface of the hair. 
If you want to keep your Sparkling Ginger Whiskey color looking rich without the brass, the key is maintenance. Replenishing those gingery-red tones will ensure your color always looks like a blooming poppy, never old and wilted. Always use color-loving shampoo and styling products to keep fade at bay. You'll also want to use our Tint Rinse in copper to refresh your color in-between applications. Depending on how your color fades, your colorist might recommend adding a Custom Ends Refresher to your next order. 
COLORIST TIP(S)
To prevent color fade in the summer sun:  1. Wear a hat or cap in the pool. 
2. Avoid chlorine and saltwater, but if you have to go in head-first (we get it), rinse hair thoroughly with water.
3. When you shampoo and condition, rinse with cool water and try to wash less often.
4. Want to skip the shower but need a cleanse? Use dry shampoo to get rid of oils and cleanse, while shielding your color. 
CREAMSICLE MIMOSA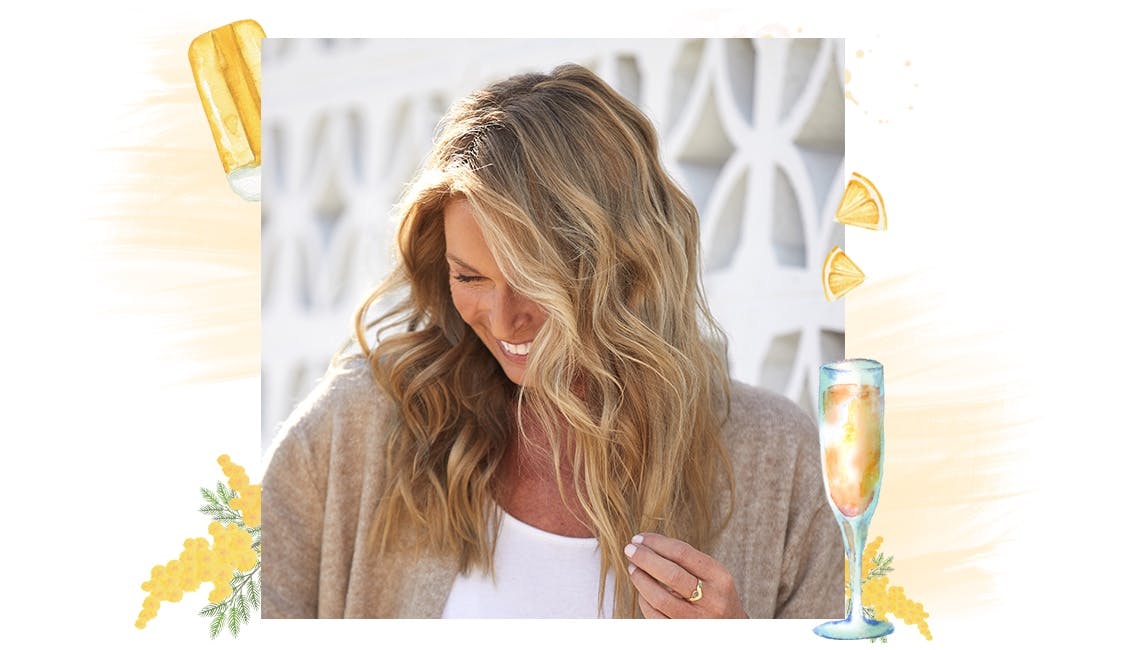 WHAT IT LOOKS LIKE AND WHO IT'S FOR
This Creamsicle Mimosa hair color is the peeerrrrrrrfect summer blonde with a creamy gradient that sings to be made into an ice cream flavor. Light and bright, the key to nailing this style is creating subtle contrast at the root with a slightly darker base, then applying your highlights more heavily around the frame of your face to bring attention to your beautiful features. 
Because this color requires a bit of lifting while balancing its subtle warmth, it's best for those with naturally light to dark blonde hair. Whatever your flavor of creamy blonde, spice it up with your ideal tone combo that can be adjusted to complement any complexion.
HOW TO GET IT AND KEEP IT
Start with your natural light blonde, fully gray, or dark blonde hair color and create a gradient effect by slightly darkening your roots by one to two levels. Then apply balayage highlights to your hair, adding in one or two extra highlights around your face. We love an extra, impromptu highlight on the right and left side of the top front section of your hair that's a little closer to your hairline to give you some razzle-dazzle. Our Light Set comes with instructions to get you that sunkissed look for so much less than what you would pay at the salon and it's super easy. Check out our application video for a sneak peek. 
When you highlight at home, keep a neutralizing toner handy (we include one in our kit) to make sure your highlighted hair stays nice and bright. To enhance that sparkling wine tone in our Creamsicle Mimosa hair color, use Tint Rinse in golden. When it comes to maintaining your highlights, it's important to continue touching up your roots only, and avoid getting any color on your highlights, not to darken them. 
COLORIST TIP 

If your strands are feeling a little thirsty after highlighting, use a replenishing hair mask or deep conditioner at least once a week. Remember, moisture is always your friend when summer rolls around. 

ESPRESSO MARTINI
WHAT IT LOOKS LIKE AND WHO IT'S FOR
At first glance, you might mistake this Espresso Martini hair color for your typical dark brunette shade, but take a closer look and marvel at its depth. Step into the sun to reveal its true facets and brilliant balance of cool and warm undertones—it's like a coconut iced coffee with an extra shot. 
While dark brunette hair colors are known to complement all complexions, the addition of cool and warm tones is what sets this shade apart. Whether you lean more cool or warm, play with a few different tones and we can help you find your ultimate brunette shade over the phone or when you send us a note in your account. 
HOW TO GET IT AND KEEP IT
Ask your colorist to formulate a dark brown to soft black base and add some beige tones. If you already know your tonal preference, feel free to let your colorist know and they'll formulate your color with that in mind. If you're not sure where to start, just reach out to your colorist who can talk you through your options and help you decide the best fit for you. Just remember that brunettes are also gorgeous shades that have multiple layers to them, just like a frothy coffee sun catcher. 
COLORIST TIP
If your hair starts to feel a little brassy as you spend more time in the sun, try using a neutralizer to cool too-warm tones. Also, be sure to use a heat protectant that cares for your color and preps your strands for success all day long like our Triple Prep.
HAZELNUT DELIGHT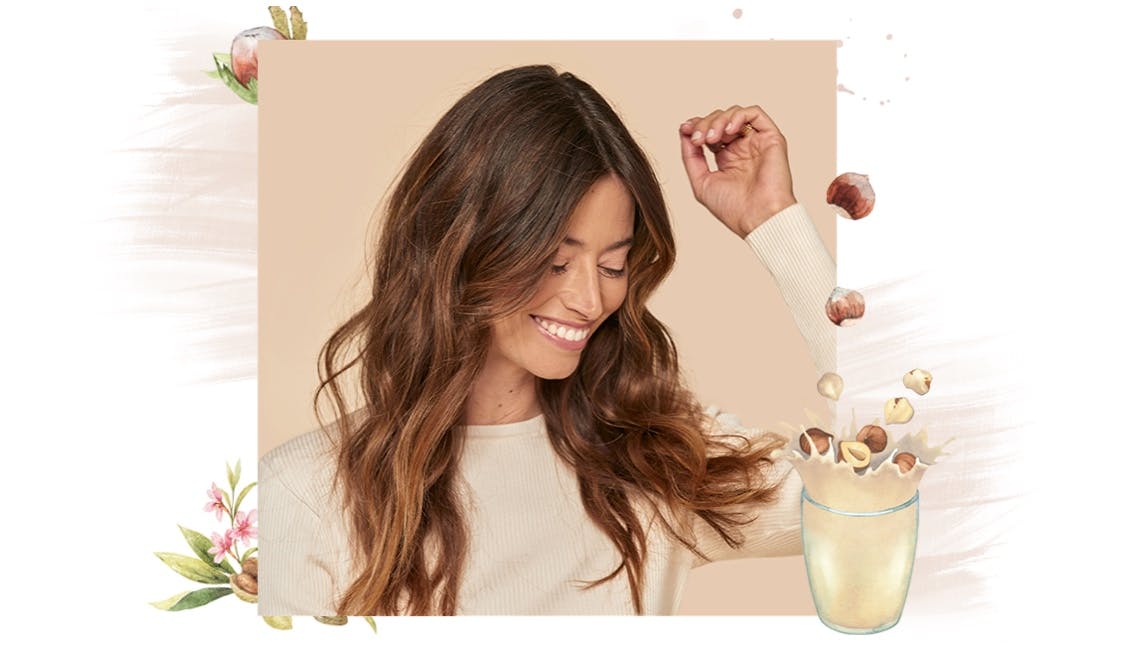 WHAT IT LOOKS LIKE AND WHO IT'S FOR
Think creamy caramel and beautiful hazelnut flavors, swirling together to create the ultimate post-alfresco dinner nightcap. We seriously want to climb into this shade, swim around in it, and walk out in our sassy new digs. Toasty and rich, Hazelnut Delight invites all skin tones and complexions to bask in its warmth. Similar to our Creamsicle Mimosa blonde, this color requires two steps. Starting with an all-over color application, followed by balayage highlights to give it a little sparkle and contrast. Get ready to turn heads with this one.  
HOW TO GET IT AND KEEP IT
This Hazelnut Delight hair color is not for those looking for cool highlights, since these highlights are purposefully and perfectly on the warmer side. When you're applying your highlights at home (or in the salon) be sure to start three to four inches from the roots so you get a gradual lightening toward the ends. 
If you're the playful type, you can mix and match any combination of Tint Rinse in our warm shades to make your highlights pop. We recommend golden, copper, warm beige, or golden mahogany, to give your highlights some toned richness. Should your highlights start to look dull, we recommend working golden or warm beige Tint Rinse into your routine. 
COLORIST TIP(S)
1. When your highlights need a pick-me-up, we recommend touching up every few months. You can also apply on your next color application if you're feeling like you want more highlight to come through. 
2. Touching up your color but still want light and bright highlights? Only touch up you're not overlapping on your highlights and darkening them. 
To stay in the know when our color trends go live, follow us on our social channels @eSalon or opt-in for our quarterly newsletter. Here's to the best summer hair of your life!