Which Red Hair Color Is Right for Me: Copper, Auburn, or Strawberry?
Thinking about going red but not sure what shade will suit you best? We've put together a few hues including copper, auburn, and strawberry that can inspire your color change and be customized for the look you want.
---
Deciding on the right hair color is tough, but going red is like finally taking that vacation to the Bahamas or going on a Safari—it's all about the adventure. The wonderful thing about red is that it doesn't have to be shockingly bright; red can also be an undertone that adds vibrancy and dimension to your color. The best way to approach red is to go custom and tailor the shade to your skin tone, eye color, and lifestyle. If you're looking for a hue that's guaranteed to turn heads, these reds will inspire you to take the plunge. Just give us a call and chat with your colorist about your options.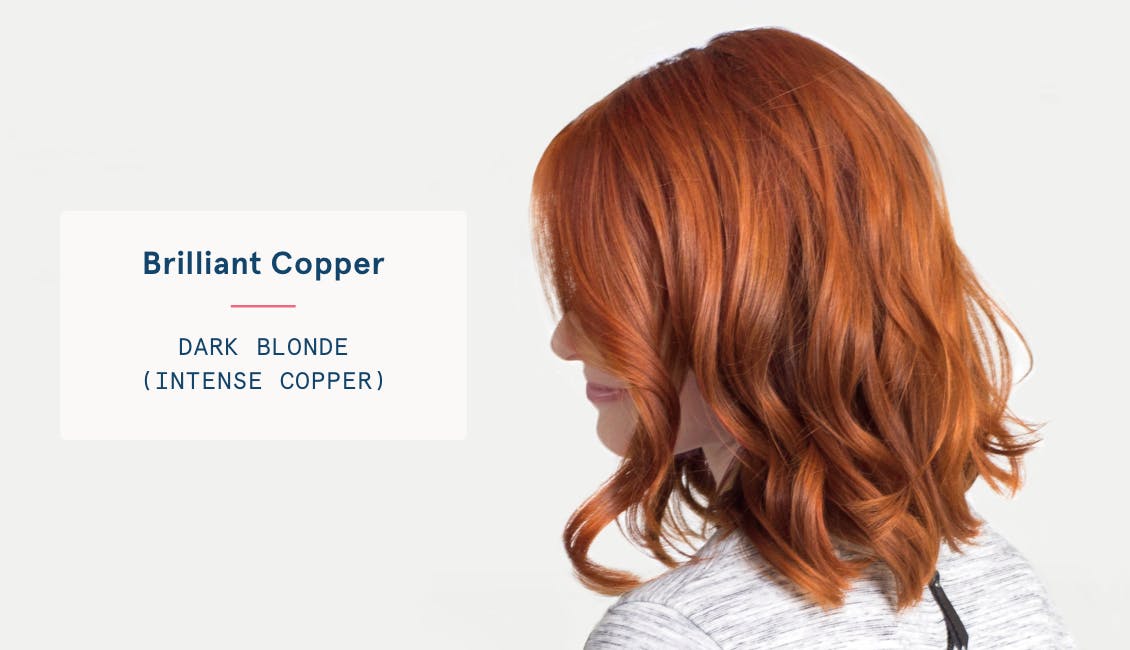 What it looks like
Copper is a beautiful color that's essentially a less-intense shade of orange, boosted by glowing yellows and accents of red. People love copper because it tends to have a subtle golden undertone, but gets a little pop of brightness from the orange. Copper is on the "warmer" side of red since all the components of its base include warm shades like yellow, orange, and gold.  
Our clients will often add copper to red shades to give extra oomph to their look with an element of surprise. Copper really shines on people with blonde or light-brunette hair because these shades have a lighter base, which looks beautiful when layered with warmer reddish tones found in copper. Folks with lighter skin tones will gravitate toward this color because of the contrast it provides, while folks with olive or darker skin will love the way the color picks up their undertones. All in all, copper is for everyone.
How you get it and keep it
If you want a beautiful copper shade, ask your colorist to add copper to your current formula. If you're looking for intense copper, that will take some time depending on how dark your hair is currently. This is because reds like copper can take a few applications for the color to "settle" inside the hair follicle, or get inside of it, considering the particles that make reds so rich are pretty big and need to be layered in order to make the small pores of the follicle its home.
You'll still get a beautiful, subtle color at first, but with each application you'll notice the richness and brightness begin to build. Once the color settles, you'll love the radiance copper brings. So, it's important to know that reds need a little extra love and maintenance. To extend the brilliance of this shade, we recommend our Tint Rinse.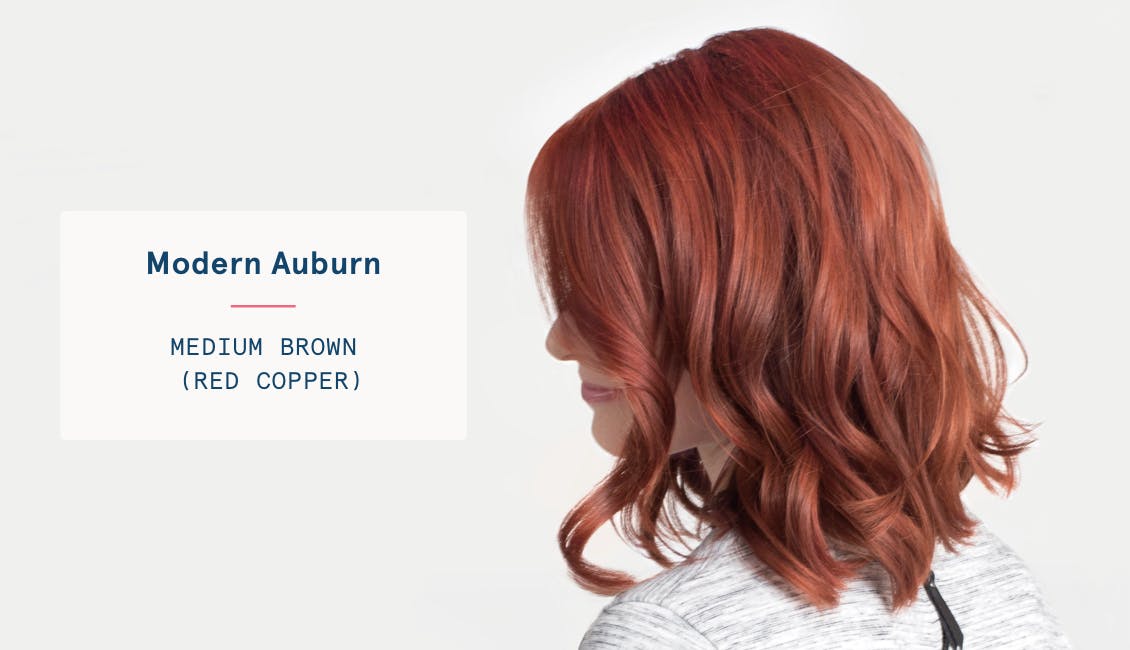 What it looks like
We classify auburn as a deeper shade of red somewhere within the medium to dark brunette category. Auburn is often considered a "cool tone" because it has a slightly blue undertone to it. Other colors that have cool tones are mahogany and violet, which both pair beautifully as complementing undertones to auburn.
Mahogany is a bit brighter than violet since it also has a hint of red to it, so if you're looking for a more radiant hue, choose mahogany as an undertone. Adding violet under auburn will deepen your color so the finish is warm instead of bright. This is one of the many reasons we love auburn—it's just one of those shades that always looks so rich because of all the secret undertones that you can layer underneath it for greater intensity.
How you get it and keep it
To adjust your current shade to this lovely, silky auburn color, ask your colorist to add notes of mahogany and/or violet to cool down the overall hue. To get a deeper shade of auburn, ask your colorist to add more violet undertones to your custom color. This will darken up your shade, giving it just a touch of pearlescence (that shine you love) without committing fully to a red. To uphold the richness of this color, we recommend you use our Tint Rinse in Purple or Mahogany Copper.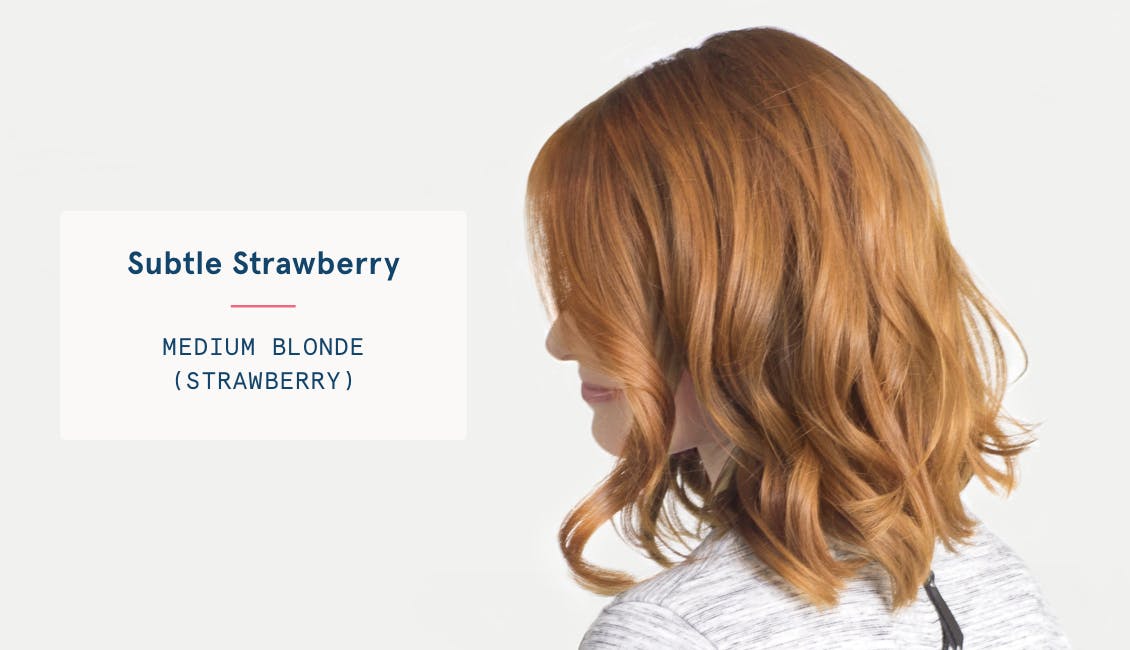 What it looks like
The name just sounds incredibly delectable and fun, doesn't it? Strawberry tends to be the most natural-looking type of red, and we think of it as a soft and subtle, sunkissed hue. The combination of both golden and copper tones, offers an intensity and versatility to strawberry that moves seamlessly from light blondes to dark brunettes. Strawberry is most commonly found in medium blonde, but this warm red has a beautiful cast in darker shades too.
How you get it and keep it
To get this sweet strawberry color, you want to ask your colorist to add some golden copper or a heavy amount of gold into the mix. Gold and copper intermingle to create this gorgeous play of light that looks as natural as if you were born with it. In between touch-ups, we recommend using our Tint Rinse in Golden individually or mixing them together.
Reds are fun to play with, and we're so excited you're ready to go on this adventure with us. We've only discussed a few reds here, but there are infinite possibilities your colorist can recommend. Reds are also our specialty! Why? Because we can get very specific and achieve the exact tone you're looking for. Your hair color is a part of you and one extra piece of your glowing personality—which is just another reason to get a custom hair color as unique as you are. At eSalon, we want to help you bring out more of that personality with color recommendations for every season and trend that comes our way. So from us to you, we wish you the happiest days filled with color.
Have questions about adjusting your color to copper, auburn, or strawberry? Give us a call or email us.
Need more color inspiration? Check out more of our color-trend articles:
✓ Maintain Hair Color Vibrancy With Tint Rinse
✓ How to Choose The Best Hair Color For Your Skin Tone