Which Brunette Hair Color Is Right For Me: Butterscotch or Espresso?
We may think of it as a common hair color, but brunette can actually be quite rich and complex. We make the decision easier by giving you two of our favorite brunette hues, espresso and butterscotch, to help guide your next color adventure.
---
We're here to help you on your journey to finding the perfect hair color, and if you decide on a brunette, you'll want one that's vibrant and easy to manage with your current hue. Brunette is our most popular color family, so you could say we're experts on the topic. Once you understand a few things about hair color and how you can get that right brunette, the rest is easy. In this article, we'll give you the inside scoop on these espresso and butterscotch shades to complement your current hair color, skin tone, and eye color. We'll also help you get the best gray coverage by amping up your pigment, and give you a few extra tips to achieve and maintain your color.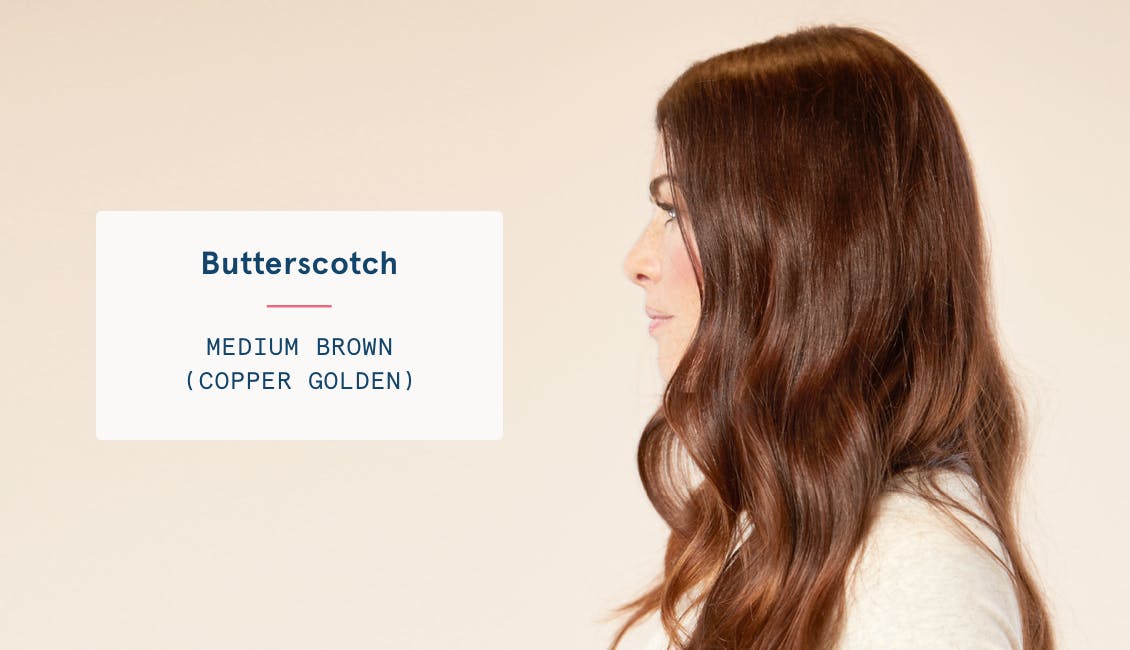 What it looks like
If you're looking for a soft brunette that's on the lower maintenance side, this is it. We love this play on complementing warm tones like caramel and golden, mingling to create this lovely butterscotch hue. This shade also reflects light easily and gets gradually lighter toward the ends of your hair, blending color seamlessly from root to tip. Brunette hues mixing in warm tones add a subtle shimmer to the hair, making it appear glossy without looking brassy. We love pairing a warm shade like a butterscotch brunette with a warm skin tone (if you have more of a pink, peach, or red undertone) and eye color like hazel and chocolate brown or blues and greens with just a hint of yellow. The tone-on-tone match enhances the skin for an allover sunkissed glow.
How to get it and keep it
Start with a deeper base like a dark or medium brunette to give your color dimension at the root. Ask your colorist to formulate your shade by adding an infusion of both copper and golden tones to blend in for a gradient effect. This color brightens over time from root to tip, settling into a beautiful finish with natural-looking dimension. To preserve this butterscotch brunette shade, it's a good idea to gently wash your hair only a couple of times a week with a 2-in-1 like our Cream CoWash. This shampoo and conditioner combo is made with essential oils that lock in moisture and enhance shine to keep you glowing all week long.
To our lovely folks with grays, brunette colors can be tough to keep up with. We recommend asking your colorist to add more pigment to your hair color for the best gray coverage possible and retouching your roots every 3-5 weeks. Another quick way to revive and maintain your fresh color in-between applications is to use our Tint Rinse in Gold. Or if you ever feel like your lighter sections are becoming too warm, you can also use our Tint Rinse in Soft Red Neutralizer. Remember to only use one at a time, and to use a clarifying shampoo between uses for the best results.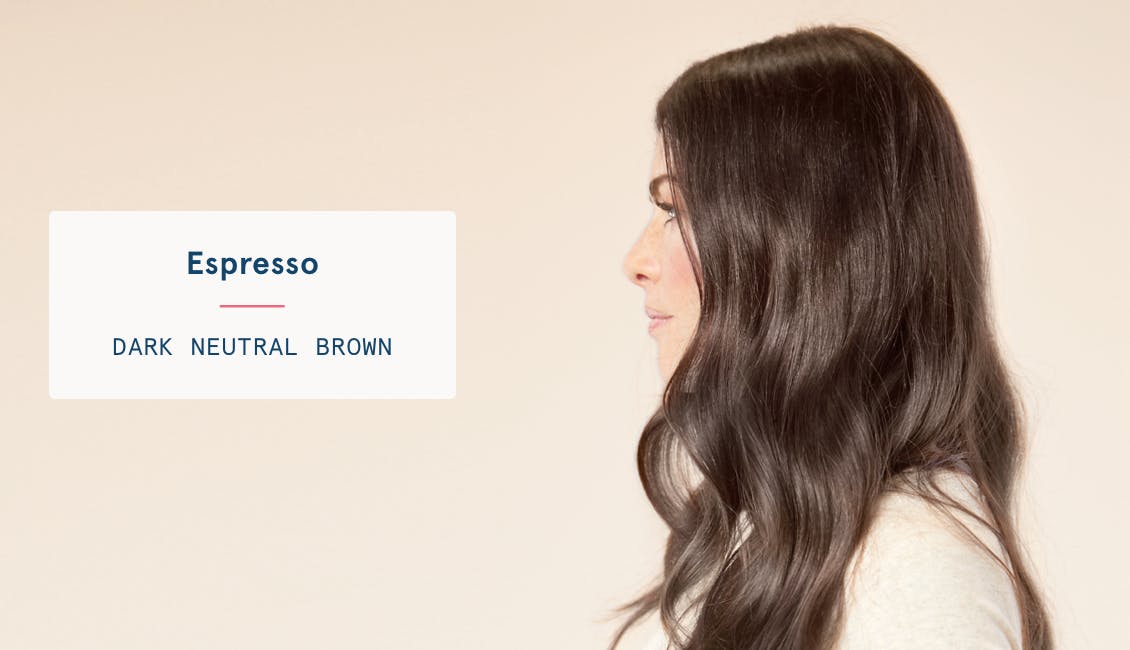 What it looks like
A great cup of coffee gives you the energy you need to get through the day, but what about your hair color? This espresso brunette shade is just as bold as the inspiration for its name. Think of a hue somewhere in between a dark and medium brunette, kind of like you see in freshly ground coffee beans. Espresso is a cool-toned shade that is deep and rich while maintaining an incredible shine that never looks flat. We love this particular shade of caffeine-inspired brunette because it works on every skin tone and eye color (really). Essentially, this brunette is the most natural-looking shade because of its universal nature.
How to get it and keep it
To get it, start with a medium-to-deep brunette shade, being careful not to go too dark right off the bat. Ask your colorist to add in ash tones to keep it on the cool side and give it that pretty matte finish. They can also warm up this espresso shade by adding in warm beige or golden to boost shine and bring out a warm skin tone. Even if you decide to stick with the cooler, neutral tones native to espresso, you can lighten it up with highlights. We recommend our Light Set in Light to Medium or Dark Brunette to do it yourself right at home.
A color as vibrant as this needs some extra love and care, so let yourself forget about heat for a while. If you can, try to air dry your strands and just spritz on your favorite wave or curl spray. Even if you're not ready to break up with your straightener just yet, go ahead and give your hair a rest at least 2-3 days a week. A good blowout should last you a few days, so you can keep on enjoying your color and cycle in a dry shampoo on the in-between days. And remember to spritz with a thermal heat protectant and to use color-safe shampoos and conditioners.
We love sharing these colorist tips with you, so you feel confident and know what goes into your hair color. This is just the tip of the brunette iceberg (so to speak), but that all depends on your current hair color and what you like. And don't worry, we've got you covered with expert colorists ready to craft the hue that speaks to you—and we deliver it straight to your door. Curious to see how it works? Head over to our website and create your Color Profile.