Which Blonde Hair Color Is Right For Me: Warm Vanilla, Iced Latte, or Cool Champagne?
Want to go blonde, but you're not sure which blonde hair color is right for you? We've put together a few of our favorite hair colors (that also happen to be the names of our favorite beverages). Say hello to warm vanilla, iced latte, and cool champagne blondes.
---
We're here to help you find your signature hair color, and if you're going blonde, you'll want a blonde that's both achievable and easy to maintain. Seeing a blonde color you love and deciding whether it's the right one for you can seem tough at first, but it's actually pretty simple once you understand a few things. To start, you have to consider your skin tone, eye color, current hair color, and how many grays you've got. But don't worry: we're going to walk you through how to use all that info to decide which blonde complements you best.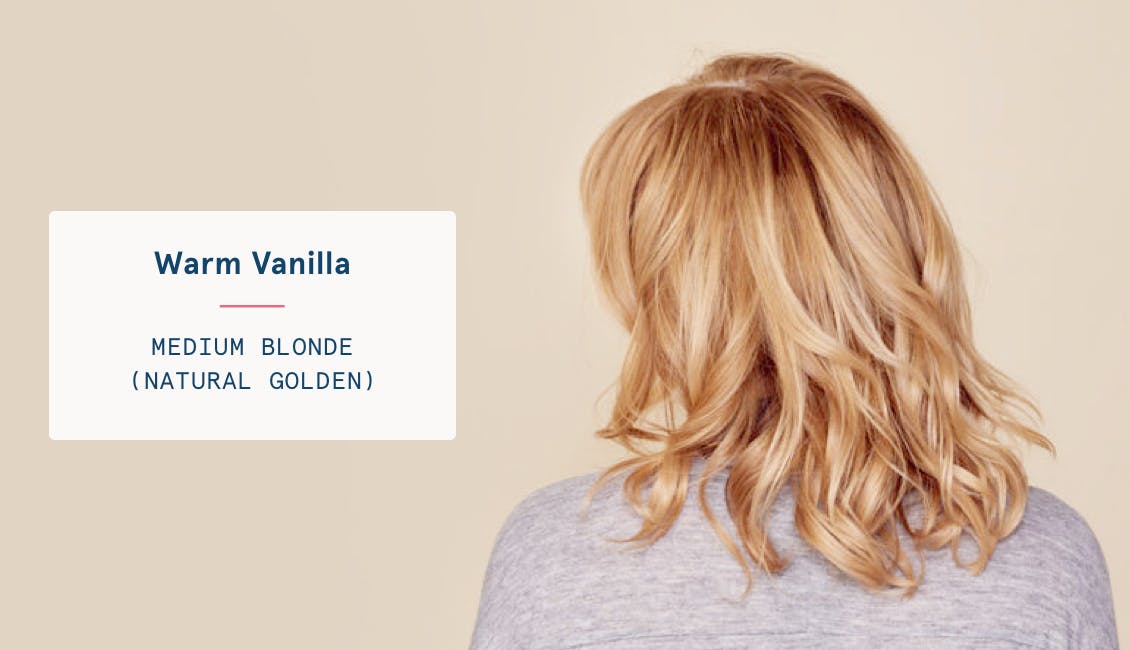 What it looks like
Can we start by saying we love this color? It's soft, dimensional, with darker hints of brown and layers of copper while still maintaining a naturally sunny shade. It's classic, but it's also summery and vibrant. It's the kind of color that says, "Oh this? This is just from sitting in the sun at the beach all day." The depth and richness from the layers of gold and copper tones give it that natural "beachy" look. That's because adding warmer tones (especially gold) will actually make the shade look brighter overall—as opposed to other blonde shades that have tones that are on the more neutral side, like dirty blonde.
Warm vanilla is a gorgeous shade that works on a spectrum of skin tones, but we especially love this color as a complement to warm-toned skin. The warmth in this hue helps to highlight the skin, giving it a natural glow you'll love—so you can skip the highlighter on your cheekbones and thank us later. If you've got grays, don't sweat it, because this warm vanilla will blend right in and mask the naturally lightened areas.
How to get it and keep it
This shade is best for folks who either currently have a blonde shade, or are on the very light-brown side of brunette. If you're in that range of colors, the next thing to think about is your eye color: do you have hazel eyes or green eyes with gold and brown flecks? With warm blondes, these small accents of color pop which makes your shade look even more natural.
To get warm blonde and bring out your sunny side, simply ask your colorist to up the copper or golden tones in your current color. You should also consider deepening your roots to a slightly darker shade to add dimension and contrast between roots and ends. If you want to try out a warmer blonde without adjusting your color just yet, go ahead and use our Tint Rinse in Golden or Copper to add a hint of sun to your shade before you decide.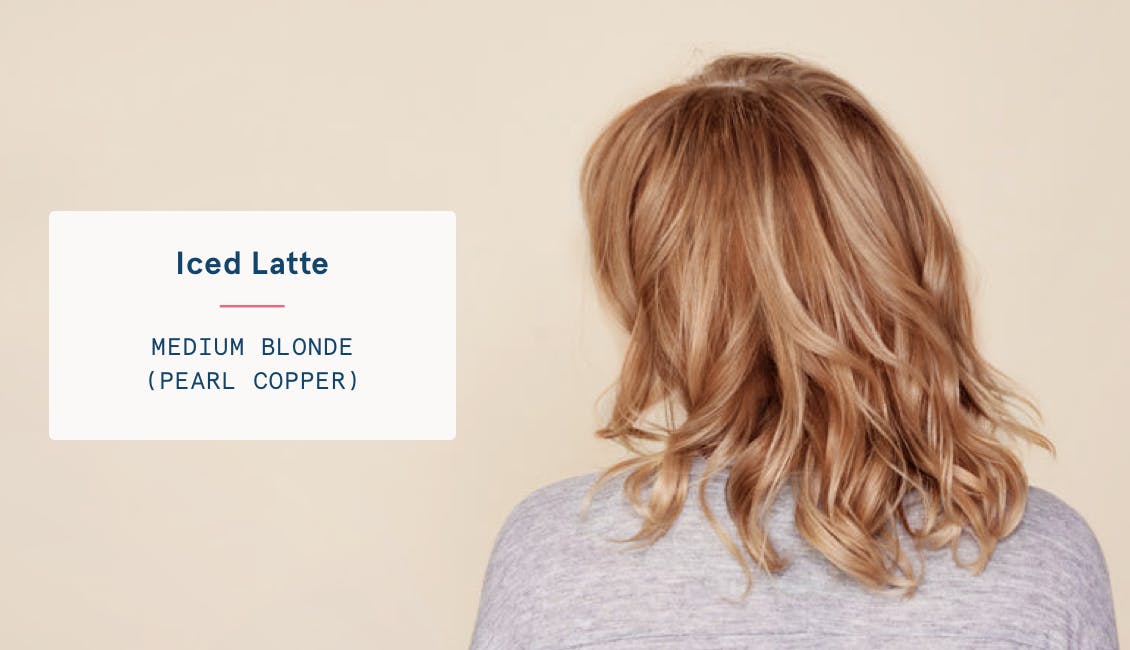 What it looks like
Iced latte has a mix of cool and warm tones for a beautifully balanced finish. The next time you order an iced latte, think about the rich combination of cream and espresso as caffeinated color inspiration. Now, we definitely want a latte. With the range of tones found in this universally flattering color, we think pretty much everyone would look good with it. Plus, there's just enough warmth to counteract the "coolness" so that you won't have to worry about the finish being too matte (a colorist term for dull or flat hair that doesn't have shine). Instead, you get a subtle glow for under-the-radar radiance.
How to get it and keep it
We suggest this color for people who are already in the light brown-to-blonde range. If your color is on the warmer side to begin with, and you have blue or green eyes, go ahead and ask your colorist to add some cool tones for that yin-and-yang effect of iced latte. The cool tones in this hue will enhance your natural eye color as well so don't be afraid to play up cool tones. If you already have a copper color similar to iced latte, but it doesn't quite have the same dimension, just ask your colorist to add a "copper ash" to your shade. This will add the depth you're looking for without dramatically changing your overall color.
Got a mostly golden shade or have a few grays in there? Add a warm beige tone, to neutralize the gold a touch. Remember: this color is all about having the best of both worlds—warm and cool, cream and espresso, the recipe for an alternative approach to getting bombshell blonde hair. Grays are covered easily with this shade, giving your hair natural dimension that grays play well and blend with. How do you keep it up? That part's easy. We recommend our Tint Rinse in Warm Beige. Use it once a week to keep that glow going, and cut back on how often you need to re-color your hair in the meantime.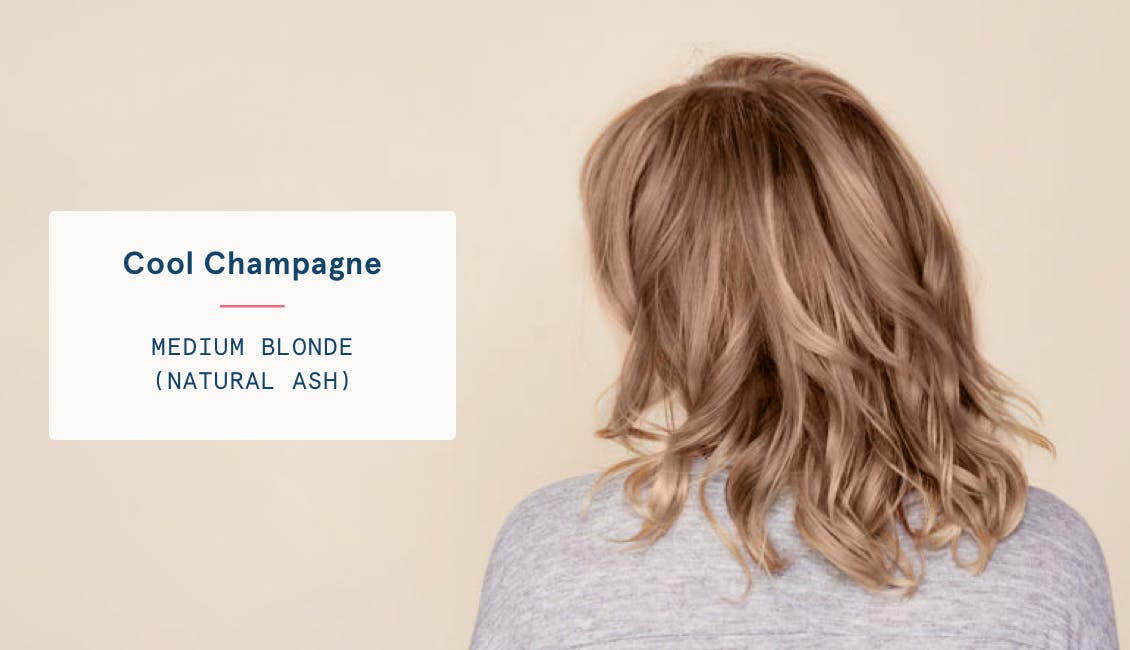 What it looks like
When someone thinks of champagne blonde, they might imagine a warm strawberry blonde with a hint of rosé. But we're here to tell you there's so much more to champagne. Check out this soft, icy, silvery blonde for example. It has dimensional highlights and a frosted finish to it, which actually comes from adding an "ash" tone or neutralizer to cool off underlying brassy colors typical in warmer blondes. Hows that work? Basically, you use the opposite color of your current shade (colors are cheeky that way) to counteract the warmth and bring on the silver-fox blonde hue that's trending on people of all ages and skin tones. Plus, folks with gray hair will especially love this color since it blends well with grays and tones down common brassiness. Either way, we think this color will definitely give you an effervescent feeling that'll last all season.
How to get it and keep it
A cool blonde like this champagne can be achieved by going a shade lighter if you're a light brown or dark blonde. Have your colorist add in ash and golden tones to your color and add painted-on highlights for depth. Keeping your color vibrant starts with using color-safe shampoos and conditioners, to lock in moisture and those healthy oils. Remember: it's best to wash your hair only a couple of times a week when you do, to make your color last. Instead of going straight to a shower use a Dry Shampoo to keep from over-washing and color-fade. If you like to style your hair daily, then try to turn down the heat, since (much like the sun) too much heat can cause your color to become dull.
Already have highlights or just want to balance your shade in between applications? Try using our Toning Mask as an alternative to cool down too-warm tones or neutralize brass. This Toning Mask comes with our Light Set highlighting kit and has a purple tint to it that won't deposit color but will liven up the finish. We say three cheers to beautiful hair!
Curious to see if these blonde shades will work for you? You can use these tips as a reference the next time you decide to color your hair, or you can just let one of our expert colorists customize your hair color and ship it straight to your door—it's what we do. You can try our professional-grade hair color right at home by first creating your Color Profile online.
Once you've added a recent photo of your current color, you send it off, and we'll craft your custom hair color. We even include personalize application instructions designed to achieve your specific color goals. When your color arrives, you know it's yours because it has your name right on the box. You can definitely get the blonde that's right for you and maintain it with these colorists' tips. We've got you covered.