How Do I Remove Hair Color from My Skin, Countertops, Floors, Wood, and Clothes?
Coloring hair at home these days? In this Color Mastery article, our colorists offer tips on ways to prevent and remove hair dye stains from your skin, countertops, floors, wood, and clothing. Don't worry, it's easy as pie.
---
When coloring your hair at home (and getting super excited to see your results), mistakes can happen—whoopsie! But don't worry, we've got you covered with these coveted colorist-approved tips. Plus, we'll give you the scoop on this surprising $2 trick you can use to remove pesky hair color stains. Ready to dive in? Let's.
SKIN
HOW TO PREVENT STAINS
It's all about your prep step. To get started, put on some gloves and apply a color barrier to protect your beautiful skin. For those of you who use our custom Color Set at home, you'll find a Stain Guard Packette nestled inside, which helps to prevent color from absorbing into your skin. If you don't have a Stain Guard, you can also use petroleum jelly to serve as a physical barrier between your skin and color.
Whether you use petroleum jelly or our Stain Guard, apply a thin layer to the area around your hairline, ears, and neck. Be sure not to get it in your hair since the gel can also block the dye from absorbing into the follicle. This protective barrier should keep your skin stain-free, but just in case you do happen to miss a spot (it happens), read on.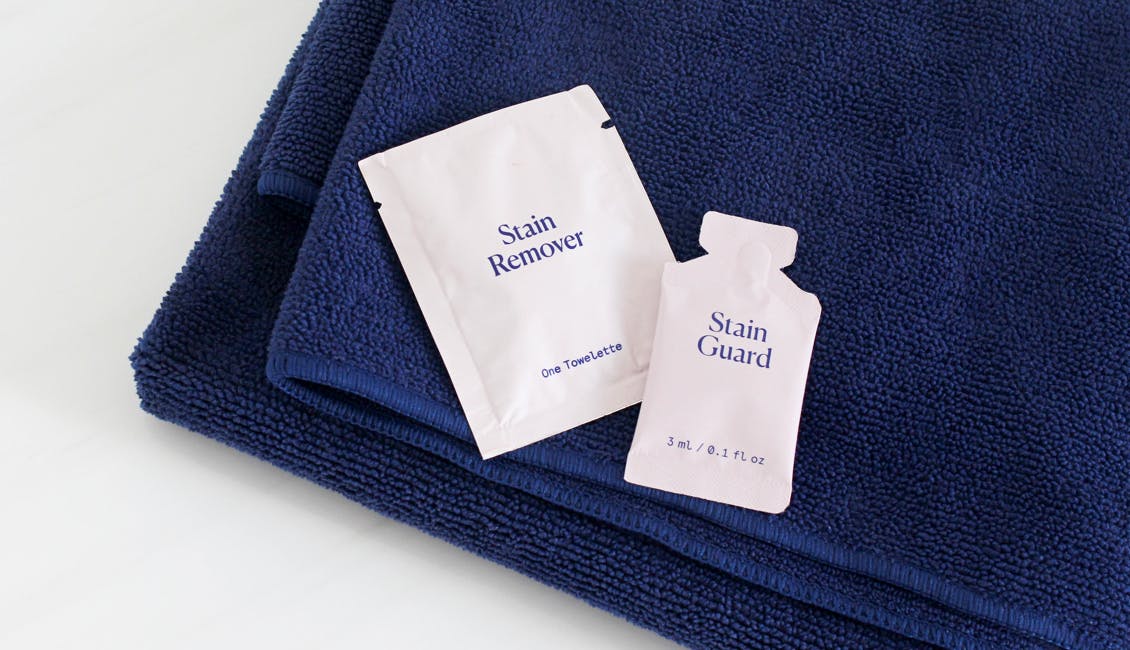 HOW TO REMOVE STAINS
To make it easy, we've included a super convenient Stain Remover Wipes to help you rub away any dye around the edges of your hairline immediately after application. You can also use this wipe to catch any spotting after processing, in the shower, and post-rinse. If you don't have one of these packettes, here are three sure-fire DIY alternative solutions our colorists love. These techniques only work if you do them immediately after the stain is made, so it's a good idea to have them ready. And remember, when trying to remove hair dye stains from your skin, you want to be careful not to scrub too hard. Your skin is a delicate flower, so treat it kindly (please).
Baking soda and toothpaste (or dish soap).
Baking soda is the $2 trick you already have at home, which lightens the pigment in hair color making it much easier to slough off the skin. Try mixing it with dish soap or toothpaste—both work wonders on removing stains from skin. All you have to do is mix equal parts of baking soda into your mixture of choice together and rinse with water. The thickness of the mix will help prevent any product from running into your eyes.
Baby oil and coconut oil.
While baking soda works a bit faster, this oil mixture soothes sensitive skin types. In the spirit of multitasking and just because, this stain-removing duo is incredibly hydrating and nourishes your skin at the same time. Moisture and stain removal? We say yes.
Makeup remover.
Now, if you don't have baking soda or baby oil at home, try a makeup remover. There are several different types of makeup removers, but you can use one with either an oil or alcohol base. Simply take a cotton ball with makeup remover and rub the stained area in gentle, circular motions until the color is wiped clean.
COUNTERTOPS AND FLOORS
HOW TO PREVENT STAINS
Your bathroom is cute, so let's keep it that way and cover up countertops and floors to prevent stains. Go ahead and cut open garbage bags and lay them on the floor; you can secure these with painter's tape so they stay put and don't move around as you color. Alternatively, if you have a painter's tarp lying around, now is the perfect time to put it to use. Simply drape it over your bathroom floor to avoid any splatter. You'll thank us later.
HOW TO REMOVE STAINS
Getting hair dye on your countertops and floors isn't something anyone does on purpose, but if you act quickly then it's not a huge deal. Here are a couple of things that can help rub away those hair color splatters before they become stains. Take extra care with a specific finish on floors and countertops just so you're not too rough and won't risk rubbing away any of the gloss.
Baking soda and water.
Everyone should have a box of baking soda at home (it's magical and versatile). To use baking soda for stain removal on granite, formica, or laminate, mix it with water. The ratio is usually a one to one, but simply add a little water at a time until you form a paste. This hard paste acts almost like a pumice exfoliator, which removes color without being too harsh on your finish. Layer the paste onto your stained area, allowing it to harden and soak up the hair dye. Once the baking soda becomes hard, you can then wipe it away from the surface with a damp cloth.
Our Stain Remover.
While our Stain Remover Wipes work wonders on your hairline, our product team put it to the test on countertops—it worked! Just tear open the package and rub the stained area in circular motions until it's gone. Stain removal works best if it's done quickly, but just in case you miss a spot that sits overnight, the solution should work just the same.
OxiClean and water.
This is a great way to remove hair color from your sink and countertops as an alternative to a bleach solution. Mix one tablespoon of OxiClean with one tablespoon of water until the water turns a milky color. Take a washcloth and dip it in the mixture before rubbing into the stain in circles until the stain lifts. There are some granules in this mix, so don't rub too hard.
Peroxide and baking soda.
This combination works great on floors. Use a one to one ratio of peroxide and baking soda and rub this combo into the stain until the floor is clear of the mark. Allow the liquid to bubble up a bit and notice the stain lighten up (chemical reactions are so cool). Wipe the solution away with a damp cloth and watch the stain fade away.
WOOD
HOW TO PREVENT STAINS
Natural wood needs a little extra love and care. The best way to prevent stains is by putting trash bags on the floor. If you color your hair often over a wood surface, you could use a scotchgard ahead of time. Pretreating your wood floors and accents can help block stains from forming, even if you accidentally spill a few drops of hair color.
HOW TO REMOVE STAINS
This is a super-popular question. Luckily, there are options you can try to help remove stains from wood. What's your best bet? We did the work for you and tested a few solutions on a slab of untreated wood, which is the hardest kind of wood to get color out of. Pictured below, you'll see the six solutions we used and their results. Our 50/50 combo of bleach and water worked like a charm. Since wood is porous like hair, it was able to soak up the bleach and water to lift the stain. One thing we do want to note is that this combination could possibly strip paint or finish, so just make sure that you're okay with that possibility before you try it. To help refinish your wood, we suggest adding a coat of wax—beeswax, carnauba wax, or a wax paste.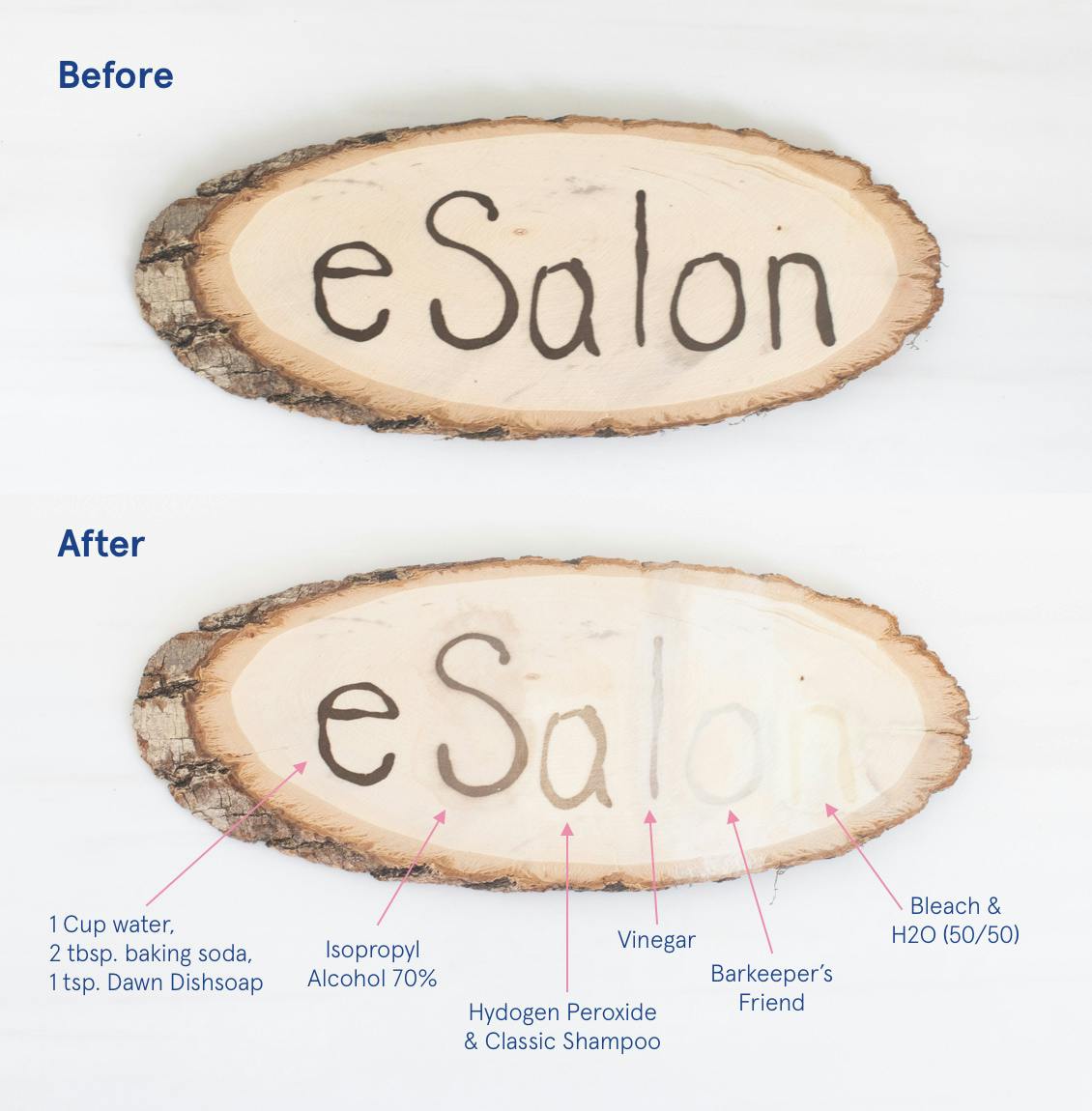 CLOTHING
HOW TO PREVENT STAINS
After prepping your skin, it's a good idea to wear a Protective Cape, an old t-shirt, or a cotton-blended material that you don't mind getting stained. You can even use a garbage bag as a makeshift cape which is also cost-effective. Cut three holes into it for your head and arms to wear while you color. Pretend you're at a kitschy Vogue photoshoot to get you in the mood to color, snap a few Instagram shots and send them over to us @esalon on Instagram—we loooove these.
HOW TO REMOVE STAINS
To remove hair color from your clothes, you'll need to act quickly so the pigment doesn't set into the fabric. Seriously, speed is key. We've got a few tips to remove hair dye from cotton blends, but there's no removing hair dye from silk and leather.
Hairspray.
This sounds crazy, but trust us on this one. We recommend using any old hairspray as a pre-treatment to keep the hair color from absorbing or spreading further into the material. The key ingredient in this hairspray method is the alcohol base, which helps to break up the color. You'll need to spray the stain and make sure the area is completely covered. Immediately after spraying the garment, soak your clothing in a bath of cool water with some dish soap for about twenty minutes. Then, launder as usual.
Liquid laundry detergent.
Take a dollop of liquid detergent and saturate the stain, then rub it in with an old toothbrush or washcloth. Soak your clothes in a sink or bowl of warm water and let it sit. If the hair color is a darker shade, letting your clothing sit for a longer period can help. Then rinse it out well and wash as usual. This preps your clothing so the stain isn't set into the material, but it still needs to be washed.
Vinegar.
White wine vinegar (we wish it was white wine) or apple cider vinegar can help lift the stain and stop it from absorbing further into the fabric. Set aside a solution of one part vinegar, about a tablespoon, and one part water. Then, saturate the stain with the vinegar solution and let the garment soak in a bowl or sink full of water for 20 to 30 minutes.
Gone are the days of smudges and stains on your forehead, sink, and other surfaces. After following these awesome tips, you'll be ready to color stress and stain-free. And for more tips and tricks related to all things hair color, care, and style, connect with us on Facebook or Instagram. Happy coloring!
Like this article? Here are a few other suggestions:
✓ The Top 10 Tips Our Colorists Want You To Know
✓ Hair Color Hacks: Beauty Edition