Volume 2: What's Inside My Bag?
We asked a trio of women in our office to shake out their handbags to show us their tried-and-true hair care and beauty must-haves.
---
Your bag is your Mary Poppins accessory that often holds everything you need from the moment you leave home. In this feature, our team members Julia, Sarah, and Marie give us a top to tails review of everything from magical hand creams to jade rollers and more.
IN HER BAG: JULIA, SENIOR PRODUCT MANAGER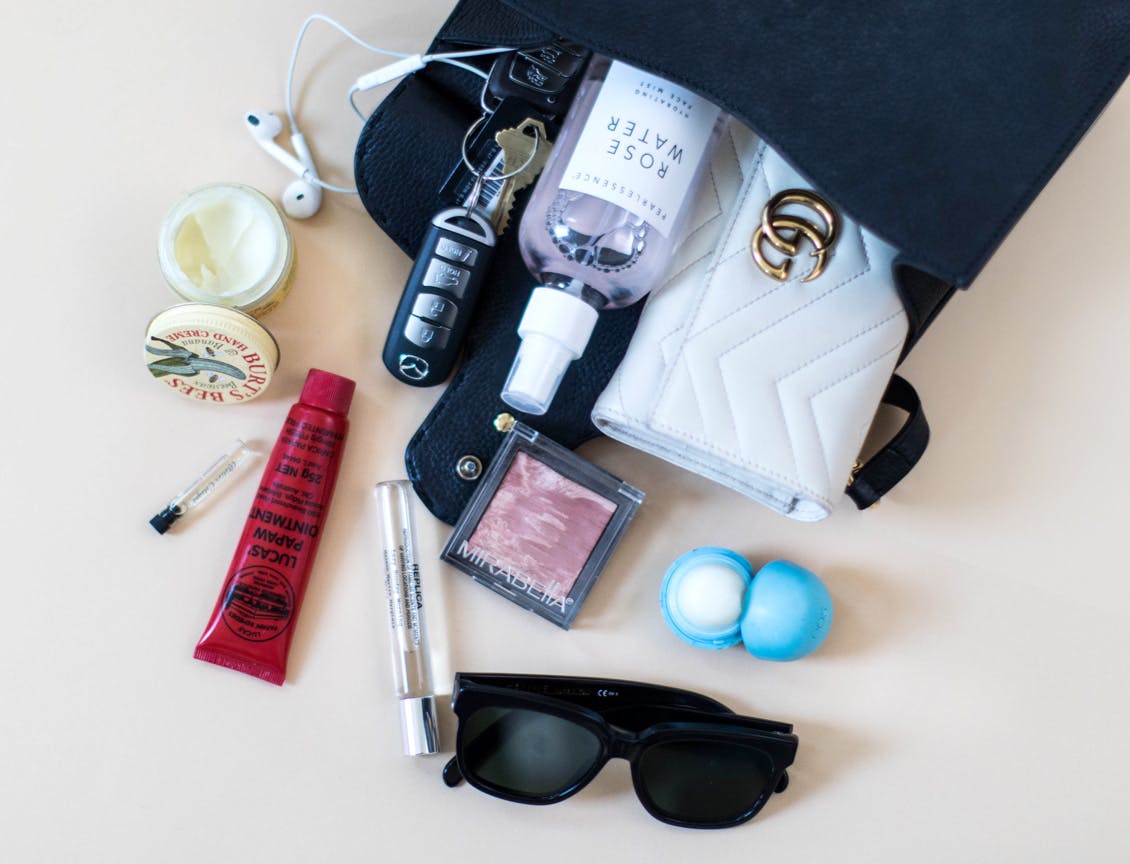 As our Senior Product Manager, Julia outlines and defines all the enhancements that need to be made and eventually show up on our site—so she's like our jeweler and appraiser. She also helps launch our newest products and has a team of magical unicorns who continuously improve your experience with our color. Here are a few things she keeps in her beauty kit:
1. "I never want to be the psycho who sprays her fragrance into the communal office air, but I'm not opposed to a quick roll-on fragrance before a PM presentation. My favorite right now is Replica Margiela's Lazy Sunday Morning rollerball fragrance."
2. "I like a good multitasker, so I keep my Mirabella compact close to refresh my 3pm skin with a really subtle highlight on cheekbones and eyelids. It also doubles up as a natural blush, since it's actually pretty pigmented and easy to tap on with fingertips."
3. "If I'm outside, my Celine sunglasses are clamped to my face—no joke. UVA rays are even more potent during cloudy or rainy days, so I take no chances."
4. "I'm Australian, and this all-purpose Papaw Balm by Lucas' is stashed in just about every Aussie girl's purse. I swipe it onto my cuticles, dry skin patches, my son's grubby face, and have even blended it with a powdered eyeshadow to create a creme blush in desperate moments."
5. "I like to splice my beauty kit with a mix of peak-performers and feel-good naturals, and Burt's Bees Banana Hand Cream satisfies the latter. I know I'm going to need to upgrade to a retinol-based hand cream soon, to fight the sunspots that are slowly forming, but for now, this guy smells like a banana dessert, and makes my hands soft and sheen-y."
IN HER BAG: SARAH, VP OF PRODUCT & UX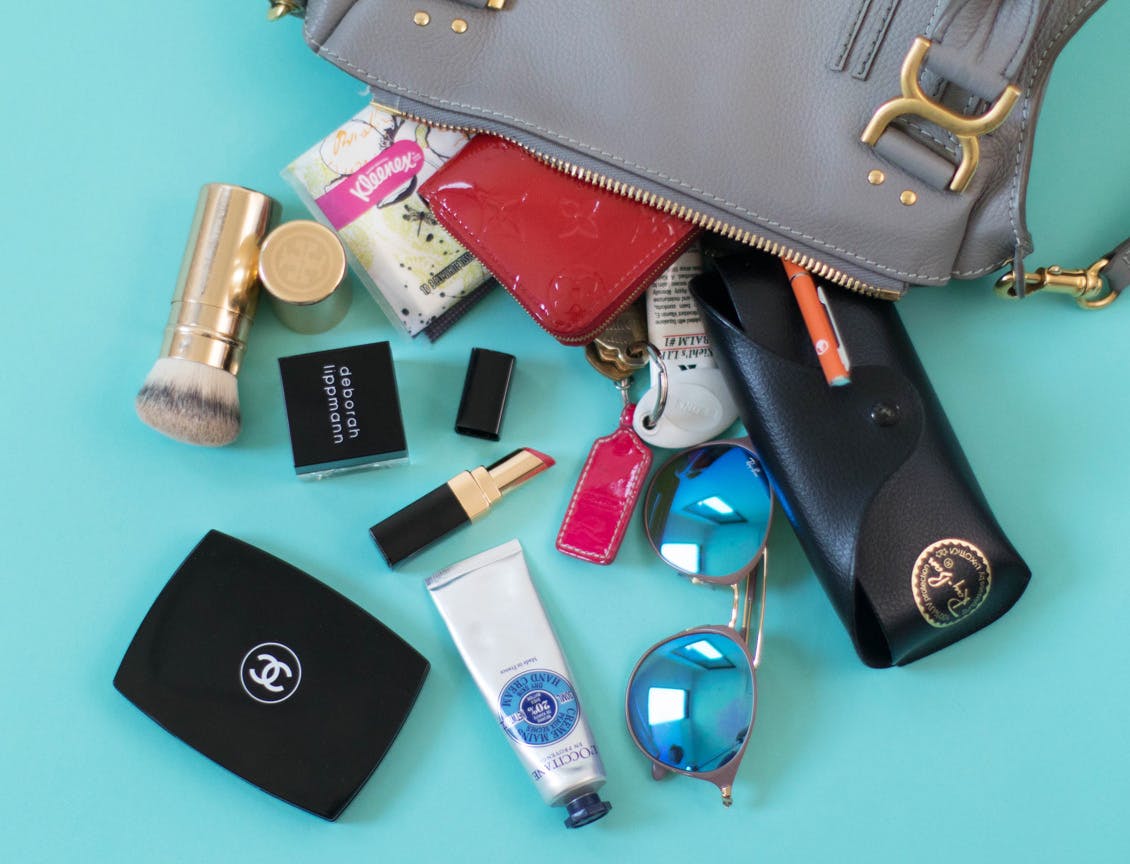 Sarah is our VP (boss-lady) of Product and User Experience, which means she and her team are the masterminds behind what you see on our site. She's the reason you have easy access to what you're most interested in when it comes to hair color and your experience. Here are her top items she can't leave home without:
1. "Le Teint Ultra Tenue by Chanel is the only foundation that matches me and blends into my skin seamlessly. Also, the compact mirror is handy for a quickie teeth check after lunch. Covers all my bases."
2. "The Cure by Deborah Lippmann is my newest obsession; it's a cuticle cream but is so nice and rich that I also use it as a hand lotion. It's often soooo dry in Los Angeles that an extra-hydrating cream is essential to avoid cracked skin."
3. "I don't like using the sponge that comes with my compact powder just because they tend to trap bacteria. And this Tory Burch Face Brush has a cap, which makes it easy to throw in my bag and go. Plus, it's quick and simple to clean."
4. "No squinting means no frown lines. That's why my sunglasses are always ready to go whenever I'm on my way out."
5. "I always keep a natural-looking lip shade with me for quick touch-ups in between meetings, and this Chanel Rouge Coco Flash is a staple for me. I like how hydrating it is and how well it stays on."
IN HER BAG: MARIE, CREATIVE COPYWRITER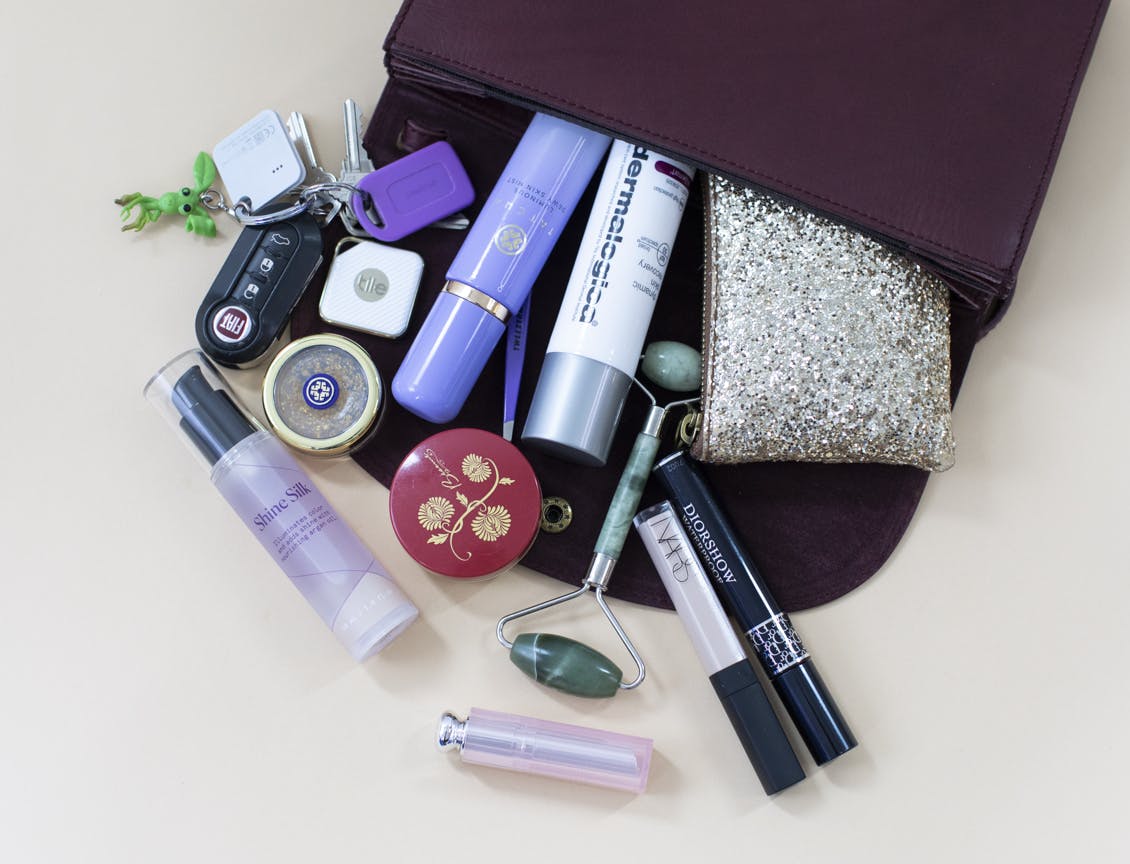 Marie is part of our Brand Team and is always ready with a quick one-liner, hilarious meme copy, and those color-focused blogs you love so much in the how-to section of the site. She never leaves the house without two things: her handbag and her skin care. Here are her top 6 beauty must-haves:
1. "I literally cannot leave home until I've protected my skin from the sun. This Dermalogica sunscreen is perfect for my sensitive skin and doubles as a primer."
2. "This Tatcha Camellia Goldspun Lip Balm smells ah-mazing, and it's my go-to lip (day or night) mask. Made with camellia oil and little flecks of gold, it keeps my lips hydrated and sparkly. Plus, it looks great on my desk."
3. "I don't wear a ton of makeup, but this creamy NARS concealer in Vanilla gives me a nice touch-up before morning meetings. When you have a great concealer, who needs to wear a full face?"
4. "I swipe on a few drops of Shine Silk before I style my hair and use it to smooth my flyaways on the days when I go all-natural wavy. This serum keeps my hair in line and protects my color from that crazy California sunshine."
5. "This Jade Roller helps reduce the inflammation in my skin, since I have a good deal of redness. I can use it on my way to work or at lunch, to help calm my skin."
Once you discover the secrets of any woman's beauty bag, there's no going back. Stay tuned for more "What's Inside My Bag?" articles and make sure to join the conversation on Pinterest, Instagram, Facebook, and Twitter.