Volume 1: What's Inside My Bag?
Everyone wants to know, "what's inside your bag?" That's why we asked 3 women in our office to spill the goods (literally), and show us their everyday beauty and hair care must-haves.
---
Your handbag is your home-away-from-home survival kit, packed with all the essentials. In this feature Courtney, Caroline, and Jules dish on everything from facial sprays and temporary hair color to multi-use blotting papers and more.
IN HER BAG: COURTNEY, CLIENT EDUCATION LEAD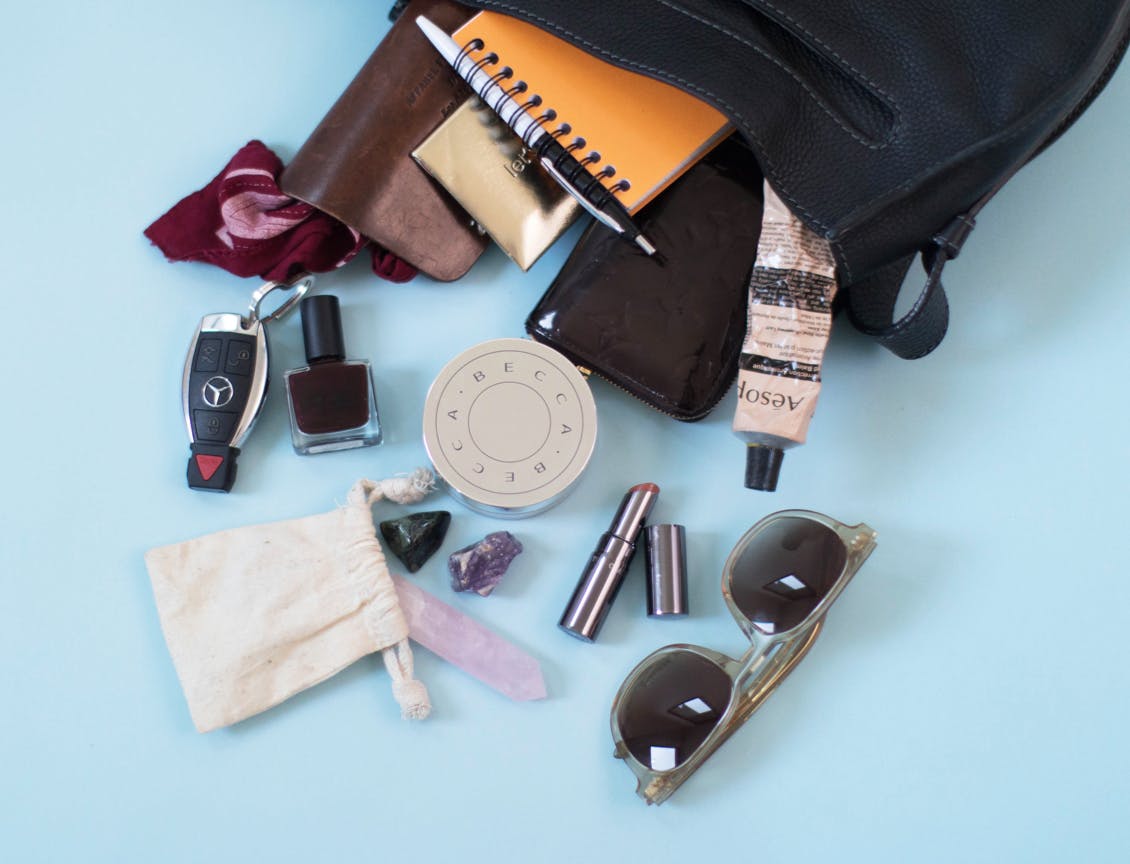 As the face of our brand, Courtney is in and out of shoots, schmoozing with influencers, and on the lookout for the latest hair color trends. She's always prepared for whatever crisis comes her way. Here are the top 6 items she can't do without:
1. "I have an absolute obsession with Chantecaille and this particular Lip Chic in Sari Rose. I tend to have very dry lips and this one also moisturizes. Plus, I can put it on without looking in a mirror. Winning 2X!"
2. "One of my best girlfriends gifted me jasper and aventurine stones to keep in my purse. Over the holidays, my sister-in-law gave me rose quartz. This satchel of precious stones travels with me everywhere."
3. "I'm a huge lover of the brand Aesop. I have very sensitive skin and have found their line is the only one that doesn't give me a rash. This Resurrection Aromatique Hand Balm also has the most intoxicating smell."
4. "We are lucky to see so much sun in Southern California. I like to protect my baby blues with these lightweight LA-made frames by Saint Rita Parlor."
5. "I keep a bottle of polish in here whenever I'm off to get a manicure. This RGB polish in Bordeaux doesn't have any scary ingredients in it like formaldehyde, and the deep blood red is flattering to any skin tone."
6. "I keep a notepad with me at all times, so that I can create lists and scratch things off (an uber-satisfying activity). Handwriting is a lost art, so it's my way of keeping it alive. This particular one is from Blick, and I love it."
IN HER BAG: CAROLINE, DIRECTOR OF CUSTOMER RELATIONS MANAGEMENT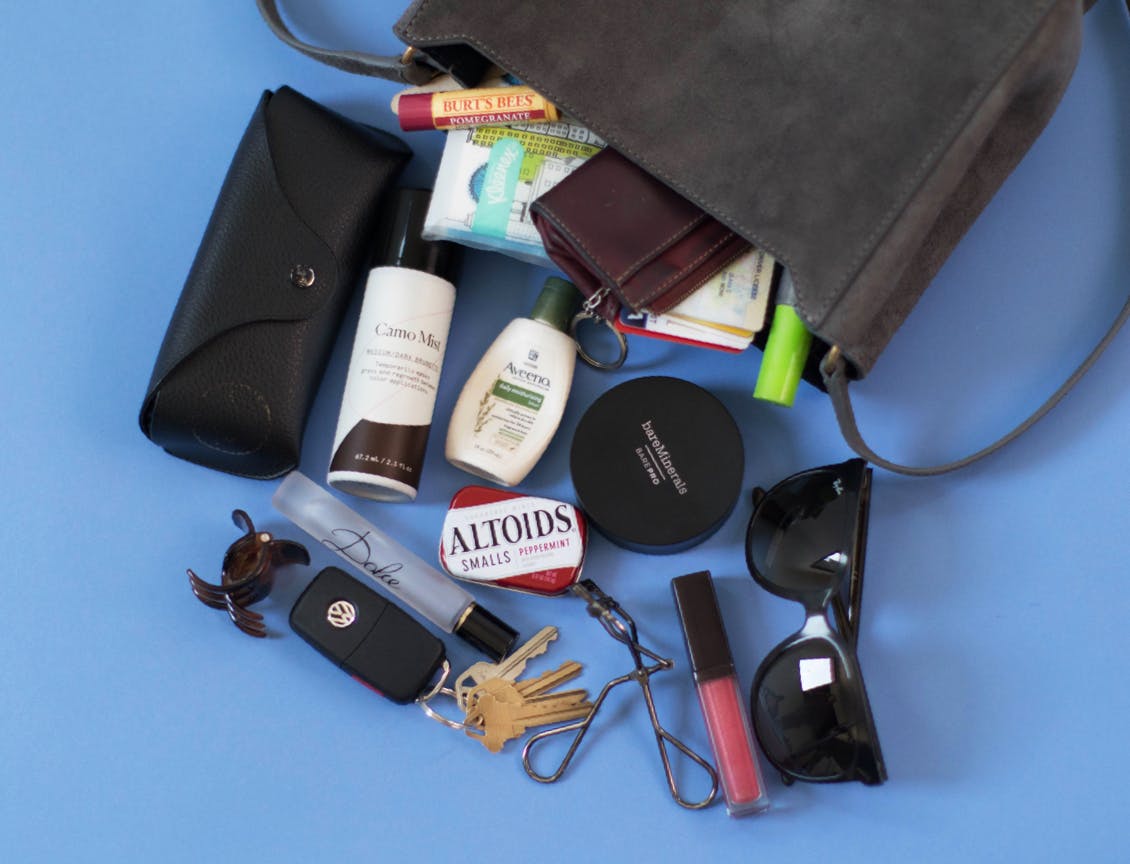 Caroline is responsible for a bunch of things—like ideating all those awesome emails you get from us. This boss lady knows everything about beauty including trends, hot products, and more. These are her can't-leave-home-without-it items:
1. "I don't go anywhere without Burt's Bees Lip Balm, specifically the pomegranate flavor, in my bag. I must have at least 5 of these laying around between my apartment, car, and bags. It's the only lip balm I've found that truly hydrates and the flavor isn't too intense."
2. "My eSalon Camo Mist in Medium Brunette goes with me everywhere, especially if it's been a while since I've colored my hair. Whenever I have a stray gray, I spray a little on my roots and go."
3. "I typically go for a more natural color on my lips, and this Laura Mercier Lip Glace in Rose provides the perfect hint of color for an everyday look. And I don't need a mirror to apply it."
4. "I always have some type of rollerball perfume on me. I find it more convenient than buying larger bottles, so I switch off between fragrances easily. Right now I'm loving Dolce by Dolce & Gabbana."
5. "I carry a travel-sized lotion with me wherever I go. I'm somewhat obsessed with Aveeno products. I have dry, sensitive skin and it's the one product that has never irritated me."
6. "I have literally had my Ray Bans for over five years, which is amazing because it's the longest I've kept sunglasses alive. Light tends to hurt my eyes, so I pop these on whenever I leave the office. The day they break, I swear I 'll cry."
IN HER BAG: JULES, FRONT-END DEVELOPER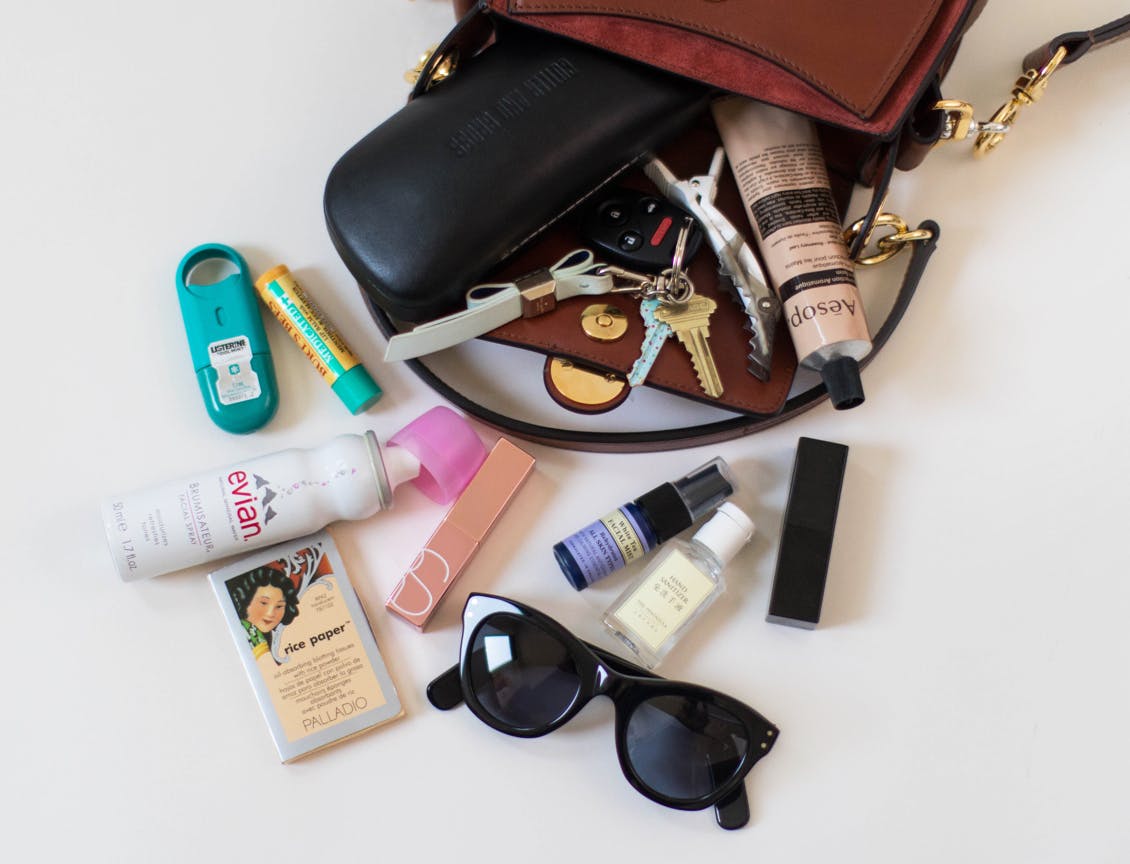 Jules dresses our web pages and transforms them into what you see online—she's basically like the plastic surgeon of the website. When Jules isn't working on mini web facelifts, she's taking pasta-making classes, learning Japanese, and how to make floral arrangements. Here are her top 5 beauty must-haves:
1. "I have super chapped lips. This NARS Afterglow Lip Balm moisturizes my lips, making them look and feel less cracked throughout the day. I also love how it doesn't look like a generic lip balm."
2. "My face gets super-duper oily mid-day. I use these Palladio Rice Papers to soak up all the excess oils, leaving my face feeling less greasy and shiny."
3. "I always spritz on evian Facial Spray after using my blotting sheets. It keeps my skin extra hydrated and refreshed. It also sets my makeup."
4. "My hands are always dry, and this Aesop Balm is hands down the best. I just need to apply a little dab, and my hands stay moisturized for hours. It also has an amazing scent."
5. "I carry a hair clip everywhere I go because I like wearing my hair up and a bit loose. I have long hair, so I try to avoid using hair ties that yank on my scalp."
Diving into any woman's handbag is like stumbling onto secrets of the universe—everything in there is a gem waiting to be discovered. So stay tuned for more of our "What's Inside My Bag?" series to see what we find. And join the conversation on our social pages via Instagram, Facebook, and Twitter, to tell us what's in your bag.