New Look, Same Us: Our Brand Refresh
Like what we've done with the place? You'll notice we've had a bit of a makeover—refreshing our site, our logo, and our packaging. But rest assured, we've still got our award-winning custom color and the products you know and love. Read on to check out what's changed.
---
Our evolution.
When we started in 2010, we had a mission: to bridge the gap between the salon experience and the convenience of coloring at home. And now, 7 years and nearly 6 million orders later, we've done just that. But we believe that hair color is a journey, not a destination. And that's why we continue to evolve and expand, uniting art with science to create a fully personalized experience that's just for you.
The first change you might notice is our logo. We've chosen an artistic, signature-style design with brushstroke-inspired lettering, to complement our mastery of a totally new art form: customized hair color. And since our passion for color theory is foundational to who we are, we've expanded our color palette with a balanced blend of lighter tints and bolder shades. For our packaging design, we were inspired by something that is both complex and simple: hands. Crafters, creators, musicians, and artists alike use their hands to create a unique expressive experience. We're no different. So we took this inspiration to the drawing board and came up with our abstract interpretation of two hands coming together. The end result? An expressive, artful design that symbolizes the collaboration between our colorists and clients—in other words, our relationship with you.
Our evolution has already begun, but you'll continue to see updates throughout 2018. We'll introduce these changes over time, but you'll get the new experience as soon as your next color order. Stand by—good things are coming.
Inspired by you.
We started off as a company that crafts custom hair color. But over the years, we have created so much more than that—we've developed big ideas, an entire community, and meaningful relationships across the world. Because beyond color, we're a community of passionate folks working together to celebrate individuality. So to mark a new milestone, we refreshed our look to be truer to our unique spirit and passion. And since it all started with you, it's only natural that it's inspired by you.
"

Because beyond color, we're a community of passionate folks working together to celebrate individuality.
The same formulas with a new, streamlined focus.
Our award-winning custom color formula remains the same. And another thing that's not changing is our ongoing dedication to you and our commitment to helping you achieve and maintain your color. So we are upgrading—or, more accurately, reorganizing our shop to make it easier for you  to find products that serve the needs of your hair and color. We call it our "Color System" and it's designed to care for, protect, and treat your color with multitasking hair-care products that work as hard as you do.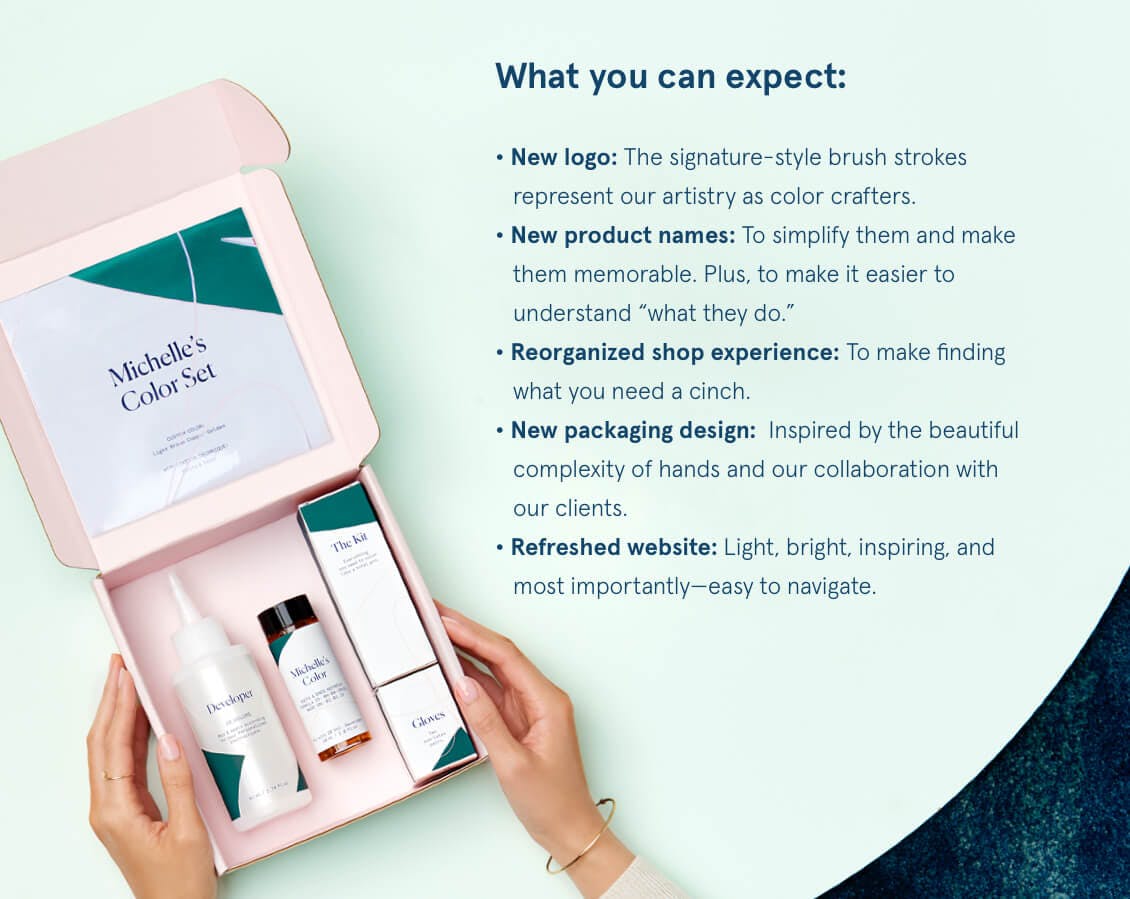 Looking back and moving forward.
When we moved into our new 39,000 square foot office last year in El Segundo, California, we officially opened the doors to our full-service Color Studio. We also launched Color Mastery, our educational hub for pro tips, style inspiration, and all-things hair color. And here's what we've got in store for 2018: Several initiatives that reflect our mission to make personalized service and made-to-order color accessible to all. We'll continue to embrace innovation to make your hair color experience better than ever, with our same passionate commitment to getting your color just right. Some things will never change.