Top Three Hairstyles for Your Next Vacation
Discover our top three simple yet chic hairstyles for your next getaway.
---
If there's one universal truth that many of us can agree on, it's that we like to look and feel good on vacation—which includes our hair. To make your travels as carefree and fabulous as possible, we sat down with our team of in-house stylists and asked them to share their favorite vacation-ready hairstyles that are easy to execute and oh-so-chic. Read on to discover our Top Three Hairstyles for Your Next Vacation complete with step-by-step tutorials.
Silk Scarf Hair Band
This resort-approved hairstyle is the epitome of summertime chic. Using your favorite silk or satin scarf, this look instantly turns any hair type or texture into a stylish masterpiece. This simple hairstyle doesn't require any hot tools and the soft fabric is gentle on your strands, making it an excellent choice to help keep your hair as radiant as ever. If you're traveling to a tropical destination, the scarf can also help hide any sweat or humidity-induced frizz for an elegant and polished finish no matter where your day takes you.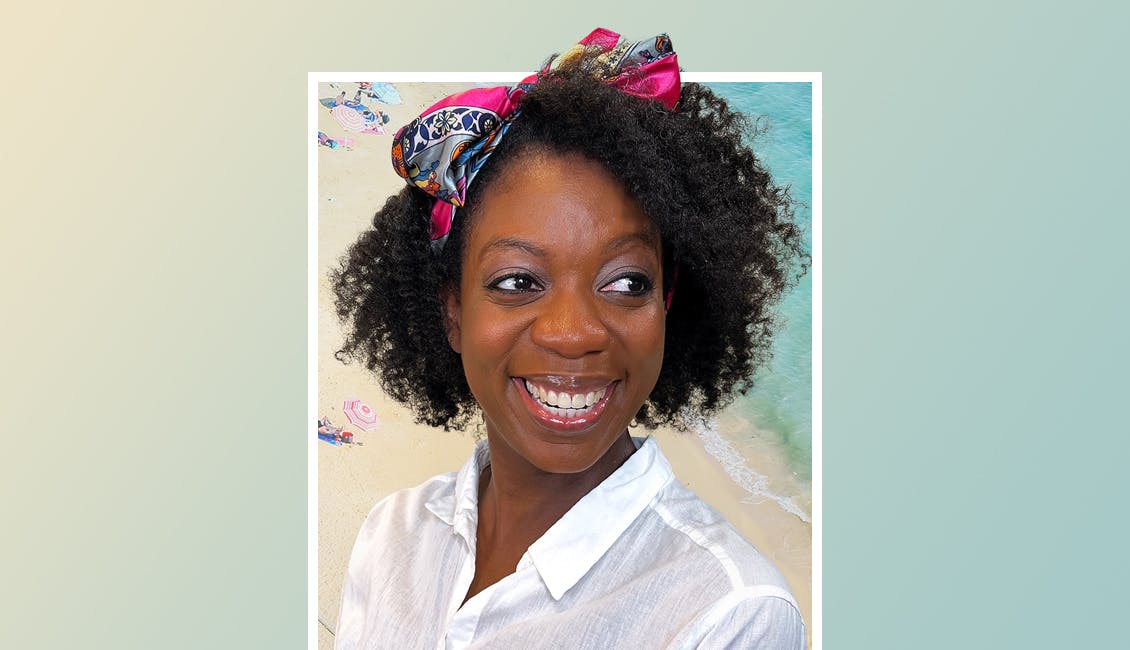 Step-By-Step Tutorial
1. Let your natural texture fall as it naturally does. You may want to brush through until it's manageable or spritz strands with a saltwater spray for added texture. 
2. Fold the scarf in half, forming a triangle. 
3. Roll the scarf from the long end to the tip.
4. Wrap the scarf around the back of your head so the ends are in front of your head.
5. the ends into a knot, tying twice and leaving the tails out or forming into a bow.
6. Push the scarf back slightly so that about an inch of hair shows in the front or let a few pieces of your hair free.
Twisted Braid
When you want to elevate a traditional braid, this Twisted Braid brings an element of surprise to your vacation style. Instead of traditional plaits, this heatless hairstyle uses twisted strands to create a look that is charming yet unexpected. Whether you're headed to a beachside happy hour or going on a shopping spree in town, you can create this unique look in a matter of minutes to stay on schedule.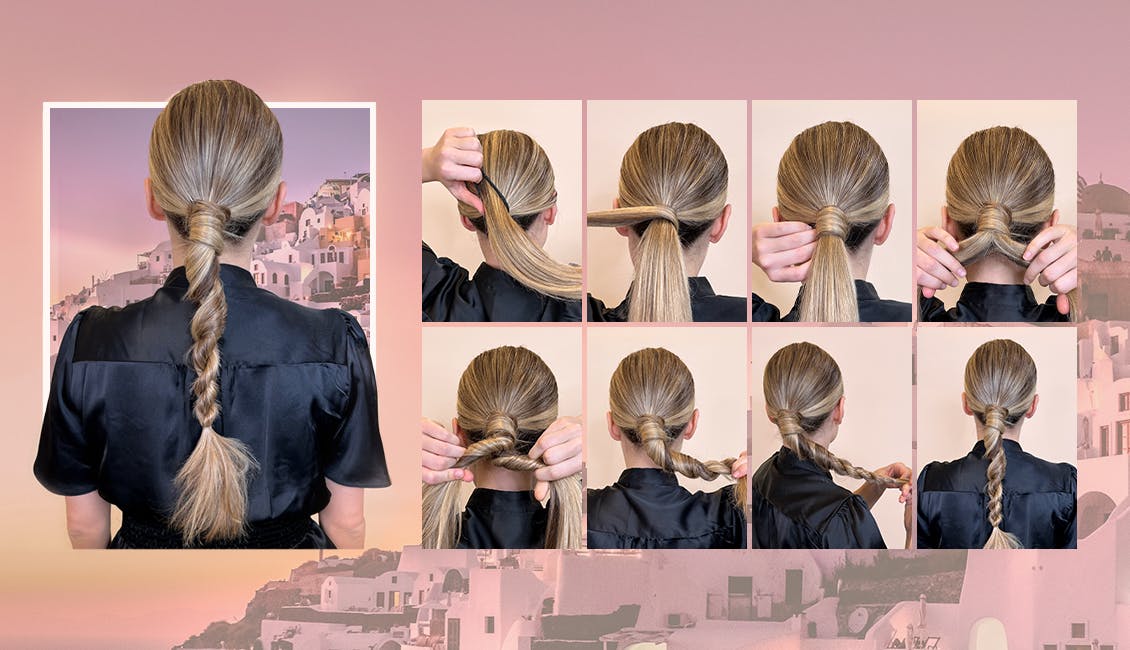 Step-By-Step Tutorial
1. Comb hair back into a low ponytail. Secure with an elastic. 
2. Take a small section from the bottom of the ponytail and wrap it around the ponytail. Secure with a bobby pin. 
3. Split the ponytail into two sections
4. Twist each section counterclockwise two or three times to give each strand a rope-like appearance. 
5. Criss-cross or wrap the sections around each other. 
6. Repeat steps four and five until you have about two inches of hair remaining. Your hair should have a twisted finish to it at this point, similar to the above image. 
7. Secure the ends with an elastic and you're ready to go.
Knotted Half Up-Do
Capture the essence of stress-free vacation vibes with our take on a simple half-up, half-down hairstyle. This versatile look lets you have the best of both worlds by allowing your locks to flow freely while keeping a few strands out of your face. Perfect for wandering the streets of an exotic destination or sipping a drink by the pool, this half-up-do with an easy breezy twist of strands in the back exudes relaxed sophistication, making it the perfect companion for your vacation escapades.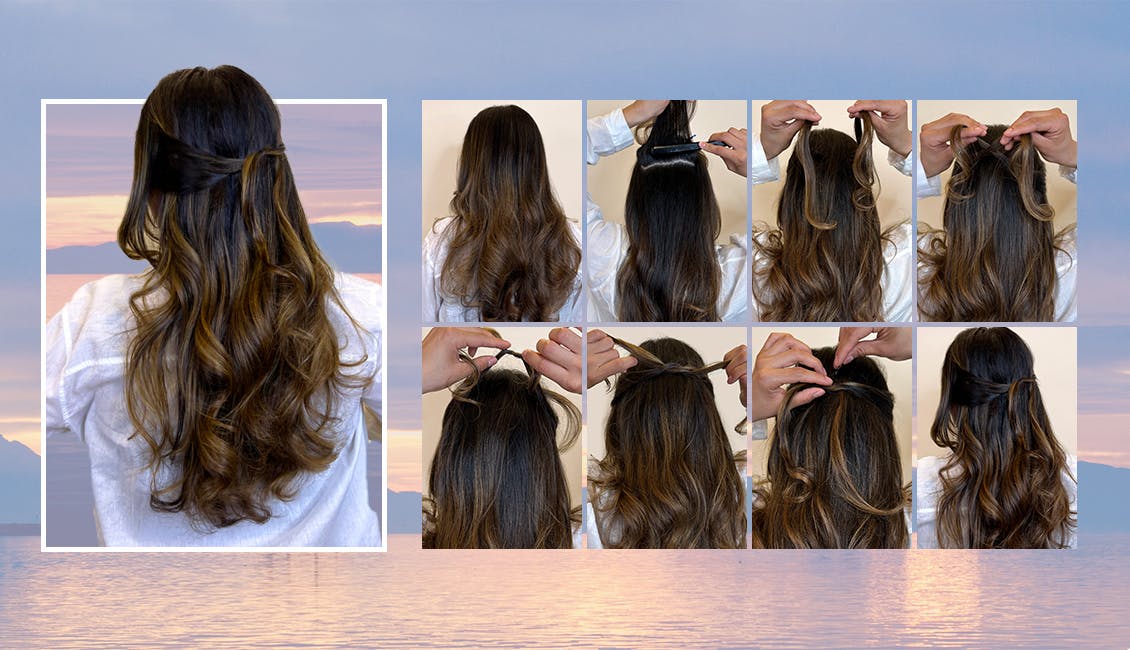 Step-By-Step Tutorial
1. Take a horseshoe section of hair on the top of your and tease for added volume. 
2. Take a two-inch section on each side right above the ear and pull back behind your head. 
3. Take both pieces and make a loose tie so it looks as though your hair has a small knot at the back. Secure the strands in place with a bobby pin. 
4. For a more whimsical leave out some pieces in the front.  
There you have it—your passport to effortlessly chic vacation-ready hairstyles. With these top three heatless hairstyles, you can spend more time lounging poolside and less time trying to find the perfect look. So pack your bags and get ready to make a splash with your fabulous vacation hairstyles. For more hairstyle tutorials, inside tips, and exclusive giveaways, follow us on social media @eSalon.